Former US Secretary of State Colin Powell has died following coronavirus complications, his family has said.
A statement on his Facebook page posted by his family said the 84-year-old "passed away this morning due to complications from COVID-19".
"He was fully vaccinated," they said.
"We have lost a remarkable and loving husband, father, grandfather and a great American."
NBC News cited his spokesperson Peggy Cifrino and a family member as saying he was at Walter Reed National Medical Centre in Maryland at the time he died, where he had been suffering from multiple myeloma.
Mr Powell was the first African American secretary of state and the first black chairman of the joint chiefs of staff.
At the time he held the secretary of state role, from 2001-2005, it was the highest any African American had been in the federal executive branch of the US government, until Barack Obama became president.
Secretary of State is fourth in line after the president in the line of succession, and only Condoleeza Rice held the same role in the year's before Mr Obama's election.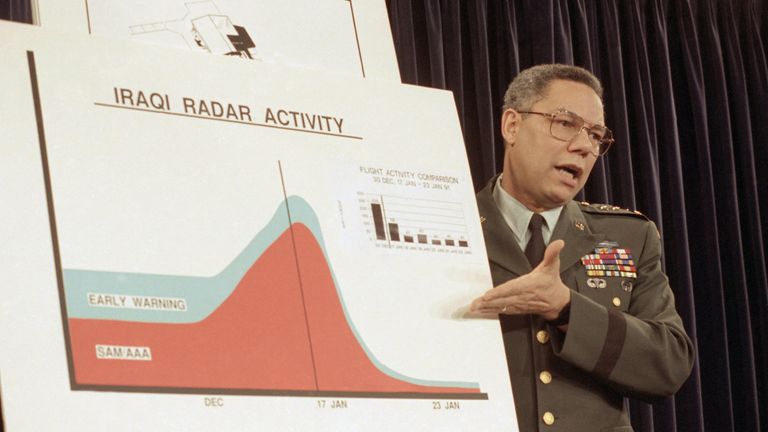 Before his becoming the US's chief diplomat, he was best known for his role in front of the camera during the first Gulf War, where as the highest-ranking and most senior military officer in the United States Armed Forces he would brief the media about the liberation of Kuwait and then the push on into Iraq, in what has been described as the first 24-hour televised war.
That 1991 war, in which then General Powell served under George H W Bush, was generally judged a success as it expelled the forces of Saddam Hussein from Kuwait with limited loss of American lives.
But Mr Powell was then appointed secretary of state under his son, George W Bush, who embarked on the second Gulf War in 2003.
Mr Bush paid tribute to Mr Powell, saying: "Laura and I are deeply saddened by the death of Colin Powell. He was a great public servant, starting with his time as a soldier during Vietnam. Many Presidents relied on General Powell's counsel and experience.
"He was national security adviser under President Reagan, chairman of the Joint Chiefs of Staff under my father and President Clinton, and secretary of state during my administration.
"He was such a favourite of presidents that he earned the Presidential Medal of Freedom – twice. He was highly respected at home and abroad. And most important, Colin was a family man and a friend. Laura and I send Alma and their children our sincere condolences as they remember the life of a great man."
Also as chairman of the Joint Chiefs of Staff, he oversaw the US invasion of Panama but his reputation suffered a painful setback when he went before the UN Security Council to made the case for US war against Iraq in 2003, claiming it was necessary because Saddam Hussein was holding weapons of mass destruction.
In that session, he claimed that the "facts and Iraq's behaviour show that Saddam Hussein and his regime are concealing their efforts to produce more weapons of mass destruction".
But it was a claim that turned out not to be true and he later admitted the speech was a "blot" on his record.
The invasion of Iraq in the second Gulf War, which the speech aimed to justify, remains highly controversial, with many citing the deadly unintended consequences that occurred in the wake of the conflict.
Others in the African American community paid tribute to him.
Rev Al Sharpton, the civil rights activist, said on Twitter: "My condolences to the family of Colin Powell. Though we
disagreed on many issues, I always respected him and was proud of his achievements. When he and I ran into each other and conversed, I always left feeling he was a sincere and committed man to what he believed in. RIP"
Before he was appointed as Secretary of State, Mr Powell was worked for a national nonprofit organisation that worked to mobilise Americans to build the character and abilities of young people.
It was during this time, after his retirement from the military in 1993, that he took part in civic life, and attended the dinner at which Princess Diana won the Humanitarian of the Year award in New York.