The BBC News Russian Service app is available for IOS and Android . You can also subscribe to our Telegram channel.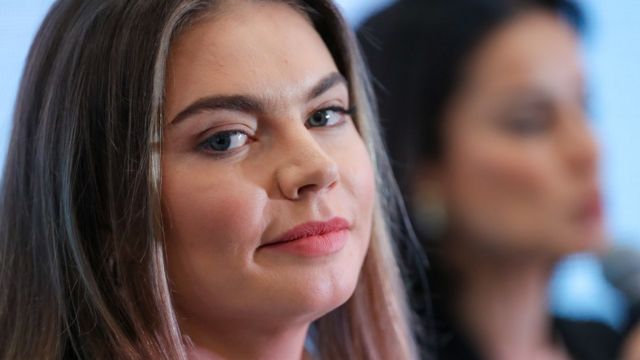 Britain has imposed sanctions on former gymnast Alina Kabaeva and 11 other people who, according to British authorities, are part of the inner circle of Russian President Vladimir Putin. The Wall Street Journal wrote that sanctions against Kabaeva were also prepared by the US authorities, but were afraid to "anger" Putin. The publication claimed that Kabaeva gave birth to three children from Putin. Kabaeva was sanctioned for the first time.
"The shady network providing Putin's luxurious lifestyle"
The sanctions list also included Kabaeva's grandmother Anna Zatsepilina, Putin's ex-wife Lyudmila Ocheretnaya, the president's cousin Igor Putin, his son Roman Putin and the president's cousin Mikhail Putin, as well as the head of the Gazfond pension fund, Yuri Shamalov, whom the British Foreign Office calls the brother of the former Putin's son-in-law Kirill Shamalov, who fell under sanctions on February 24.
"Yuri is part of a new elite of children of Putin's closest associates and quickly rose to the post of president of Gazfond and a member of the board of directors of Gazprombank," the report said .
The new British sanctions also included Vladimir Kolbin, "the son of Putin's childhood friend and alleged business partner Pyotr Kolbin", CEO of Gelendzhik Sea Port LLC, and Viktor Khmarin, a St. Petersburg lawyer and businessman, Putin's relative through his wife and, as reported by the media , his classmate.
The list also includes businessman Mikhail Shelomov, Putin's cousin. His Akcept LLC allegedly shared employees with Binom LLC, registered as the owner of Putin's palace, the report said.
The sanctions target "a shady network that provides Putin's luxurious lifestyle," said British Foreign Secretary Liz Truss. "We will continue to impose sanctions against everyone who supports Putin's aggression until Ukraine wins," she added.
"Putin's official assets are modest, and his lifestyle is financed by a cabal of family, friends and the elite," the ministry said in a statement. "Putin relies on his family, childhood friends and a select elite who have benefited from his rule and in turn support his image." life. As a reward, they receive influence on the affairs of the state that goes far beyond their formal positions. "
Kabaeva is the chairman of the board of directors of the National Media Group (NMG) holding.
Sanctions against Kabaeva
Sanctions against Kabaeva were demanded by associates of opposition leader Alexei Navalny, pointing to her role in Russian propaganda and closeness to Putin. Kabaeva has been the head of the board of directors of NMG since 2014, which owns several popular TV channels, including a stake in Channel One.
Last week, the European Union announced that it was going to include Kabaeva in the sanctions list, but so far the sixth package of sanctions has not been agreed due to disputes over the oil embargo.
At the end of April, the Wall Street Journal wrote that the US authorities had also prepared a package of sanctions against Kabaeva, but "at the last minute" they decided not to introduce them so as not to "anger" Putin.
There is an opinion among officials discussing the move that imposing sanctions on the Olympic champion would be seen as such a personal blow to Putin that it could further escalate tensions between Russia and the United States and hinder peace talks with Ukraine, the WSJ wrote.
Citing unnamed American officials, the publication noted that US authorities believe Kabaeva is a friend of the Russian president, with whom she gave birth to at least three children, and suspect her of hiding Putin's personal wealth abroad.
"She is said to have a close personal relationship with Putin," the British Foreign Office said in a release describing the reasons behind the sanctions. It is also noted that she was a State Duma deputy from United Russia. Grandmother Kabaeva is said to have "reportedly" received a luxurious apartment in Moscow.
According to official data, Putin has two adult daughters from his marriage to Lyudmila Putina (Ocheretnaya), from whom he announced a divorce in 2013. The British Foreign Office said that Ocheretnaya benefited from "business relations on favorable terms" with government agencies.
On April 6, the US Treasury imposed sanctions against Katerina Vladimirovna Tikhonova and Maria Vladimirovna Vorontsova – it was them that journalists called the daughters of the Russian president from an official marriage.
To keep getting BBC news, subscribe to our channels:
Download our application: