When Xiaomi introduced Redmi in 2013, many perceived that it was an affordable brand, created so that Xiaomi itself would not be associated with budget products. However, over 7 years, Redmi has mutated into a powerful brand with devices that are unique in terms of price / quality ratio. By the way, today Redmi is a whole ecosystem of smart technology and gadgets from phones to washing machines and TVs. And around the brand a separate fan club is formed.
Redmi has several price classes in its marketing portfolio. Redmi and Redmi A models are responsible for the entry level, while Redmi Note and Redmi Note Pro models represent the middle and high end segments.
The Redmi Note Pro series has a glorious history. These devices have always been different from other smartphones of the brand. In them, Xiaomi tried to realize all possible flagship potential at the lowest price. And it's not so much about hardware (although in terms of performance smartphones were the most powerful of the brand), but about user experience. The idea is that the user, picking up a smartphone, would never have guessed that the price is in the region of 20 thousand rubles. In marketing, this is called "blind testing", when, not knowing the brand and price, you need to choose the best product. And in terms of materials, speed, photo quality and additional body kit, the Redmi Note Pro series should feel like a full-fledged flagship. And Redmi Note 9 Pro perfectly captures this idea.
Perhaps the "nine" is the best Note Pro in the history of the series, and for a number of reasons. Let's look at them in this article.
Content
Performance
Fast charging and battery life
Камеры
Graphic Design
An abundance of little things that make an impression!
Conclusion
Performance
Smartphones of the Redmi Note Pro series have always been good in that they had a powerful margin of safety. And if you look at the sales statistics, people are still happy to buy both the Note 8 Pro and even the 7 Pro. The built-in performance is enough to comfortably work with the device for 2-3 years.
The Redmi Note 9 Pro uses the Qualcomm Snapdragon 720G chipset, based on an advanced 8nm process technology. Snapdragon 720G is one of the best solutions to date. First, it is a powerful 8-core chipset with a frequency of up to 2.3 GHz and an Adreno 618 graphics accelerator. Its performance will be enough for any games and applications now and in a year. Here, the talent of Xiaomi and Qualcomm engineers should be noted, since the Redmi Note 9 Pro is absolutely not subject to the effect of throttling, that is, the performance does not sag if you use the smartphone at the limit of its capabilities for a long time. This usually happens when running resource-demanding games like PUBG Mobile or Asphalt 9. Redmi Note 9 Pro gives a stable frame rate without a drawdown.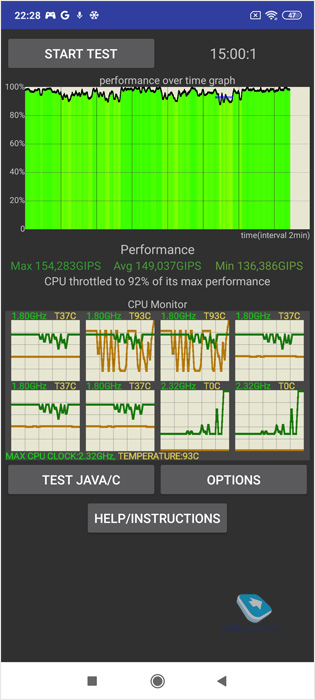 But "bare" performance today is not surprising. In my opinion, the main highlight of the Snapdragon 720G is the 5th generation advanced artificial intelligence module, the performance of which has increased by 112% compared to the previous version. It is he who helps to process photos, shoot videos in 4K, optimize performance, allowing you to get maximum performance when playing.
Separately, it should be noted that the Redmi Note 9 Pro uses modules of permanent and RAM of very high quality. Tests show that, for example, the speed of RAM is an incredible 20.9 thousand megabytes per second. Not every flagship can boast of this.
In synthetic tests, more advanced flagship chipsets can "knock out" more points, but visually Redmi Note 9 Pro will not lag one iota behind. If you don't believe it, just go to YouTube. This is local fun – a demonstration of the insolvency of more expensive devices against the background of the Redmi Note Pro series.
Fast charging and battery life
There is not much to say here. A huge 5 mAh battery, a top-end 000 nm chipset technology, and the chipset itself is equipped with four energy-efficient cores. Thanks to this, the smartphone works not only for a long time, but for a very long time.
Xiaomi itself claims super impressive numbers – 13 hours of games, 16 hours in navigator mode and 147 hours of music playback. And he doesn't lie. I should have gone to Tula here. Thanks to the parade and Moscow traffic jams, I had to spend a little more than 4 hours on the road. All this time, the navigator was turned on at auto brightness. The battery consumption was 27%.
I was most impressed by the included 33W fast charging. But Xiaomi did one cool thing. They added display of hundredths when charging. You connect your smartphone and see how the numbers are running. Such a simple solution, but it looks great.
Камеры
Cameras – both main and front – are perhaps the main wow factor of the Redmi Note 9 Pro. For example, if you have the previous generation, then cameras (and a battery with super-fast charging) are the things that might prompt you to upgrade.
The smartphone has 4 main cameras: 64 MP, 8 MP ultra-wide-angle module, 5 MP macro camera and 2 MP depth sensor. But in cameras, the main thing is not some abstract numbers, but the output. This is where the dedicated tensor block with AI helps. I think that it is no longer a secret for anyone that processing algorithms are no less important for high-quality photos than optics.
But let's start with what everyone is waiting for. Yes, you can shoot at 64 MP. And yes, the photos are taken with an off-scale level of detail.
At the Assumption Cathedral of the Tula Kremlin, you can see every brick. But I was more impressed with how the Redmi Note 9 Pro handles in difficult conditions. For example, this photo is taken from the arch. Outside there is a bright sun and +30 degrees, inside there is a shade. Both the cathedral and the details in the foreground look great.
Another example is a night photo of the cathedral. The photo was taken about half an hour after sunset. The smartphone ignored the lack of light and did a great job with details such as the lighting inside the bell tower.
A few more examples of photos:
A separate delight is the macro camera. Previously, Xiaomi used a 2 MP module for macro, and the images were "noisy". Now 5 MP. The smartphone can be brought almost close to the object. My favorite macro camera is the moss growing on a pine tree. The photo was taken at a distance of approximately 2 cm from the subject. At such a distance, it seems that these are some kind of microorganisms.
But besides the stunning quality of photos, the Redmi Note 9 Pro has many more nice features. First, there are cool video modes. For example, there is a cinematic mode (this is the frame size and the smoothness of the picture), there are panoramas and time-lapses, the ability to make video clips (this is when music and some effects are superimposed on the video) and take selfies, activating the shutter, showing the palm of your hand to the smartphone. By the way, here is an example of such a selfie.
And then there are slow-motion selfies and a "kaleidoscope". I don't know why you need it, but it's fun.
Redmi Note 9 Pro is perhaps the main photo smartphone in the segment under 30 thousand rubles. Excellent quality of photo and video shooting, an abundance of modes and capabilities. I want to take pictures with this smartphone.
Graphic Design
Frankly, in terms of design, the Redmi series has always been quite ordinary. Nice, but overall nothing remarkable. It even seemed to me that this is a certain feature: look at what is inside, not outside. However, already in the previous generation, changes were outlined in this regard. Well, in the case of Redmi Note 9 Pro, we can confidently say that this is the most beautiful smartphone in the line.
Perfectly symmetrical bezel design and centrally located main camera unit. But the main thing is the exquisite colors. Saturated, but not flashy. For my taste, the most interesting one is green with additional texture. But white is also very good. No wonder he was called not just white, but "White Iceberg". Be sure to see this color live.
I am glad that the smartphone uses Corning Gorilla Glass 5. This means not only that the smartphone is highly likely to survive a fall from a height of 1.5 meters onto the asphalt, but also advanced protection against scratches. For example, Corning itself shows how 5th generation glass is more scratch resistant compared to previous iterations and other protective glasses.
By the way, the set comes with a nice transparent silicone case. Don't neglect it. It is comfortable, fits perfectly, but its main plus is the presence of a plug to protect the USB Type-C connector. Recently, Xiaomi has switched to this type of cases, and this is a very correct decision.
An abundance of little things that make an impression!
The Redmi Note 9 Pro has a super camera, great performance, incredibly fast charging and good battery life. But if it were only so, then, of course, good, but the smartphone could not be called outstanding. However, the Redmi Note 9 Pro has a lot of little things that complement and give the impression of a flagship.
The smartphone has a huge 6.67-inch screen with a high resolution of 2400 × 1080 pixels. It is perfectly. But this is not just a screen. It has a reduced level of eye-tiring blue radiation, which is confirmed by a certificate from TUV Rheinland.
The Redmi Note 9 Pro uses a high-precision side-mounted fingerprint scanner. Thanks to this arrangement, the finger naturally falls on the scanner.
The smartphone has not only NFC and the ability to pay from the phone, but also an infrared sensor that allows you to use the smartphone as a remote control for household appliances. You can download the app from Google Play or use the built-in Mi Remote. Switching the channel when the remote is on the table and you are on the couch is priceless!
My favorite highlight is shadow removal during post-processing when photographing documents. This is such a necessary and basic function that it is not clear why other manufacturers ignore it. By the way, it became possible thanks to the advanced artificial intelligence in the chipset.
The Redmi Note 9 Pro uses a linear vibration motor. This is an unexpected choice, since they usually try to save money on vibration motors. Either simple buzzers or Z-shaped buzzers are installed. Linear vibration motors are complex in terms of placement. They are able to reproduce up to 150 vibrations for different types of notifications. And they are usually used only in flagships.
And the smartphone also has a 3.5 mm jack, the ability to shoot slow-motion videos at 960 frames per second, there is an imitation of a flash using a display, support for 2 nano-SIM and a separate slot for microSD.
And finally, it is important to say that the smartphone runs on Android 10 and MIUI 11 shell. This is an advanced shell with a lot of functions and secrets. She needs to devote a separate material. We have one, by the way. But the main thing is that the smartphone will receive updates, as well as Android 11 and MIUI 12, when they become available.
Conclusion
Every Redmi Note Pro has been good, but the last couple of generations, Xiaomi has steadily taken qualitatively new heights. When you use a smartphone, there is no regret that you saved money and bought a non-flagship. Quite the opposite. This feeling can arise if you bought a flagship and then studied Redmi Note 9 Pro. In terms of performance and photo capabilities, the smartphone can compete with the current flagships and surpass last year's champions. And for the price of one flagship, you can buy new Redmi Note Pro models for 3 years in a row.
Back to content >>>
Published – June 26, 2020
Share: 





we are in social networks: