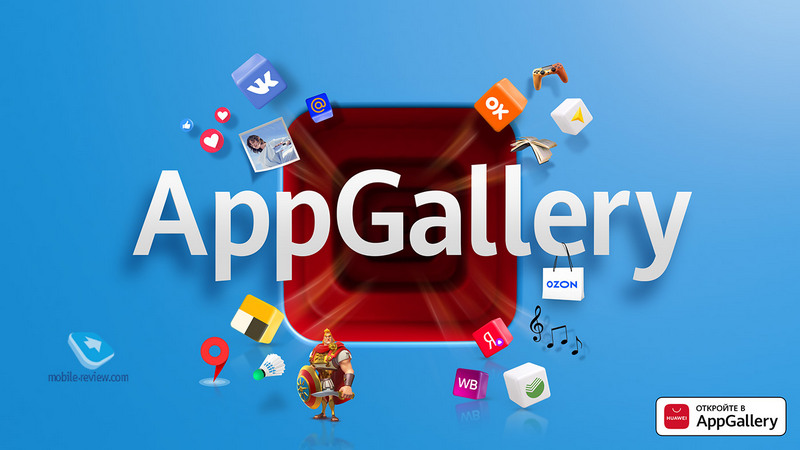 Hey.
The US trade war against China has been going on for several years. Among those that US officials are trying to restrict with sanctions, several high-tech companies, Huawei immediately comes to mind. The number and variety of US sanctions against Huawei is such that it is impossible to describe them even briefly. The initial restrictions included a ban on the use of American technologies, including Google's Android with the company's services. Let me remind you that Android comes in two flavors. The one that most users know is Android with Google Mobile Services (abbreviated as GMS), and there is also open source Android (Android AOSP), it can be used by anyone and is not subject to sanctions. American officials believed that by banning the use of Android for Huawei, they would instantly destroy all of the company's devices on this system. New smartphones and tablets will not be released, and users will start switching to devices from other companies. And if Huawei were in place of any other company that does not have similar resources, it would have happened.
Huawei decided to take Android AOSP and add Huawei Mobile Services (HMS), while abandoning all Google services. Even before HMS appeared on the market, all discussions boiled down to the fact that it was almost impossible to catch up with Google in this area, and it would not be possible to create a working alternative to the Play Store. The need to rewrite applications for HMS, the unwillingness of developers to do this, and, of course, recalled examples from the past were considered a limitation. No company has been able to create an alternative to the Play Store. But the story of AppGallery, Huawei's app store, proves exactly the opposite. Despite the sanctions, Huawei was able to create a living alternative to the Play Store, attract developers and consistently increase its market share.
When you grow from scratch, you can always show nice but relative numbers. The growth in the number of developers was 1000%, hurray, we won. However, AppGallery has truly become a market event, competing with the Play Store on Android. And not only on Huawei and Honor devices, where the Play Store is absent, but also on Android devices, where the Google app store is present.
The AppGallery store first appeared in 2018; by October 2020, the application is available in 170 countries of the world, the number of unique users is 700 million. Impressive? Not that word. Let's take a look at what the monthly audience is, this number is more important. And then we will see that it has 490 million active users. Huawei was able to attract 1.8 million developers, place 96 applications.
There are 2.9 million apps in the Play Store, and a head-on comparison will prove that AppGallery is not that interesting for the user. But is it reasonable to judge quality based on the number of applications? I think no. What difference does it make to me how many Flashlight applications are in the Play Store, especially if this is a standard feature of my smartphone and no separate application is required?
For users, the applications that are on their smartphones are important, those programs that are used daily. And here it is important to understand how Huawei solved this problem, because in 2018 for outside observers it looked like a suicidal attempt that would not give any result.
How Huawei convinced partners and developers to participate in AppGallery
Huawei has been growing in sales of smartphones around the world in recent years, gradually eating away market share from all direct competitors. By the second quarter of 2020, despite the US sanctions, the company took first place in unit terms among all manufacturers.
A huge army of users of Huawei products has become a potential audience for AppGallery, hundreds of millions of people around the world. For any developer, this is an interesting audience, and this raises the question of how to become successful in this store, how many resources are required to adapt their applications and how difficult it will be.
Huawei rightly believed that developers would not come to AppGallery without explaining the platform's prospects and how the company would develop this direction. Therefore, Huawei in each market of presence began to work directly with developers, explaining all the benefits of being on the platform.
Huawei counted the number of key applications in different categories and began to invite their developers to create a version with HMS, while technical specialists provided support for such adaptation. It is worth noting that Russia occupies a special position, since the largest Huawei research and development (R&D) center outside China operates on the territory of the country, that is, the development of many HMS services itself is carried out by Russian specialists who can, if necessary, provide assistance to their external colleagues – first-hand application developers.
An attractive side for attracting developers to AppGallery was also the fact that in the first year of operation the commission for game developers is only 15%, for everyone else there is no commission, that is, the developer receives 100% of the income from his applications. In the second year, developers of educational applications receive income of 90% of their cost, all others – 85% of the price of the application in the store. For comparison, the commission in the first year on the Play Store is 30%.
The difficulty of adapting Android applications for HMS in the first year was due to the fact that the development automation tools and set of services were relatively poor. Therefore, Huawei has made it a strategic development direction. And here the unthinkable also happened, in less than two years, 56 services (the so-called kits) were included in HMS Core, 12 APIs were developed in seven categories: application services, graphics, artificial intelligence, multimedia, system, security and smart devices.
One of the key problems for HMS was the lack of payment services outside of China, there is Huawei Pay in its home market, but there was nothing like it in Russia. And just like AppGallery, they said that nothing would happen, many argued that it was impossible to bypass the restrictions imposed by the sanctions, users of Huawei and Honor smartphones would be thrown into the past and would not be able to pay from their devices.
The example of developing programs for payments with Huawei smartphones perfectly demonstrates the success of the company's systematic approach to the market. In April 2020, the company announced a strategic partnership with the St. Petersburg IT company Cardsmobile, the developer of the Wallet application, which includes the Wallet Pay contactless payment service. The service became the first payment solution on Huawei and Honor smartphones in Russia. More than 40 largest Russian banks have already been connected to Wallet Pay. In addition, in the "Wallet" application you can store loyalty cards, coupons and certificates and receive discounts at your favorite stores.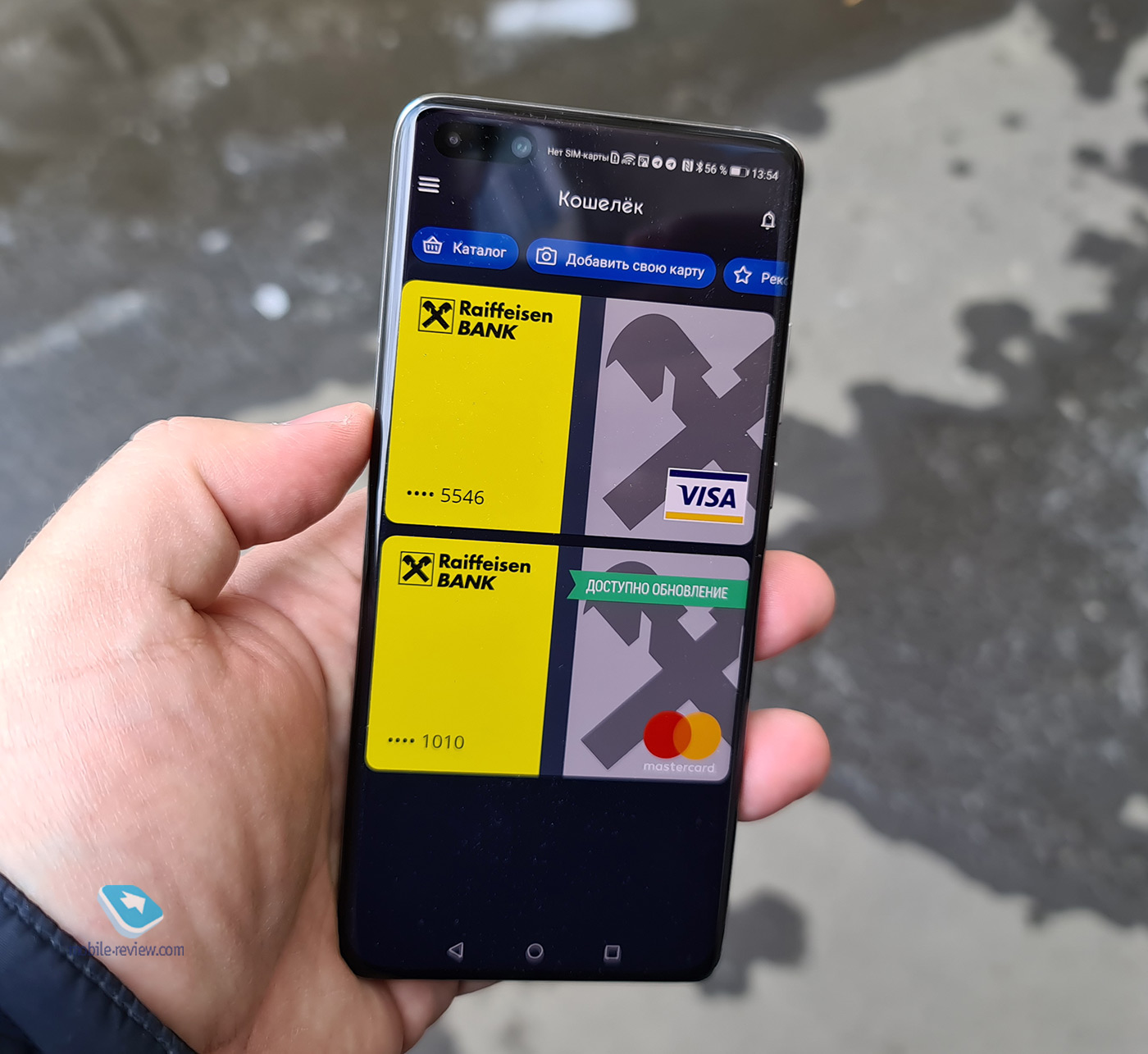 From April to October 2020, the application in Russia was downloaded 8 million times! Estimate the potential for a developer, the opportunity to gain a new loyal audience. This is a successful example of an application whose payment functionality was implemented using Huawei technologies. From the end of 2020, "Wallet" will be preinstalled by default on all Huawei and Honor smartphones for the Russian market.
Another example is cooperation with the largest bank in Russia. In July 2020, the Sberbank Online application introduced the SberPay function, which allows all Sberbank bank card holders to pay contactlessly from their Huawei and Honor smartphones. During the first month, more than half a million Sberbank Online customers added a card to SberPay.
These two success stories combine the HMS platform and the AppGallery app store. And this is a clear illustration of the fact that millions of applications in the Play Store have a downside, it is difficult for each individual application to break through and become popular. In AppGallery, this is easier, since the system is developing more actively and the manufacturer is directly involved in this.
Lack of cargo of past years – what is done differently in AppGallery
What impresses me about Huawei is the systematic approach, the company tries to think through every step. It is possible that the ability to plan the development of infrastructure solutions, including 5G, leaves its mark. It's no secret that the creation of infrastructure in a telecom is a long investment in decades, we see something similar in AppGallery, albeit not on such a scale.
Tools for working with AI algorithms and machine learning were made available to developers, these are traditionally strong sides for Huawei. In addition, various analytics related to device behavior, network quality, including 5G. And here Huawei's approach is fundamentally different from what we see from Google. The reason for the differences is in the different understanding of many technologies, in where companies came from. So, Google initially created a search engine, did not work with hardware. But Huawei's experience stems from the tight integration of hardware and software, this is their strength, which is reflected in the tools for developers.
Quick Apps are emerging and can be built using HTML5. Such applications are distinguished by their small size, for example, 1 such programs can fit in 2000 GB of memory. In addition, they are not so demanding on the resources of the device, they are universal and can be run both on smartphones and on watches, tablets, TVs.
Another point that surprises many. Even small developers can get feedback from the AppGallery team. This can be help in difficult issues of adapting certain functions for HMS, but more often it becomes necessary to launch the application on a specific day and time, since a marketing story is tied to this, for example, you start advertising your program. Only key partners, read big companies, can achieve this level of support from Google. Everyone is welcomed at Huawei because they believe that the rules of work should be the same for different companies.
You can list other "little things", but each of them indicates that the experience of other app stores was taken into account and rethought, the company tried to make the best version of such a store. And here it is important to note the fact that AppGallery has already taken place as a phenomenon, the store is working and developing.
A year ago, I was looking at what you can and cannot do on smartphones with HMS. The question constantly arose that there was no this application or that, it was possible to leave a wish about what you personally lack. Feedback has proven to be a powerful way for Huawei to respond and help developers add their apps to AppGallery. The development speed of the app store is very high, and if something is not there today, it will appear tomorrow.
Summing up, I want to say a simple thing. Thanks to the trade war and sanctions against Huawei, an alternative app store has appeared in relation to the Play Store. A year ago, many said that these were crutches, not a full-fledged solution, and it will never become such. I argued exactly the opposite, since I saw a systematic approach in the development of AppGallery. Time has proven that my point of view was correct, this approach allowed us to make a serious player out of AppGallery, and so far we see only the first steps of this app store. It will definitely be more and more interesting further. Including as the new distributed operating system HarmonyOS develops, for which AppGallery and HMS will be native. What do you think?
Related Links
Share: 





we are in social networks:
Anything to add ?! Write … eldar@mobile-review.com