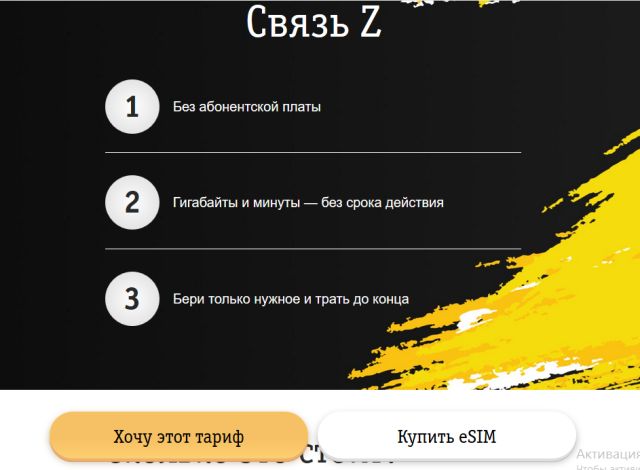 For many who read the "Operators" section of Mobile Review, the "Communication Z" product will seem very unusual, and it is unusual. It is imperative to get acquainted with this miracle of tariff engineering. It is not a fact that the tariff will suit you, but the probability of getting into the top ten is very high. Beeline tried to design a universal product that should suit almost anyone due to its exceptional flexibility. Did the operator manage to cope with such a super task?
Is it possible to embrace the immensity?
It is impossible to please all users with one tariff, even theoretically. Or is it possible? With all the variety of communication profiles, there are not so many basic requirements, and it is not at all necessary to select this option from those who want to fine-tune the parameters of additional services. The ideal is to give all lovers to delve into the filling of the tariff maximum freedom of creativity (within the permissible price limits), and let people enjoy, amuse themselves with the illusion "what I want, I will create such a tariff for myself!" And vice versa, in case of complete unwillingness of the client to fool himself, everything must work acceptably "out of the box" with default settings. Then our operators would have to take a closer look at the experience of their colleagues "in the Wild West", where they often profess the principle: "We know better what you need, here, keep 3-4 options for different money. Choose the right price tag and pay, the rest is our concern. There is no need to torture either our or our own brain, just trust the professionals. " You know, for the last few years, I really try not to bother with tariffs and trust professionals, but I don't always succeed (this was an attempt to joke). However, jokes are jokes, but almost always there is at least some catch in the detailed description of the tariff, but it will come out. Okay, let's read the original descriptions, let's go!
"In the new product" Svyaz Z ", for the first time in Beeline, packages of Internet, minutes and SMS have become truly fireproof – they do not need to be transferred, they are valid indefinitely until they run out.
A Svyaz Z user can choose a suitable package for comfortable surfing on the Internet – 10, 30 or 50 GB, lovers of long conversations can connect a package of 100 or 300 minutes, and those who are used to plain text messages – a package of 100 SMS.
You can choose any number of service packages: one, several or all at once, depending on the need and need. Or not to buy if they are not needed. Payment for any package occurs when it is activated. "
Unlimited options
For those who want to hang out in their favorite services without restrictions, "Z connection" provides unlimited options that have become even more convenient: they can be connected as needed – for a day or forever.
You can choose one of 4 paid options to use your favorite services without consuming the main traffic package:
Unlimited access to popular social networks and messengers (TikTok (12+), Telegram (18+), Instagram (12+), VKontakte (12+), Facebook (12+), Odnoklassniki (12+), Viber ( 18+), WhatsApp (12+), etc.);
Unlimited access to YouTube (18+);
Completely unlimited internet that can be shared with other devices;
Unlimited calls to Beeline numbers.
You can also choose options based on your needs – one, several, all at once – and combine them with service packages to create your own "Link Z".
This is information from the press release, and everything looks surprisingly good and blissful. It's even too good these days. Is it really really so nice and completely without a catch? I don't know, if something cunning was lurking somewhere, then I didn't find this "something". So far, everything seems pretty straightforward and no trickery. The description of the tariff on the Beeline website is here, if you wish, then try to search for yourself. A colleague from Technologicus.ru also did not unearth anything "criminal", but considers it a serious drawback to have to perform a paid action once every 90 days, otherwise a monthly fee of 5.5 rubles will be charged. per day.
Indeed, there is some contradiction with the concept of non-combustible packages that do not need to be specially renewed or carried over to the next period. It seems that everything is unlimited, but still at least one paid action every three months, as they say, "take it out and put it down." However, I am not inclined to find fault with this "obligation" at least once every 90 days. All operators have a similar rule in one form or another; after a permissible period of no paid actions, the subscriber is automatically charged off. To reset the balance, close the account and release the phone number for transfer to the next client. Otherwise, after some time, all operators would have formed deposits of inactive numbers with balances on their balances. Given that the state allocates numbering capacity to operators is by no means free. Cancel this requirement of mandatory spending at least once every 90 days specifically for one tariff? It looks illogical, and over time, a lot of unused numbers could accumulate. Especially taking into account the fact that Beeline considers its tariff-constructor "Communication Z" as a flagship product and inactive users after a certain period of time would inevitably turn out to be quite a lot.
Important UPDATE… Beeline explained that at the Svyaz Z tariff the 90-day rule is disabled and you do not need to perform a paid action at least once every three months, any activity with previously purchased packages is enough. I hope that now this important detail will be specified in the description of the tariff. That is, it is enough to simply use any of the purchased packages and there is no need to rack your brains over how to perform this paid action, if the contents of the packages cover all the needs for communication services. This is a valuable refinement and an important benefit of the fare.
By the way, Beeline's reverent attitude to this tariff is noticeable in many details, even in the smallest details. Above is the first version of the tariff description on the site. We made, looked and decided to "unload" the description, making it as simple and understandable as possible. And this is correct, there is no need to "load" the showcase with unnecessary information. Today's version of the title page of the description looks much nicer.
Returning to the details of the tariff.
There is no subscription fee;
Calls to any numbers in Russia – 2,5 rubles per minute;
SMS to any numbers in Russia – 2,5 rubles per message;
Mobile Internet – 1 GB as a gift when connecting or switching.
These are basic parameters, but the "trick" of the tariff is in the connected additional packages. Which, let me remind you, have no expiration date. Looking at the price of package components, you need to remember about the "indefinite"; a large and relatively inexpensive package looks more attractive, but when a significant "piece" of the package burns out at the end of the month, it can be a shame. And even the scheme of transferring the balance to one next month, although better than unconditional combustion, is still a half measure. But an unlimited package is yes, indeed, the freedom to consume various communication services in the required quantities / proportions and at a speed that is comfortable for you.
Internet packages:
10 GB – 350 rubles
30 GB – 450 rubles
50 GB – 550 rubles
Calls:
100 minutes – 150 rubles
300 minutes – 300 rubles
Messages:
Packages can be connected on the basis of auto-renewal, then the same package will be automatically purchased after the previous one is exhausted. The fundamental advantage is that auto-renewal is triggered after the expiration of the package, and not as usual, after a month, regardless of whether you used the services.
Unlimited available for connection with their prices:
Free unlimited TikTok – the first 3 months are free, then the option is disabled;
Unlimited social networks and instant messengers – 5 rubles per day;
Unlimited YouTube – 5 rubles per day;
Unlimited Internet – 30 rubles per day;
Unlimited calls to Beeline numbers – 5 rubles per day.
Prices are indicated per day of use, and it is really convenient: you can connect and disconnect as needed, without spending extra money. When unlimited is connected, the corresponding package is no longer consumed, the unlimited term has worked out – again the traffic began to be taken from the previously purchased package. And the purchased package, I remind you once again, has no expiration date.
About prices
Prices, as always, are different in different regions, see on your website. In comparison with other offers, it may seem a little expensive, but here the phenomenon described above is "wholesale cheaper", for example, you calmly and "legally" connect unlimited for any period you need without any dancing with a tambourine and calculating the balance of money on the balance sheet, so as not God forbid, nothing was written off in advance or for the previous day. There are no hidden costs in the form of a separate connection fee for the option either, we pay only what is indicated in the price list.
Flexibility
The tariff will probably not appeal to someone who loves large packages with impressive numbers. As they say, even though I gave a lot of money, but my head doesn't hurt about anything, now everything will be enough for sure. It is psychologically pleasant and warms the soul, but how rational is it? In "Connection Z" we pay for what we use, leaving only what we need. You can buy only packages of minutes or, conversely, only mobile Internet, or an SMS package, depending on what you need in any volume and combination. Yes, "Link Z" may seem like a complex and clever product, but this is a compromise. After all, you also need to earn money, so at least there is a choice. The operator can set a linear tariff with prohibitively high retail prices, or, conversely, heap a mountain of packages for you for a high monthly fee and boast of a low average price for minutes that you do not need. In "Svyaz Z" they tried to find a certain golden mean: so that the operator does not work at a loss, and the client only pays for what he actually uses. In the end, you can experiment with the settings, and if you absolutely do not want to, then do not rack your brains. Packages, I repeat once again, are unlimited, and the purchased goods will not be lost.
Summary
A very interesting experiment, and if you wish, you can build a tariff for your own needs without much hassle. Prices are not scary, and, most importantly, you only pay for what you use. And this in most cases means a profitable purchase, because in cellular communications we too often pay for unnecessary or unnecessary. And do not shy away from this "Connection Z", it only seems scary at first glance. In reality, the tariff is built logically, and tariff constructors are now, as they say, the trend of the season.
Related Links
Share: 





we are in social networks:
Anything to add ?! Write … eldar@mobile-review.com