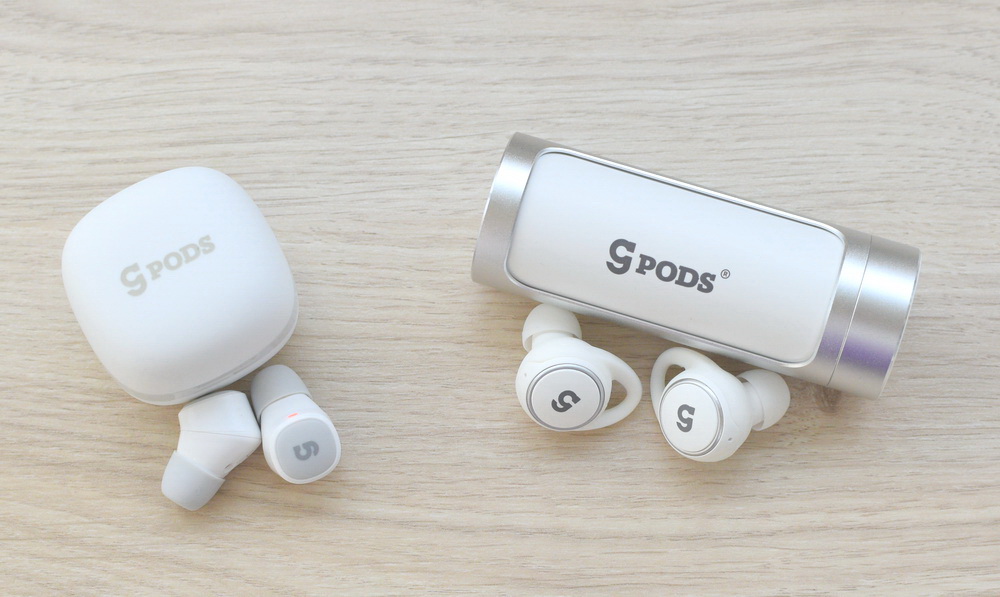 It is always more interesting to talk about the technique that you use yourself almost every day. In this review, we will focus on "family" wireless headphones, more precisely, on two models. I have been using one for almost a year and a half, and my wife has been using the other for about six months. After the specified time, the experience turned out to be generally positive, so I consider it necessary to share it with the audience. There aren't many in-depth reviews of wireless headphones, though. Basically, we are "fed" with all sorts of thoughtless, meaningless articles like "TOP 10 wireless headphones". Therefore, I wrote my material about cgpods headphones, almost a review on the products of the Tyumen brand CaseGuru. I hope for someone I can answer the question of how to choose TWS-type headphones in the outgoing 2020
Alexander Shub, professional expert reviewer of household appliances and electronic portable gadgets
The story of my acquaintance with CaseGuru products began in March 2019, with the preparation of a large comparison test of wireless headphones. CaseGuru CGPods 4.2 is the winner among competitors such as Meizu Pop, first-generation Apple AirPods, Elari NanoPods and CaseGuru CGPods. I liked the Tyumen "ears" so much that since then they have remained in personal permanent use. While "apples" and other competitors did not impress me too much and went back to the editorial office. And a little later, an updated version of CaseGuru CGPods 4.2 came to replace CaseGuru CGPods 5.0. The key difference is support for Bluetooth 5.0 instead of 4.2. I will tell you more about the advantages of this solution in more detail. So, briefly about the heroes of the material.
Instance number one – CaseGuru CGPods 5.0. The manufacturer calls its brainchild "The best new generation wireless headphones. With unique water resistance and megastable smartphone connection. " Under the new generation of headphones, the developer, apparently, means that CaseGuru CGPods 5.0 are stuffed with the most relevant chips (more details below). And CaseGuru also clarifies – they say, you will not find cooler inexpensive headphones during the day with fire. The model costs 4 rubles. This is 500-1 thousand below the minimum, where, in my opinion, TWS devices begin with more or less sound quality in terms of sound and functions.
I'll tell you right away what is the secret of the attractive price tag of CaseGuru CGPods 5.0, as well as other Tyumen products. To begin with, the principled position of the brand is no sales through federal networks of electronics and household appliances! Because getting into such offline stores automatically means the least + 50% to the price. There are no questions – rent, consultants' salaries, warehouse, logistics, etc. But CaseGuru immediately limited itself exclusively to trading via the Internet, therefore there are no overpayments to intermediaries here. To be more precise, the company has a "super-pretentious" showroom-warehouse in Moscow.
Not a show, but rather a modest CaseGuru room in Moscow.
But there is a suspicion that these "luxurious" 12 square meters next to a couple of car services do not significantly affect the price of the headphones. The Tyumen central office with a team of 15 employees is also, I suppose, not quite a ruinous event. By the way, the secret of such a small team is that most of the non-key processes are outsourced. A logical and modern approach, so as not to produce parasites on a salary – which would naturally be reflected in the retail price.
In short and to the point – the model has a powerful IPX6 waterproofing, a heavy-duty case made of professional aviation aluminum (withstands a load of 220 kg). By the way, Boeings are made of such aluminum.
Just a couple of days before the publication of this material, one of the bloggers, using an electric press, tested the CaseGuru CGPods 5.0 case for strength. It turned out that the "box" can withstand a load of 220 kg. That is, you can put on it, for example, two VAZ-2107 engines. For comparison, the "apple" case was tested – here the strength was only up to 84 kg. All in all, a grown man will definitely crush a white case.
And also – touch buttons with a lot of commands, excellent sound without fools and a decent total autonomy of ~ 17 hours. I almost forgot – there are additional hypoallergenic silicone spacers to completely eliminate falling out of the ears.
A useful feature if you play sports with headphones. CaseGuru CGPods 5.0 work on the basis of Bluetooth 5.0, which provides a more stable connection between the headphones and the smartphone. And at the same time eliminates the lag in audio when watching video – a typical "sore" Bluetooth 4.2.
CaseGuru CGPods 5.0 are available in both black and white case / headphone colors.
Instance number two – CaseGuru CGPods Lite. Thief of women's hearts, there is no other way to say! As soon as I received it for the test, my wife immediately took it for herself and categorically does not want to give it back. Because the model has the smallest anti-stress case in the world (more on that later). The case, by the way, is in the form of a jewelry case. And the headphones themselves are very compact and pretty "plugs".
Almost all the advantages of CaseGuru CGPods 5.0 are added to the design delights, namely, waterproof IPX6, almost a dozen control commands, excellent autonomy (20 hours). The case turned out to be outstanding not only due to the minimum size, but also because of the soft-touch coating that is pleasant to the touch. The model costs 3 rubles, in fact it is already a super-budget segment. And again, the lowest price against the background of seemingly more or less decent models of not the latest brands in the field of TWS headphones. Let me remind you that due to sales only via the Internet, a compact staff of 500 people and a modest office in Tyumen (plus a micro-showroom in Moscow), CaseGuru manages to avoid a + 15% markup or even + 50% to the price. This is exactly what happens in the case of brands whose products are presented in regular, NOT online retail.
About Us
The founder of the brand is Vadim Bokov, a detailed interview with him is available on the YouTube channel of Dmitry "Goblin" Puchkov.
The company is not Moscow or even St. Petersburg, but Tyumen (Vadim himself is from Surgut).
Vadim Bokov, founder and head of the CaseGuru brand
Right there, in Tyumen, is the office of these comrades. Before getting to the headphones, CaseGuru had been producing all kinds of smartphone accessories under their brand for almost 10 years – speakers, cases, films, cables, chargers, external batteries. Moreover, when it came to electronics like power banks, the brand considered it too boring to bring ordinary products from Chinese catalogs. Instead, the Chinese, according to the terms of reference of CaseGuru employees, developed new models or modified existing ones.
CaseGuru CGPower external battery. The most popular product of the brand after headphones. A striking example of how Russians can have fun and make a "candy" from a dull Chinese exercise. The Tyumen team, in a conversation with the Chinese, said a lot of things with the prefix "let's do it like this", after which the standard powerbank received three (!!!) options for charging ports, two built-in cables (microUSB and USB Type-C) and stored directly in the body of the model is a Lightning adapter. And all this is crowned by the possibility of wireless charging of the smartphone. Not an external battery, but shock content in the world of powerbanks turned out. For 2 rubles – this is some penny for such a set. I still don't see any analogues on Yandex.Market.
And, it should be noted, they produced very successfully – they sold more than 15 million units across Russia.
In the wake of such a powerful experience of working with portable accessories, we came to a situation that from time to time takes place in the domestic market. This is when our citizens clearly understand what level of technology and quality of the product they want to receive. And, realizing this, they persistently implement their plans. Including competently working with Chinese contractor partners. Because if you stand above the soul of the performers and firmly indicate what to fix, complete, then the result is a very shameful product. And if the customer himself is not a boom-boom in the subject and the only task is "to bring on the shelves a couple of suitcases, no matter what headphones, the main thing is cheap," then the result is appropriate.
CaseGuru's robust design approach has been complemented by reasonable product-level pricing with AliExpress. As I noted, the company deliberately ditched traditional retail stores and offline retailers. The CaseGuru CGPods series are available for purchase online only. Otherwise, the models would cost 1.5-2 times more.
In addition, only 15 staff members in a typical Tyumen office and relatively low marketing costs also make it possible not to raise the price tag on products. CaseGuru is connected with Moscow only by a tiny showroom near the Petrovsko-Razumovskaya metro station. And even then it is rather a warehouse – for fast delivery in Moscow and the western part of Russia.
Without socket
My review of the 2020 TWS wireless earbuds starts with autonomy, as this is one of the most important things for TWS models. The manufacturer claims that in CaseGuru CGPods 5.0, due to support for Bluetooth 5.0, it was possible to achieve a significant, almost 30% improvement in autonomy. It talks about the ability of the headphones to play music continuously for 4 hours. And taking into account the recharging from the case, it leaves 17 hours. And this is a very decent result, because, according to my observations, most TWS models still hang around for 10-12 hours. Although there is a minority in the face of "apples" of the second generation with their total of about 24 hours.
The only sadness is that manufacturers love to lie. Well, or to communicate things from the angle they need. If we talk about the autonomy of the headphones, no one guarantees you those same 4 hours without recharging, say, at 100% volume. No manufacturer in the world ever specifies with which smartphone, at what volume a particular result was measured. In the case of CaseGuru CGPods 5.0, fortunately, the stated information in reality turned out to be not far from the truth.
I managed to measure 4 hours at 60-70% volume. And this is a normal daily level, as for me, for the bulk of consumers. Because the volume is enough for both music and conversations.
But if you love 80-90% of the decibels available in headphones, get a little over three hours on a single charge and about 12 hours in total. That too … Well, because in analogs, when you indicate such autonomy, you will get a very shameful 8-9 hours at high volume.
The second model, CaseGuru CGPods Lite, comes from the "small but smart" series. It would seem that they are "light" in order to yield to the brutal CaseGuru CGPods 5.0, but no! The total autonomy is 20 hours, almost like that of "apples" 2. This was achieved due to a more capacious battery in the case. Thanks to this, we get plus one full charge.
Operation from one full charge is similar to CaseGuru CGPods 5.0. At moderate volume up to 70%, we get about four hours. Turning on the music louder will cost you one hour of autonomy and up to 16 hours in total. It would be foolish to regret this – we remember that the same budget counterparts are considered happiness to at least slightly overcome the 10 o'clock mark. Of course, "apples" have 2 and even 24 hours, but the price compared to CaseGuru CGPods Lite is almost four times higher.
Contents of delivery
The concept of the models can be felt directly from the size of the boxes. CaseGuru CGPods 5.0 has a large package to highlight the presence of a high, heavy-duty professional case. CaseGuru CGPods Lite, on the contrary, is quite small.
The CaseGuru CGPods 5.0 kit includes a case, headphones, spare spacers, three options for ear pads (including those already installed), a microUSB cable and detailed instructions in Russian.
CaseGuru CGPods Lite offer a similar set, with the exception of interchangeable spacers. In general, almost any wireless headphones, even top-level in 2020, contain such a set.
Cases
The models have so different "chests" that it is useless to compare them. Therefore, I will go through it separately.
CaseGuru CGPods 5.0… A definite break in the pattern among wireless headphones. Cylindrical case made from durable professional aircraft grade aluminum. Withstands a load of as much as 100 kg. And there is a lot of confirmation from observers, for example, here:
The idea of ​​an aluminum body is great. Without hesitation and regret, you can throw it into your backpack even with a set of wrenches. The humor is that if scratches and scuffs appear on the case, they will only decorate the sparkling case. The styling is kind of, yeah.
Inside the aluminum case there is a plastic "cradle" for headphones. By rotating the right side of the case, we kind of open and close it. Agree, the original approach.
The case contains two magnets, one in the area of ​​the indentations for each earphone. Therefore, when you bring the "ear", it immediately begins to attract and without additional effort sits down correctly.
Four blue diodes – indication of the charge level of the built-in battery.
On the left there is a microUSB charging connector.
As I pointed out above, CaseGuru CGPods 5.0 are available in both white and black.
Commendable variety. It seems to me the most successful is the combination of a matte white "capsule" with a light metal shell.
CaseGuru CGPods Lite… Oh, this is the world's smallest wireless headphone case! Here are a couple of photos that give you an excellent idea of ​​the dimensions of the "chest".
The case turned out to be so "talented" that I don't even know where to start. Perhaps from the form. Due to the strong rounding of all edges and corners, the case most of all resembles sea pebbles. The brand's Instagram even has a whole story about how one of the employees walked along a pebble beach during a vacation, took a pebble in his hand and realized: here it is, eureka! I don't presume to judge the veracity of the story, but it sounds beautiful.
Even on the Internet, the CaseGuru CGPods Lite case was nicknamed "the anti-stress case". Like, you just don't want to let go of it: you twist and twist, open and close the lid with a cool click.
In addition to the diminutiveness, as for me, the key feature of the case is the soft-touch coating, which I generally don't remember from other manufacturers. The "storage" is not only pleasant to the touch, but also looks very cool, I would even say – noble.
And this applies to both white and black versions.
The female sex is so generally – almost faints from the CaseGuru CGPods Lite case, it looks so attractive. Checked on the wife and her girlfriends. Apparently, it resembles a jewelry case. Actually, at the first glance at CaseGuru CGPods Lite, just such an association arose.
The coating is non-staining, no scratches have appeared on it so far. Although the wife constantly carries a briefcase in a woman's backpack. So with durability, everything is in order.
As in the CaseGuru CGPods 5.0 case, there are four charge level indicators and a microUSB port.
Headphone design
CaseGuru CGPods 5.0… Apparently, when developing the model, the creators primarily relied on maximum reliability in terms of retention in the ears. Therefore, the shape of the "ears" itself most of all resembles a tablet with rounded edges. To fill the space of the auricle, but at the same time, due to smooth transitions, do not press anywhere – the headphones are sooo comfortable and soft in the ears.
Of course, the main design feature is the silicone spacers. With this option, the headphones cannot fall out. Moreover, I would not say that this dignity is useful only for athletes. For example, I personally find it difficult to get the usual "plugs" to hold tightly in my ears. Therefore, I was very pleased that CaseGuru CGPods appeared on sale.
Replaceable spacers are a great solution. On the one hand, they can be removed altogether. On the other hand, it can be cleaned separately or replaced with new ones. Let me remind you that a spare pair is included in the kit. The spacers have optimal elasticity – they create the necessary support, but at the same time they do not rest too hard on the skin. Therefore, after an hour or two of using CaseGuru CGPods 5.0, it is still convenient to be in them.
Of the design delights, there is perhaps a matte silver circle on the side. At the same time, this element clearly denotes a touch pad.
All the space inside the silvery circle is one solid touch surface.
CaseGuru CGPods Lite… The appearance of the headphones is to match the case, the ultimate miniature in size. No sweeping sidewalls, intricate, supposedly anatomical shapes. Just L-shaped "ears" that are barely noticeable. They hold up well, even with a special shaking of my head, they never flew out of me. But for sports fans, of course, it is better to take a closer look at the CaseGuru CGPods 5.0 with struts.
The headphones are made of slightly glossy plastic. The side is an insert-key made of rubberized material with a matte surface.
There is a diode indicator on the body that notifies about the status of charging or connection with a smartphone.
The build quality is just excellent: the buttons do not play, the body parts are tightly connected. You take it straight into your hands and understand – a thing!
Management
CGPods forgot to add the function of calling a taxi and starting a kettle. SHYUTKA! All other useful options for remote control of a smartphone are available. These are downright exemplary top-class wireless headphones. Both CaseGuru CGPods 5.0 and CGPods Lite have almost a dozen commands available, here's a complete list:
turn on / off the microphone;
re-calling the last dialed subscriber;
answering / rejecting an incoming call;
pause / play music;
increase / decrease volume;
switching between tracks;
call the voice assistant.
For comparison, as a rule, brands do not bother with TWS headphones and do not add volume control and track rewind at all. That is, you walk all like a wireless down the street with your hands free. But if you want to switch the track in Deezer – go ahead, reach into your pocket, take out your smartphone, turn it on, point your finger … Hey, are we definitely living in the 21st century ?! Is it possible to strain a little and make a well thought-out product? And then somehow all this does not fit with the proud "wireless headphones of the model of 2020".
In my CaseGuru CGPods 5.0, I double-tap the right earphone – and immediately there is a transition to the next track. Magic! Want more magic?
If I do a double tap on the left "ear", then … I'll go to the previous song! The same is with the volume, press on the right – plus the sound, on the left – we decrease the decibels. Can you smell it? Yes, with logic and common sense! Straight from Tyumen!
For me, for example, it remains a mystery how, against the background of this splendor in absolutely affordable "ears", someone else can tolerate expensive "apples" 2 with their choice from a grandiose, don't fall, list of five teams. "Choice" – because only three pieces can be assigned to work. It seems to me that even if "Ogryzochek" releases the car without wheels, people will drag it along with them on a cable and say: "No, well, this is" Ogryzochek "! Modern advanced technologies, they know better in every way, what is better. "
Headphone control methods in Tyumen models are diametrically opposite. CaseGuru CGPods 5.0 are touch buttons, CGPods Lite are hardware keys. In short, I prefer the "light" option, because here any false positives are physically excluded. Another thing – willy-nilly, you press the keys with some effort, that is, involuntarily you ram the earpiece into your ear. But hold it as you like – you definitely won't turn on the player and rewind a couple of tracks while you take the "ears" out of the case and adjust their position.
On the other hand, the likelihood of false positives famously cancels out the ecstasy of touch control. I gently stroke the earpiece to control the tracks, volume, I can call the last number. By the way, my wife liked the touch control in CaseGuru CGPods 5.0 more than the button control in CGPods Lite. But outweighed the diminutiveness of the "lights" 🙂
Do you even understand how cool it is? So – to geeks I definitely recommend CaseGuru CGPods 5.0. "Lights" is the choice for those wishing to get a reliable, "not annoying" tool for managing a smartphone.
Moisture protection
Atypical section for reviewing wireless TWS headphones, right? Last but not least, my choice settled on CaseGuru CGPods 5.0 and Lite precisely because of the presence of protection against water. While this option is still observed in a very small number of TWS models. Which is very strange. Judge for yourself – separate tiny headphones … Obviously, they can easily be dropped, for example, into a puddle. Well, pouring over an overturned mug of tea or coffee is generally a classic.
Yes, at least in the rain it is more interesting to walk with music! No, I understand the manufacturers. As they say, purely business, nothing personal. It is much more profitable for companies that, at the slightest ingress of moisture, the buyer immediately ran for new headphones. Especially if your company is called "Yablochko", and "ears" cost 13 rubles.
But how can ordinary Tyumen guys care about these business sharks! Domestic comrades "vkoryach" into their models not some kind of protection against droplets, but quite a serious level of moisture protection IPX6. Which, according to Wikipedia, means "Protected from strong water jets. Water directed to the shell in the form of strong jets from any direction should not have a harmful effect. " Translated into Russian, this means that scuba diving and diving in CGPods may not be necessary, but taking a shower is easy. And without harm to the wireless "ears"! To drop into the sea, a bathroom, pour tea on the "ears" – all these events Tyumen devices will survive without any negative consequences and will work as if nothing had happened. Unless after full immersion, it is advisable to dry properly before further use.
IPX6 water resistance means more than just showering with CaseGuru CGPods. Tyumen "ears" CGPods can also be washed under the tap, even with soap! Because we are all not robots and no, no, and it accumulates in the silicone ear cushions of a byaka type of earwax. And here – hop, rinsed the headphones under the tap without any consequences for the performance of the model. It is a pity that this trick will not work with every technique.
With CaseGuru CGPods, this is simply not possible. Have you bought a second-hand model? The purchase can be disinfected without any problems. Here, who is in what is much – thoroughly soap, wipe and rinse under the tap or throw in a jar of alcohol. The result is that the probability of picking up any infection from the previous owner through the headphones is 100% excluded. By the way, such a trick will not work with "apples" – there is no moisture protection there. Therefore, the buyer can expect a variety of surprises, from ear mites and ear fungus to flu and even staphylococcus aureus!
As for the personal experience of checking the moisture protection of CaseGuru CGPods, I did not spill coffee-teas, I will not lie. But I take a shower all the time in CaseGuru CGPods 5.0. Well, I love listening to music under this business. Turn on your smartphone at full volume to shout over the noise of the water – why? You plug in your headphones and enjoy the full music accompaniment. Lie in the bathtub and turn on the smartphone – and here I am with CaseGuru CGPods 5.0. Because it's not scary if I drop the headphones into the water. My wife, I confess, has no particular love for using headphones in the bathroom. So the "strength" of her CaseGuru CGPods Lite was not particularly tested. But judging by the videos and photos on the Internet, the model, like CaseGuru CGPods 5.0, is not afraid of water. By the way, in the reviews of cgpods and reviews on CaseGuru products, I have never read about the "drowned" – apparently, it is impossible to drown CGPods!
In general, it's a pity that top-level wireless headphones do not automatically mean moisture protection.
Sound
How Do I Pick the Best Wireless Headphones? Of course, first of all, in terms of sound quality. Because both the case and the water protection are all secondary. The main thing is sound! So that it is comfortable and pleasant for your ear to listen to music in wireless headphones.
As I already noted at the beginning of the article, the previous generation of CaseGuru CGPods 4.2 at one time took part in a large comparison test of TWS headphones. The competitors included Meizu Pop, Apple AirPods, Elari and NanoPods. Tyumen headphones became the winners. Then I wrote the following about the sound quality: "On the side of CaseGuru CGPods – the presence of that very scene, good transparency of sound and the absence of obvious" jambs "across the entire frequency range. With these headphones in the songs you constantly notice the details that were previously missed in other headphones – here the hat entered, there the saxophone, here they added backing vocals. Music becomes, without reservations, voluminous. It is as if an audio space is being formed in my head, where you can clearly hear how and from where the vocal sounds, this or that instrument ".
So, according to CaseGuru, the version of CGPods 5.0 has an improved sound in comparison with 4.2. I can't classify myself as a music lover, but? in my opinion, "fives" play excellently, with a slight emphasis on low frequencies. Well, to have more "boom-boom" – as the bulk of the average listener likes it.
The sound of CaseGuru CGPods Lite is generally very similar to CaseGuru CGPods 5.0 with the only difference that the sound is more neutral. There is no low-frequency accent – those who want to add bass are welcome to the smartphone equalizer. Both models do not wheeze, do not "choke" at maximum volume. True, I would like to get this very loudness with a large margin. For conversations and calm music (I include any pop-rap here), more than enough. But to make it sound in "heavy" compositions – the volume is not enough.
Although I have encountered this in other TWS headphones from different manufacturers. Is that the "apples" of both generations are famous for their serious loudness. But what's the point if the sound quality there is "below the plinth." It is physically unpleasant to listen to music at high volume without bass, with cutting high frequencies.
I will separately dwell on Bluetooth 5.0 – both CGPods models support this version of the standard. It differs from 4.2 by the possibility of a more stable connection between the headphones, as well as with a smartphone. But what I liked the most is that there is absolutely no sound lag when watching a video on a smartphone or laptop. Even a small, in principle, bearable, but noticeable delay, one way or another, spoils the pleasure of watching a video. In CaseGuru CGPods 5.0 and Lite, the sound and picture are completely synchronous, without the slightest lags.
As for the stability of the connection between the headphones and the smartphone, oddly enough, I have nothing to complain about. Contact with the phone was never lost. For a year and a half of use! There was no gap between the "ears" either. I don't know, maybe I have some kind of aura or just purely straight arms. But – as it is, I am writing about my impressions of cgpods from caseguru. In the reviews on these headphones, I learned from a couple of people about connection problems – I wondered how people have such difficulties. I have only a couple of times the music played intermittently, and that's all.
As befits in-ear headphones, CaseGuru CGPods 5.0 and Lite provide excellent sound isolation. Therefore, listening to music will not interfere with street noise, the hum of the subway, loud conversations of people nearby, and so on.
This favorably distinguishes the Tyumen models from the plug-in variants of the "apples" type, where all the surrounding sounds are heard just fine. As a result, there is no question of any full-fledged perception of music in the resulting audio cache.
Each earphone has a microphone, so if you wish, you can choose one "ear" as a headset to your taste, and leave the other in the case. I do this all the time when I go with my daughter to the entertainment center. I look after the child and hear him, but at the same time I listen to music and is always ready to answer the call. In a quiet room like a shop, they always heard me perfectly. On the street – not ideal, especially if there is a road nearby or it is windy. Not a question – I speak a little louder, it's business.
Conclusion
CaseGuru CGPods 5.0 cost 4 rubles, CaseGuru CGPods Lite – 500 rubles. Budgetary?
As I emphasized several times above, wireless headphones with a similar set of functions and workmanship in ordinary stores usually cost significantly more – from 7 rubles. Let me remind you the secret of the low price of CaseGuru, one and a half to two times lower compared to analogues. Firstly, sales only via the Internet, without cheating intermediaries like large chain stores like Eldorado, M.Video or Citylink. Secondly, instead of a bloated staff and luxury offices in Moscow, there are 000 people of the necessary staff and a modest "base" in Tyumen. So the brand simply and effectively keeps the price low, but not at all by saving on product quality.
These headphones have only one major drawback. When on the street you see someone wearing "apples" – you constantly think, why buy "this here" at the price of a monthly salary of a resident of the regions? When it is 3-4 times cheaper, you can take such headphones from Tyumen – with moisture protection, excellent sound quality and noise isolation, as well as much more advanced controls. Plus chips like a spacer for a secure hold in the ears in CaseGuru CGPods 5.0.
This is not to mention the cool cases – shockproof made of aviation professional aluminum in the case of the "fifth" CGPods and the smallest anti-stress case for the CaseGuru CGPods Lite. In general, they are worthy candidates for getting into all kinds of "TOP 10 wireless headphones".
If we compare with models from other manufacturers, we see that even headphones that are 1.5-2 times more expensive do not always boast the same set of advantages as CGPods devices. Or rather, I never found direct analogs to CGPods products. I don't want to look at AliExpress – I think it's unreasonable to play the lottery with the quality of Chinese basement apprentices. For lovers of cheap X *** products, I recommend that you familiarize yourself with this material. Here it is described in detail how you have to pay for the cheapness.
Hope you enjoyed my review of TWS wireless earbuds. If you have any questions, ask in the comments or write to me at schub.alexandr@yandex.ru!
PS At the end of the cgpods headphone review, there are several indicative reviews on CaseGuru CGPods wireless headphones from real consumers.
Danila Luneev. Courier delivers orders from CaseGuru online store in Moscow.
I have a very simple story. I started using it – I liked it. You probably thought – since the courier means all everyday life on long journeys around the city, it means that he loves to listen to music on the road, watch a video, and the headset to be more decent. No headphones at all. It is so, but not quite. I am an owl, I stay up late, in the kitchen I like to watch TV shows, all kinds of video from my laptop. And the wife, on the contrary, is a lark. So in order not to wake her, I listen to the whole thing in ordinary headphones, with a wire. Tired of it! Because to get up, figure out a sandwich, coffee, go out for a smoke, in the end – how are you with wired headphones? Therefore, I took myself CGPods 5.0.
Happy as an elephant, yes. I walk around the kitchen, listen to the TV series, babble. It is necessary to move to another room – directly into the earphone on the touch button with your finger poke – and the video itself will stop. Earlier, while delivering orders, I did not watch music video on the road, again I was too lazy to mess with wires. With CGPods 5.0, it's the other way around. I even asked my daughter to install Yandex.Music for me. What do you like? Yes all. I already poured coffee on headphones. Rinsed under the tap, dried, work like new. I remember the outlet once a week. As a headset, it is normal, only when there is wind or very noisy around, you need to speak louder.
For the price – I will not lie, the office gave me a gift. But if someone gave it a try, they would buy the same ones. 4 rubles – I will not go broke. But to buy headphones for 500 – I staggered their apple trees, let go of such money. This is twice as expensive as my smartphone, some kind of nonsense.
Ekaterina Fadeeva. The wife of Mikhail Fadeev, founder and director of the Agency WITHOUT Marina Rozhkova.
My husband brought me CGPods Lite headphones from work with the words: "These are normal ones, you will finally stop suffering." Until that moment, I had such pink "barrels" for 1 rubles.
The only good thing here is a pleasant peach color. Otherwise, in this model, apparently, they wanted to embody the standard of bad wireless headphones. To begin with, they don't hold well in the ears, regardless of the size of the rubber pads. Further, a large barrel-body presses in the ear, it is impossible to wear for longer than 20-30 minutes, the head begins to hurt. A sophisticated control system with double-triple clicks. I could not remember how to control what, so I took my smartphone in my hands to rewind a track or change the volume.
There are no voice notifications about pairing, disconnection, other events. Continuous charging, maximum two hours of operation. Terribly short charging cable, only 10 centimeters. If at such a distance there is no table or sofa nearby, the case will hang in the air.
CGPods Lite has none of the above drawbacks. If earlier I had the standard of disgusting wireless headphones, now it is a sample from and to problem-free. Judge for yourself: they hold on well, their ears do not get tired for an hour of music on the road in the morning and in the evening, and periodically about two hours of video at night. Really tiny, inconspicuous. Several times people came up to me and didn't understand why I didn't react to their appeal – they didn't see the headphones. This despite the fact that my hair does not completely cover my ears.
I remember about the outlet on Saturday or Sunday, on weekdays there are enough recharges from the case for 100%. The headphones themselves, according to my calculations, work for 4 hours and 10-20 minutes. Two full days of use. Russification is a class. In Russian, CGPods Lite notify about pairing, on-off. A wire exactly half a meter long to place the case with the headphones on a sofa or table next to a power outlet. I'm not a music lover, but the quality of the music is definitely better than it was in my previous peach buzzers. In a conversation, the interlocutors hear me well, somehow I didn't have to adjust to CGPods Lite. Although I'm used to speaking quite loudly, maybe that's the whole point.
Soundproofing test of the CGPods Lite model 🙂
The case for these headphones is, of course, a work of art. Miniature, with a slightly velvet finish. It looks great and is very pleasant to hold in your hands. Where is the usual glossy case of apple headphones.
Share: 





we are in social networks: