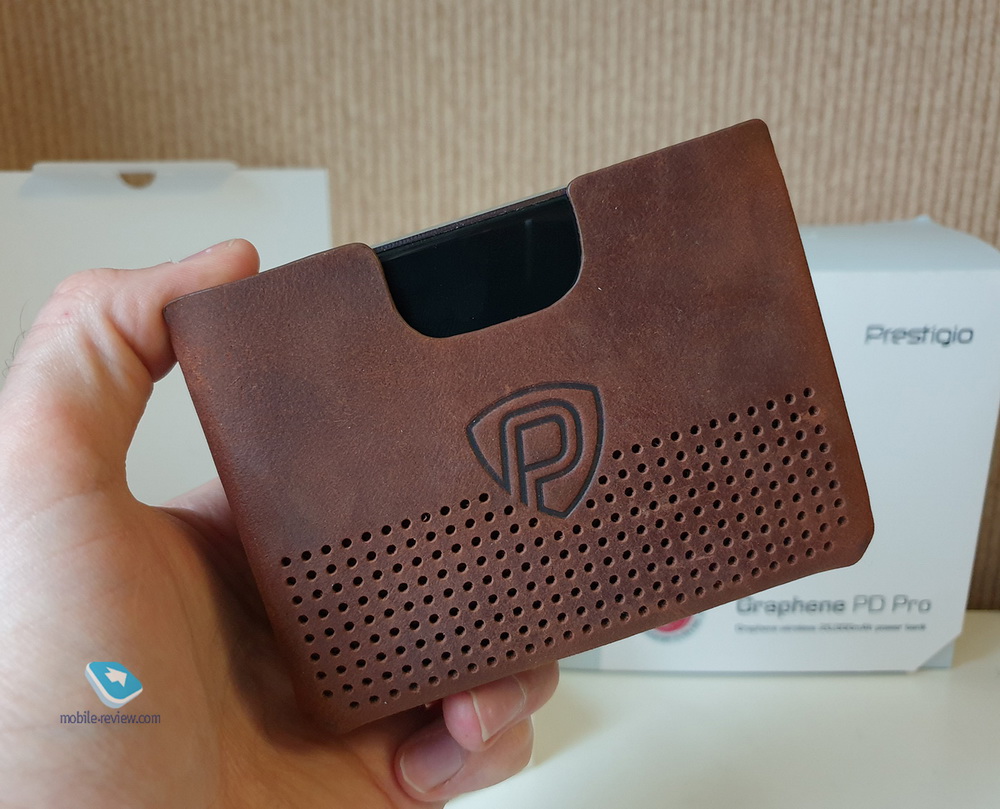 Content
Introduction to graphene and Li-Ion batteries
About GRAPHENE PD PRO by Prestigio
TECH SPECS
Not all 20 mAh are the same
Equipment
Positioning
Appearance
Impressions of use
A quick comparison with the 3 mAh Mi Power Bank 20 Pro
Conclusion
Introduction to graphene and Li-Ion batteries
There was an offer to try an external battery (that is, a powerbank), but not a simple one, but a unique one with "the most promising graphene technology on the market" from the Prestigio brand. I suppose something in the proposal caught your interest, something made you frown, and something you considered marketing. I absolutely agree with you. I have experienced exactly the same range of experiences.
Let's start in order, with an answer to the question of why graphene technology is considered the most promising. And if it is so promising, then why do all smartphones and laptops still come with batteries labeled Li-Ion (lithium-ion) or Li-Po (lithium polymer). Although here it is necessary to clarify that you will not find lithium-polymer batteries in smartphones, Li-Ion Polymer is used. That is, in smartphones, a Li-Po battery is understood as a Li-Ion battery, but in an elastic polymer shell. If you are interested, the advantages of such a solution are that you can make thinner batteries, while the batteries themselves are more reliable, they will not swell like Li-Ion. And the disadvantages of Li-Ion Polymer are that such a battery wears out faster and is more expensive to manufacture (compared to Li-Ion).
But all these squabbles with Li-Ion and Li-Po are not particularly interesting when there is a fundamentally different technology – a graphene battery. To begin with, graphene (as a material) is described as very thin (almost transparent) and light, but at the same time it is stronger than steel and still has excellent electrical and thermal conductivity. A few numbers. Graphene can hold 1000 watts per kg of weight, while Li-Io only holds 180 watts. Already from this characteristic, one can draw conclusions about the steeper such batteries (more capacity, less size and weight). Another advantage of graphene is that, thanks to its excellent conductivity, it can charge very quickly and not heat up. And finally, it is worth noting that graphene batteries should be much safer when damaged.
However, graphene batteries are still in the "just about, and to the market" stage, that is, not mass production, but some projects can be found mainly at crowdfunding sites. Like that Apollo. As I understand it, the main snag is the price.
However, researchers are trying to improve current Li-Ion batteries by using graphene in them. This is possible, since graphene batteries are identical in design to current batteries, that is, two differently charged electrodes and an electrolyte. Accordingly, there are solutions for using graphene to improve conductivity. The main bonuses of such hybrid solutions are a large capacity, a longer life cycle, as well as such batteries heat up less and can be charged with higher power charges.
About GRAPHENE PD PRO by Prestigio
Prestigio, in turn, writes on the official website that the Graphene PD Pro is not a hybrid, but a full-fledged graphene battery. And the advantages are that the battery does not overheat, and the service life is 3 times longer compared to conventional power banks.
TECH SPECS
Capacity: 20 mAh, 000 W * h
Output powers:

USB 1 3.0 Type-A 5V 2.4A (charging 12W)
USB 2 3.0 Type-A 5V 3A / 9V 2A / 12V 1.5A (fast charging 18W)
USB Type-C PowerDelivery 45 W (you can infect a laptop)
Wireless charging 10 W

Charging via USB Type-C included adapter 60W, 100% in 100 minutes
Dimensions: 80 x 110 x 23 mm, weight 410 g
Not all 20 mAh are the same
What's the point? In power banks, not only the capacity is important, but also the nominal voltage. In most batteries, as, for example, in the well-known Mi Power Bank 3 Pro 20 mAh battery from Xiaomi, the nominal voltage is 000 V. But most gadgets require 3.7 V. Thus, the real capacity of such a battery is 5 12 mAh. Here, take a look at the screenshot from the official Xiaomi website:
Prestigio's website has a capacity of 20 mAh, but the watt-hours are also indicated on the battery itself – 000 W * h. This means that the Graphene PD Pro has the same capacity as Xiaomi. So after all, the Graphene PD Pro is more of a hybrid.
Equipment
Prestigio got very confused with the packaging. An elegant box with a transparent window covered with a magnetic lid. Inside:
Battery
60W power adapter with convertible plug (fits both European and US-style flat plugs)
Leather case
USB Type-C to Type A wire
The box contains a minimum of words in Russian, judging by the descriptions, it can be assumed that the battery is going to be supplied to Europe, the USA or China
Up to 6 smartphone charges or 1 laptop
Such is the equipment. The leather case comes in handy, as the glass surface of the battery is easily covered with fingerprints. Pay attention, I just took it out of the box, and the fingerprint is already visible.
Positioning
I decided to add a "Positioning" section, since the Graphene PD Pro comes not only in an overly elegant box, but also with a leather case.
Magnetic cover, beautifully recessed battery
And the battery itself is made with a claim to style: black tempered glass and metal. It looks exquisite, you want to put such a battery next to an iPad or MacBook. I don't know the price, but visually and by sensations it should be at least 5-6 thousand rubles. I looked for analogs on crowdfunding sites, where the range is from $ 90 to $ 150. So it is logical that there is a minimum of Russian on the box. Apparently an expensive product and only for a certain audience.
Considering the large number of ports, laptop charging and wireless charging, Prestigio Graphene PD Pro is for those who need to charge a lot of gadgets.
Thanks to the beautiful packaging, I think the Graphene PD Pro will be great as a small token of attention to a respected person on New Year's Day or February 23rd.
Appearance
Prestigio Graphene PD Pro is, of course, a very beautiful product. Aluminum and black glass are a winning combination. Of course, fingerprints remain on the surface. However, they are noticeable when you look at the battery at a right angle. If it just lies on the table, then imperceptibly.
Lightning indicates that there is 10W wireless charging on this side
And on the other side is the Prestigio logo
All characteristics are listed on the back. This is useful if you suddenly forget which of the USB ports gives out fast 18W charging.
On the front side there are two USB Type-A ports. Only USB 18 provides 2W fast charging. Nearby is Type-C, through which the battery is charged. This port is capable of delivering 45W and allows you to charge your laptop.
The mirrored surface on the left is a small screen displaying the battery status. Lights up when you press the power button, and is always active when the battery is on.
By the way, when the battery is using up the charge, the LED glows blue, if charging, then green. Not a very relevant indication, since there is still a screen.
The battery comes with a leather cover. The case is tight, so you have to make an effort to insert or remove the battery. Perhaps it spreads over time. Considering the glass surfaces, the case is useful.
Impressions of use
I think the best way to tell the story is to outline interesting positive and negative points in paragraphs:
First, let's face it, the device looks stylish. When you look at it, you get aesthetic pleasure. Frankly, this is one of the reasons why I agreed to take his test. I wanted to touch it live.
The cover smells like leather. And over there Nokia made a vegan leather case for its Nokia 8.3 5G. This is probably a less premium solution, but I was amused by the thought that somewhere in the world there was a skinned vegan sad.
The battery has a well thought-out starting system. If you just plug in the wire and plug in the gadget, nothing happens. You still have to press the power button. In the same way, when connecting a second device, you must press the power button again. For wireless charging, you also need to press the power button, but only if nothing has been charged before. If a device is already charging via USB, then wireless charging is active.
Wireless charging works. The zone is large, I put my smartphone down, and the charge went.
It's a cool moment that wireless charging works even if the smartphone is stowed away in a case. This is a useful and correct moment, because the cover is tight and you will quickly get tired of taking out the battery back and forth.
Thus, it turns out that 4 devices can be charged simultaneously from the Graphene PD Pro – two from USB Type-A, one from Type-C and one more via wireless charging.
Taking into account my experiments with smartphones with 4000, 4500 and 5000 mAh batteries, in general, I can confirm that a smartphone with a 3000 mAh battery can be charged up to 6 times. Calculations show that a smartphone with a 4000 mAh battery can be recharged 4 full times.
But when the Graphene PD Pro is charging itself, it will not be able to charge from it. And this is a minus.
The Graphene PD Pro comes with a 60W adapter. When charging, the Graphene PD Pro practically does not heat up. That's cool.
Prestigio promises 100% charge in 100 minutes, that is, in 1 hour and 40 minutes. My measurement showed 1 hour 55 minutes, which, in general, is normal. We still have alternating current.
The Prestigio kit includes a Type-A to Type-C cable. In my opinion, it would be better to put Type-C – Type-C as a rarer, but more useful posting.
With the Graphene PD Pro, you can charge your laptop through the Type-C port (produces 45W), but it's better to do this when the laptop is turned off. Prestigio highlights this as an advantage, but, in my opinion, it is more of an emergency option. On the other hand, all powerbanks are an emergency option. So this opportunity can really be useful.
A quick comparison with the 3 mAh Mi Power Bank 20 Pro
The Mi Power Bank 3 Pro is probably the most common 20mAh power bank with lithium polymer battery technology. It is clear that with the graphene Prestigio they will be in different price categories. Mi Power Bank 000 Pro is estimated at 3 rubles in "white" retail. And Prestigio, judging by its counterparts in the US, will cost about a hundred dollars.
Dimensions
This was the first item that I went to compare, as I expected that since graphene, there should be a gain in weight and size. Not everything is obvious here. Xiaomi weighs 440 grams, while Prestigio weighs 410 grams.
Prestigio measures 110 x 80 x 23 mm, while Xiaomi measures 153.5 x 73.5 x 27.5 mm. It turns out that the Graphene PD Pro is both lighter and more compact in every dimension. The benefits of graphene are clear.
About wet fantasies. On the one hand, there is a clear and confident victory of graphene over lithium-ion, but if the battery weighed 300 grams, it would just be a wah-wah-wah factor. But these are already dreams. Although I wonder how much the Graphene PD Pro would weigh if it weren't for the glass, the aluminum case and without the wireless charging coil. This version is for the rational traveler looking for maximum performance without beauty.
Technologies
This point cannot be verified in any way, but the manufacturers of graphene "cans" claim that their devices last 3 times longer than conventional lithium-ion ones. Prestigio does not lead cycles, but a similar product of the American brand – with the same capacity and charge time up to 100% – promises up to 2000 charge-discharge cycles.
Charging time
Graphene PD Pro charges in less than 2 hours (100 minutes promised). Xiaomi charges in 4.5 hours if there is a 45W adapter. With a complete 18 W adapter, charging time is 6.5 hours. And this is a good time, there are batteries from other manufacturers that indicate the time at 8-10 hours.
Ports
Xiaomi only has 2 USB Type-A and USB Type-C ports. Prestigio has the same, but also wireless charging. Parity in terms of port capacity.
Conclusion
Prestigio has got an interesting product created using new technology. Unfortunately, this is not a full-fledged graphene battery, but a hybrid product that uses developments. But, according to the manufacturer, this already allows you to increase the battery life by 3 times. Its success in Russia will depend on the price. For example, a Xiaomi battery, if you don't bother with very gray stores, can be bought for 3 rubles, and if you need more wireless charging, then such batteries cost 100 rubles. And in this case, it turns out that Prestigio Graphene PD Pro at a price of 3-600 thousand rubles is more profitable, if you believe the characteristics of the conditional 6 cycles or 7 times longer life cycle than lithium-ion batteries.
Another point is that Prestigio Graphene PD Pro is for those who need to charge a lot of gadgets – phones, tablets, laptops. Rather, it is a category of business users, because an ordinary person will have enough 5 mAh battery for his smartphone.
Traditionally, we wish Prestigio every success. For they do not stand still, but they do the job. Time will tell.
Note: there was a mistake in the text. Thanks to attentive and thoughtful readers!
Back to content >>>
Share: 





we are in social networks:
Anything to add ?! Write … eldar@mobile-review.com