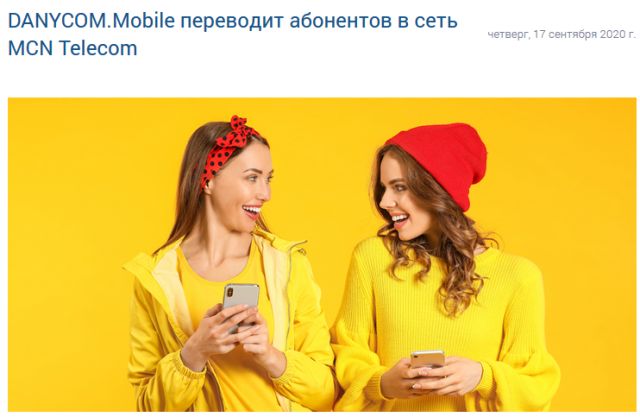 Not a small MVNO operator, but some shocking monster, it seems to me that they are talking only about Danycom. And also other news from the world of cellular operators. Beeline is seriously concerned not only with the number of subscribers, but also with the quality of their subscriber base. In general, the policy is absolutely correct, but it seems to me that it is too late to start to worry about it. A little about the rebranding of Sberbank.
So what's up with Danycom?
I don't feel like sorting out this jumble of news with cancellations and adjustments literally on the go, and I don't see much sense. For outside observers, this is hardly so interesting, and now former Danycom subscribers themselves closely watched the events without any reminders.
Especially closely watched by those who, due to circumstances, "hung" between the earth and the sky numbers with attached banking and other services. Now it is easy to argue about whether it is folly to link any services to the phone number of an incomprehensible operator, whose "business model" is declared as free communication in exchange for reading five advertising SMS a day, three times ha! They write that those who honestly paid the subscriber also suffered, they have something to do with it? It has nothing to do with it, there are relatively few of them, Danycom talked about less than 20% of subscribers actually paying for services. Okay, let's not mock, people are already sad.
As a guideline, I will simply recommend a fairly detailed explanation of Danycom here, where the tariffs that former Danycom subscribers will receive in the MCN Telecom network are also discussed in detail. Since tariffs are our diocese, I will allow myself to quote a piece:
"When switching to the MCN Telecom network, subscribers will be offered a line of four tariff plans (TP), which will come into force on September 28 of this year. "Free" tariff with the following parameters: there is no subscription fee, the package includes 200 MB of Internet traffic, the fee for each subsequent megabyte will be 0,08 rubles. Calls in home regions (Moscow, St. Petersburg, Yekaterinburg, Krasnodar, Samara, Novosibirsk, Rostov-on-Don, Kazan) to numbers of mobile operators will be 1,39 rubles per minute, to numbers of fixed-line operators – 0,79 RUB / min., long distance calls – 1,99 RUB / min. If you are in another region, the cost of a voice call will be 1,99 rubles / min. regardless of direction. On-net calls remain free. The cost of an SMS will be 0,25 rubles per message. The cost of additional Internet traffic packages on the Free TP will be 49/199/399 rubles for 1/5/10 GB, respectively.

Tariff plans "Family", "Family Light" and "Family Plus" are not adjusted and remain in full under the same conditions. Call free tariffs and the current Free tariff plans, as well as archive tariff plans will be unavailable. The services "Traffic exchange" and "Share with friends", the option "Annual subscription" from the moment of switching to the partner's network will also become unavailable for use. "
The page of tariffs offered by MCN Telecom to those who switched from Danycom can be found here, study for health. MCN Telecom has carefully created a separate section of the site called "For Danycom Subscribers". I will also recommend the corresponding Vkontakte pages here https://m.vk.com/wall-150540140_42164, they are cheerfully discussing, and it looks like someone from Danycom is answering questions. Those who got involved in the transfer of their number to Danycom, as a possible way out, were advised to wait 2 months and then take the number to another operator, not the most friendly option.
I must say that the promised "seamless transfer" of subscribers to MCN Telecom, to put it mildly, turned out to be not entirely seamless. And roughly speaking, in places and at times the "seamless" transfer was bursting at all the seams. And, as they say, the problem will not solve itself, and if the number is needed, then you may need to fight for it.
I read exotic advice to write a statement to terminate the contract. Say, in this case, the contract will be terminated and the phone number you need will automatically return to the operator who originally owned this number. Then you can go to connect to this "first" operator and get the desired number from him. If the number is beautiful or the operator seems beautiful, then you will also have to pay for your former number. And the matrices of "beauty" among operators are constantly being improved, and now they consider beauty what 5 years ago was considered a completely ordinary number without any signs of beauty.
People are intensely and without hesitation in expressions complaining about how they were "thrown" at Danycom and almost ruined them all their lives. It is possible to understand the mourners, but let's still look at the situation soberly. For more than a year, people used the connection for free and took it all for granted. Some also did not hesitate to write about several sim cards. And then suddenly Danycom stopped giving freebies, how is that ?! I am His Majesty a client, I made the operator happy with a photocopier of my passport, the operator is obliged to me! No, I don't have to, I wanted to – gave a freebie, I didn't want to – I took it away. Another person is angry that Danycom even accepted the application for MNP into their network in August. Here I would like to answer the question with a question: how could the application not be accepted? The operator still officially continued to work, and the refusal to accept people passing to him via MNP, probably, could be fraught. For example, a rather big fine. Again, a reminder that even an operator who knows about his imminent death will still work and carry out what is laid down by the law. Nobody will take you aside and warn you in a friendly way: "Well, where are you going? We ourselves have three hours left to die here. "
They write that the unconditional call forwarding set even before the shutdown works for those who hurry up in time. Honestly, there was more than enough time to transfer the number to another operator, back in early August it was clear that something incomprehensible and hardly pleasant for the subscribers of this operator was maturing at Danycom, at least take a look at our review here. A person who values ​​his number was supposed to rush out of Danycom back in August, when they announced the termination of connections, I almost openly warned. But no, they sat on their freebie to the last and hoped for a miracle. I am not for gloating, but as a warning for future use. Our virtual operators are rapidly multiplying, and subscribers need to "keep their nose downwind."
There is also some good news. For example, those who were tempted by savings and paid a tariff for a year in advance with a significant discount were promised the opportunity to safely sit out on their contract until the end of the term. Naturally, we are talking about previously signed contracts, the new "Annual Subscription" contract becomes unavailable from the moment of switching to MCN Telecom.
A bit strange relationship between market participants. I never expected that Danycom, even through another virtual, would still remain in Tele2. She and Tele2 spat so enchantingly in public that any further cooperation seemed impossible. Read the last section in our review here https://mobile-review.com/articles/2020/oper-news-09-2020-1.shtml, called "Danycom and Tele2, Shakespearean muzzle passions in the family." True, read it, if you suddenly missed it, there is such a "high style" in mutual reproaches that you will surely enjoy it. Although, from a purely technical point of view, it is much more rational to stay with Tele2, since you don't have to reconfigure anything especially.
As a summary of the situation with Danycom, I can voice the opinion I heard that at Danycom someone's rich dad gave his son money and carte blanche to play MVNO business. Something went wrong, they got loans, the money ran out and the project was canceled. I don't know if we are really talking about some kind of joint project or simply transferred Danycom subscribers to MCN Telecom in exchange for payment of debts. Although it is true that Danycom subscribers are a dubious acquisition, the operator still wants to receive from its customers something more material than fierce praise of a generous cellular phone on all Internet sites. More than 80% of the subscriber base did not have to wait for "something material", although recently there have been attempts to force subscribers to pay at least something. But can you make the already spoiled one free?
Beeline, is it complicated?
Yes, yes: "Beeline" regularly pesters me kindly. It is clear that he wants money, but the desire to understand the client's position is warmly welcomed.
I am not sorry to share my opinion, and even the proposed 100 rubles. I will not take it. By the way, also find out how long these 100 candy wrappers are valid for. You will foolishly take away real money from the balance based on this virtual hundredth, and then scratch your turnips. So, returning to the questions of "Beeline", I will try to explain in a nutshell.
In my "interaction" with "Beeline" no great events have happened in recent years. It was just that Beeline was gradually, but purposefully, becoming more expensive, and the operator was of little interest to me. Personally, I am sympathetic to Beeline and generally was almost my first cellular GSM operator, but how long can you go on old nostalgia? Recently, Beeline's tariffs have been more or less adequate, they are working on the coverage and, in general, pets. That is, there seemed to be a chance to revive the old love, but … why? For several years, I have developed an ideal tariff ecosystem for me, and in this system, Beeline would now be just an extra link. Nothing personal and no special emotions. I painted all this in order to convey to you one simple idea: life is not endless, and there are many interesting activities in it, constantly messing with tariffs is not the best of these activities. I regularly come across offers like "I didn't need a wonderful tariff, take it, for God's sake, I have it at least for the purchase price." But how did this wonderful tariff suddenly turn out to be unnecessary? As usual, once he turned up at an inexpensive price, and the man could not resist, grabbed. Just on the principle "a good thing, let it be!". Sometimes such collections are then sold out, and one wonders: why did a person collect, cherish and cherish all this? As an investment is not good, you will not gain much, and the hassle is above the roof. So you don't have to do that, as a result, one continuous frustration.
Returning to the Beeline tariffs. Although they are "on the market", the cheapest package in Moscow "Close People 1" is priced at 495 rubles / month, and this is at a discount for new connections. Cheaper is only a very much curtailed "First Gigi", but not much cheaper, they ask for 450 rubles per month. What kind of "democratic prices" are there even for the lowest tariffs? And this is still very, very good, not so long ago it was much worse.
Beeline is obviously working on their mistakes, that's good. Let me quote from my own review of June 18, 2020:
"It took a long time for Beeline to think that putting on the window as the cheapest in the Moscow line a tariff with a monthly fee of 700 rubles per month is not just a bad idea, but an excellent gift to competitors whose lower tariffs cost about 500 rubles. , sometimes less. In the place of the operator's top management, I would look for a person who suggested and justified this, it looks like either unprofessionalism or deliberate sabotage. Okay, as they say, we drove and it is better to wake up late and still correct the mistake than to persist.

It would be possible to return to the line the tariff "Close people 1", which was removed in Moscow, but now they decided to assign this role to the modified tariff "First Gigs", estimating it at the very same 500 rubles / month. In principle, the tortuosity of the path is not so important, we are interested in the final result. "
Here nadys looked into the tariff line "Beeline" – wow! Last time we corrected our obvious mistake by urgently adding the "First Gigi" tariff to the line, and then slowly delved into and returned to the Moscow line "Close people 1", as I suggested to them. They returned without ads, announcements and other tinsel, they just returned. Probably, having finished the already existing workpiece, but this is not so important. Well, well, as I have written more than once, the end result is important for you and me. Now everything is quite consistent with the Moscow market and does not shock a potential client with the minimum price of a tariff of 700 rubles. "Beeline" because we have a proud bird, until you kick it, it will not fly.
Sberbank rebranding
How do you like the new Sberbank logo? I liked it, stylish and no frills. There will surely be a lot of criticism about the oversimplification in the short name "Sberbank", but I don't see any problems here at point-blank range. On the contrary, how would they "legalize" what everyone called Sberbank, have you often heard the full name "Sberbank" from people? He is Sberbank, everyone perfectly understands what it is about, and no one notices any pejorativeness in this abbreviation. Another thing is that now the moment for rebranding is not the best one and the money spent on this could be better used. On the third hand, we do not know the price of the issue, it is possible that this rebranding will not be so expensive.
MegaFon immediately reacted to the new logo with a proposal to shorten all the names, since the short names of operators have been used by the people for a long time. True, "Beeline" did not answer anything, said nothing. It seems that Beeline took this idea without much enthusiasm, why is it? Okay, jokes are jokes, but you shouldn't get carried away with intricate names either. Look, no matter how much the long-suffering Ministry of Communications was renamed, the Ministry of Communications still remained, after N years the Ministry of Telecom and Mass Communications began to take root somehow. Now they are promoting "Mintsifry", they are itching to do everything.
Related Links
Share: 





we are in social networks:
Anything to add ?! Write … eldar@mobile-review.com