Content
In a short line
MediaTek is the new leader in the chipset market
Which smartphones are more profitable to sell?
Why refusal to charge in the kit is, in general, not bad
Conclusion
In a short line
No news on LG yet
Recently I did material in which I denied rumors that LG would sell its mobile business and go out of business. The leaks promised that the sale will be announced on January 26th. The deadline has passed, but we will wait for January 29, when the results of the quarter will be summed up. On a call with shareholders, they will tell you something for sure.
Short-list of the "Crystal Headset" award
Last time Samsung made us happy with its new signature 4-note melody with multi-layered symbolism.
The company does not stop and continues to delight with great news. Samsung Electronics was shortlisted for the Crystal Headset Award. This is the most prestigious award established by the Call Center Guru community of professionals, which evaluates call centers in Russia, Belarus, Kazakhstan and other countries in the region. Samsung has 485 authorized service centers in Russia and the CIS, and also has a field service. For the possession of the Crystal Headset, Samsung will have to compete with such venerable rivals as Beeline, Sberbank, Ural Bank of Sberbank (apparently so good that they were separated from Sberbank) and Emergency Medical Service Station them. A.S. Puchkov ".
Let's keep our fists!
Self-sharing from Yandex
Yesterday, walking down the street, I found myself in a light reverie. I couldn't decide which is better, to take a Volkswagen Polo or an Airbus A319. On the one hand, Airbus is parked closer, on the other – then you will be tortured with parking.
Well, jokes aside, cool news from Yandex.Drive and S7 Airlines. Now in the application you can book a plane according to your needs. For example, you can fly alone or with friends to St. Petersburg. You must book in advance. Airbus A319 rental for 96 seats will amount to 864 rubles. Expensive but affordable. Before Sochi, the price will be 776 rubles. Many can afford it too. But these are prices without business service. If you add this option, it will, of course, be more expensive. It's nice that if there are fewer people in the cabin than provided, then you can take more baggage.
Obviously, the story is about PR. But I am sure that it will shoot, as many people and companies will pay attention and understand that the price, in general, is not so high. Especially when you are having a party. For example, take everyone to a wedding to take a walk in the Caucasus or celebrate the company's birthday at sea.
5G in Russia
M.Video-Eldorado recently shared information that Russian buyers have purchased more than 520 smartphones with 5G support in Russia. The average price of such a smartphone was about 80 thousand rubles. The rating of the best-selling devices was described as follows:
iPhone 12 (128GB)
iPhone 12 Pro Max (256GB)
Samsung Galaxy S20 Ultra (128GB)
Honor 30 (128GB)
iPhone 12 Pro (128GB)
According to the head of the Telecom department in the M.Video-Eldorado group, Vladimir Chaika, "… an important role in the growth of the share of 5G smartphones was played by the start of a line of devices from Apple. IPhone 12 sales in our networks have exceeded demand expectations. "
Some background information. The total smartphone market in Russia for 2020 is estimated at 31,5 million devices, and the average price of a smartphone is 18 thousand rubles, which is 9% more than a year earlier.
MediaTek is the new leader in the chipset market
In May 2020, he made material about MediaTek, in which he reasoned that the company is quite capable of bypassing Qualcomm, since on the side of MediaTek there is a trend that the quality of smartphones has grown to a level where the brand, technical characteristics or the name of the chipset are no longer so important. The most important thing is the price.
This news came out at the end of December, but it was not possible to write everything. The third quarter results show that MediaTek has now crushed 31% of the market and bypassed Qualcomm.
According to analysts, this was due to the growing demand for low-cost smartphones. And the key regions were India, China and Latin America. The ban imposed on Huawei and Kirin chipsets also played into the hands. It is also significant that, for example, Xiaomi's number of smartphones based on MediaTek chipsets has tripled compared to last year.
In 2021, the most rapidly growing category will be 5G smartphones. Both Qualcomm and MediaTek are actively fighting for this market, offering their solutions.
However, for example, Samsung chose MediaTek Dimensity 32 720G for its running Galaxy A5 model, although it could have chosen Qualcomm Snapdragon 690 5G. It is likely that MediaTek will win the segment of affordable 5G smartphones. By the way, read the review of new products in January, there are just a couple of typical 5G smartphones responsible for the middle price segment.
Which smartphones are more profitable to sell?
One of my first articles on Mobile-Review.com was an article about how quickly smartphones are losing value on store shelves.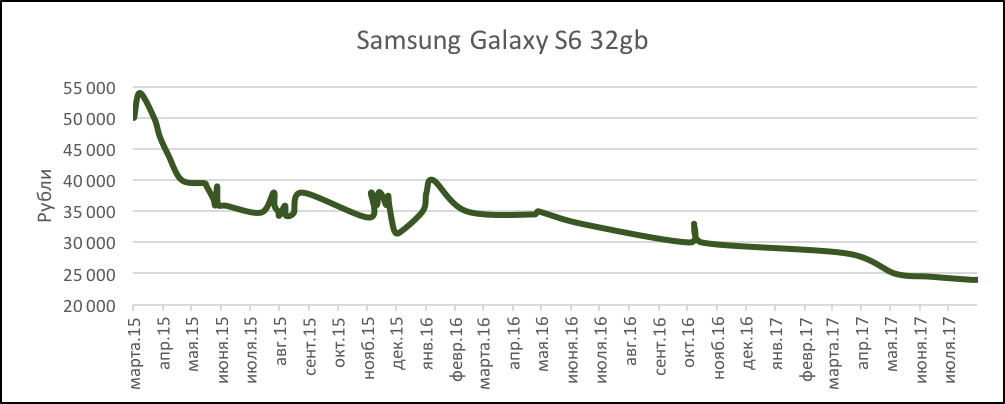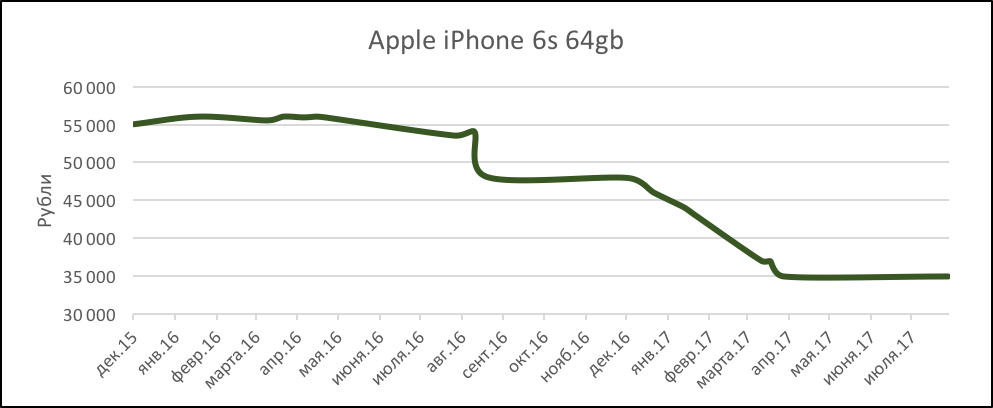 The statistics were pretty simple. Samsung Galaxy S6 dropped by 33% after six months, and after 1.5 years it could be bought for half the price. iPhone crashed more slowly. A year later – by 13%, after 1.5-2 years – by 36.5%. It is not easy to carry out such studies now, as the price of smartphones decreases, but the ruble is also depreciating, which leads to a natural increase in prices.
However, the overall situation remains the same. For example, the Galaxy S20 Ultra, presented a little less than a year ago, can be bought for 30% less than it cost at the start. And the iPhone 11 Pro Max lost about 13% in price. You can read the material and see the graphs of cost reduction for different price segments.
In this case, it should be understood that we are talking about goods on the shelves. BankMyCell compares trade-in and resale prices for various gadgets and publishes a study once a year which smartphones lose in value the least. They recently released a study for 2020. It's funny, but our results are consistent.
For example, the iPhone 11, according to BankMyCell, lost 2020% in price in 12.84, while the Samsung Galaxy S20 lost 34.73% of the original price in 9 months of sales.
The iPhone 11 Pro Max has dropped in price by 15.96%, and the Galaxy S20 Ultra – by 36.30%.
You can try to interpret the results in different ways. For example, that Apple is working harder with retailers, creating artificial scarcity, etc. However, everything is much simpler. Supply is driven by demand, and the market is looking for a balance point.
Statistics show that Apple has managed to organize a stable demand for its product, when people just go and buy an iPhone, not paying attention to the fact that a new model will be released soon, and they have a clear understanding in their heads that the iPhone cannot be cheap. However, this statement still applies only to the flagships from Apple. I have already said more than once that buyers are ready to buy only flagship iPhones. For example, the budget iPhone SE of 2020 turned out to be of no interest to anyone and went downhill. According to BankMyCell, its price dropped by 8-37% over 40 months.
The fastest losing smartphones were named Motorola, HTC and Sony. Which is also quite obvious. Relatively niche manufacturers, whose interest in smartphones is rapidly dying out.
General statistics for brands looks like this. Looking at Apple, it should be borne in mind that there is still a decrease in prices for the iPhone SE.
Three years have passed, and this is data for the United States, but the overall picture remains, as do the conclusions. If you buy an iPhone, it makes no difference when you buy it. Six months later, you can try to catch a 3% discount. If we are talking about Android smartphones, then any flagship should be bought 10-4 months after going on sale. By this time, the price will drop by 6-25%, all bugs and glitches will be identified, and the smartphone itself will not yet be perceived as morally obsolete.
Why refusal to charge in the kit is, in general, not bad
First Apple, then Xiaomi, and now Samsung have abandoned the included chargers. We did not conduct a survey inside the editorial office, but judging by the materials, the boss is against the seizure, and I can refer myself to the supporters of this process. And I even want it to be more active.
Look at Samsung
You can get rid of charging in different ways. There are already three examples on the market:
Apple removed the chargers, but left in the kit a strange Type-C cable to Lightning, thus forcing to buy a new charger. The obvious point here: most homes are full of old adapters, but they all have a classic USB Type-A connector. The same connector is offered in all cafes, airports and business centers. Accordingly, Apple users find themselves in an uncomfortable situation when they either need a Lightning-Type-A cable, or have to always carry an adapter with them. At the same time, the company did not cut prices.
There is a variant from Xiaomi, which introduced the Mi 11 smartphone to the Chinese market a couple of days before the new year. There is no charging included with the smartphone. However, the company offered those in need to get a universal 65W Mi GaN Tech Charger for free.
The third option was offered by Samsung. The company refused to charge, but reduced the price of smartphones by $ 200 (in Russia, Samsung raised prices, but still refused to charge). And this is also a great option, since the bitterness of the lack of charging is more than offset by the price drop.
Accordingly, each manufacturer decides what to do. But obviously everyone is looking at each other. So Samsung's price cuts are a powerful signal that will slow down the overall rise in smartphone prices in the market. And this is good.
One universal charger
To be honest, I do not think that refusing to exercise will have any positive effect, and it is unlikely that the life of seals and penguins will become more pleasant. However, the rejection of charging will inevitably lead to the creation of a universal solution.
For example, I like the Mi GaN Tech Charger 65 W from Xiaomi much more than the standard adapters from manufacturers. There is complete nonsense going on in the market right now. Take a look at the adapters that I collected around the apartment (the far left is the Mi GaN Tech Charger 65W). Different shape, size and power. However, the largest does not mean that it is the most powerful. Separately, of course, different sizes are annoying. Because of this, some adapters even manage to block adjacent sockets.
Also, by abandoning their own chargers, manufacturers will have to find a common solution. For example, all smartphones support a minimum of 15W charging and a maximum of 65W.
Laptop market
My biggest dream is that someday you can buy a powerful gaming laptop, open the box, and instead of the traditional brick weighing 700 – 1000 grams, there will be a 65W Mi GaN Tech Charger adapter. Well, the maximum is 2 times thicker. For example, this is what Oppo's 125W charging looks like. Such charging can already charge most ultrabooks today. For laptops with a discrete graphics card, 130-230 watts are needed. There are many rumors on the net that Xiaomi is developing 200W charging for smartphones.
The thought is that laptop makers will realize pretty soon that they too can cut costs by ditching power adapters. At the same time, they need to offer customers something in return in order to avoid negativity. For example, for this Lenovo Legion, we did not put a 200 W power supply weighing 1 kg, but you can take a 200 W charger from Xiaomi, which weighs 150 grams.
Ultimately, everyone wins. Producers will be able to save money, it will become easier for users to live.
Conclusion
Reporting season begins. On January 27, Apple will announce its fabulous profits. For the first time in the company's history, revenue will exceed $ 100 billion. And the net profit will exceed $ 23 billion, which will be the largest net profit for a private company. If you know English, be sure to listen to Tim Cook and count how many times he says "amazing". Speaking of Apple, it is customary to remember Samsung. They released an announcement that everything is stable and the overall figures are the same as a year earlier. They do not grow, but they do not fall either.
The results of the quarter from Apple are interesting also because iPhone sales are not growing. This means that Apple is more actively making profit from other products and services. So let's listen to Tim Cook.
Back to content >>>
Share: 





we are in social networks:
Anything to add ?! Write … eldar@mobile-review.com