Hey.
In the first part of the material, we examined the issues of the strength of the smartphone, ergonomics, in the second we will discuss the remaining points.
But first, I want to take this opportunity and comment, as I was "caught" once again.
It seems that for some it has become a life goal that overshadows everything else. So let's go in order. The protective graphene film was and is present, no one refused it, and why? It provides the very resistance of the screen to daily use, for example, in Huawei Mate X there is nothing like that, and there is a separate protective film glued to the screen, which very quickly becomes unusable. And without such a film, in turn, the screen is easily damaged, it is turned outward.
About screen damage, as well as dead pixels that happened on my first Galaxy Fold – that's how it was. The envelope hit the screen and killed a couple of pixels. Unfortunately, I didn't find an envelope at hand to show the difference with credit cards, but I think you can imagine it yourself, in a tight envelope the corners are quite sharp. And if the inside is still thick cardboard, in which the card is hidden, then it turns out to be an ideal tool for damaging such a screen, as in the Galaxy Fold. But this does not happen with credit cards, it was also checked, and I wrote about it exactly. Still, I would like to see that people do not just use article search, but try to present what they have written, otherwise they get a blank shot. But enough lyrics, let's talk about other aspects of the Galaxy Fold and why I like it so much.
Content
Shooting with Galaxy Fold – closed or open?
Battery and operating time, smartphone charging
Closed Galaxy Fold and external screen
Large main screen – why you need it and how to live with it
Other trivia and conclusions
Shooting with Galaxy Fold – closed or open?
The main camera unit is located on the rear panel, so you can take pictures without opening the device, the picture is shown on an external screen. In the overwhelming majority of cases, this is enough, I press the power button twice, start the camera and immediately I can shoot. In winter, I use the volume key to take a picture and keep my gloves on.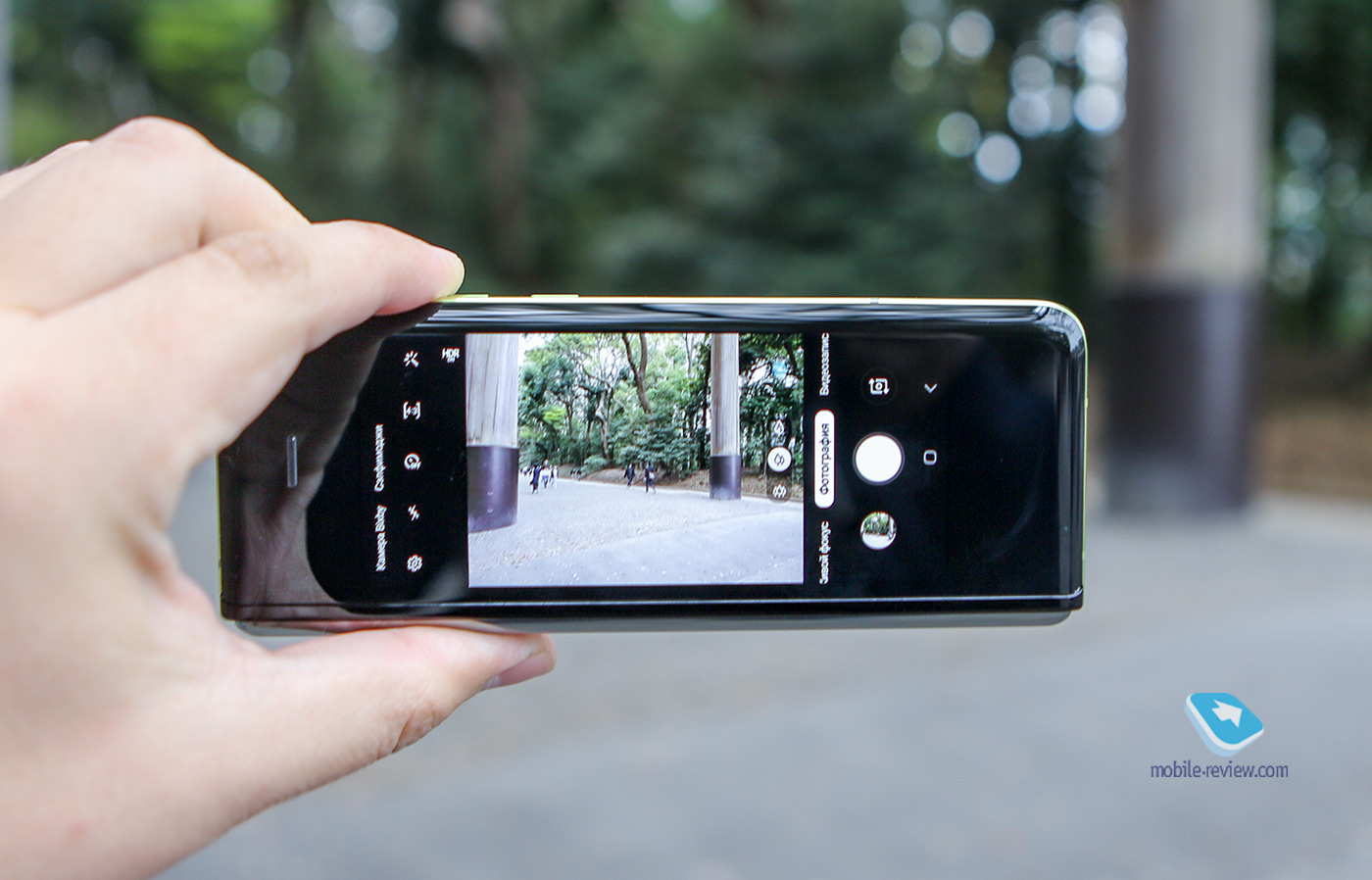 The external screen is small enough, but you can use it to remove it with one hand, but if you open the device, you have to hold it in two hands and reach for the shutter key.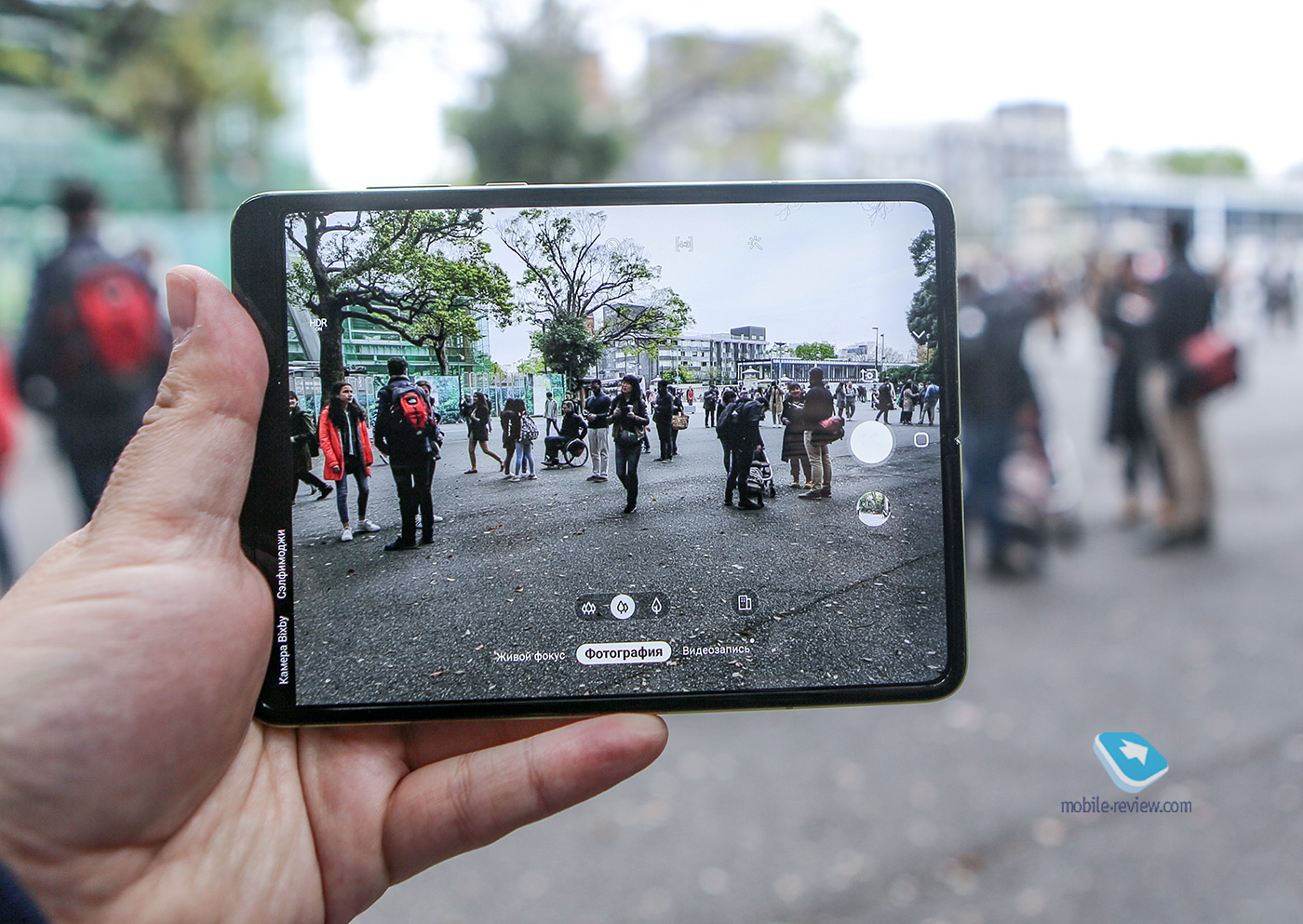 A wide-angle camera, optical zoom x2, as well as a regular module – all this is at the level of the flagships from Samsung, comparable to the same Galaxy Note10 +, the devices can be safely considered the same age. The familiar interface of the camera, in most cases I shoot in automatic mode, this is enough for the eyes. Autofocus is fast and allows you to focus on your subject. In all respects, this is a flagship, and the quality of the photos is excellent, almost 20 thousand of them were taken on this smartphone. The number of photos is not a big parameter to assess their quality, so I suggest looking at pictures from different places – here you can find Hawaii, Baikal, and other places. I hope these pictures say more than words.
Sample Photos:
I have no complaints about the camera, but I want to note that when shooting in the open form, the picture takes on a completely different look. This makes it easier to build a composition – for thoughtful shots, not reportage shooting, this is just an uncontested solution. In theory, you can shoot like this on tablets, in practice they do not have cameras similar in level to flagship smartphones. The margin of safety (read, the quality of the images) in the Galaxy Fold will last for at least several years, there will be improvements in the new models, but they are not cardinal.
About the video, I can say that everything is at the level of the flagships, I don't see much point in dwelling on it.
Battery and operating time, smartphone charging
The battery capacity of the Galaxy Fold is 4380 mAh, physically it consists of two batteries (they are located in different halves of the case). 15W complete charging (fast charging from Samsung), but the smartphone does not support USB Power Delivery 3.0 like some of the latest models from Samsung. Affected by the fact that it was created a little earlier and on the patterns of previous flagships. In practice, this means that there is no point in buying a charger with a higher power, you will not get a gain in speed, even more likely to lose, since the charging process will take a little longer.
The dual battery design is often used by Apple, but it is very rare to find such a solution in a Samsung smartphone. There are several reasons for this, in particular, when the batteries are worn out, the smartphone can turn off spontaneously in the cold. This usually happens after 2-3 years of active use, I don't think the Galaxy Fold was somehow protected from this flaw. Here the design itself dictated the need to use two batteries, you have to put up with this.
In practice, the smartphone shows a confident day of work with my usage schedule (adaptive battery operation, 60-70% backlight for the main screen). On average, this is 4-5 hours of the main screen, in some modes it can work more. But my very profile of using a smartphone is such that in the car it is recharged on the charging mat, at home and in the office it is also located on wireless charging. Only on trips there is a reason not to charge it during the day, but the frequency of using standard applications decreases, more often I use the camera and maps.
Literally a month later with Galaxy Fold, I noticed that a battery discharge of up to 5% is critical, you never know how these remaining percentages will behave. It can easily stretch out for some more time if you do not open it, or discharge in 10-15 minutes if you use the main screen. On the other hand, I can't remember when I brought him to such a hunger strike in real life, it happened several times over the entire time.
Wireless charging works, but wired charging is preferred for me in the Fold when I need to get a quick battery charge. But I repeat that most of the time he is in wireless charging, it happens because of my habits.
Closed Galaxy Fold and external screen
The presence of the second screen is a big plus for such a device, you answer any incoming call from it, you do not need to open the device to talk (in the open state it is only the hands-free mode or headphones). The good thing is that, speaking according to Fold, you do not touch the internal screen in any way, you cannot get it dirty even in theory, because the phone is closed.
You can display any application on the external screen, moreover, you can configure your smartphone so that when you close Fold, some applications are transferred to it. For example, I have my maps set up in this way, I plot a route on the big screen, and then I close the device – there is a route on the external screen, you can spy it at any time. In the car, this is definitely not necessary, but when you walk on foot, it is convenient – you took out your phone, looked at the map and went on.
Exactly the same story with messages, when they write to you something urgent, you can answer on the go, there is no need to open Fold for this. It's easy to type on the external screen, especially if you're used to typing without lifting your finger from the keyboard.
The external screen is small by modern standards, but it is enough for everyday routine tasks. When closed, the Fold is a kind of phone for calls, quick answers, pedestrian navigation. But it is convenient to work with information, play toys, watch videos on the main screen, an external display is simply not fully suitable for this. His task is purely utilitarian, and he copes with it with a bang.
In standby mode, AoD works for me, the clock and notifications are shown on the external screen. If the smartphone is on the table, it is convenient to see the time.
I also like that I can turn on a conference call on the external screen when I do not need to watch slides, or just close the device and it will not be interrupted. The presence of an external screen allows you to turn off the microphone during a call, return to the conversation. Convenient, and at the same time the battery charge is not wasted on the big screen. At such moments, as a rule, I am busy doing something in parallel on the computer. But when I have calls and have other tasks, then I split the main screen and work on it.
The external screen is also convenient to view notifications, switch operating modes if necessary.
Large main screen – why you need it and how to live with it
The key feature of the Fold is its large internal screen, and the 7.3-inch diagonal is a record-breaking one. But the aspect ratio is 4.2: 3, which is unusual, and many applications are not optimized for such screens. For example, we can say that Instagram looks very good, one giant picture on the screen, even the signature does not fit.
Since Instagram is about photos, you can view them in the smallest detail, I have repeatedly heard that Fold was created for this social network. Perhaps it seems to someone that this is so. I do not like the fact that the application cannot work in split screen mode, this is a minus for it.
There are many people in the world who are conservative and stick to the past. They claim that a smartphone needs a small screen and that's good! I cannot agree with this point of view, because the larger the screen, the more colorful the photos on it (of course, if the screen itself is good). Displaying your photos with the Galaxy Fold is a pleasure, and they look so much better than on any smartphone. And here we can say that the Fold will lose in this only to the tablet – the diagonal decides everything when viewing. But whether you take your tablet with you to dinner at a restaurant, a party or somewhere else is a big question, but the Fold will be with you.
My vision is far from XNUMX%, and even in the Note line, where the screens have a large diagonal, I miss their physical size, they are too small fonts when you look at your schedule for the month. In Fold it is not so, you can read any line, the information is clearer.
Look at this screenshot, it shows how many notifications fit in one window and everything remains readable.
But this situation is rather an exception, usually I have one or two applications that I call from the sidebar in split screen mode. These can be records where you need to save something that you found on a social network or on a web page. This is a calculator when you need to quickly calculate something, but you don't want to leave the page. When working with data, I often minimize the calculator to an icon, it just hangs on the screen, and I open it as needed.
I have enough time to play, toys look great on such a screen, they automatically adapt to it. Bright, with large controls – in a word, it's nice to play. The front camera cutout doesn't get in the way, as there are no controls or information in this area, and if there is, then you can simply remove it.
Video viewing is also excellent, the large screen is a plus here. But don't expect much difference with the Note10 +, the unusual geometry of the display eats up part of it, you see stripes at the top and bottom. Therefore, there will not be much difference in the area of ​​the useful picture, most of the films today are widescreen.
When typing on the main screen, I use a regular keyboard, the hollow in the center is not felt at all, it does not interfere. But I know that some people use character by character typing, then they turn on this kind of keyboard split into halves.
Other trivia and conclusions
It is difficult to describe the Galaxy Fold, as most people did not hold it in their hands, or this acquaintance was fleeting. You need to try this device in order to get the impression, try it on yourself. And in no case listen to anyone, do not strive to buy it with your eyes closed – spoil your mood if something goes wrong. Find a smartphone, if you like it, spin it, rate it. Buying a smartphone of such a value with your eyes closed, like a pig in a poke, is a brave act, don't do it. It is also worth remembering that the second generation of the Fold will appear very soon, in which a number of characteristics will be changed (unexpectedly, right?). I like the first Fold, but I can't call it an uncompromising device, its cost is letting down. The image component is very high, there are simply no similar models on the market. In the comments, they wrote that there are Huawei Mate X, Xiaomi, Motorola and so on. And they are even sold in China. But the reality today is that two models from Samsung occupy 99% of the smartphone market with flexible screens. The 99 Galaxy Fold and Z Flip sell one smartphone from all the other companies. Good statistics, which demonstrate the impossibility of producing such devices at an economically justified cost, displays are too expensive, and there is practically no place to take them. Maybe the situation will improve slightly next year when TCL launches its flexible screen model and starts selling such displays on the side, but for now we have what we have. In Russia, this ratio is one hundred to zero, we do not have official sales of smartphones from other companies. But even if you look at how many of them are working on the network, you get some statistical error. It is clear that these are the first steps of a category that will become an adult. It is clear that gradually different models and different manufacturers will appear in it, and the devices will become more affordable. But here and now, alas, there are simply no alternatives. Separately, perhaps, I will make a comparison with the Mate X, since this is a smartphone for the exhibition, in which all the logic of daily use was killed, its ergonomics is something.
In the end, I want to say this. The Galaxy Fold is a different user experience, a big screen in a reasonably compact design. And the technology has proven that it is viable, this is no longer an experiment, as it was originally conceived, but actually working smartphones that do not have any flaws due to flexible screen technology.
It is noteworthy that the release of the Z Flip pushed sales of the Galaxy Fold, it got a second wind this spring. Both devices are popular considering the price, their niche and the fact that they have no alternatives, direct competitors. I often see the same Z Flip in the hands of women, this is a model for the fair sex. But Fold is clearly for a man's hand, as he wrote in the first part of this operating experience. I have a good relationship with Fold, I am satisfied with the device, and it makes me happy every day, as it allows me to solve my tasks on the big screen – to work and have fun. New generations of Fold and other flexible screens will gradually eat away at the market share of conventional all-in-ones, this is a gradual process. And it has already begun.
Back to content >>>
Related Links
Share: 





we are in social networks:
Anything to add ?! Write … eldar@mobile-review.com