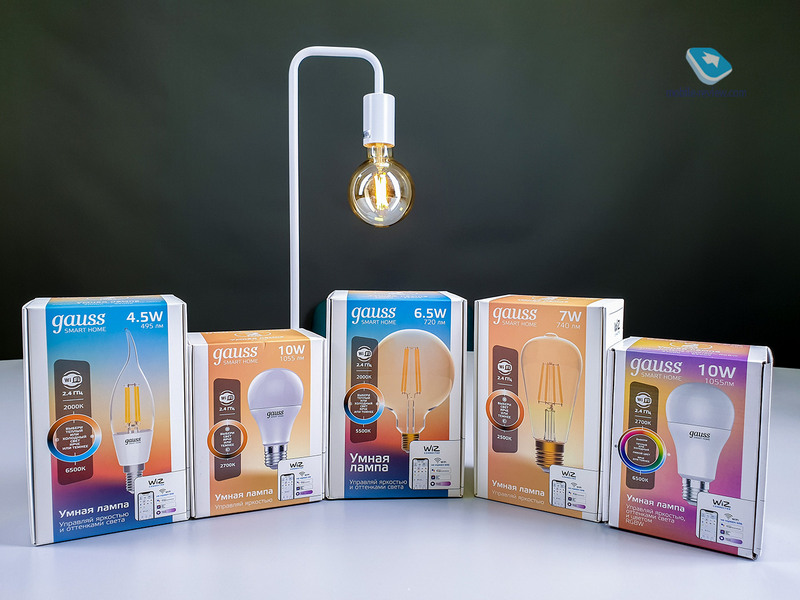 Content
What are we talking about?
Why is proper lighting important?
How to solve the problem of home lighting?
What are the characteristics of the right smart bulbs?
What is Gauss?
Are Gauss lamps superior to the competition?
What are Gauss lamps?
Important questions about settings
Where can I find out more about lamps?
Where are Gauss lamps sold?
Interview
What are we talking about?
The events of the coronavirus pandemic, in addition to the obvious things such as the rise in demand for face masks and laptops, have influenced the way people feel about their home. And the saying "My home is my castle" is more relevant than ever. Still, the likelihood of being locked up in the "four walls" stimulates thinking about how to isolate yourself more comfortably.
Across the world, there is an increase in purchases of real estate, home improvement and home improvement products. The logic is all the more correct because for the next 2-3 years you can forget about travel. If not quarantine measures that bring confusion and uncertainty in the future, then the rise in prices for air tickets and hotels makes you think about how to spend money more efficiently.
A new sofa or large TV will certainly be well received by your body. But there is one more detail that is especially important for Russia, where most of the year people live in eternal twilight. So, a typical situation for St. Petersburg, when in December the sun rises at 10 am, and already at 15:54 hides behind the horizon, leaving people in confusion.
Why is proper lighting important?
Lighting has a significant impact on emotional and mental health. However, I suppose you yourself have noticed more than once that on gloomy, rainy days you feel sluggish, it can be difficult to concentrate on work, and if the sun is shining, then it is easier to wake up. It is also a well-known fact that warm shades of light help to relax, while cold shades of white light, on the contrary, are exciting. However, in addition to such obvious things that dim lighting provokes discouragement and depression, and bright sunlight gives strength and improves performance, other shades also have their effects. For instance:
Yellow light improves mood, reduces fatigue, and creates comfort.
It is believed that green light is optimal for bedrooms, as it reduces feelings of anxiety, stress, and helps to relax.
Unexpectedly, orange awakens the appetite.
And red awakens energy and can even increase blood pressure, so do not abuse it. But for certain situations, red light can be very appropriate.
How to solve the problem of home lighting?
I suppose you understand why it is extremely important to create the right lighting at home. People used to buy many types of lamps – cold light, warm light, bedside lamps. Today, you can simply buy the right smart bulbs that are versatile.
What are the characteristics of the right smart bulbs?
Basic smart lamps need to be able to change color tones, light intensity, and light temperature. And now there is an abundance of similar products on the market.
However, the right smart lamps should be able to do much more:
Nobody wants to change the light manually, there must be schedule functions!
And besides the schedule, there should be quick templates with preset light settings that can be easily launched.
Lamps should be simple and self-contained so that they work perfectly without a control center, a smartphone and without the Internet.
Truly smart features. For example, so that in the morning the lamp simulates dawn or automatically changes the temperature and light during the day, and it is also nice to tell the voice assistant that you are going to sleep, after which the light will not suddenly go out, but gradually go out.
Of course, lamps must be controlled by all kinds of voice assistants, from Alice to Google. Because there is nothing more valuable than saying, "Alice, turn on the light in the kitchen" when your hands are dirty.
Long-term guarantee. Ordinary smart lamps have a one-year warranty, the right ones – 2 or even 3 years!
Price. The right smart lamp doesn't have to cost a fortune. The price should be such that you can easily furnish the apartment.
Gauss smart bulbs not only have all these characteristics, they can do more. Now let's tell you more.
What is Gauss?
Gauss is part of the Varton group of companies. But, I suppose, if you are not a market professional, then this information is hardly interesting and important to you (Varton generally works in the b2b market). So let's just list what Gauss is notable for:
Gauss has been a lighting expert since 2008
Gauss supplies products throughout Russia, as well as to the CIS, Spain, Italy and other countries
In 2018 – 2019 Gauss was the number 1 importer of LED lamps in Russia, according to LBC (Lighting Business Consulting)
Are Gauss lamps superior to the competition?
In short, yes. More features and modes (32 preset modes), there are some pretty unique things like scripts and beats, plus a couple of years longer warranty, and the price is lower than the competition. Read the detailed answer below.
Gauss lamps offer significant advantages over the competition. 100% localization plays into the hands of Gauss, there are no ads in branded applications, but there is multi-user access, as well as the ability to create several "houses" with individual settings, an increased warranty period up to 2, or even up to 3 years. In addition to the traditional change of light shades, intensity and temperature, Gauss lamps are more flexible in settings and offer a significant number of modes and scenarios. The lamps also support common voice assistants and smart home systems from other manufacturers. For example, there is SmartThings from Samsung or Enki from Leroy Merlin.
And the Gauss app, unlike most competitors, does not collect or transmit personal data of users.
If you summarize all the advantages of Gauss lamps over competitors in a table, you get an impressive list.
What are Gauss lamps?
Gauss has a large assortment of different lamps in various shapes and sizes, but in general, all lamps can be divided into 4 groups:
Traditional lamps
LED Strip
Smart lights
Filament lamps (these are lamps that combine solutions of LED technologies and traditional incandescent lamps, as a result, spectacular and technological lamps are obtained)
A wide assortment allows the most creative approach to the issue of organizing light at home.
Important questions about settings
How are Gauss lamps connected and controlled?
The Gauss software was developed by WIZ Connected, a software leader in the smart light market with a presence primarily in the United States and Europe. The app stores have versions for Android and iOS.
Connecting new lamps is elementary: open the application, click "Add a new device" and give the Wi-Fi password. By the way, Gauss has thought about adding several lamps at once.
Further in the application, the lamps should be distributed among the rooms. Icon designations and controls are intuitive. Ready-made light settings are available to the user – daylight, warm white, cool white, etc. And you can adjust the intensity, temperature and shade to your taste.
How to connect a voice assistant?
The application contains a significant selection of voice assistants and options for integration into smart home systems. For example, if you have Samsung appliances at home, you can also integrate lamps into the SmartThings app. But the easiest option is Google Assistant, Siri, or Alice. And then you can ask Alice to turn the light on or off, make it brighter or, conversely, darker. In this case, the user himself sets the stroke step. So, you can ask to increase the brightness by 1% to make it as good as possible.
What modes are there and what are they?
Modes are one of the highlights of Gauss lamps. Simply put, these are preset lighting settings created by lighting experts. For example, there is the "Cinema" mode, which creates a cozy soft light in the room, which does not distract from watching TV. Or there is a "Concentration" mode in which shades of white light of moderate brightness prevail. However, the strength of the glow and other settings can be adjusted to your taste.
In addition to the usual modes, there are also dynamic modes, when the intensity and temperature of the light change at specified intervals.
Two of the coolest modes are "Wake up" and "Before sleep", where the lamps are slowly turned on and off for half an hour. These modes are best configured in a schedule. For example, you can set an alarm so that at 7:30 in the morning you are woken up not only by the trills of your smartphone, but also by a pleasant light.
What are rhythms?
Rhythms are another cool feature of Gauss lamps that I haven't seen from other manufacturers. The user is prompted to let the lamps run in a circadian rhythm. In general, circadian rhythms are cyclical fluctuations in the intensity of various biological processes associated with the change of day and night. The period of circadian rhythms is usually close to 24 hours. The simplest example is when flowers bloom in the morning.
In the application, you can set the time of waking up and going to bed. During the day, the lamps will change the shade of light from cold in the morning to warm in the evening.
But, of course, you can add your own settings by adding light for morning exercises or meditation, and in the evening make sure that the lamp remains as a night light. You can set up to 3 rhythms in each room, and up to 5 time segments in each rhythm.
And then there are scenes!
Scenes are similar to "Modes", but if there are already ready-made presets from experts, then you can create your own settings here. A scene is a combination of all lamp settings in one room. For example, in order for a table lamp to give a warm yellow light, a floor lamp and a chandelier – a slight greenish glow. The created scene can be saved and photographed. Subsequently, there will be a photo in the application, by which it is easy to remember exactly how the room looked.
By the way, the number of scenes is not limited, and you can activate them with a voice assistant.
Where can I find out more about lamps?
Gauss Smart Light has already started selling! Smart lamps can be found on the website of the largest market players Svyaznoy, DNS, Wildberries, and in the second half of September, sales start in all cities of Russia and the CIS.
Interview
Back to content >>>
Share: 





we are in social networks: