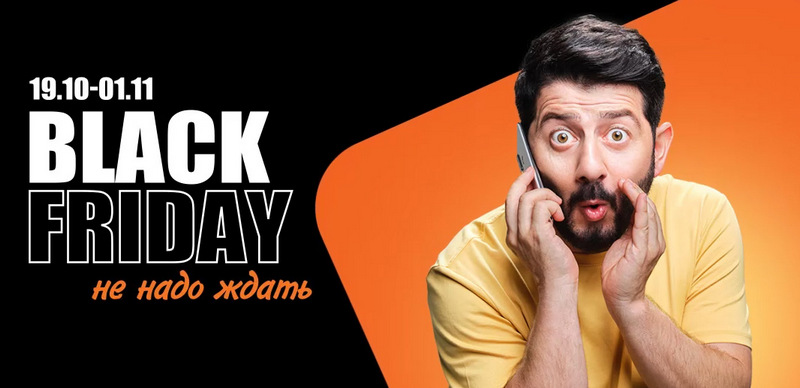 Do you remember those distant times when the iPhone began to be sold in Russia a month later than in the United States? Or less distant, when queues of people wishing to receive the device on the first day of sales actually lined up for a novelty? Or very recent, when the first promotions, allowing at least something to save on the purchase of the most coveted smartphone in the universe, were launched at best before the New Year? So, they all went through. There is no longer any romance with iPhone suitcases, which are then sold at Gorbushka with a 500% markup. There are no stoics who stood in line for two or three days for a small pay. And the full price of the iPhone is no longer asked, even in the first week of sales. Of course, not everyone is as cool as DNS, where they simply risked giving a discount of 6 rubles from the recommended Apple price, but … Almost all major retailers in one way or another offered a discount on the iPhone 800 series. Someone included it in promotions with a trade-in, someone offers a discount for a purchase with accessories. And that's all. All, without exception, are ready to offer an interest-free loan for a period of one or two years. That is also, of course, a discount, since banks were not noticed in altruism. I will not give links to specific promotions – it just makes no sense, however, if you have not yet purchased the new Apple product, but are planning, you can safely brush aside the sellers who offer you to do this for the full recommended price. Yes, the official store of the company, we are looking at you!
It was a teaser for fans who, undoubtedly, have already reserved from 80 thousand rubles and do not plan to spend them on something else. But the light like a wedge on smartphones, especially only one company, did not converge, so let's talk about what retailers have there. And with them, as usual, everything is not like people. Well, that is, if you generally follow the sales, then you know that in 2020 Black Friday is November 27th. Of course, someone may disagree and say that Black Fridays have already been enough, but we are talking about the one that is about sales, not the end of the world. So, domestic electronics stores, it seems, are not at all sure that 2020 will last until November 27. Therefore, just in case, they began to declare "Black Fridays" in large quantities at the end of October. In general, let's see what we are offered.
Beeline
In the salons of "Beeline" they did not rush things, you see, this operator knows something about the future, or they are just optimists. Which is not bad. How nice the offer to get a smartphone at a discount of up to half of its cost looks. I'll make a reservation right away that we are not talking about any device in principle, but about choosing between three models: Huawei P40 Lite E, Xiaomi Redmi Note 9 and Samsung Galaxy A51 64 GB. Yes, they are not flagships, but in terms of the combination of characteristics, they are very successful devices. And with a discount – they are also very good at the price. To obtain it, you will need to order a model via the Internet, but with self-pickup (or just come to an offline store). In order for the discount on the smartphone to apply, add to the purchase the transition to the promotional tariff, one of the options "2 / 500 / 4 bonus rubles for communication on the action" (depending on the amount of memory of the model) and the subscription " 500+) for 6 or 000 months, depending on the purchased smartphone model. And voila. You get the device with a discount, the "Close people" or "Close people +" tariff plan and a subscription to a good media service.
"M Video"
Until November 11, an action with a very eloquent name "Unexpected Black Friday" is running in M.Video. Although, with what logic is adhered to in domestic retail chains, I would not call any action unexpected. Well, maybe one where discounts will, on average, exceed the threshold of 5-10% of the cost of the goods. And this "Unexpected Black Friday" is not one of those. As usual, a lot is declared (up to 50%), but in fact – in its mass, a discount of up to 10% of the cost of the goods in the store earlier. In addition, of course, in the promotion catalog, you can find absolutely all goods for which the cost has been reduced as planned and at a higher price they simply cannot be found. That's all. An old story, just like with cashback. To which, by the way, M.Video has two new proposals at once. This is up to 25% refund to the bonus card for online purchases and up to 20% refund to the bonus card when buying household appliances and TVs. In the first case, the prefix "before" appears for the reason that there is a division into "promotional" products and the rest of the catalog items. In the second case, the size of the bonusback is determined by the product itself.
MTS
Since we have indulged in memories of past times, the MTS action reminds of the period when almost at every corner boys, girls, people of Caucasian and not very nationalities were ready to give you the starter package of the MTS tariff completely free of charge. Now you cannot find such a freebie, unless you go to the MTS salon for a tablet. Then you will be given a SIM-card with the "For laptop" tariff. The exact terms of the promotion and tariff will depend on the region of sale. Also, when buying a tablet, you can get a gift. But this is already with only one model and only until October 31 inclusive. If during this period you purchase Huawei MatePad Pro, then you can count on a gift in the form of Smart Magnetic Keyboard from the same brand.
"El Dorado"
Eldorado issued an action with the most mysterious positioning. It's called Golden Friday. With the postscript that it was "Black Friday" that became golden. If we remember the etymology of the name, then we get a natural delirium. To increase the degree of schizophrenia in the advertising banner, there is also a right-hand drive car. As for the rest, it is an exact copy of "Unexpected Black Friday" from the arsenal of "M.Video". No, of course, you can find some differences in the details of the catalog of promotional goods, but you won't be able to say something special about it. As well as about the special section "Halloween 2020 in Eldorado". This is not a promotion at all, but just a section of the site where you can look at the store's catalog from a different angle and play a game where you will be asked to determine what products would suit the villains from classic horror films. The game does not imply any prizes, there are no additional discounts on products from the section either. 
Where there are discounts, it is in the "EldoPlay" section. There is a discount on PC games. And you don't have to rush – the offer will be valid until December 31st. You can also save on buying LG TVs. Only four models participate in the sale, which have a discount from two to ten thousand rubles, and their cost, taking into account it, ranges from 38 to 170 thousand. Freebies didn't happen. But the offer continues to get a discount on one of the Chinese "flagship killers" – realme 7 Pro. For the device in the 8 + 128 GB version, they ask for only 25 thousand rubles (this is not a unique offer for Eldorado, the brand itself gives a discount, so you can find it at any reseller).
"Messenger"
In "Svyaznoy" they did not rush Black Friday, but made an action timed to coincide with Halloween. It has an interesting name and form of holding, although not entirely related to each other. The "cemetery of home telephones" might hint that the discount will be given in exchange for wired phones, but this is not entirely true. This is indeed a trade-in offer, but its peculiarity is not at all about renting home phones for exchange. You will have to bury them in the backyard yourself, and in the salon the seller will need to show a photo of any used smartphone, phone or tablet. At the same time, when ordering via the Internet, you do not need to show anything to anyone at all, just put the device from the promotional list into the basket, and its cost is automatically reduced. 
But another action by name sounds cool: "All gadgets for work for 500 rubles." In fact, this is a lending lure that has become widespread in recent years. 500 rubles is your monthly payment in the first six months after the conclusion of a two-year loan agreement. In the remaining 18 months, you will be depositing a large amount, so this is just a loan offer where you do not pay in equal installments. What could be the point and to whom such a proposal is addressed, I do not quite understand. If you know – write in the comments.
Citylink
In "Citylink" there are both "Black Friday" and "Halloween". None of the actions represents anything interesting in terms of organization. In both cases, there is a promotional catalog, which includes products with a very wide range of discounts. At the same time, only PCs and laptops participate in Halloween, and there are really good discounts for some positions. But "Black Friday" is the most commonplace sale, where the declared maximum and the actual level of discounts differ significantly. Of the more attractive, one can note a discount on a Huawei MateBook X laptop (which is obtained by a promotional code, and the price tag for a computer becomes the same as in other places where there are promotions for the model) and an offer to get a discount of 1 rubles for computer equipment with a pre-installed OS Windows 500. The latter also requires the use of a promotional code. Well, it should be noted that Citylink has joined retail chains where Honor watches are given a discount of 10 and 1 rubles. The downside is that all three of these promotions are valid only until October 000, inclusive.
DNS
But the DNS retail chain has not planned any celebrations this weekend. Here everything goes on as usual, so I will single out only promotions for computer games. There are three of them at once:
In addition to suggestions for games, there is also an interesting proposal "Gadget for Nikon". That is, when you buy one of the Nikon brand cameras, you can be presented with some more or less useful device for the load. For example, a tablet, graphics tablet, or smartwatch. The variety is quite large, although, of course, the cost of all these gadgets hardly gets to 10% of the price of a camera. But there is also a plus – the discount applies to the cameras themselves, regardless of the presence of a gift in the set. I will also note the distribution of shares from Huawei to DNS. Here you can also get a discount on the Watch GT2 Pro smartwatch and FreeBuds Pro wireless headphones, as well as the Huawei Smart Magnetic Keyboard case as a gift for the Huawei MatePad Pro tablet. However, the latter, according to the DNS tradition, is designed as a discount, part of which falls on the tablet itself, and part on the keyboard. 
Want to help Mobile-review readers save money on electronics purchases this coming weekend? Write your comments!
Related Links
Share: 





we are in social networks:
Anything to add ?! Write … eldar@mobile-review.com