Content
TECH SPECS
Positioning
Equipment
Appearance
Screen
Working hours
Performance
Communication capabilities
Camera
Impression
Competitors
TECH SPECS
Processor
Kirin 710 (14 nm), Octa-core (4 × 2.0 GHz Cortex-A73 & 4 × 1.7 GHz Cortex-A53), Mali-G51 MP4
Operating system
Android 10, shell Magic 3.1 (with Huawei services instead of Google)
Memory
4 GB / 128 GB, separate microSD slot up to 512 GB
Screen
6.67 inches, IPS LCD, 2400 x 1080 pixels, aspect ratio 20 by 9, dot density 393 ppi
Battery
5 mAh, fast charging 000 W
Main camera
48 MP (f / 1.8 aperture)
8 MP (120 ° wide-angle lens, f / 2.4 aperture)
2 MP (depth-of-field lens, f / 2.4 aperture)
2 MP (macro lens, f / 2.4 aperture)
4K @ 30fps video recording, 1080p @ 30fps
Front camera
8 MP, f / 2.0 aperture
SIM card
2 Nano-SIM
Network and data transmission
GSM 900/1800/1900, 3G, 4G LTE, Wi-Fi 802.11 a / b / g / n 2.4 GHz, Bluetooth 5.1, support BLE, SBC, AAC, NFC, GPS, AGPS, GLONASS, BeiDou, Type-C, USB 2.0
SENSORS
Fingerprint scanner (side), accelerometer, light sensor, proximity, compass
Other
There is a 3.5 mm jack, there is an FM radio (you need headphones for work), there is an NFC
Materials
Plastic
dimensions
165.65 x 76.88 x 9.26 mm, weight 206 g
Price
16 990 rubles
Positioning
The Honor 10X Lite is a mid-range smartphone from the Honor brand (pronounced "Honor"). Judging by the promotional materials, the company does not focus on any specific target audience. It's just a good smartphone with an attractive price / performance ratio. Honor's top selling features include the following:
Capacious 5 mAh battery and fast charging 000 W
4-cell system featuring a 48MP camera with advanced night mode
4GB + 128GB storage plus a separate microSD slot up to 512GB
Large 6.67 " FullView screen
Trendy design inspired by the flagship series
NFC availability
Regarding the cost, the company writes: HONOR 10X Lite will be available for pre-order from November 6 in the HONOR online store and in other channels of the brand partners at the recommended retail price of 16 rubles. Pre-order will last until November 990. Only during this period, the smartphone can be purchased with a discount of 19 rubles and more, as well as an additional discount (4 rubles) when subscribing on the HONOR website. That is, the final price will be 000 rubles. The HONOR 1000X Lite smartphone will go on sale on November 11.
Equipment
The box contains:
Smartphone
SIM card tray clip
Quick charge 22.5 W
Type-C wire
Documentation
Appearance
Front panel: 6.67-inch screen, IPS LCD, 8 MP camera, speaker
Back panel: plastic, camera block
Right side: volume rocker, fingerprint scanner combined with power button
Left-hand side: slot for 2 Nano-SIM cards and microSD up to 512 GB
Upper butt: microphone
Bottom end: 3.5 mm jack, microphone, USB Type-C, speaker
The Honor 10X Lite has a typical look for a smartphone in this price segment at the end of 2020. Strict body, neat cutout for the camera in the screen. The smartphone turned out to be rather big: 165.65 x 76.88 x 9.26 mm and weight 206 g. However, again, the dimensions are typical for all devices with a plastic case and a 5 – 000 mAh battery.
Left side: slot for 2 Nano-SIM cards and microSD up to 512 GB
Right side: volume rocker, fingerprint scanner combined with the power button
The fingerprint scanner works accurately, there are no questions to it
One of the nice features of the smartphone is a separate slot for a microSD card, so you don't have to choose what to leave – a memory card or a SIM card.
3.5 mm jack, microphone, USB Type-C, speaker
There are two types of plastic used in the design of the smartphone. The frame is matte and the back is glossy. It is worth noting here that Honor, in my opinion, has better plastic than other manufacturers. It feels like it is more scratch resistant. I remember that last year, at the presentation of Honor 10 Lite, the company spent a lot of time talking about the technology of many layers, thanks to which the surface is more reliable. This is such an inconspicuous feature at first glance that more advanced companies differ from less.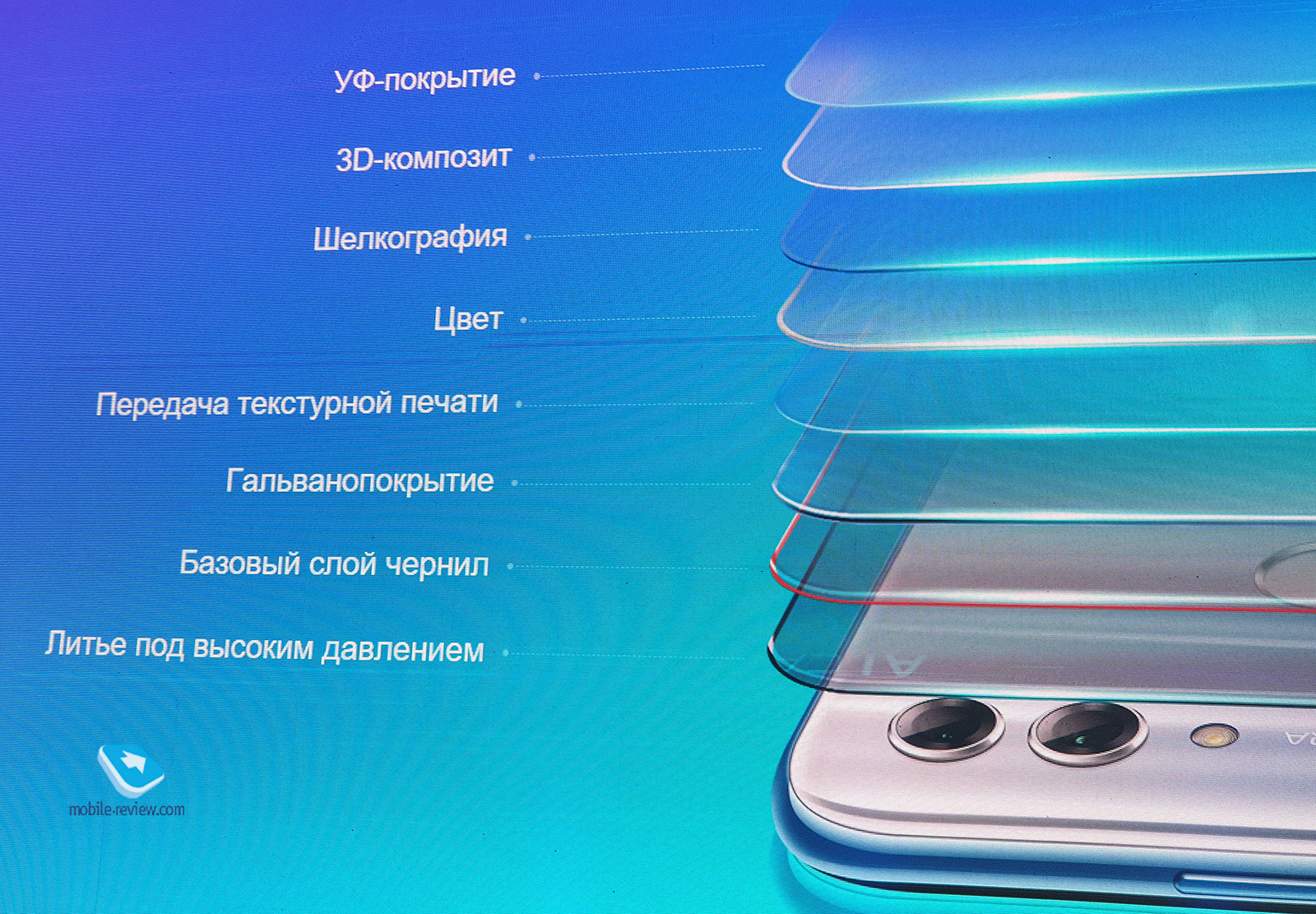 Cameras protrude slightly, but this does not prevent the smartphone from lying flat on a flat surface
At the top there is a noise canceling microphone. I recommend that you always pay attention to its availability, as manufacturers often try to save money. This microphone is needed to make your interlocutor suffer less from the howling of the wind in the tube while talking on the street.
Screen
The smartphone has an IPS LCD screen of 6.67 inches, a resolution of 2400 by 1080 pixels and a pixel density of 395 ppi. The maximum screen brightness is around 450 nits. Typical for all Honor smartphones in this price segment. The brightness of 450 nits is generally enough for outdoor use. But under a very bright sun, this will probably be less uncomfortable. The advantages of an IPS LCD screen include the absence of PWM, that is, the screen does not flicker when the brightness decreases, thus not tiring the eyes.
The Honor 10X Lite has a high-quality screen with good color reproduction and 100% sRGB color gamut.
The screen settings have blue eye protection, dark mode and e-book mode. The latter converts the color of the screen to grayscale, and the texture of the white background resembles an eINK screen. There are settings that allow you to set when to turn on the blue light filtering mode. Strange, but you can't set a timer for a dark theme or e-book mode. However, these options can be placed in the quick access shutter and run independently.
Honor is one of the few manufacturers to retain the ability to fill the camera area notch. For some reason, recently this option has been abandoned. And Honor still allows you to fill the top row with black color, where the camera is, leaving only system notifications there – clock, battery charge, etc.
The screen has two modes of operation – normal and bright. The settings allow you to choose the temperature and adjust the screen to your taste.
Of the curious, I want to note the ability to adjust the screen resolution. This can be a high resolution of 2400 by 1080 or a low resolution of 1600 by 720 pixels. And there is a "smart" resolution, that is, the smartphone itself will reduce the screen resolution when needed, in order to reduce power consumption.
Working hours
The 5mAh battery coupled with 000W fast charging is one of the selling points of the Honor 22.5X Lite.
A cool option appeared with fast charging. Honor displays tenths and hundredths, thus, it seems that the smartphone is charging right before our eyes. A full charge takes just over 1 hour. In half an hour, you can charge your smartphone by 46%.
We can assume that you will charge your smartphone every couple of days. Although, of course, it all depends on the use cases:
Video playback (airplane mode, screen maximum brightness) – 13 hours
3D games (Wi-Fi, maximum brightness) – 8 hours
Refreshing the page in the browser every 15 seconds (Wi-Fi, maximum brightness) – 13 hours
Performance
The smartphone runs on the Hisilicon Kirin 710 chipset, which has 8 cores, 4 high-performance and 4 more prudent and economical (4 × 2.0 GHz Cortex-A73 + 4 × 1.7 GHz Cortex-A53), as well as Mali-G51 MP4 graphics.
Hisilicon Kirin 710A is Huawei's own development at the end of 2018. It's tempting to confuse it with the Snapdragon 710, but that would be a mistake. Kirin 710A is simpler, and it is rather a competitor to Snapdragon 660. Kirin 710A, unlike Snapdragon 710 (10 nm), is made using 14 nm technology. Accordingly, Snapdragon and other technologies are a little more modern, so the cores are a combination of Cortex A75 and A55.
By the way, this is an interesting moment. The Kirin 710A is a chipset from Huawei that is made without the use of US components. This is interesting because the original Kirin 710 was made using the 12nm process technology.
The smartphone has 4 GB of RAM and a huge 128 GB storage. The speed indicators are generally good.
The throttling test shows a drawdown of up to 70% of the maximum performance. A bit too much, since a drawdown of 10-15% is considered adequate. On the other hand, the smartphone has GPU Turbo 3.0. It is a software optimizer that works with the most popular games: from Asphalt 9 and PUBG to Fortnite and NBA 2K19. Its goal is to give the player the most comfortable gaming experience possible.
GPU Turbo 3.0 has another bonus as well. The technology allows you to reduce energy consumption in games by up to 30%. I recommend watching the video below, which compares two identical smartphones when playing PUBG, but one has GPU Turbo 3.0. A smartphone without technology regularly drops frames, which is logical (the CPU Throttle test graph hints at this), but a smartphone with GPU Turbo 3.0 gives a stable 33 fps.
Presale samples have limitations on the installed software, so it is impossible to run performance benchmarks. However, Hisilicon Kirin 710 was in our tests even before all the tricks with Google. The smartphone knocks out about 140-150 thousand points, adjusted for memory and general optimization.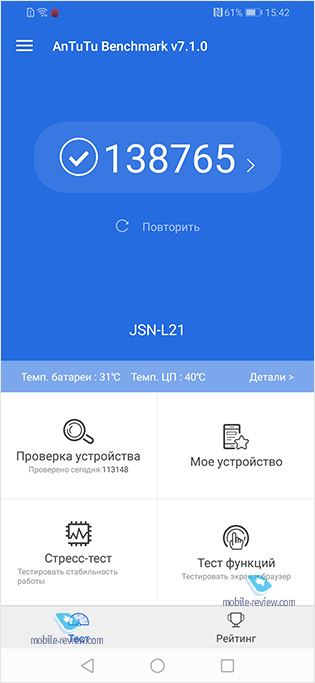 In games, Honor 10X Lite behaves with dignity.
Communication capabilities
The smartphone has a slot for 2 nano-SIM cards and a separate slot for a microSD memory card. I have no complaints about the voice quality when making calls. There are also no complaints about LTE operation on the device. There is noise reduction. Light wind blocks, but road noise, for example, breaks through.
Initially, I installed a Tele2 SIM card in the test device and almost missed an important feature of the device, which is not typical for this price segment. The smartphone supports VoLTE and VoWiFi. VoLTE is, provided that your operator supports the technology, better voice transmission (HD Voice), as well as the ability to simultaneously talk on the phone and work with the mobile Internet. The last feature I love the most is VoLTE.
But most of all I love VoWiFi. With the inclusion of this technology, MTS made it possible to make free calls from anywhere in the world. The main thing is to have Wi-Fi. Now that the borders are locked, the advantage of this feature is lost, but in the past year I have used VoWiFi constantly on my travels.
Considering the official price of 16, it is somewhat strange that the smartphone has Wi-Fi b / g / n 990 GHz, that is, the device does not support 2.4 GHz.
GPS works fine. Fast cold start, the smartphone sees many satellites. The smartphone has NFC. Google Pay, of course, is not here, but there are two options for how to pay from a smartphone. If you have a card from Sberbank, then everything is quite simple, you can use SberPay. However, Honor itself pre-installs the Wallet application on smartphones by default, which is an analogue of Google Pay. You can add both bank cards and discount cards there. There is also a "Wallet" application from the Russian developer CardsMobile, which supports contactless payments by cards of more than 20 Russian banks.
Camera
The smartphone has an 8 MP front camera, f / 2.0 aperture, and a main camera system of 4 modules:
48 MP (f / 1.8 aperture)
8 MP (120 ° wide-angle lens, f / 2.4 aperture)
2 MP (depth-of-field lens, f / 2.4 aperture)
2 MP (macro lens, f / 2.4 aperture)
4K @ 30fps video recording, 1080p @ 30fps
The camera interface is standard for Honor smartphones. Convenient control, many options. Don't be lazy to look into the settings. There, for example, you can enable the option "Shooting by a smile" or by a raised hand. There you can also turn off the shutter sound when shooting.
Cameras are one of the main superchips of a smartphone, thanks to which you can turn a blind eye to some flaws. Why a smartphone has a good camera is quite simple to explain. Firstly, I think everyone already knows that now it is not the quality of the lenses that is important, but the advanced algorithms that process photographs. Secondly, look at any rating of photo smartphones. The leader is Huawei. So Honor should be in perfect order with algorithms.
The most delightful are examples of night photography. Take a look at the sample photos below. Smartphone cameras see better than the human eye.
One of the main innovations of the Honor 10X Lite is the 8MP wide-angle camera. The thing is certainly useful, but it is better to use it in the daytime, since at night the footage is noisy.
The smartphone has artificial intelligence. In my opinion, it is rather useful. Compare a few photos with and without AI. The first ones seem more interesting, right?
The included AI recognizes scenes and selects the optimal settings. Although in this case, the AI ​​was fooled by a Fabergé Easter egg in the form of a jade laurel tree
The smartphone has a macro camera. In my opinion, 2 MP is too little, but, in general, with due diligence, good shots can be obtained.
A few more examples of shooting with a smartphone.
And finally – a few examples of portraits on the main and selfie camera. There are no questions here, of course. Honor has always been good at shooting good portraits.
This is the main camera.
Impression
The smartphone leaves a good impression. I want to call it a workhorse – take pictures, play, and to charge less often. A certain discomfort is delivered by the lack of an app store from Google. AppGalery doesn't have the whole assortment, after all. So, for example, there is no Call of Duty Mobile. But the manufacturer assures that the missing apps will appear soon .. However, built-in Petal Search comes to the rescue, or you can always install an alternative app store, for example, ApkPure.
There are few pre-installed applications in the smartphone, but out of the box there are whole folders with shortcuts, and recommendations from below are also climbing. That is, the application will be installed only after you click on the icon. For advanced users who are familiar with applications, I think this can be annoying. On the other hand, for those who do not understand, it can be useful. Honor does not offer rubbish – reading rooms, checking fines, online TV.
Competitors
Obviously, the Honor 10x Lite has replaced the Honor 9x Lite. However, 10x Lite cannot be called something fundamentally new; rather, it just slightly reshuffled the characteristics, making the smartphone more interesting. The main differences from the previous model:
The screen resolution remained the same, but the screen itself became a little larger – 6.67 versus 6.5 inches.
5000mAh battery + 22.5W fast charging, while there were 3mAh and 750W.
The chipset is the same, but the index is "A", not "F", 200 MHz less productive, but more energy efficient.
Honor 10x Lite has 4 photo modules (and not 2, as in the previous model). The resolution of the main camera remained the same, but a wide-angle lens of 8 MP was added, as well as a macro camera of 2 MP.
The selfie camera was a teardrop notch and now the notch is in the screen. The permission remains the same.
In general, all changes are positive. As a minus, you can only endure what used to be Wi-Fi 5 2.4 + 5.0 GHz, and now Wi-Fi 4 2.4 GHz.
Honor 9x Lite came out about six months ago and is now sold at an attractive price of 13 rubles, according to Yandex.Market. Accordingly, if you fold the battery, fast charging and camera, you can save a little
If we talk about competitors from other manufacturers, I recommend paying attention to Motorola and realme. Good performance and clean skins with no ads.
For example, just the other day a review of Motorola G9 Plus was released. The device, which is similar in performance and price, has a better chipset than Honor. Still, the Kirin 710A on the 14 nm process technology, although it was presented in May of this year, is based on the chipset of the end of 2018. And Motorola G9 Plus has Snapdragon 730G (8 nm), which knocks out 275 thousand points in the same AnTuTu against 150 thousand from Kirin. But here is the moment, which smartphone cameras do you like more. For example, in matters of night photography, in my opinion, Honor wins.
If a little advertising does not bother you, then be sure to look at the Redmi Note 8 Pro and Redmi Note 9 with 18W fast charges. And do not be confused by the fact that Redmi Note 8 Pro came out a year ago, it is still an excellent smartphone that will give many newcomers a light. Also here, according to rumors, there are sales for Xiaomi Poco X3 NFC. Also a great smartphone, pay attention.
Honor 10X Lite has one main advantage over the smartphones listed above, thanks to which the smartphone completely defeats everyone. Honor says that until November 19, the smartphone will be available at a price of 16 minus a discount of 990 rubles + a discount of 4 rubles for a subscription on the Honor website, that is, the total price is 000 rubles. At this price, the Honor 1X Lite is perhaps the best value proposition on the market: cameras, NFC, big battery + fast charging, VoLTE, VoWiFi and decent performance.
Back to content >>>
Share: 





we are in social networks:
Anything to add ?! Write … eldar@mobile-review.com