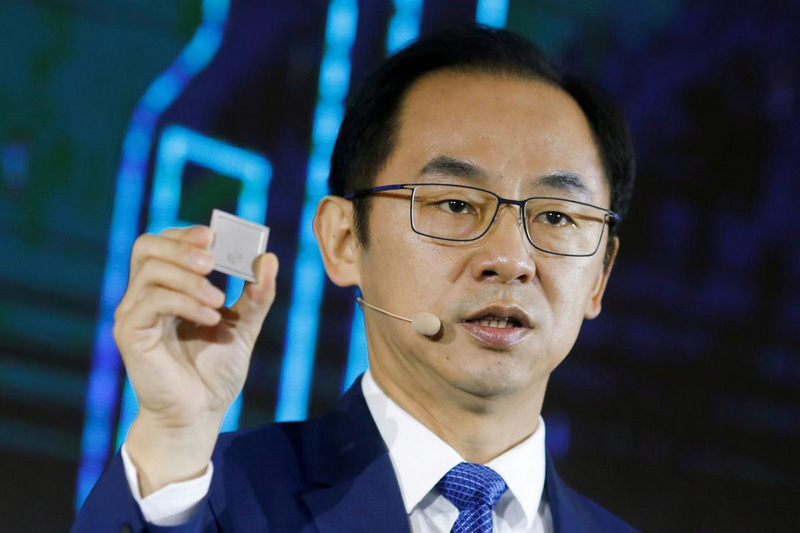 Hey.
You open Soviet newspapers in the morning, that is, the world press, and you realize that at the moment Huawei should no longer exist, since America blocked access to both Android and processors, development tools through sanctions, and deprived of access to many markets with infrastructure solutions. The picture is truly apocalyptic in its scope and consequences. Most publications reprint the same information that the lack of processors will make it impossible to release smartphones and the company will lose market share. There is a grain of truth in these words, especially if we take as a starting point that Huawei has decided to surrender, not to fight for its future. But there is no reason to think so, at the moment the company is successfully fighting for market share, is making every effort to remain a significant player. Let's see together how Huawei can get around the sanctions and what tools there are for this.
The ban on the supply of processors – what follows from it
Sanctions are a favorite tactic of American politics, have been used for decades and have been lavishly applied against countries that are considered geopolitical opponents of the United States. Let me remind you that the USSR lived under constant sanctions, which, in theory, limited access to foreign technologies, but they appeared in the Soviet Union and adapted to local production. Moreover, the hunt for technology became a kind of state sport, not only computers, but also components were exported from Western countries, they repeated other people's developments based on their own developments. It took little money to gain access to someone else's intellectual property, and the payoff was enormous. At the same time, one must be aware that it was impossible to make any claims to borrowing, since such products were distributed within the socialist bloc. In 1966, the creation of the Minsk-23 computer was completed, a number of technological solutions were borrowed from the IBM 1401. There were problems with patents? Not a single one, since none of the Western companies actually had access to these machines, they were used in the computing centers of the USSR.
Business at all times has been focused on making a profit, political squabbles caused irritation and imposed restrictions, with which company leaders often did not agree. And so they found ways to sell their products to buyers in countries where sanctions were in effect. In recent history, one can recall Iran, where, despite the sanctions, many technical solutions of Western companies are used. Even funnier is the fact that servers, software are transparent to manufacturers and, in theory, they should try to block their work. But companies are well aware that this is a separate headache and prefer to turn a blind eye to it.
Russia has its own region under sanctions; you cannot officially supply anything produced by American companies to Crimea. For example, Microsoft cannot sell software. The secret of Punchinel lies in the fact that since 2014 sales in the Krasnodar Territory have been growing by leaps and bounds, unexpectedly new systems, their maintenance and support were needed in this region. Everyone pretends that the region is experiencing an unprecedented heyday, which is not seen in other parts of the country and which has become anomalous. Microsoft pretends that they do not understand where the software and technological solutions are sent, system integrators pretend that they are not selling anything to Crimea. Everyone is satisfied with this situation, since everyone is doing well. An American company complies with sanctions, Russian integrators make money and provide government authorities and commercial companies with standard solutions. But in words, all the sanctions are in place and nothing is supplied to Crimea.
Let's get back to Huawei's business, since all the company's subsidiaries, without exception, in all countries of the world, were sanctioned. The US ban applies to the supply of both finished products and technologies, development tools to Huawei and any company that works with this Chinese manufacturer. In order not to have problems with the American authorities, you need to obtain a separate license for deliveries to Huawei. Such a license is issued for six months, then it is revised and it is determined as far as possible renewal. For example, Qualcomm believes that the lack of chipset shipments to Huawei will give this market to other players, and both Qualcomm and American business in general will lose. Therefore, the company is trying to lobby for its own interests and achieve an exemption for the supply of chipsets for smartphones. The reasoning is quite simple – Qualcomm's chipsets are used in end devices intended for users and do not pose any threat to US national security, since Huawei / Honor smartphones have never been sold or sold in America. However, there is no such permission, since politicians believe that smartphones are a significant share of the company's business, which supports the infrastructure, and it is necessary to hit all vulnerabilities, create maximum problems for Huawei. The uniqueness of the situation lies in the fact that the United States attacks a private company and uses all the resources of the state for this. People far from the telecommunications business assumed that such an attack would end in guaranteed destruction in a short time. But reality proves that this is not the case, and Huawei is not just fighting, but continuing to grow, despite the most severe restrictions. The company even managed to become number one in the global smartphone market in the second quarter of 2020, although this success is certainly temporary.
Huawei needs processors primarily for infrastructure, which many people forget. And the attack on Huawei is not developing this way by chance, they want to deprive the company of a key component.
Back last year, Huawei launched its first TIANGANG processor for base stations.
This is entirely a development of the company, but there are a number of pitfalls. In the absence of its own production lines, Huawei is forced to rely on other manufacturers, which is common practice. The same Qualcomm does not have its own factories and places orders with TSMC, Samsung. Officially, Huawei will no longer be able to place orders, now this option is simply closed. The company also does not have official access to chipset design tools (the main players are American companies). It turns out that, despite the ability to create chipsets, the company will not be able to do this? Yes and no.
Officially, everything will be the same, Huawei will "die", no purchases, no orders for production. Unofficially, the strategy becomes more sophisticated and much more interesting.
In China, the Made in China 2025 program is investing astronomical amounts in key technologies. For example, the Chinese government has already allocated $ 1.5 trillion for the creation of its own factories, development tools for microcircuits. Such amounts are needed in order to recreate microelectronics in a short time, and to do a full cycle for all components – from the simplest to the most complex.
There should be no illusion that it will be necessary for companies to catch up with other countries and companies from not the most optimal point, it is impossible to start production of not only 5 or 7 nm, but 14 nm are also inaccessible technologies, the start will take place from 28 nm. There is a huge amount of equipment on the market, which, on the one hand, is cheap, on the other hand, allows you to create processors and components for a variety of applications. They will have low energy efficiency, noticeably lower performance, but at the same time they will be inexpensive. Moreover, such processors will not become an obstacle for infrastructure solutions, since a smart camera or Wi-Fi router will be quite productive with such solutions, and since they have a constant connection to the AC network, the operating time does not become a flaw. At the same time, such developments allow using the domestic market of China at the first stage, and it is the largest for smart home systems, a smart city in the world. Only through its own market will China be able to finance the development of microelectronics and catch up with other countries. According to my estimates, it will take about 7-5 years for the Chinese industry to reach the 6 nm level. And this is a narrowing of the gap with those who at that time will be 3 or 5 nm. Moreover, the difference between 5 and 7 nm in production will not be as huge as today between 7 and 28 nm. It is gradually leveled out.
In parallel, China is creating its own development and design tools for chips. Which is logical given the current situation. But there is one more thing that is inevitable. Most infrastructure manufacturers focus on simple solutions, using processors that are created to process large amounts of data. For China with relatively weak processors, their optimization will come to the fore, as well as the creation of multi-processor configurations. For example, today a smart camera from Huawei that locally detects and recognizes people's faces has a pair of processors (the main processor responsible for the system as a whole, dedicated with AI algorithms for fast processing of information about faces – I simplify, but in our story this is not the case very important). Having lost the ability to create the most technically advanced processors, Huawei will rely on multi-processor configurations. That will create a new experience that will improve every year with the advent of new technological processes.
In economic terms, such equipment can receive discounts or even subsidies so as not to lose market share. In fact, it will work in the same way as advanced systems from Ericsson, Nokia and other players. But the cost of these systems will be noticeably lower. Sanctions will play an evil role, as they will launch a price war mechanism in infrastructure decisions, and it goes on like that. There is no doubt that prices will become decisive for this market segment in the coming years. And Huawei is great at playing this game.
But if you think that the company will be forced to use only old solutions, will not be able to produce processors according to the latest technological standards, then this is not so. After all, here you need to catch Huawei on the fact that the company buys such processors and uses them in its equipment. If such processors are used on the territory of China, do not get to foreign markets, then the problem as such is settled. America will not be able to prove that someone is violating the sanctions. Therefore, both the development and production of 7 nm and 5 nm appearing next year will continue, several companies are ready to manufacture such processors and supply them to third companies. And already intermediaries through the supply chain will ship them to Huawei. Money effectively defeats sanctions, since America, other than punishment, does not offer any compensation mechanisms for lost income from the loss of its largest client.
In some ways, the described scheme resembles what happened in the USSR when sanctions were imposed on the country, and then the production of microelectronics was more transparent and there were simply no opportunities to circumvent restrictions in such a volume.
In 2020-2021, we will see a certain turbulence in the infrastructure business of Huawei, on the other hand, the company has purchased components in such a volume that it will be able to produce its solutions at least until the end of 2021. For this period of change in technological solutions, development of new devices and architectures, she has enough margin of safety.
The scenario described above takes into account one important factor. Huawei will maintain external decency and will not aggravate the situation. If the conflict between the United States and China reaches a new level and decency can be dropped, then the situation will be more favorable for Huawei in every sense. Deliveries of modern chips can go to foreign markets.
I leave out the history of MIPS, other developments that can be used by both Huawei and other companies. This is not so important, just additional trump cards on the Chinese side. I considered infrastructure solutions head-on, so that there was an understanding that the situation cannot be described as hopeless. I constantly encounter such sentiments that now, for sure, China will not do anything, because the sanctions are so terrible and practically everything is prohibited. Sanctions sound scary, but recent history proves that they are easily ignored when funds are available. And one cannot assume that there are not enough funds in China, that there is no domestic market.
What will happen to Huawei smartphones? Will they disappear?
We examined the situation with the infrastructure from Huawei, where the requirements for processors and other components are not as draconian as in the production of smartphones and other portable equipment that is powered by batteries. And here it seems that Huawei simply has no choice, the company will lose the battle. True? Let's try to assess this moment.
The domestic Chinese smartphone market is huge, in 2019, according to IDC, its volume was 366.7 million units.
Huawei is the leader in this market and is not going to let go of this leadership. But how can you do this in the absence of processors? The answer lies in the fact that most of the Chinese factories use Qualcomm, MediaTek chipsets and receive them domestically. That up to 20% of these supplies can go to Huawei? there is no doubt, just as the forecasts for the purchase of components will be increased by all factories. Suppliers will pretend that they believe that the chipsets go to factories, do not get to Huawei, and Huawei will pretend that they do not know anything about it. It is clear that it will be possible to make test purchases of smartphones, to make sure that there are chipsets, which should not be there. And here we come to the perfect cover operation that turns the whole situation upside down.
I am sure that you know about the existence of a trade-in, when, coming for a new smartphone, you can hand over your old one. Sometimes older models are in good condition and are re-introduced to the market as used devices. Sometimes they are killed enough to be recycled. China has a well-developed electronics recycling industry, many components are soldered and re-produced (second-tier factories often offer low prices due to this).
In the case of Huawei, we will see a trade-in that will attract people and old devices. This is a program that will actually recycle old models, and processors from them can be reused. In any case, this is how the situation will be presented to us. In fact, this is a cover operation for factories that will ship chipsets to Huawei, they will boldly declare that they do not do anything like that, and their processors appeared in Huawei due to the very trade-in. Given the political underpinnings of the situation, none of the third-party factories will dare not help Huawei, the state will take care of this.
Likewise, such "second-hand" processors will appear on foreign markets, for example, in Russia. In fact, these will be ordinary processors that have no flaws, including solutions from Qualcomm and Samsung. For example, Samsung has planned a sharp increase in the production of Exynos processors next year, contracts are already being signed with Chinese factories that they have never used them. One could theoretically speculate that this is how Huawei processors are being replaced inside China, but they were never delivered to anyone, factories used solutions from other companies. This is clearly an adjustment to the scheme described above.
But Huawei clearly believes that these are all half measures and intermediate solutions for survival. At the developer conference, there was a lot of talk about Harmony OS, but almost no one understood the main feature of this platform. And Huawei was prudently silent, since all publications about the upcoming Android replacement from Google play into the hands of the company.
The new platform from Huawei is not quite analogous to Android or iOS, as it is a cloud operating system that can work with any application – both iOS and Android. It is almost impossible to prohibit or block this system, since it works on the company's servers, is automatically updated and the user does not need to do anything for this. The beauty of this solution is that such a system can run on any hardware, the user only needs a good quality Internet connection. These are devices that are constantly connected to the network, and the types of devices can be any – watches, tablets, TVs, smartphones, and whatever. Depending on the type of device, the system changes its interface, but you get access to any information in a convenient form.
For example, you can grab an iPhone and log in to that system in your browser bar (that is, you get a second system in your machine). On Android, you can do the same or download the application separately. At the same time, on devices from Huawei, you will receive hardware focused on this system, and the same Android AOSP as the usual basic version of the system. When working in the cloud, only a picture is actually transmitted to the device, which means that the need for computing is minimal. And this will lead to the fact that the running time will increase. And, for example, the same 14 nm chipsets, which will be on the market by the time Harmony OS is launched, will be quite comparable in time with competitors' solutions. But in the cloud, you can do virtually anything – from computer games to some complex calculations.
The only difficulty is that for Harmony to work, you will have to put servers close to users. And then the question arises that these are investments in individual markets that can quickly pay off. And this is a drastic complication of the game for those who make smartphones in the previous ideology, a cost that manufacturers will have to go to. And the game will become completely different, now the hardware manufacturers will catch up with Huawei. The transition to such a model also means a redistribution of the processor market, powerful processors will not be needed in hardware, the tasks will become completely different.
Of course, there are many "ifs" arising here. No one knows how the trade war between China and the United States will unfold, how Huawei's plans will come true, or what it will look like. The fog of war hides the future, and it is very changeable. But the scenarios described above are more than real, and they suggest that America's actions are creating a technology giant that will offer a new interpretation of how we live, how our devices work. This is a race for the future not of 5G, but of different systems, and in this race, the need to find extraordinary solutions is still on the side of Huawei. American corporations have already lost a key client, their revenues are falling. He said nothing at all about Huawei's 5G patent portfolio that American corporations will have to reckon with. We touched on this story in part in other articles, sanctions from Huawei in this aspect can put an end to the development of 5G networks in America and the US allies. It's just that this tool has not yet been used, it is a trump card that has been reserved for better times.
I advise you to note that the strategy of American politicians is straightforward. They have brought down all the tools at Huawei, while the company is simply transforming under the new business environment. But so far it does not answer in any way, although, of course, it can cause serious harm to American corporations. This is perceived by American politicians as a weakness, although in fact it is a reasonable measure, Huawei actually manages the ongoing processes. They make plans, follow their strategy. And you could see a piece of these plans in this material. It will not be easy, but it seems to me a bit premature to talk about the death of the company. We need to talk about a slowdown in development, a forced halt and the creation of new technologies.
Do you think Huawei will defeat American officials? Answer this question on our Telegram channel, thank you.
Related Links
Share: 





we are in social networks:
Anything to add ?! Write … eldar@mobile-review.com