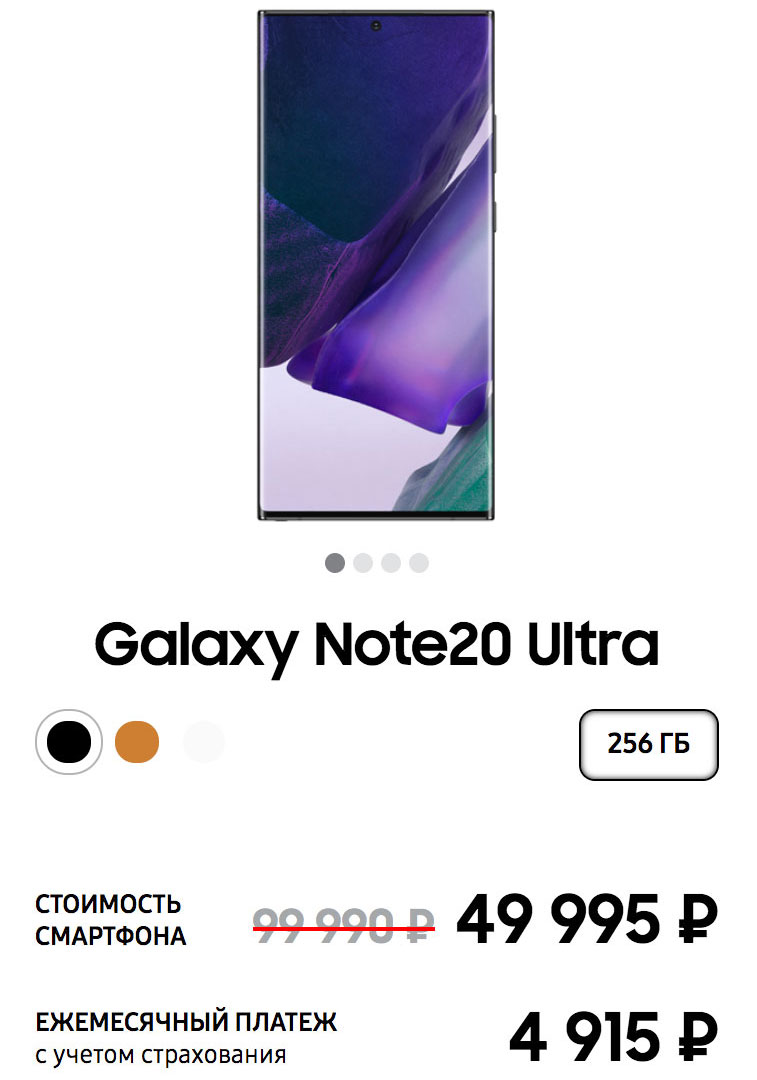 Hey.
From year to year, the cost of smartphones, tablets and accessories is growing, which significantly affects the budget of any family. Imagine that you need to buy two smartphones, a tablet, and some accessories at the same time, for example, a smart watch, a headset. And here you have to be torn between the desire to purchase the newest devices with maximum characteristics, comfort of use and an image component, or to act rationally and buy models below the level. With the first approach, the family budget begins to experience a serious load, and with a rational approach, you are gnawed at the thought that you saved and acquired in the end not what you wanted.
For example, the cost of the Samsung Galaxy Note20 Ultra ranges from 99990 to 119990 rubles, this is the price of only one smartphone without any additional accessories. For many potential buyers, the cost of a smartphone in one hundred thousand rubles becomes a barrier to purchase. Probably, it would be more accurate to say that in the past, such a cost became a serious barrier, today buyers have mastered various offers from the manufacturer in order to reduce the purchase price. There are several main ways for this, and it's time to describe them. But first, I want to say that when buying flagships and other equipment, more and more often buyers do not pay the full cost of the goods, but choose alternative methods, since they are profitable and do not imply a large financial burden at the moment.
What are the ways to save money – installments, trade-in and the Upgrade program
Conventionally, people can be divided into two large categories, those who are ready to pay the full price for the goods and those who want to be rational, to receive one or another discount. On the Russian market, a trade-in has shown itself well, when you can hand over an old device that you no longer need, and in return get a discount on your purchase. You can also donate not only a smartphone, but several different devices, they will count towards the new acquisition. Trade-in discounts will differ depending on when you buy the same smartphone. For new products, trade-in has a high level of discounts, for models of the previous season that leave the market, it may be lower. Nowadays, you need to understand the mechanics of various promotions in order to be able to choose the right one that suits you best.
Let's take a look at the trade-in for the same Note20 Ultra that just went on sale. You can rent any smartphone that you have and you don't need. But the discount probably won't impress you. A benefit of up to 58600 rubles is achievable only if you hand over fresh and expensive models, for most it will be about 10 thousand rubles, for example, this is how much you will be given for the Galaxy S9 +, that is, for a two-year flagship.
Regardless of which smartphone you rent, you will receive an additional 15000 rubles discount on the purchased device, this is an additional discount from the manufacturer. Thus, when you return your old device, you will receive an average discount of 15% in addition to the residual price of the old smartphone. In my opinion, this is definitely a good offer, a rational way to reduce the purchase price of a flagship. If we take the same Galaxy S9 + as an example, it turns out that your discount for a trade-in on the Note20 Ultra will be 25 thousand rubles, which is already noticeable – 25% of the cost of a brand new flagship. Isn't it saving? The cost of all models accepted for trade-in is always relevant to the market, so you need to clarify this moment when you want to take advantage of such an offer.
But trade-in is not suitable for everyone, since the cost of the device remains high, despite the discount. Here you can consider another way, for example, by installments. The Samsung brand store offers different programs, the longest is 0-0-36, there is also 0-0-12 or 0-0-24. I am sure that this formula is familiar, literally, to everyone. You buy the item at full price and pay it in installments over 12, 24 or 36 months. The longer the installment plan, the less you pay monthly. For example, Note20 Ultra will cost you 2777, 50 rubles per month with an installment plan for 36 months. Multiply 36 months by this amount and you get 99990 rubles. The manufacturer actually provides you with an interest-free loan for your purchase, and the amount of monthly payments is very comfortable and affordable for most buyers. The pitfall is that it is impossible to combine trade-in and installments for all devices, you should remember this and choose what is more profitable for you. Get a 15% discount and immediately pay the entire cost, or pay for your purchase in installments over a long period. Installment is a good and convenient way to purchase electronics, there is no need to give away large sums at a moment, especially if you need to buy several devices at the same time. As such, there are no risks in installments, you need to carefully pay for your purchases, and there will be no problems.
But there is another way that Russian buyers love, as it allows them to save even more noticeably, this is a smartphone under the Upgrade program, it allows you to get a device even cheaper, for example, take the same Note20 Ultra in the basic configuration. You get a smartphone without any payments. Then, monthly you need to pay 4915 rubles, including insurance. Insurance includes free replacement of the screen and back of your phone if you break them. Once a year, you can replace the screen or the back panel in the service, the reason why you broke it does not matter. For those who drop their device and know such a sin behind themselves, this is an excellent offer.
When the Samsung Upgrade program for smartphones first appeared, there was a certain distrust of it, too unusual model for the buyer. It seemed that people in Russia were not ready for such a service. In practice, everything turned out to be exactly the opposite, Samsung Upgrade is popular, and many buyers choose this method. For example, 20% more people chose the Note40 smartphone of all versions under the Samsung Upgrade program this year than a year earlier. Why?
The answer lies in the fact that you can always get the latest smartphone, there is no need to bother looking for a buyer for an old device, or to store it at home idle. You just change one smartphone to another, it's done. This approach is close to many, but it scares many people, although there is no difference in using a smartphone, the only question is how you got it, the methods differ. On the other hand, look at how car sharing is developing, this service is somewhat similar to Samsung Upgrade, and therefore both are popular.
In my opinion, the Samsung Upgrade program is a rational way to save money on a purchase, although the word purchase is not fully applicable here. You get a smartphone that becomes your companion, and do not spend its full cost on it. For many people, this has become a rational way to use their funds. A nice little thing is that you can subscribe online, there is no need to go to the store, stand in queues. After you issue your smartphone, you can pick it up at a convenient time in the store or a courier will bring it to your home, including delivery in a city where there are no Samsung branded stores. And remember that insurance is already included here, you can break the device once and it will be repaired free of charge. For some, this may be an additional motive to buy a smartphone just like that. Take a look at how Samsung's website demonstrates the benefits of Samsung Upgrade for S20 using an example of an installment plan.
We take a calculator and calculate the benefits, as well as the cost of ownership
Describing ways to rationally buy a device always seems like something containing a catch, like an advertisement with an asterisk, and a footnote describes a lot of all kinds of ifs that cross out the attractiveness of the offer. Let's take a calculator and together calculate how profitable it is to buy new items from Samsung, what ways are there for this. Let me first remind you of such a term as cost of ownership, because the more you use the device, the more reasonable your purchase, as the price ultimately turns out to be lower. For example, let's look at the cost of ownership of the Note20 Ultra.
Note20 Ultra 
99990 rubles
Note20 Ultra
119990 rubles
12 months
8332,5 rubles per month
9999,16 rubles per month
24 month
4166,25 rubles per month
4999,58 rubles per month
36 months
2777,5 rubles per month
3333,05 rubles per month
It is trite, but many people forget that the longer we use the thing, the more profitable it becomes for us and our budget. Manufacturers are fully aware of this, which is why flagships are made to last as long as possible and provide the maximum level of productivity and comfort. The average lifespan of a flagship in Russia is about three years, while it continues to grow. For tablets it is 4.5 years, the term is also growing. For smart watches, the term is also about 4.5 years. Both tablets and smartwatches in theory can be in use for a long time, when changing a device, the desire to pamper yourself comes to the fore, what is described as obsolescence of the device. Therefore, many rational buyers act strange at first glance, they purchase flagship products for the maximum cost. The rationale here is that such devices have been working for many years.
Let's consider different situations when buying devices and consider the cost of ownership.
Scenario # 1. I change the flagship every year, always a new model
A year ago you bought a Samsung Galaxy Note10 + and now you want to replace it with a Galaxy Note20 Ultra, for example, with the basic version that costs 99990 rubles. Let's take a look at how this can be done.
The cost of the Galaxy Note10 + was purchased a year ago at a price of 89990 rubles. The cost of owning this device was 7499 rubles per month for you. On the secondary market, you can sell this device for 35-40 thousand rubles. If you do this at the maximum price, then the cost of ownership will be equal to 4165 rubles per month.
In the trade-in this device will be taken from you for 22800 rubles, and a discount of 15000 rubles will also be added. Total 37800 rubles, which is almost equal to the price in the secondary market, but without the time, effort, bargaining and the like. It is convenient and the main thing is that there is a fair value.
Taking into account the trade-in, it turns out that the price of the novelty for you will be equal to 62100 rubles, you will receive a 38% discount. In my opinion, this is a rather profitable offer that can push you to change your smartphone if you want to change the device every year.
Those who issued Note10 + a year ago under the Samsung Upgrade program paid 5573 rubles for a smartphone monthly, exchange without additional payments is possible for a new model in 12 months. In total, they paid 66876 rubles for using the device, that is, 75% of its price. Starting this year, the conditions of the program have changed, now only 50% of their cost will need to be paid for new items. It should be reminded that this includes insurance against a broken case and screen, free of charge replacement once a year. The cost of such insurance separately is 8990 rubles.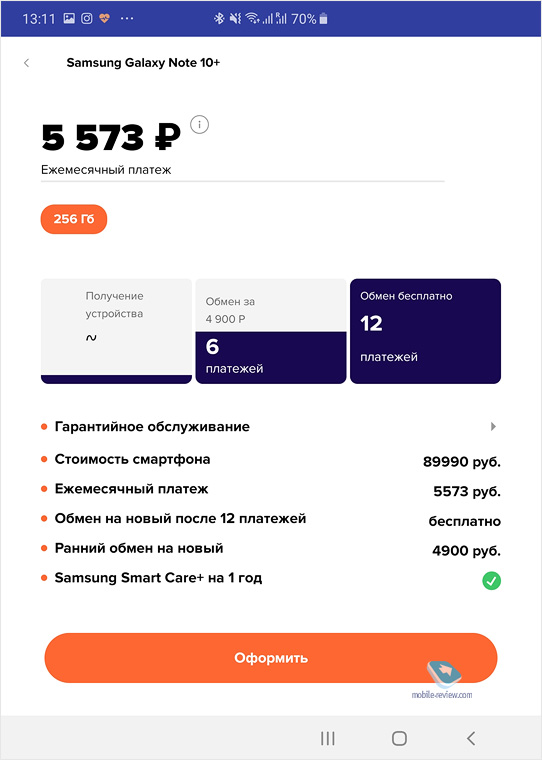 The 0-0-12 installment plan cost + 10 rubles per month for Note7500, you could take it for 24 or 36 months. But we look at a person who changes his apparatus every year. And then it turns out that, having paid 89990 rubles per year, you completely redeem the device and again face a trade-in, switch to the first method.
For everyone who already has a previous smartphone, it is trade-in that becomes a reasonable way to change the model to a new one, you get the real market value for the old device, and immediately get a new product at a discount. There is another important point that is often overlooked in calculations. After a year, when you buy a new smartphone, you will hand over the current model.
Scenario # 2. I want to buy all devices in the Samsung ecosystem
Let's imagine that you decide to update all devices in one fell swoop: watch, tablet, headphones, smartphone. Let's calculate how much such a basket will cost you:
Galaxy Note20 Ultra – 99990 rubles;
Galaxy Watch3 45 mm – 34990 rubles;
Galaxy Buds Live – 13990 rubles;
Galaxy Tab S7 + WiFi – 69990 rubles;
An impressive amount of 218960 rubles is obtained per circle. If you take these devices in installments, then the monthly payment will be equal to 18246 rubles (12 months), 9123 rubles (24 months), 6082 rubles (36 months). With 0-0-36 installments, the cost of ownership of the entire set of devices turns out to be sparing, it does not look prohibitively high. All of the above devices will work quietly for these three years, there are no pitfalls.
Now let's imagine that you have these or those old smartphones, other devices that can be used in trade-in. For a smartphone, this is an additional 15000 rubles, and when buying a smartwatch, it is another 5000 rubles, and you can trade in different devices. It is best to find out about the current trade-in shares on the Samsung website here.
Let's again imagine that we have a Note10 + that we put in a trade-in, we get a discount on all devices of 42800 rubles (including an additional trade-in for a watch). Thus, for all the devices we will need to pay 176160 rubles, which is better, but still a fairly significant amount.
But outside the brackets, we left the possibility that you can turn in several devices, for example, your old tablet. This can drastically reduce the cost. It is also worth thinking about combining installments and trade-in, this will be a rational approach.
For example, we will take Note20 Ultra and Galaxy Watch3 using trade-in, their cost will not be 134890 rubles, but 92090 rubles. On their purchase, we saved a third of the price. We will take the remaining two devices in installments, for example, for a tablet it is 0-0-36, since this is correct in terms of its lifespan. And for headphones it will be 0-0-24.
It turns out that we pay 92090 rubles, and then pay monthly installments – 1945 rubles per month for a tablet, 583 rubles for headphones. That is, the monthly payment will be 2528 rubles, and in two years it will drop to 1945 rubles (a year will remain to pay for the tablet). Confused? I hope no.
Above, we considered the purchase of all devices in installments, with 0-0-36 the monthly payment turned out to be 6082 rubles. You may want to lower this payment in the way described above when you combine different programs, trade-in and installments.
The methods described above allow you to comfortably buy all the devices of the Samsung ecosystem without the need to immediately pay the full price for them. I hope that the calculations have clearly proved and shown this.
Short takeaways on how to buy wisely
Regardless of whether you are a rational person or an emotional person, I think that you are used to counting your money and family budget. Ten years ago, you practically had no choice how to buy equipment, the method was simple and familiar for many years – to save up to the required amount. Today there are several ways not to do this and at the same time seriously save money. A little short for a purchase? Then you can take advantage of the trade-in, get an additional discount. If you want to feel at ease and not buy electronics at full price, you can choose an interest-free installment plan, monthly payments will be low, and almost anyone can afford them. This is also an important point in terms of the fact that you do not need to save, not all people know how to do this. Finally, a great subscription smartphone program where you save money but get the latest device for half the price. It doesn't belong to you, but do you really need this ownership?
The popularity of installments, device subscriptions and trade-in speaks for itself. Initially, these were alternative ways of acquiring electronics, today they have become mainstream for many. And the popularity is due to only one factor, the benefit to the person. You just have to choose a program that is beneficial to you. Enjoy your shopping!
Published – 31 August 2020
Share: 





we are in social networks:
News:
01.03.2021/XNUMX/XNUMX Roskomnadzor accuses Twitter of malicious violation of Russian law
01.03.2021/6/XNUMX EZVIZ CXNUMXW – "smart" home panoramic video surveillance camera with True-WDR sensor
01.03.2021/60/600 Video on the channel: Correct gaming TWS headphones Saramonic SR-BHXNUMX-B and SR-BHXNUMX
01.03.2021/XNUMX/XNUMX LG patented sliding OLED TV
01.03.2021/XNUMX/XNUMX Xiaomi reports a shortage of Qualcomm chips
01.03.2021/2021/14 Apple iPad Pro 1 with AXNUMX chipset will be as powerful as Mac based on MXNUMX
01.03.2021/9/XNUMX Release date of OnePlus XNUMX series smartphones has become known
01.03.2021/21/XNUMX A database of XNUMX million users of VPN services put up for sale on the Darknet
01.03.2021/XNUMX/XNUMX Casio Launches New MT-G Watch Inspired by the Beauty of the Blue Phoenix
01.03.2021/XNUMX/XNUMX A revision of the criteria for entering software into the register of domestic
01.03.2021/XNUMX/XNUMX Microsoft is working on the next generation Surface Duo
01.03.2021/5/3.5 The number of 2026G users will grow to XNUMX billion by XNUMX
01.03.2021/XNUMX/XNUMX Mir cards will be available in Apple Pay
28.02.2021/3/XNUMX World's Largest Video and Computer Gaming Exhibition EXNUMX Will Not Be Live This Year
27.02.2021/XNUMX/XNUMX Bill Gates said he prefers Android over iOS
27.02.2021/8/XNUMX Lenovo is preparing to release the third generation Lenovo Tab MXNUMX tablet
27.02.2021/5/XNUMX Leak revealed the design of the smartphone Samsung Galaxy XCover XNUMX
27.02.2021/19/1200 OPPO F90 Pro + will receive a Dimensity XNUMX chipset and a display with a frequency of XNUMX Hz
26.02.2021/XNUMX/XNUMX Chery demonstrates the salon of the flagship crossover for the Russian market
26.02.2021/600/XNUMX Telegram must return $ XNUMX million to investors by the end of April
26.02.2021/870/XNUMX Video on the channel: OPINION | SSD SAMSUNG XNUMX evo
26.02.2021/6/XNUMX Nubia revealed the design of the Nubia Red Magic XNUMX smartphone
26.02.2021/60/60 Global versions of Vivo X870 and XXNUMX Pro smartphones will receive Snapdragon XNUMX chipset instead of Exynos
26.02.2021/3.9/XNUMX The loss of the online rental service Airbnb in the fourth quarter amounted to $ XNUMX billion
26.02.2021/XNUMX/XNUMX March Games for PS Plus Subscribers Announced
Subscription