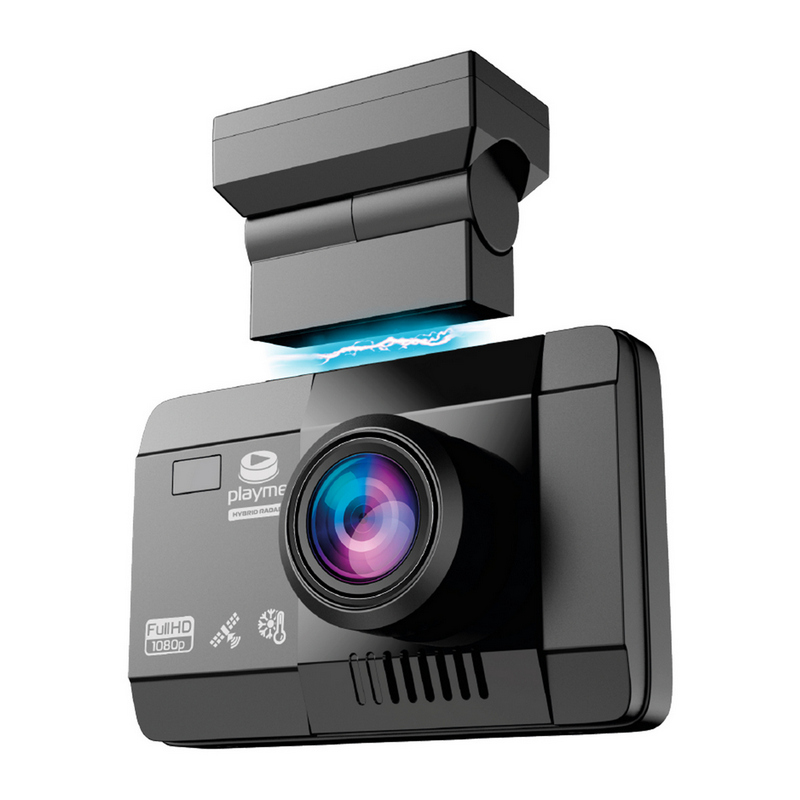 DVRs, having begun their journey to the Russian market as another electronic toy for geeks, have gradually taken root, having proved their usefulness in practice: as a rule, such a device fully pays for itself after the very first accident, and they happen even to the most experienced drivers. Moreover, in the latter case, the video recorder is especially important – after all, you have to prove that the accident was not your fault. In this article, we will describe the typical classes of three types of devices: DVRs, combos (DVR plus radar detector) and radar detectors. Let's talk about which functions are mandatory in 2021 and which ones can be neglected, as well as give practical examples based on the products of one of the leading brands on the Russian market.
Content
Choice
DVRs
Combo devices (DVR + radar detector)
Radar detectors
Results
Choice
A car DVR, like any other highly specialized device, needs, first of all, a correct approach to the selection process. Let's try to go through the main stages of this path together.
Stage one: types of brands
Manufacturers of DVRs can be conditionally divided into two large categories: "generalists" and "specialists". We call generalists companies that produce everything that is somehow connected with electronics, and often not only automobile ones: flashlights, walkie-talkies, gyro scooters … DVRs.
It is quite obvious that they are not engaged in the development of these devices, otherwise a large research institute would have to be allocated for the needs of designing all this trifles: these are companies that "harvest" from a certain number of OEM-productions (usually Chinese) and brand it. Why not look for a good DVR among such products? Because the wide assortment indicates, first of all, that the "manufacturer" himself has a very approximate idea of ​​it. Our device is a piece specific, therefore, approaching it like a flashlight will not bring you any good.
"Specialists" are firms specializing in automotive electronics. Yes, they, as a rule, "graze" at the same Chinese factories (although sometimes not at the same ones – you need to know "fish places") – but at least they have enough professionals in their staff who know well that search, and who know how to distinguish plastic optics from glass, and the processor – from the memory chip.
The Chinese are simple-minded people: they can cheat – they will definitely cheat. "Specialists" are harder to inflate. In addition, long experience of close cooperation with some Chinese plant sometimes allows things that are completely serious: for example, ask for constructive changes to the standard model, add or expand functionality, and adapt the device to the realities of the Russian market. But for this you need to have your own engineers on the staff, which is completely unacceptable for "generalists".
Stage two: budget
So, we have decided: we need a brand that specializes in automotive electronics. Of course, it is desirable that he was more than one year old (and better not two) – this gives some confidence that everything will be fine with the guarantee, technical support and post-warranty repair, and that new firmware, database updates will be released on time, and so Further. Of course, it also happens that a reputable manufacturer with a 10-year history suddenly suddenly "burns out" like a meteor in the atmosphere, but we cannot insure ourselves against accidents, but the regularities say that the longer the brand is on the market, the more it has chances to stay on it in the future.
What will we decide on next? Oddly enough – immediately with a budget. And that's why.
Let's tell you a little secret that sales managers and marketers of leading auto electronic brands don't like to say out loud – but they themselves know it well, and everyone knows it. As Lev Tolstoy wrote: "All happy families are alike, each unhappy family is unhappy in its own way."
Similar a bad DVR can be bad for many reasons, a good one, as a rule, meets certain (for its price niche) requirements and costs about the same money, no matter what nameplate is on it… Of course, there are exceptions, but they, as they say, only confirm the rule. So, boldly go to Yandex.Market in the section of car DVRs and see who is listed there in the "Manufacturer" filter section, if you do not click "Show all". These brands are of interest to us.
The funny thing is that our "favorite" Playme is exactly in the middle of the list. Using his example, we will consider what video recorders, radar detectors and combo devices should be like in the coming year. Why Playme? A number of reasons, both objective and subjective, are mixed here.
As we said above, it fits well under all the criteria we have chosen, which means that it is one of the candidates among which you can choose.
This brand is doing very well with technical support. The author of this material still uses the Playme Soft radar detector, released 5 years ago, on the dashboard, and the last database update for it has a date of 06.12.2020/XNUMX/XNUMX. And this is not the only case known to us when Playme has been supporting old and even discontinued models for a very long time.
The Playme lineup is always very verified: it simultaneously has everything you need, for every taste and wallet – but there are no models that differ from each other only slightly. That is, making a choice, roughly knowing the estimated amount, is often very simple.
This brand orders devices not only in China, but also in South Korea. And unlike the South Korean brands sold in Russia, these models have a completely humane price tag.
After all, we like it when the brand has a sense of humor: a radar detector called "Playme Tender" – you must agree, it's cool. 😉
So let's start with the most traditional type of device: the classic car DVR. In each category, we will try to consider three positions: budget, optimal, flagship and (if any) original.
DVRs
Playme TAU
"Tau" is the 19th letter of the Greek alphabet, but we know it mainly thanks to Tau Ceti – one of the stars closest to us. In this, too, you can track the humorous component, tk. Playme TAU is the "closest" to us "star" in the Playme constellation: the cheapest, in other words. Indeed: now the cost is around 5 rubles – this is the case when "budget" does not mean "frankly bad". To go down when looking for a DVR much below this bar, we, frankly, would not advise.
What will please us with a budget DVR from Playme? In fact, the minimum "gentleman's kit" that any decent device in this category should have:
FullHD resolution (1920 × 1080) at 30 frames per second;
G-sensor (also called "shock sensor").
In the case of TAU, this comes with an IPS display (which is much tastier than TN and is rare in the budget sector) and a fairly wide 170 ° viewing angle. But the most important thing is the magnetic mount, which allows you to remove and install the DVR with one movement of your hand in a couple of seconds. This option in the budget segment is not that rare – the rarest.
Not without its drawbacks: the budget processor cannot handle serious codecs, so the recording is done in AVI / MJPEG. We would call this, in fact, the only flaw, the most innocent of all possible.
Playme KVANT
This device demonstrates to us what the golden mean is from the point of view of the brand: the optimal combination of functionality and price. The simplest and most understandable way would be to list not just the distinctive features of our "indivisible particle" (quantum: here Playme switched from Greek to Latin), but also to compare them with the budget option.
resolution unchanged: the same 1920 × 1080 pixels at 30 frames per second;
Built-in G-sensor;
magnetic mount.
Then came the differences:
a more powerful processor allows you to use the modern H.264 / MP4 codec, which means that a video of much longer duration than TAU will fit on a card of the same size;
a GPS receiver has been added, which means that, firstly, the current speed and geographical coordinates of the car will be displayed on the video sequence, and secondly …
the function of a GPS-informant has been added: based on the built-in updated base and current coordinates, the device will inform the owner about the approach to the speed cameras.
They want about 7500 rubles for this, that is, one and a half times more than for the most budgetary option. Well, it is quite humane: there are really many improvements, and they are significant.
Playme TIO S
And this is how our flagship model looks like. It is also about one and a half times more expensive than the average budget and is packed with the most modern chips (at least from the point of view of Playme). What do we see here?
resolution again Full HD – 1920 × 1080 pixels at 30 frames per second;
Built-in G-sensor;
magnetic mount.
In these parameters, TIO S is similar even to TAU:
H.264 / MP4 codec;
built-in GPS receiver, GPS informer function.
Both TIO S and KVANT have these functions. And, finally, what is not in KVANT, but is in TIO S:
control from a smartphone via Wi-Fi;
gesture management;
simplified system for updating the database;
polarizing filter on the lens;
matrix from Sony with support for technology WDR (high dynamic range).
As we can see, all the improvements can be roughly divided into two groups: increased comfort when working with the device and improved image quality.
Note that Playme as if emphatically ignores new chips from the world of big video: 4K resolution and H.265 (HEVC) codec. From our point of view, at the moment this is absolutely the right decision: there is not a single reason to support a format in car DVRs that has not yet completely taken root even on the film and TV market.
To summarize: a budget car DVR (not necessarily from Playme) at this point in time should be able to shoot video in Full HD format and have a built-in G-sensor (without it, of course, it is possible, but in our time it is somehow not comme il faut).
On this, perhaps, the mandatory requirements end. The mid-range DVR adds support for the H.264 codec and built-in GPS. It is also quite good if the device has a GPS-informing function. With premium versions, everything is much more complicated, because they can contain a variety of "enticements" for a potential buyer who is ready to spend a significant amount.
It can be an increased resolution (Super HD, 4K) or just a very good matrix (as a rule, Sony matrices play this role), control from a smartphone via Wi-Fi, special parking modes that allow the DVR to "watch" around the clock, without discharging the battery, and much more.
We would mark the following as really useful "special stages" for a DVR of any price category:
quick-detachable mount, which allows the bracket to be left on the glass, and the recorder can be removed or installed in a couple of seconds;
IPS-screen instead of budget TFT TN;
for fans of video quality: matrix with WDR support, polarizing filter.
Combo devices (DVR + radar detector)
In this class, Playme does not have a budget device at all, but it is understandable: what kind of "budget" can we talk about when the device has to perform two different functions at the same time? But there is a "combo", which for a fairly adequate amount allows you to get a lot of everything. Let's start with him.
Playme VEGA TOUCH
For about 14 rubles we are offered:
Combo device in the format of a rear-view mirror;
The main camera based on the Sony IMX307 matrix with a viewing angle of 146 ° shoots Full HD, encoding the video stream in the H.264 format;
The additional camera has a viewing angle of 100 ° and a resolution of 640 × 480. It can be installed, for example, on the rear window (the length of the wire allows);
Beneath the mirror is a 5-inch IPS display with a resolution of 854 × 480;
A complete radar detector that detects X- and K-band radars, as well as lidars (laser radars);
Shock sensor with adjustable sensitivity;
GPS receiver, GPS informer functions;
Touch control;
Due to the use of a supercapacitor as an energy source, the operating temperature range is from -20 to +65 ° С;
The rear camera can be a parking assistant, automatically displaying its image on the main screen when you turn on the reverse.
In fact, we have a device from the "set and forget" series: it has almost everything that you can imagine. True, you have to tinker with laying a wire to the rear camera or turn to installers for this service – but, in the end, this is done once on one car.
Playme PRIME
An option for those who are not ready to integrate a combo device into a car on an ongoing basis and prefer a mobile-portable (or at least removable) option. By the way – for exactly the same price as the previous device: about 14 thousand. Here we see the Playme proprietary chip already familiar from DVRs: a magnetic holder with PowerClick technology – the power is connected automatically when the device is installed on a magnetic platform.
Otherwise, much is the same as the previous device: the same Sony IMX307 matrix with a slightly less wide-angle (140 °) lens is used, the main camera is recorded in Full HD / H.264, the additional camera has migrated to the section of options purchased separately, GPS module available, as well as the GPS informer function, a supercapacitor is also used as a power source.
The display has become smaller – 3 inches, but also IPS. The camera has acquired a polarizing filter, the radar detector has become "smarter" – here it can automatically change the sensitivity depending on the speed of the vehicle.
In general, Playme again got the option "you can't think of anything else".
Playme P600SG
Top model designed and manufactured in South Korea. The price already "bites" a little (about 18 thousand) – but let's not forget that this is a combo device, and about the country of production.
A lens with a viewing angle of 135 °, a 4-megapixel matrix from OmniVision 4689 with Super HD resolution (2304 × 1296) and WDR support and a processor from Taiwanese Alpha Imaging Technology AIT8328Q are responsible for the video recorder part. A very worthy combination that provides excellent quality footage both day and night.
However, the developers paid even more attention to the radar-detector part. Firstly, it uses SAFP (Superior Anti-Falsing Platform) technology, which is designed to minimize false alarms on such common radiation sources as automatic door sensors, car's own security systems, and the like. Secondly, signature technology is used to recognize "real" radars: this is when a radar detector not only detects the presence of a signal at a certain frequency, but also stores in its database the signatures of the radiation of various radar models. Thus, it is possible to identify not only the presence of a working radar, but even to determine a specific model!
Of course, there is a GPS receiver, a GPS informer function with a regularly updated database, and a G-sensor with adjustable sensitivity.
In fact, this device combines the most modern car DVR with the most modern radar detector – even more "sophisticated" options and you will have to look separately, and we do not know such at all in the combined form, except perhaps direct analogs.
To summarize: a modern combo device is a combination of a video recorder and a radar detector. "Combo" is not really cheap, unless the manufacturer will save on everything: for example, it uses a very ancient HD-resolution (1280 × 720) in the DVR part, equips the device with a microscopic screen with a low resolution, and so on.
It is not worth buying such devices, it is better to split the purchase into two stages and first purchase a budget video recorder or radar detector that meets the minimum modern requirements, and then, after a while, a second device. We have already voiced the minimum requirements for a modern video recorder above: the ability to shoot video in Full HD resolution (1920 × 1080) and a built-in G-sensor. Well, about the minimum requirements for a modern radar detector, you can read in the next section.
Radar detectors
The popularity of this type of devices is consistently lower than that of DVRs: it is believed that "if you do not violate, then why is it needed?" In an ideal situation, when the signs are in predictable places and in accordance with GOST, the traffic police inspectors are polite, helpful and condescending. And the driver pays 100% of his attention to the situation on the road (despite the fact that the child is sick, the mother-in-law has a leak, an emergency at work and it would be time to change the tires, but there is no time at all) – of course, we completely agree.
But since ideal situations in our real world are not very common, we consider a radar detector in a car by no means necessarily a sign of a "reckless driver": many people perceive this device simply as disciplining a factor that from time to time reminds the driver of the need to comply with the speed limit. Using Playme products as an example, we will consider two options: sufficient and top-end.
Playme HARD 3
The HARD line in the Playme lineup is about the same age as the brand itself. The first version, which is logical, was called simply HARD, the second – HARD 2, and here we have the third. She herself, by the way, is not so young: the device was released in 2018.
But for radar detectors, this, in general, is normal: their improvement should keep pace with the improvement of radars, and progress in this area has recently been by no means leaps and bounds – therefore, not the newest radar detectors are still very Decently cope with their duties (we dare to assume that some owners of the first Hard cards still use them without any problems). So, what does the third model of the popular series offer us for an amount of about 7 thousand rubles?
Classics of the genre: detection of radars in the K-Ka- and X-bands, as well as lidars;
High-quality Korean design and assembly;
GPS-module with a GPS-informant function and an updated base of radars and speed cameras;
Ability to add custom points to the database;
The simplest one-color LED display with adjustable brightness;
Anti-CAS system for protection against false alarms;
Selective range shutdown;
Automatic sensitivity adjustment based on speed.
By and large, the ordinary car enthusiast doesn't need anything else: the Playme HARD series radar detectors have long earned a reputation as a "set and forget" solution (but, however, not quite: the base of radars and cameras is recommended to be updated from time to time). To people who are tormented by questions on the topic: "I probably need a radar detector, but I'm not sure exactly and besides, I don't know which one?", We say without a shadow of doubt: "Buy yourself the latest version of Playme HARD and don't suffer unnecessary questions. " No dissatisfied have been noticed yet
However, not all car enthusiasts consider themselves ordinary, some need to have "all the most". The following model is intended for them.
Playme SILENT 2
This is the third Playme device in our selection to be designed and manufactured in South Korea. Moreover, the price tag is very humane: the budget HARD 3 and the top-end SILENT 2 differ in price by about 1,5 times (at Playme, many prices are tied to this figure in general). As the name implies, we see the second version of the device in front of us, and it is also not a novelty: the device was released in 2019.
It is noteworthy that if the first version had a color screen, then SILENT 2 has it in black and white. And there is a certain practicality in this: a color picture looks, of course, "more elegant", but during the day, and even in bright light, a brightly glowing black-and-white display is seen much better than a color one, especially when viewed from an angle.
The main "trick" of SILENT 2: a combination of technology for elimination of false alarms and signature technology of recognition of radars. The name of the model unambiguously hints at the main property of this device: not to disturb the driver in vain. And here the absence of the status of a novelty for us is, on the contrary, an advantage: many independent sources managed to test the device, and the reviews indicate that, in general, the idea of ​​Playme was a success – it is one of the most "taciturn" radar detectors on the market, which bothers the driver only by business and giving the minimum number of false positives.
In general, by paying not so much (3 rubles) to the price of HARD 000, you can save yourself a little nerves. Pretty nice option.
To summarize: a modern radar detector should be able to detect radars emitting in the K-, Ka- and X-bands, plus lidars (laser radars). A reasonable addition to this ability is the presence of a GPS receiver and a built-in updatable base of cameras and radars, which makes it possible to implement the function of a GPS informer, as well as to track, in principle, not tracked by a radar detector, speed control systems such as Avtodoria.
"Avtodoria" cannot be tracked with a radar detector for one banal reason: it does not emit anything at all. On a certain section of the road, cameras are placed that take pictures of the numbers of cars passing by them and record the time when the photo was taken. If both times the license plate can be recognized, then knowing the length of the section and the time when the photos were taken, the system can calculate the average speed of the vehicle along the controlled section of the road. If it turns out to be higher than the allowed one, a violation of the speed limit is recorded. "Avtodoria" can be "overcome" only with the help of a GPS-informant who knows where its cameras are located. In this case, a radar detector that has entered the area controlled by Avtodoria begins to measure the average speed of the vehicle and warns the driver if it is higher than the permissible speed.
Radar detectors without a GPS module should be categorized as very unpretentious: of course, there is some sense in them, but there is much less of it.
The "bells and whistles" in the case of radar detectors boil down to the use of various systems and technologies with tricky names: "smart mode", SAFP, anti-CAS, "signature recognition", and so on – but in practice, this is all called very simple: "reducing the number of false positives." The cooler and more sophisticated the radar detector, the less it bothers the driver. And vice versa: the more budgetary – the more often.
Results
It cannot be said that the market for video recorders, radar detectors and combined devices has completely stopped developing, but certain tendencies towards stabilization are clearly visible: newly-minted fans of "war" regularly appear only in the super-budget sector (and even there it is hard for them from the very beginning, because in the super-budget sector, the almighty AliExpress dominates).
More or less serious players used the "covid pause" in order to streamline and "clean up" the lineup, leaving in it the necessary minimum of really different devices. Many brands, so to speak, have "rethought" the approach to devices in the budget segment: a few years ago it was believed that AVI / MJPEG is "the last century" and "fu, you can't do that" – but time has shown that an ordinary user is interested in all these unfamiliar abbreviations extremely little, but he pays much more attention to the ergonomics of the device and the convenience of everyday use. That is, it is clear that in cheap devices something is inevitably sacrificed for savings, the question is – what? It turned out that the answer is not always obvious.
The expected Super HD / Quad HD boom in the DVR sector never happened: some big brands have released one or two models, but they are not very popular. In fact, it turns out that good Full HD is often better than mediocre Super HD / Quad HD. 4K video recorders with support for H.265 (HEVC) exist in about the same place where a spherical horse grazes in a vacuum: in principle, they are, you can even buy them, but who needs it and why is completely incomprehensible.
In general, the competition in the market is rather sluggish for the reason that we already talked about at the very beginning: all famous players have more or less learned how to do "well and correctly", once original ideas from each other also stole everything;), so now the choice between device "X" and device "Y", given that they cost about the same amount, most often it comes down to who likes the red buttons and who likes the black ones.
Combo devices and radar detectors are developing even more leisurely, especially the latter. Apparently, software and hardware tools for filtering interference and eliminating false alarms at the moment have exhausted themselves from a purely theoretical, scientific point of view: everything that can be done has already been done, how to do it even better – just nobody knows. Well, future Nobel Prize laureates will hardly be interested in such a "minor" topic, so there is no reason to expect any breakthrough technologies to appear in this sector in the near future.
Back to content >>>
Share: 





we are in social networks:
Anything to add ?! Write … eldar@mobile-review.com