Content
Introduction
Storage
Gamepad
Conductor
App Store
Browsers
Shield Tv
Sideload launcher
Torrent
Video players
Media players
IPTV
Photos
Other
Conclusion
And now you become the owner of the Nvidia Shield Tv Pro. It is inconceivable and incredible! It's really hard to believe in this, since, firstly, the set-top box costs an impressive 22 thousand rubles, and, secondly, you can't get it! She is like a shooting star in the sky, there are only a couple of moments to buy. At normal times, the site just has a pre-order.
And Yandex.Market shows only one store where the prefix is ​​available, but this is the previous generation. In theory, you can take the previous generation. The thing about Nvidia Shield TV is that it's a product for years. Nvidia is releasing updates for even the very first versions that have been out for 5 years. Nvidia Shield wants to be called an IPhone in the market for Android TV consoles, and smartphones, if we speak in the context of the duration of support and updates. But unlike the iPhone, updating the Nvidia Shield TV isn't scary. The set-top box will work even faster and better.
The main disadvantage and at the same time the advantage of the Nvidia Shield is that Android Tv is a Google product. The disadvantage is that I have a strong impression that Google not only refuses to do its own Google business on the development of the Android Tv project on principle, but also deliberately slows down progress! On the other hand, Emile Zola wrote that even the smallest progress requires many years of painful maturation. Perhaps Google is still struggling to mature.
Here are some examples of stagnation. On Android Tv, you don't have a built-in browser. I will say more! Google Chrome cannot be installed from the app store. It is hidden! In the store you can find castrated wretched browsers for Android Tv, than installing them, it is better to eat rainbow ice cream, thus becoming an enemy of the Fatherland and the President. God bless him (with the same comfort as it is written in the instructions on a pack of buckwheat).
Likewise, you cannot install all the games you want. Or add all apps to the home screen. What pisses me off is that Android Tv doesn't have a normal Google Photos app. You can only ask to show the photos by voice. That is, I cannot show my photos normally on the TV screen. You cannot flip, enlarge, etc.
However, Google traditionally gives the user maximum freedom to fully modify the set-top box according to his taste and style, thus allowing to neutralize all the shortcomings. So, let's start improving our console!
First, as I understand it, not everyone knows this point. The Nvidia Shield has a green indicator light, which turns out to be annoying with a glow in the dark. Settings – system – indicator brightness. You can soften the light or turn it off altogether.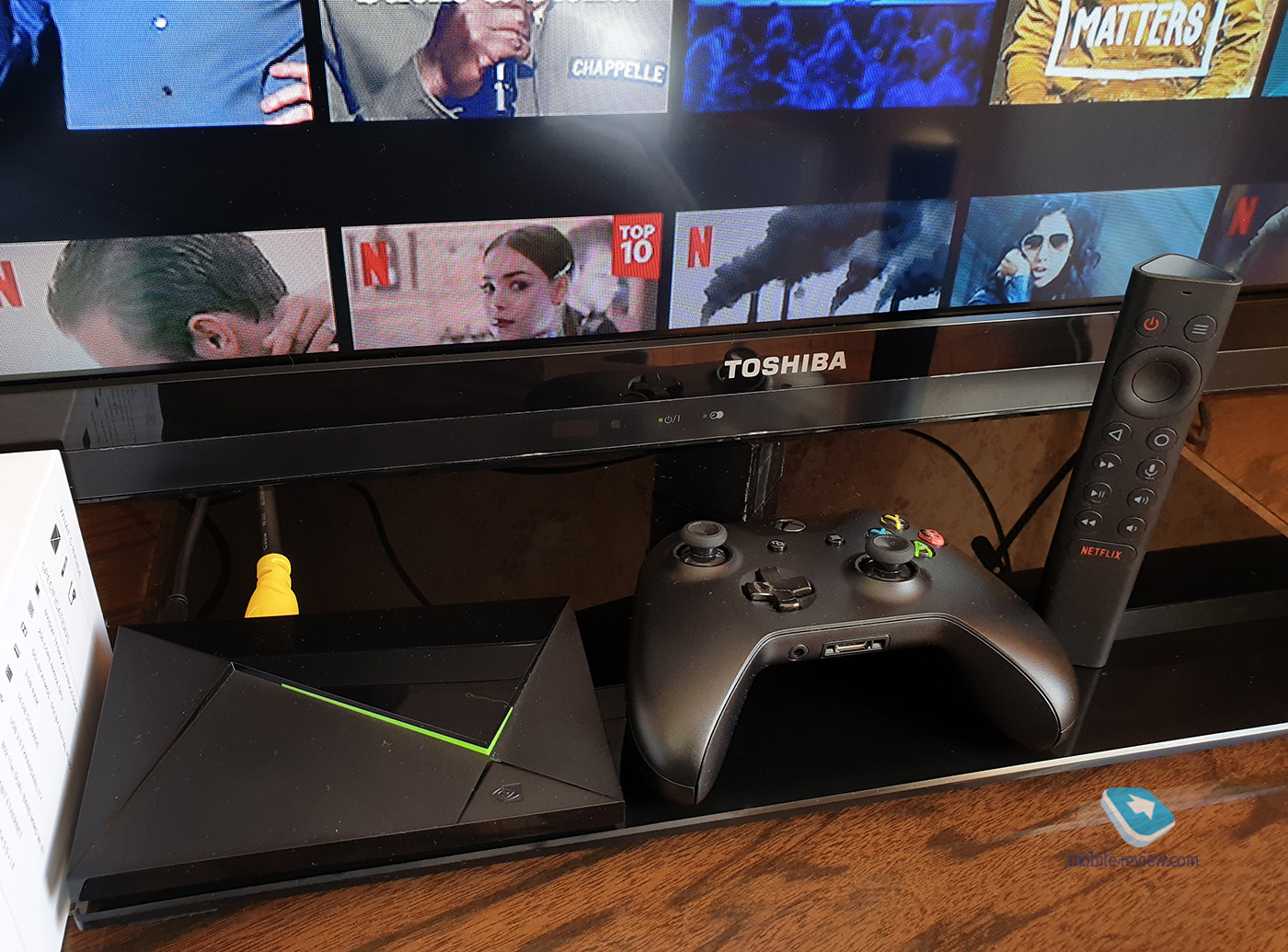 Storage
The first thing after buying an Nvidia Shield Tv Pro is to go out and buy an SSD. By default, the STB only has 16 GB of space. I do not like this. But I guess the logic was that the Nvidia Shield Tv Pro is a multimedia box. Accordingly, the user either already has drives with content, or he will stream everything – Netflix, Amediateka, Amazon Prime, etc.
There are two options for expanding the drive. The first is just to throw everything on a USB flash drive, stick it in and watch. The second is the integration of the drive into the system when applications will be installed on it. If you want a quality, seamless experience, then the drive is worth choosing. And then the toad can strangle. For example, you just want to take an external HDD. And that would be a mistake. You need an SSD. I will say to myself that I took a 256 GB model from Silicon Power. I liked that it is thin, light, with good speed and in an aluminum body. And, of course, the price is affordable. Only 4 thousand rubles. But if I bought it now, I would buy something like a 500 GB Seagate One Touch SSD, which, in principle, I will do in the near future. Very cute babies.
Gamepad
Many games require a gamepad. Everything is up to your taste. The easiest option is to grab an Xbox controller.
Conductor
The next step is to install the "Explorer" application, which is now called the fashionable phrase "file manager". All of us are managers today. For these tasks I chose Solid Explorer File Manager. An excellent guide. It costs only $ 2. Don't skimp and pay! Two panels for work, can unpack ZIP, 7ZIP, RAR, TAR archives and create password-protected Zip / 7Zip archives. I am also pleased with the FTP function. An address is issued, you connect from a computer or laptop, and you can host on the console. You can also create hidden folders.
Do you know why you still need the "Explorer"? See the screenshots above? Well, there is no built-in tool on Android Tv to remove them. You need to download the Galleries app yourself or use a file explorer. Also "Explorer" will allow you to install apk files.
App Store
Next, you need to install a normal application store. Let's look at the experience of Huawei, which, having lost Google, now recommends installing ApkPure. And download it! The fact that Huawei is cooperating with ApkPure allows us to expect a certain quality and the absence of viruses.
ApkPure has a huge number of all kinds of applications. It is a problem – it will run with dark frames on the sides.
It's easy to install. On the computer, go to the main site of the store, download the apk file to a USB flash drive and carry it to the console. Or we use the FTP service of the explorer and drop it directly into the Downloads folder. After installation, another shock and awe awaits you. Apps are not visible in either the Quick Launch bar or the app list! You can find it through Settings – All Apps. Feeling flawed on Google?
Browsers
So, we go the tricky way, open the application store, and along the way download the Google Chrome browser from there! This is better than downloading a separate file from the left exchangers, since it will also be updated through the Chrome app store. But we have to solve the problem of how to deliver the app store icon to the title screen. By the way, there will be no such problem with Google Chrome. The browser will immediately appear in the list of applications.
Also in the screenshot you can see the Puffin browser. Useless nonsense that can't even launch a video embedded in a page of a site! Suitable only for viewing text sites and is good at blocking pop-ups. The browser is a little useful because it was originally adapted for Android Tv.
Shield Tv
It is difficult to control the remote control with Google Chrome, so we put the Shield Tv application on the smartphone. Its advantage is that there is an application bar, there is a trackpad and a mouse cursor appears on the TV screen, and you can also call up a full keyboard! And there is also an option "Find a remote control". We press, and the remote starts tinkling.
Sideload launcher
Slightly distracted, although they did an important job. But do not forget, we are solving the issue of why some installed applications are not visible. I have no answer. Such is the whim of Google! But solving the problem is simple. Need Sideload Launcher app. By the way, it is also in the official Google Play store. There are many similar launchers, I chose the simplest option without built-in ads and other obscurantism. We take it out to the main screen in quick launch. Now there will be all applications that are not visible in the official list.
Sideload Channel can be added to the same category. The program allows you to modify the title screen by creating additional rows, filling them to your taste. I have not yet had a need for it.
Torrent
The list of torrents is huge and huge. I bought uTorrent Pro, so I installed it. I will only note that the interface is tailored either for a mouse or for touch control, so it is better to use the touchpad in the Shield Tv application.
Nice and powerful tTorrent client. Take a look at the picture below to see how it looks. But you cannot download it in PlayMarket, but you can in ApkPure.
If you don't want to pay or download from ApkPure, then you should pay attention to Transmission BTC. It can be downloaded from the official Google Play Store. For some reason, it did not suit me at one time, but I cannot remember what kind of flaw there was in it. You do not remember?
Video players
Also, the list is huge and huge. I prefer to use VLC classically. Powerful, omnivorous, free.
Another option is MX Player. Great player, but you have to fork out.
Media players
Two main apps for those with a plentiful collection of content.
The Nvidia Shield comes with the Plex App by default. An awesome app that you definitely need to master. First, you should connect your media server (if any) or just your computer to it in order to stream video from it. Along the way, Plex offers the ability to watch movies, web shows, podcasts, and Tidal music. The app also allows you to organize your collections. But it should be understood that Plex requires a media server. My computer plays its role. Plex carefully sorts all my poor belongings, tightens the covers, etc. To be honest, I use Plex more for web shows, news, and podcasts.
About Tidal. Tidal's talent for high-end audio. Probably, Tidal can be recommended to those who also have high-quality acoustics attached to their TVs. HiFi sound costs $ 20, but since the service is not officially presented in Russia, you should choose a Polish account, since there the price is 40 zlotys, or 720 rubles.
Another media player is Kodi. It's free and lovely. It's almost like Plex, only it doesn't need a separate media server. He himself can turn the Shield into a media server.
IPTV
If you have an Nvidia Shield Pro or another Android Tv set-top box, then rather than plug in the antenna cable, it's better to connect the channels via the Internet.
Applications of this kind are wagon and small cart. Both Beeline and MegaFon have their own options, but since I am an MTS subscriber (both telephone and landline Internet), I use it. The fact is that relatively recently I issued an MTS Cashback card, which returns 5% from purchases in supermarkets and gas stations. But there is a reservation, the received cashback can only be used to pay for the operator's communication services or for a discount in its retail stores. With cashback from this card, I pay for mobile communications and the Internet. MTS is just running a promotion when they give a tariff, streaming services and 790 TV channels for 61 rubles.
If you don't like paying, then you can recommend SpbTV. You can watch there for free, but there will be ad interruptions. And if you want more channels of better quality and without ads, then you can either choose a subscription (250 rubles per month), or simply the "No Ads" option for 100 rubles per month.
You can also recommend a bunch of video player and playlists. For example, EdemTv. I love that there are Western news channels there. Although, to be honest, I'm not sure of the legitimacy of the service.
In any case, Internet TV is much more interesting than Wired TV. And if you have a prefix, you need to use it.
Photos
As mentioned above, by default on Android Tv there is not even an option to delete the screenshots you have taken. You need the Gallery application. I chose "Photo Gallery and Screensaver". You can download it for free, but to use it fully, you have to pay 150 rubles for the "Gallery" and another 150 rubles for the "Screensavers" option.
The application can be used not only for viewing local photos, but also for Google Photos (this is the main reason why I chose it). You can also watch photos from Facebook and Dropbox. And I love the "Photo of the Day from NASA" option.
Other
RetroArch Is a client for various emulators of old games. That is, you still need to load emulators into this application (there is a list in the application). I came across it when I wanted to play Alundra 2 again. One of my first games on the PlayStation One. Let's talk about the gaming component in another article. But it is often easier to use separate emulator applications. But don't forget about RetroArch.
VPN… If you have a paid VPN, then use it. I installed Orbot from ApkPure.
Nvidia's website has a large catalog of apps with various videos. Link (https://www.nvidia.com/en-us/shield/apps/). There are both paid and free options. Videos for all tastes, from Watch Food Network to Economist Films.
Don't forget that Nvidia Shield comes with free GeForce Now games by default. Borderlands or Lara Croft can brighten up the evening.
Wake on LAN… Can remotely turn on your computer. Helpful? Well yes. You lie on the bed, and you are too lazy to walk to the table.
Conclusion
In the comments, tell us what applications are installed on your Android Tv set-top boxes.
Back to content >>>
Related Links
Share: 





we are in social networks:
Anything to add ?! Write … eldar@mobile-review.com