Content
TECH SPECS
Positioning
HP RENEW 15 Backpack Mouse and Backpack
Appearance
Screen and webcam
Keyboard and Touchpad
Performance
Battery life
Impression and competitors
TECH SPECS
Processor: Intel® Core ™ i7-10750H (2,6 GHz, up to 5 GHz with Intel® Turbo Boost Technology, 12 MB L3 cache, 6 cores)
Graphics: NVIDIA® GeForce® GTX 1660 Ti with Max-Q Technology (6 GB GDDR6 dedicated)
Screen: Full HD IPS (1920 x 1080), 39,6 cm (15,6 ″) diagonal, thin bezels, anti-glare,
400 nits, sRGB 100%
Memory: 16 GB (2 x 8 GB) DDR4-2933 SDRAM, 2 memory slots
Storage: 2 TB PCIe® NVMe ™ M.1 Solid State Drive
OS: Windows 10
Audio: Bang & Olufsen; two speakers; HP Audio Boost 2.0 technology
Battery: Li-Po 83 W * h, power adapter 200 W, fast charge 50% in 45 minutes, weight of the power adapter with wires – 640 grams
Webcam: 720p with curtain and bi-directional microphone
Keyboard: Two levels of backlighting, full size
Touchpad: oversized 11.5 x 7.3 cm, gesture support
Other: fingerprint scanner, webcam shutter, IR temperature sensor
Wireless: Intel Wi-Fi 5 and Bluetooth 5
Ports:

2 Thunderbolt 3 (40Gbps signaling rate) SuperSpeed ​​USB Type-C® 10Gbps (USB Power Delivery, DisplayPort 1.4, HP Sleep and Charge)
1 SuperSpeed ​​USB Type-A 5Gb / s
1 SuperSpeed ​​USB Type-A 5Gb / s
1 HDMI 2.0a
1 charging port
1 combo 3.5 mm jack
1 microSD card reader

Dimensions: 35,79 x 23,68 x 1,84 cm, weight 2.14 kg + 640 grams power adapter
Price: 121 000 rubles
Positioning
One of the brightest notebooks in the HP portfolio, combining high performance, good battery life, nice design and great value.
HP highlights the following as the main selling features of a laptop:
10th Gen Intel processors, Nvidia discrete graphics (both GTX and RTX models available)
Full metal body
Long battery life (up to 10 hours in daily load, up to 13 hours 15 minutes watching a video) + fast charge 50% in 45 minutes
Full-size keyboard with 1.5mm key travel, keyboard tested to withstand 11 million keystrokes
Fingerprint Scanner
400 nits anti-reflective display with thin bezels
Reinforced hinges (hinges are tested for opening and closing up to 25 times – that's about 000 times a day for 17 years of flawless operation)
B&O speakers located on either side of the keyboard deliver powerful sound.
HP RENEW 15 Backpack Mouse and Backpack
Before talking about the laptop, I want to share the kit that was sent to me for the test. A mouse and a backpack were attached to the laptop.
The mouse can be safely recommended. Lightweight, comfortable, works on any surface. There is a place for a finger-type battery under the top cover. The mouse is easily hooked up via Bluetooth, but a receiver is also included if the computer does not have Bluetooth. I have a mouse similar in design and shape from Huawei. I am very satisfied, I often take it with me on trips. I used a mouse from HP during the test. No complaints. I can't say anything about the battery consumption. The box says 15 months. Perhaps overly optimistic. For example, in a Huawei mouse, I change the battery about once every 8-10 months. But I never turn it off.
Also included was a backpack, which I really liked. To be honest, I always thought that branded backpacks from laptop manufacturers were more marketing than a quality product. But I was wrong.
HP RENEW 15 Backpack at a price of about 4 thousand rubles is a cool thing. Looks very stylish. All friends and acquaintances immediately noticed. Although it would seem – a backpack. Sits perfectly on the back. Somehow I had to carry two laptops with me all day and I didn't get tired.
Two pockets. One for a laptop sized 15-16 inches, the other for everyday stuff. A comfortable strap to carry a backpack in your hands (probably some kind of eco-leather or who knows what).
I haven't had a chance to check, but HP says the backpack is waterproof. By the way, it is super eco-friendly. Like, 85% of the exterior of the backpack is made from recycled materials. And although the backpack itself is packed in a plastic bag, it says on it that please recycle.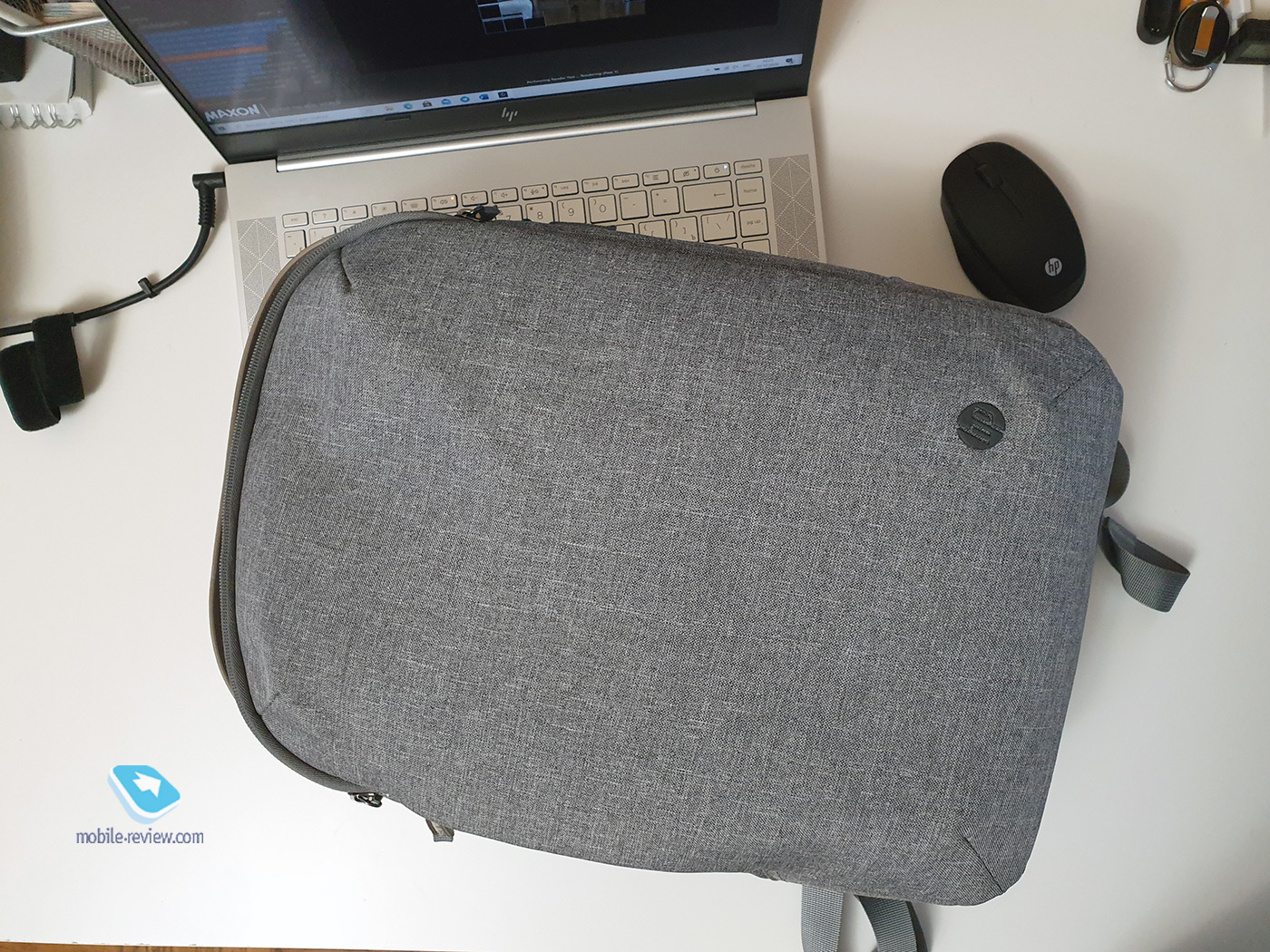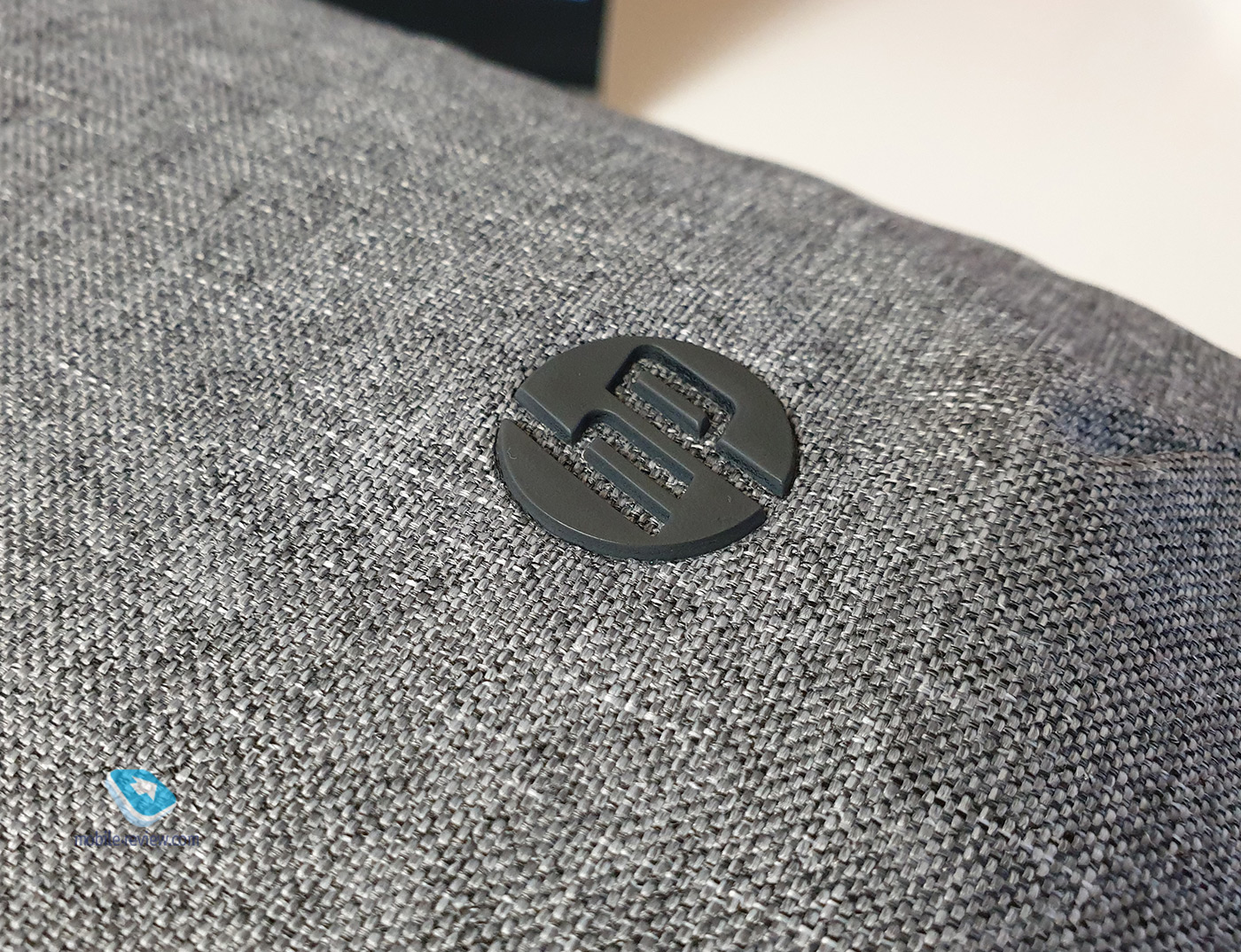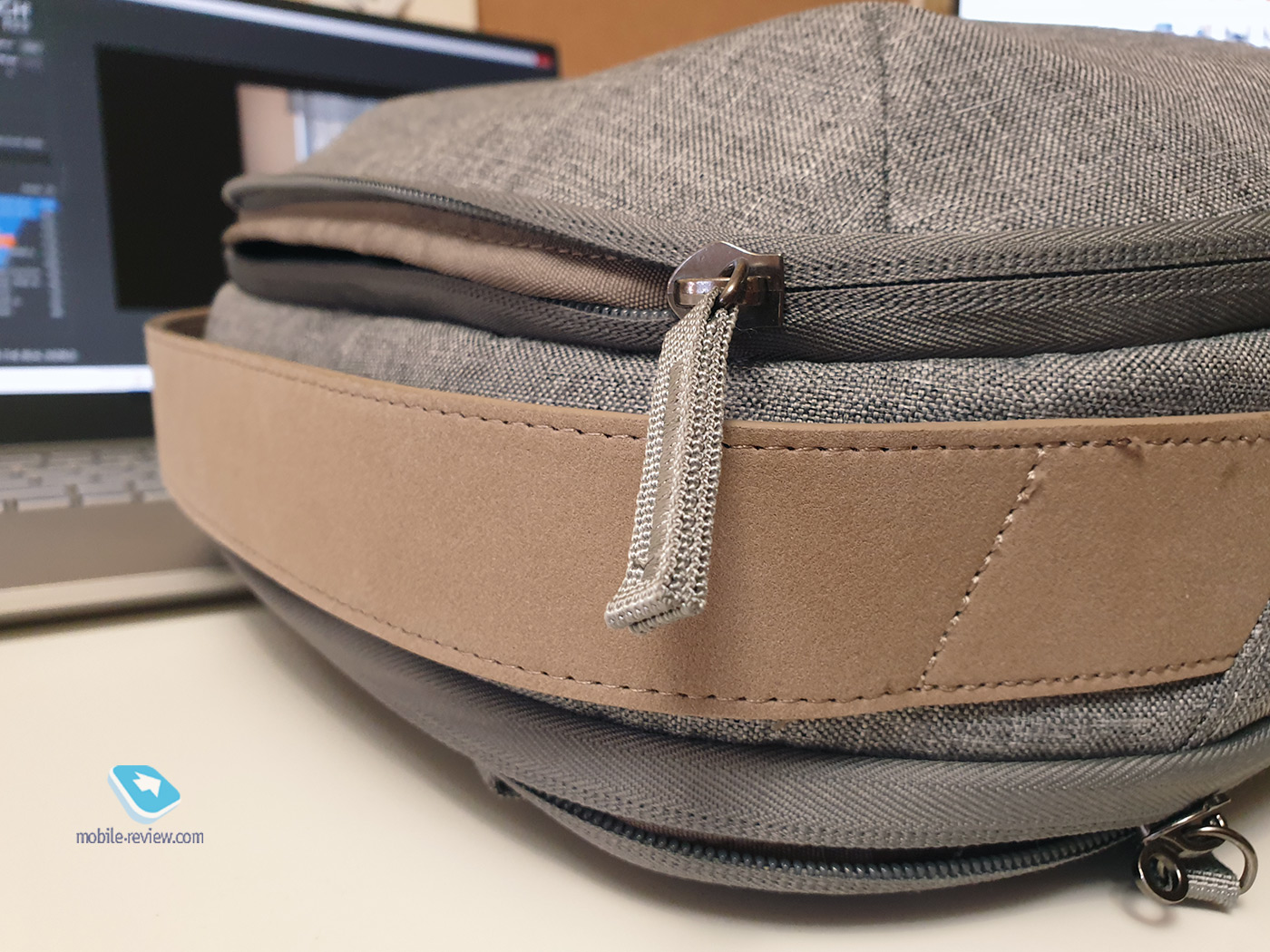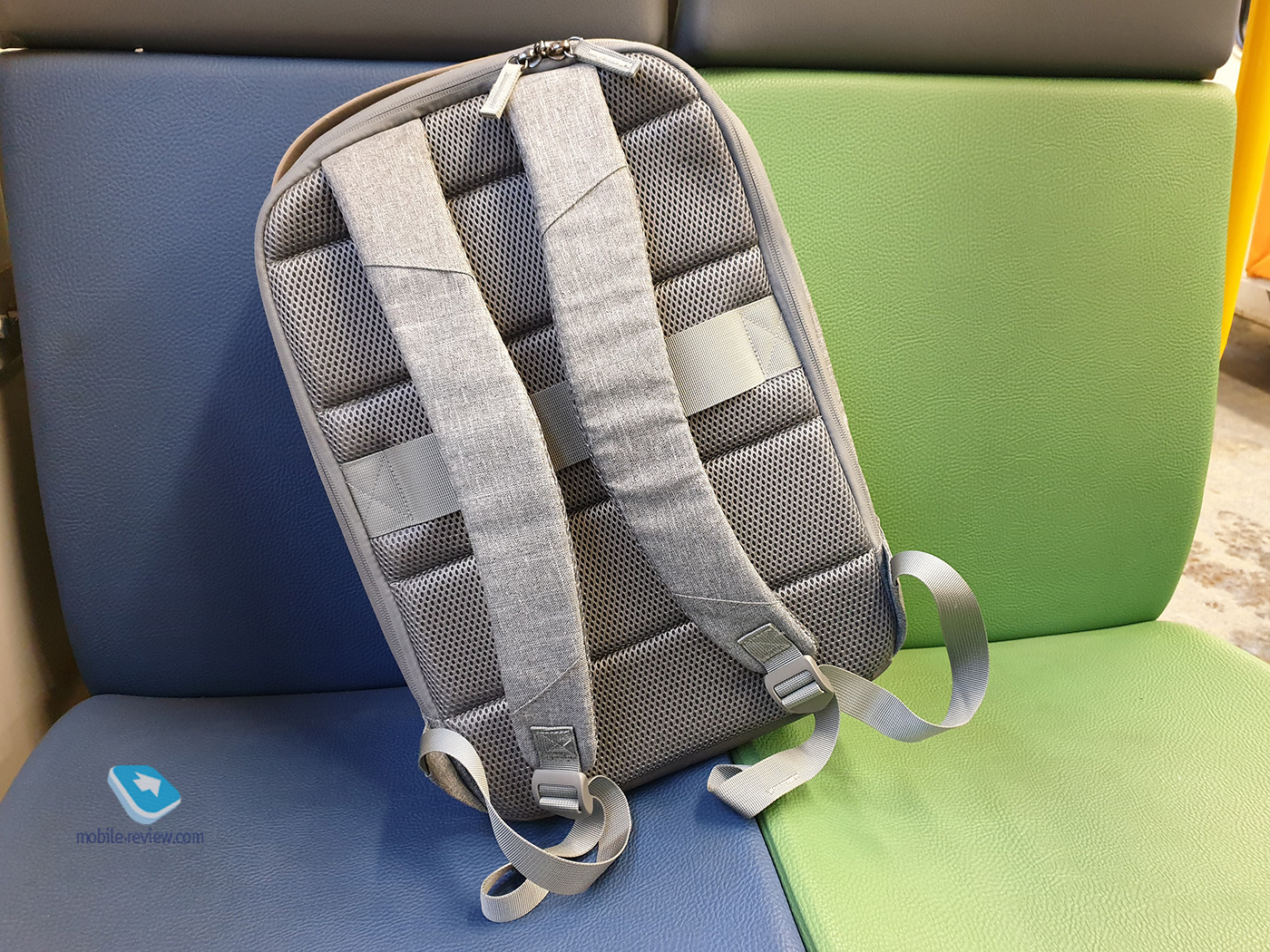 It should be understood that this is an urban office backpack, that is, it is primarily suitable for carrying documents, laptops, books. The backpack is flat and compact. I want to convey the idea that this is not a backpack for long journeys, into which a lot of things will fit. But commuting to work is just the thing.
Appearance
The HP Envy 15 has a sleek yet extremely stylish design. The laptop looks austere and elegant. The laptop is completely metal. And don't let the sharp edges scare you. Everything is thought out to the smallest detail and super ergonomic.
All-aluminum design and stylish HP logo
There are no decorative elements on the bottom cover, but there are high rubber strip legs
The rubber foot is really high
On the back – Envy's laconic signature
On the right side is USB Type-A and a headphone / microphone jack. Notice how the rear rubber foot lifts the laptop, tilting it slightly towards the user
By some unknown whim, most of the ports were concentrated on the left side.
There is a charging connector, USB Type-A, HDMI, two Type-C, and even a slot for microSD
Just a frame, I really like the straight lines in the laptop design
Maximum opening angle. The Envy 15 x360 has a different hinge design that allows the laptop to fold into a tablet
Spacious wrist rest, slightly enlarged touchpad, speaker pattern
The fingerprint scanner looks a bit unusual. It is located on the lower right side of the keyboard. This is not a button, but just a flat area. The fingerprint scanner works fine. However, it cannot be otherwise. It is necessary to try to make a bad fingerprint scanner in 2020
There are no questions about the appearance of the laptop. The design is beautiful. There are many ports. The location of the ports is apparently determined by the internal layout, and the powerful graphics card required separate exhaust vents on the right. The usability of ports is highly dependent on the quality of the cables. For example, I have all cables with fine tips, so when I needed it, I calmly connected the HDMI cable and used USB Type-A. The only thing I don't like is the proprietary charging connector. Imagine how cool it would be if there was another Type-C. However, the laptop requires 200W of charging, so a proprietary connector was needed.
The laptop can be easily opened with one hand
Screen and webcam
The HP Envy has several display options. However, unfortunately, the options are arranged so that the coolest 4K OLED touchscreen is available only for top-end configurations with RTX cards, and in my review I had a relatively modest Full HD and GTX 1660 Ti.
In theory, HP Envy 15 laptops can have 4 different display options:
IPS, Full HD, 100% sRGB, anti-glare, 300 nits brightness, WLED backlight
IPS, Full HD, 100% sRGB, antiglare, brightness 400 nits, WLED backlight (this option was on the review)
Touch IPS, Full HD, 100% sRGB, anti-glare, brightness 400 nits, WLED backlight
Touch 4K UHD, AMOLED, 400 nits brightness.
In my opinion, the option I got is the most rational one. Of course, I would like to see what an AMOLED screen looks like on a laptop, but, for example, in the USA, where a configurator is available in the HP store, they ask for $ 280 for this option. Probably, if you take the top-end configuration with an RTX card, you can pay extra in order to be more comfortable doing design work or try 4K gaming.
The version of the screen that I got is good. For example, in the photo above, bright daylight is falling on the screen, but the image still looks great. Rich vivid colors, high brightness, high color accuracy, no distortion at angles. And since this is an IPS screen, there is no flicker when the brightness is reduced.
Wrote the snippet above and ran the tests. I was glad that the perception did not disagree with the readings of the instruments. The brightness is correct. The meter read 397 nits. This is a great number. Allows you to work comfortably in most conditions. You can even take to the park in the summer to work under the tree. Color triangle – 100% sRGB, almost exemplary hitting the border.
The laptop screen can only be praised. Testing the laptop fell on another trip to St. Petersburg, so I managed to work in the Sapsan, and in a cafe, and play and watch a video. There was never a reason to complain that there is not enough brightness and the screen gives out a bad picture.
It is important to note here that 400 nits is a non-standard brightness for laptops. Now the situation is slowly changing, but often even premium models use 300-nit screens, which in fact give results in the range of 270 – 330 nits (usually closer to the lower bounds). This happens because it is assumed that with a laptop the user will work in an office space where there are lighting regulations. And for the office, 300 nits is just right. However, it is worth being in a room where there is a lot of natural daylight, and the brightness is immediately lacking. It is for this reason that it is important to go with the 400 nits display option.
By default, the screen is set to 125% scale
Above the screen is a webcam with two bi-directional microphones. The camera has a traditional 720p quality. By the way, in 2021, probably, following the results of the first year of the pandemic, some manufacturers made a strong-willed decision and the first Full HD cameras began to appear. But this is so far only in the premium segment. This HP Envy is "Medium +", so Full HD will probably come here in a year or even two.
Keyboard and Touchpad
To be honest, it is always difficult to do this section. I would like to write "Available" and move on to more important things.
The HP Envy is just such a case. There is a keyboard. Key travel – 1.5 mm. It's good, but you can't write much praise. As the saying goes, there is a lack of premium when pressed. It's hard to explain, but the premium touch is a combination of springiness, button tactile feel, sound and looks. The simplest versions of the HP Envy 15 with a 1650 video card are sold for 80-90 thousand rubles. And here the keyboard is just for this money. That is, it is good, simple and convenient. In general, it is a sin for me to complain, as I typed more than a dozen texts on my laptop with great pleasure. He typed and did not stutter about any premium.
I would also like to praise the layout. HP moved the keys PgUP, PgDn, Home, End to the rightmost column. Great solution. It is very convenient to use in office applications and a browser.
The laptop has two levels of soft milky backlighting. There are also microphone and webcam lock buttons with prominent orange LEDs.
The HP Envy 15 has a slightly larger touchpad – 11.5 x 7.3 cm (typically 10.5 x 6.5 cm). Good touchpad, gesture support. HP had to be bolder and use the touchpad like on the Dell XPS 9500 (there, remember, 15 by 9 cm).
Performance
In terms of performance, the HP Envy 15 can have a wide variation, since, in theory, a laptop can have i7 or i9 processors, and GTX 1650 Max-Q, GTX 1660 Ti Max-Q and RTX 2060 Max-Q graphics cards.
I tested a combination of Intel Core i7-10750H (2.6 GHz, up to 5 GHz, 12 MB L3 cache, 6 cores) + NVIDIA GeForce GTX 1660 Ti Max-Q (6 GB). In my opinion, this is the optimal combination for this laptop. Since the performance is enough for any task, and the price tag does not fly away to the heights where you begin to ask questions about the premium quality of the keyboard clatter.
I would like to note right away that the laptop is quite easy to understand. The user has access to RAM for replacement. Interestingly, the laptop has two M.2 slots for SSD at once. And SSDs can be combined into a RAID array, that is, the system will appear not as two separate disks, but as a single one. In general, the user himself will be able to replace the battery if necessary. There is nothing more interesting.
My laptop had an excellent SSD that started up the system in 10 seconds.
Looking at the official promo images, one can assume that the laptop is aimed at creative professionals. Not designers, but some kind of content makers. However, the laptop is great for gaming too. On a laptop, you can run and enjoy playing any of the current AAA games.
For example:
at the highest graphics settings, it produces 39 fps in the new Assassins Creed Valhalla (similarly in WatchDogs)
In the Metro: Exodus benchmark at the highest settings, the laptop received 43 fps
"The Witcher 3" at ultra settings around 50 fps.
At the highest graphics settings, it produces 39 fps in the new Assassins Creed Valhalla
The system operates stably under load, that is, there are no performance drops. This means that the laptop can work stably for a long time without interruption. The surface of the notebook may become hot, but the device remains warm. The hottest zone is located in the center at the joint of the hinge with the body. If you stick your finger there, you will want to pull it back. Since I do not have an accurate technique for measuring temperature, my measurements do not pretend to be true. At its hottest point, the laptop heats up to 55 degrees. But in general, the temperature of the top cover does not rise above 40 degrees, and the wrist rest area remains cold. This is as it should be, because the battery is located there.
Perhaps this is all that can be noted, and below are the results of synthetic tests.
Battery life
The laptop relies on a typical 200W bar that acts as a power adapter. Together with the wires, the adapter weighs 640 grams. Thus, the total curb weight (laptop 2.14 kg + 640 grams adapter) is 2.78 kg.
The laptop has a fairly long battery life – up to 10 hours in daily load and up to 13 hours 15 minutes when watching videos at 150 nits brightness.
I got the following indicators:
Editing work (Office, Edge browser, Wi-Fi, brightness about 60%) – about 8 hours of work
Watching videos offline at maximum brightness and volume – 7.5 hours
Maximum load (synthetic throttling test) with maximum brightness – 100 minutes of operation.
In general, the performance is good for such a device. You can safely take your laptop with you to work in the city.
As a minus, perhaps, I will designate only one point. The laptop is powerful, which means that the user will run both resource-intensive applications and games on it. The potential of a laptop can only be realized with an adapter connected to the network. That is, there will be scenarios when the laptop is working from the outlet for a long time. Dell, Lenovo, ASUS, and business notebooks from HP, have software limiters that allow you to set it so that the battery does not charge more than 50%. In this way, the battery life can be extended. For some reason, the HP Envy 15 does not have such an option.
Impression and competitors
HP has created a great laptop that combines stylish looks and great performance to work and play. An additional plus for the excellent 400 nits screen. On the downside, everything is also obvious. The laptop has excellent battery life, but it is assumed that the HP Envy 15 will last a long time from the mains, and it does not have a battery limiting function (up to 50-80%). Another drawback relates to the heavy 200W adapter that weighs 640 grams.
On my own I note that the laptop is equipped with a large number of proprietary applications from HP. All applications are useful, I recommend you study them. But, of course, it would be cooler if all applications were combined into one
With competitors, everything is not as straightforward as it might seem. Finding an i7 laptop with a GeForce GTX 1660 Ti Max-Q card, on the one hand, is not a problem. On the other hand, compactness and battery life from 7 hours are also important. And there are already fewer of them. I think, first of all, you should pay attention to the options from Lenovo. For example, Lenovo Legion 5 / 5Pi. But I guess it's obvious that HP has a more stylish product.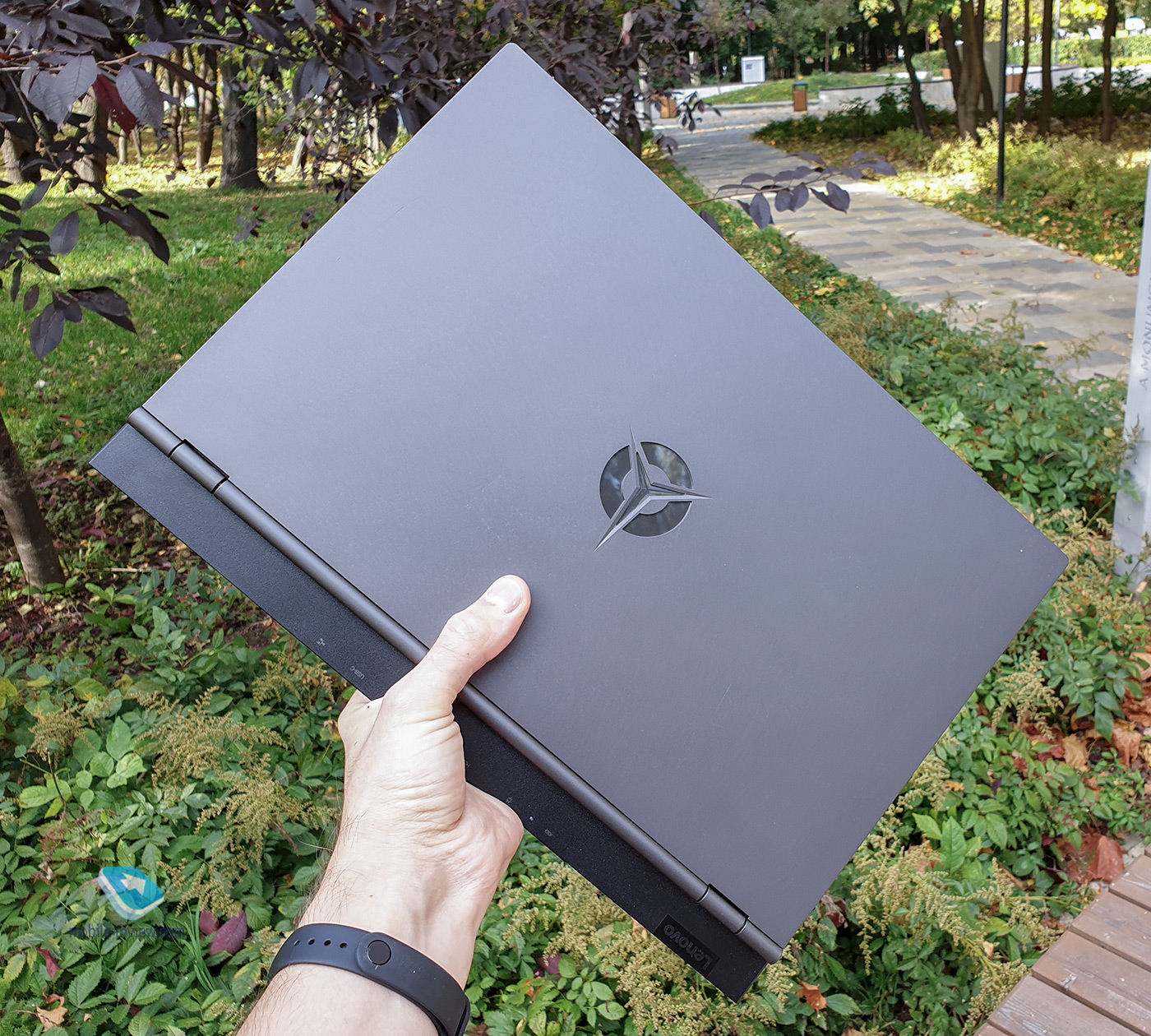 You can also pay attention to the gaming ASUS ROG Zephyrus M or the ASUS ROG Zephyrus G14. These are playful solutions, but with a good strict design.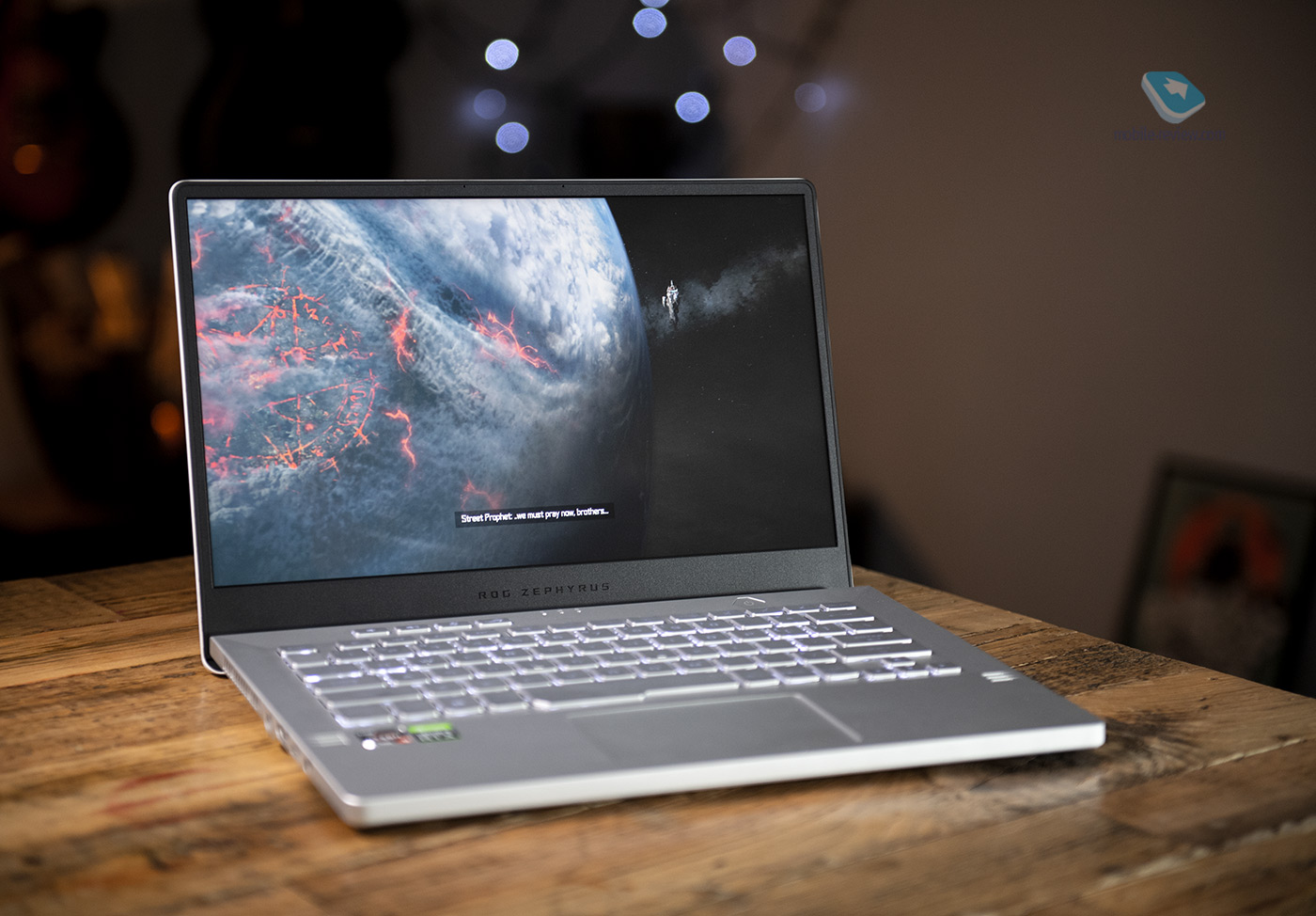 Back to content >>>
Share: 





we are in social networks:
Anything to add ?! Write … eldar@mobile-review.com