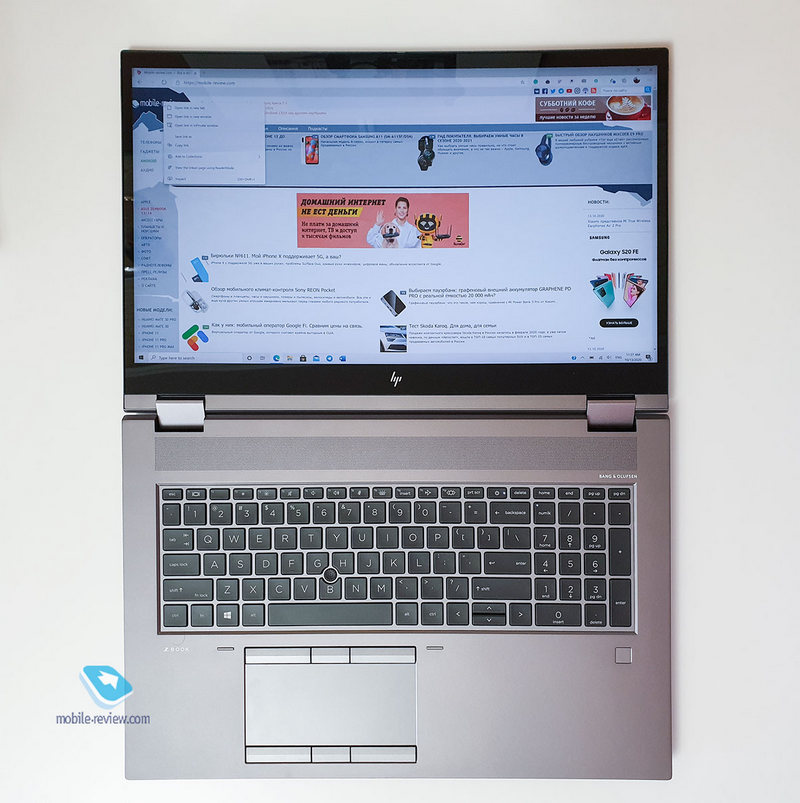 Content
Introduction
TECH SPECS
Positioning
Appearance
Screen
Keyboard and Touchpad
Battery life
communication
Performance
Impression and competitors
Introduction
You are unlikely to see many reviews on this laptop, most likely you will not find it in retail, and its price will scare off even the most determined retail buyers. The fact is that the HP ZBook Fury 17 G7 is a mobile workstation that large corporations buy for their most valuable employees.
Unpacking my laptop, I immediately realized that I was touching something divinely beautiful. I wanted to share my delight with my colleagues in a working chat, and immediately flew in response: what kind of mammoth it was, cut down with an ax, what kind of spit from the early 00s, what aromas of naphthalene. The lack of minimal knowledge about the segment of high-performance mobile workstations is certainly not my colleagues' fault. These are expensive cars, which are often made to order and rarely get into press parks (I asked and waited for a very long time for the Z-series to be available for testing). It is all the more important to tell about the HP ZBook Fury 17 G7 so that you know that somewhere out there, out of your sight, such magnificent animals live and flourish.
TECH SPECS
Screen: 17.3 inches, UHD LED UWVA BrightView HDR-400, 3840 × 2160 pixels, 550 nits, touch (see the Screen section for available screen options), 100% DCI-P3, Corning Gorilla Glass 5
OS: Windows 10 Pro (available on Red Hat® Enterprise Linux® 8)
Processor: Intel Core i5-10400H, 4 cores, 8MB L3 cache, 4400 MHz
Memory: 16164 MB, DDR4 SDRAM 2 666 Hz, upgrade to 128 GB
Graphics: Quadro T2000 Max-Q Design (4GB), Intel (R) UHD Graphics (1GB)
Storage: 1 TB PCIe NVMe TLC SSD, a total of 4 slots for M.2 drives, can be combined into RAID arrays
Battery: 8 cells, 94 W * h, adapter 150 W (with a wire, weight 458 g)
Webcam: 720p + Windows Hello IR camera, security shutter
Keyboard: full-size, with numeric pad, backlit, spill-proof
Touchpad: touch area 12.5 x 6 cm, 6 buttons that emulate mouse keys + trackpoint
Communication: Intel® AX201 Wi-Fi 6 (2 × 2) and Bluetooth® 5 Combo, NFC
Mobile Communications: Intel XMM 7360 LTE-Advanced Mobile Broadband (Cat 9) (Large SIM)
Audio: Dual Bang & Olufsen speakers
Fingerprint scanner: yes
Left side ports:

RJ-1 45
1 USB 3.1 Gen 1 (powered)
2 USB 3.1 Gen 1;
1 x microphone / headphone combo jack
1 slot for smart cards

Right side ports:

1 power connector;
1 Mini DisplayPort ™ 1.4;
1 HDMI 2.0b;
2 Thunderbolt ™ 3 (40Gbps) SuperSpeed ​​USB Type-C® 10Gbps signaling rate (USB Power Delivery, DisplayPort ™ 1.4)
SD card slot with dummy

Dimensions: 39.84 x 26.71 x 2.69 cm, weight 2.97 kg
Positioning
The HP ZBook Fury 17 G7 is HP's thinnest and most powerful 17-inch mobile workstation. A mobile workstation differs from a conventional laptop with non-standard characteristics and higher stability and reliability. Speaking specifically about the HP ZBook Fury 17 G7, it differs from conventional laptops in the following:
Custom configurations for customer requirements
Up to 128 GB of RAM
Up to 10 TB of SSD storage
Easy access to laptop stuffing for upgrading
Removable battery
Module for mobile internet (support for SIM cards)
Quadro® T- and RTX-series professional graphics cards
High-brightness 550 nits touchscreen with 4K resolution
MIL-STD 810H Protection
Enhanced Wi-Fi module for working at longer distances from the signal source
Support for docking stations
The presence of non-standard ports (for example, support for smart cards)
Long battery life (yes, that's right, 17-inch 4K screen, powerful hardware and claimed long battery life)
Compact dimensions and low weight (39.84 x 26.71 x 2.69 cm and weight from 2.76 kg)
Appearance
Right side: Charging LED, 2 USB Type-C® Thunderbolt 3, Mini DisplayPort ™ 1.4, HDMI 2.0b, SD Card slot
Left-hand side: RJ-45, lock, USB 3.1 Gen 1 (always powered), 2 USB 3.1 Gen 1, headphone / microphone combo, Smart Card slot
The design of the HP ZBook Fury 17 G7, I think, can be described in one word – utilitarian, that is, the laptop is designed to be as useful as possible. The only design element is the glossy "Z" letter on the lid. There are no comrades for the taste and color, as well as for Z itself as a letter, there are no complaints, but I definitely do not like the font. If I'm not mistaken, the previous generation just had the HP logo. It looked more interesting.
I apologize in advance for the traces of glue on the lid, but HP uses some kind of superglue to mark engineering samples. I didn't have the strength and patience to polish my laptop to a shine
On the other hand, the "Z" logo may not look so bad.
The laptop has a lot of different ports. There's even a smart card slot. Smart cards are another line of corporate security. I inserted the card and you can work
One of the USBs, marked with a lightning bolt, provides power even when the laptop is turned off. This option can of course be disabled. The other two ports are high-speed USB 3.1 Gen 1 ports. Why the laptop needs a lock remains a mystery to me.
On the right side there are 2 Thunderbolt 3, and miniDP, and HDMI, and even a slot for SD memory cards
This model comes with adapters with a capacity of 150 to 200 W, so you need a proprietary connector for charging
I love plugs, protect from dust
Nothing interesting from the front
Rear exhaust vents for hot air
The bottom cover can be easily removed – latch and pull down
The laptop opens up to 180 degrees. Considering the optional presence of a touch screen, we could think about folding into a tablet
The lid is tight, but in general you can open the laptop with one hand
The HP ZBook Fury 17 G7 is not a laptop in which to admire the beauty of design solutions. Still, the laptop is beautiful in its own way. Clear lines, even deliberate simplicity. At first glance, it is clear that a serious machine for work. At the same time, it should be noted that, despite the 17-inch screen and powerful filling, the laptop is compact and 100% mobile. With the proper luck, the HP ZBook Fury 17 G7 can even fit into a backpack designed for 15.6-inch models. The weight of the laptop starts at 2.76 kg, which is also not so much. But here it should be understood that the weight directly depends on the filling. Top-end graphics cards weigh more, as do 10 TB drives in the maximum configuration.
Screen
The laptop has a variety of screen options to choose from:
17.3 ″, FHD eDP anti-gloss, WLED-backlit ambient light sensor, 300 nits brightness, 72% sRGB (1920 x 1080) color gamut
17.3 ″, 4K UHD (3840 x 2160), IPS, anti-gloss, 550 nits, 100% DCI-P3 gamut
17.3 ″, 4K UHD (3840 x 2160), IPS, 550 nits, 100% DCI-P3
17.3 ″, 4K UHD (3840 x 2160), IPS, HDR400, anti-gloss, 550 nits, 100% DCI-P3, Next Gen HP DreamColor
17.3 ″, 4K UHD (3840 x 2160), IPS, HDR400, anti-gloss, 550 nits, 100% DCI-P3, Next Gen HP DreamColor, touch, Corning Gorilla Glass 5, PSR2 WLED
By the way, a funny situation happened with the screen. For some reason, the booklet that was given to me to load the laptop did not specify the option with a touch screen, but looking at such a huge 4K screen and knowing that the maximum opening angle is 180 degrees, I somehow did not even think that the screen could be touch. And only a couple of days later, thinking, I made a "pinch" on an open photo by inertia and was amazed to the depths of my soul when I realized that the screen is also a touchscreen! The only thing is that although the screen is touch-sensitive, it is not even optionally offered to buy a stylus for the laptop. Well, if the screen is touch-sensitive, then it would probably be appropriate to allow the screen to bend back, so that you can put the laptop as a kind of touch terminal.
It is also proposed to separately purchase an HP Reverb G2 virtual reality helmet for the laptop. The official website states that the helmet is also suitable for games, but, as you can see in the picture below, it is primarily meant for use for design or training.
I suppose you don't have to talk about which screen to choose. It all depends on who will work at the laptop. It is clear that designers need a 4R screen with a large color gamut and high brightness, but for an engineer you can take a regular Full HD at 300 nits.
Considering the class of the device, we can not say that all the declared characteristics are met. 100% DCI-P3 color gamut
As you can see, the color gamut exceeds the standard sRGB triangle.
And here is the DCI-P3 triangle, in which the screen fits by 98 percent (the red just falls short)
The laptop has a light sensor that can adjust brightness. It's nice to have it, but not really needed. Measurements showed a brightness of 559 nits. This is a great indicator. Not all smartphones have a screen with such brightness. With this HP ZBook Fury 17 G7 allows you to work anywhere – even in the office, although the veranda on a clear day.
The laptop, in addition to the fingerprint scanner, has a Windows Hello infrared camera. In general, I only used it, just for the sake of order, I checked the operation of the fingerprint scanner.
A nice feature is that the webcam has a neat protective cover.
The shutter is open
Shutter closed
With all the abundance of innovations and high technologies, the quality of the webcam has remained unchanged. Another point is that the laptop has several microphones that provide noise cancellation. By the way, I noticed that this year the noise canceling function has actively begun to appear in new laptops, but the computer manufacturers are still far from smartphones. Overall, tests have shown that the HP ZBook Fury 17 G7 does a pretty good job of suppressing monotonous noises – the hum of the street, the sound of water from the tap, and even the noise of your neighbor's drill in the background.
For media content, 4K screen is certainly good. However, Windows, unfortunately, has not yet learned to work with 4K resolution. The OS offers a 200% scaling solution. As a result, I opened the toolbar in one program, which I had assembled for a Full HD screen, and realized that it did not fit on a scaled 4K screen. When you zoom out, everything becomes shallow. In short, Microsoft has to come up with something already!
Keyboard and Touchpad
The HP ZBook Fury 17 G7 has a spill-resistant, dual-level, full-size keyboard. And this is a useful thing, otherwise you open a laptop, examine all this wealth, see a keyboard, a strain gauge joystick (trackpoint), duplicated mouse buttons both from below and from above – and immediately drooling with delight.
I suppose many people are wondering if it is possible and necessary in 2020 to productively fiddle with a rubber ribbed trackpoint with the same pleasure as in the late 90s? My answer is simple: if the manufacturer gave you a trackpoint, and genetics did not deprive you of dexterity, then be sure to use the trackpoint. It's easy, useful and convenient, although it requires some skill. By the way, if you haven't guessed, the mouse keys are duplicated just so that you can conveniently use them when working with a trackpoint.
The trackpoint and keyboard are slightly recessed into the body. This is done for the reason that the keys have a deep travel and otherwise they would leave marks on the screen.
The touchpad area itself is slightly elongated in length, but the width is standard – 12.5 by 6 cm (usually the length of the touchpad is 10.5 – 11 cm)
Perhaps the only nitpick is the paired arrow keys. There is a fingerprint sensor under the keyboard. You will probably use Windows Hello more often.
From the curious. Pay attention to the F12 key – this is a programmable key on which you can both tie the launch of applications or sites, and make it an integral part of your own unique hotkey combinations
HP has a separate utility for assigning commands to F12. Usually it is preinstalled, but if anything, you can download it from the official site
Battery life
The battery life of the HP ZBook Fury 17 G7 will surprise you a lot. On an early train I arrived in St. Petersburg and, having nothing to do, already at 6:30 I sat down to work. Word is open, Excel is open, many tabs are open in Microsoft Edge and not very many in Google Chrome, I typed, watched YouTube videos and listened to music there, and watched videos through the Netflix app during breakfast. The screen brightness was 50 percent and the Windows battery mode was "Better Battery". I put the laptop on charge exactly 8 hours later, when 9% of the charge remained. Touch 4K screen, 17 inches, Intel Core i5-10400H, is it not a miracle?
In any case, at maximum load, the battery can be discharged in 2 hours. But in everyday life or when watching a video at medium brightness, the laptop may well give out 8-10 hours of screen work. HP itself claims 15 hours 45 minutes at 200 nits of brightness in the MobileMark 14 benchmark.
In sleep mode, the battery discharge is 8% per day.
The laptop battery is removable. She is alone, there is no hot swap. You can replace the battery in 40 seconds. A very handy thing that will extend the life of your laptop.
The laptop relies on a very compact 150W power supply. Depending on the configuration, there may be a 200 W unit. Together with the wire, the power supply unit weighs 458 g. This is an excellent indicator.
communication
I decided to briefly highlight it as a separate item, since the HP ZBook Fury 17 G7 has a couple of interesting options.
First, you can order a version with support for mobile 4G LTE Internet. Whether your laptop supports this option or not, you can immediately see it even when you first set up Windows, but in the future, the mobile communication icon will be visible when searching for Wi-Fi networks. It's hard to tell something interesting here. A large SIM card is required, but with proper dexterity, you can also place a Nano-SIM. It seems that it won't even slip out. No dancing with a tambourine was needed. You insert a SIM card, and there is the Internet. Maybe I was looking badly, but somehow I didn't even find any settings for this option.
To install the SIM card, you need to remove the back cover.
Another interesting point is the presence of NFC in the laptop. The module is located on the left side of the touchpad under the Zbook label. Like the touchscreen, I discovered it by accident. When you bring the phone, the laptop starts to emit a faint hissing-tinkling sound. I guessed that there was NFC when Android Beam unexpectedly triggered when viewing photos on a smartphone. You can disable NFC in Windows settings. Unfortunately, by default, there is no software for NFC on a laptop, so even photos from a smartphone cannot be thrown off, it gives an error. Apparently, it is understood that the company is already putting software under itself. As I understand it, in most cases, NFC is used as a contactless analogue of smart cards. However, there are many NFC apps in the Windows Store, and you can create NFC tags.
And finally, I would like to note that the laptop can be ordered without any communication modules at all. The official HP store shows that this way you can save from $ 22.
Performance
It is rather difficult to talk about the performance of the HP ZBook Fury 17 G7, because, as I understand it, most of these laptops will be made according to the requirements of a particular customer, who will decide for himself which processor (and there is a range from i5 to Xeon), video card, screen, quantity RAM and permanent memory should be installed. The same point about the operating system, since a bunch of options are initially offered, from Windows 10 (including such a specific edition as Windows 10 China Government Edition) to FreeDOS 3.0 and Red Hat Enterprise Linux 8. Along the way, the customer can choose whether he needs Wi- Fi 6 or Wi-Fi 5 is enough, do you need a SIM card slot, do you need an NFC module, etc. Accordingly, as you understand, with such a range of options, it is a little strange to give the results of performance tests (in any case, I conducted all the standard tests, and screenshots will be at the end). Separately, it should be noted that in my configuration, the laptop was very quiet. Even at maximum load, the volume did not rise above 48 dB.
The back cover of the laptop can be easily removed.
Under the lid, all the filling is at a glance. The user can upgrade or replace RAM (up to 128 GB), SSD drives (4 M.2 slots), a WLAN / WWAN module and a battery.
Battery removed
For further upgrades, you need to turn the screws
SSD slots
My sample has a high-end high-speed memory
I guess it's not surprising that the laptop stress test from 3DMark, as well as stress tests from AIDA64, GeekBench and HeavyLoad passed with a bang
The notebook is only available with professional cards from Nvidia ranging from NVIDIA® Quadro® T1000 Max-Q to NVIDIA® Quadro® RTX 5000 Max-Q Design (16GB GDDR6). My sample included an NVIDIA Quadro T2000 Max-Q (4GB GDDR6) card. It's funny that the first clue on Google when asking for a map name is about games. At the heart of the NVIDIA Quadro T2000 Max-Q is the desktop GTX 1650 Ti. I downloaded the GeForce Experience proprietary application to NVIDIA Quadro T2000 Max-Q, which offered to update the driver and installed something more suitable for games. By default, as I understand it, they don't install GeForce Experience with professional cards, so don't be lazy and download it yourself from the official site.
Unfortunately, the laptop is still not for gaming. The card is not bad, but definitely not for 4K gaming. So, for example, in Horizon Zero Dawn in 4K and with "ultra" graphics settings, the card produces only 14 fps. However, if you change the resolution to 2560 by 1600 pixels, leaving the graphics quality high, you can get quite good 31 FPS.
Dreams of 4K games are best put off. Even "The Witcher" in 4K is 16 FPS, but at "ultra" in Full HD it's already 35 FPS, and at a resolution of 2560 by 1600 pixels, for the same result, you should choose high graphics settings, not "ultra". A similar situation in FPS when playing in GTA V. And also launched Assassin's Creed Odyssey. There is, of course, sadness. In 4K – 9-10 FPS, at 2560 by 1600 pixels with different texture settings – from 16-21 FPS, so you need to play in Full HD and preferably at "high settings" – 48 FPS, because at "ultra" it's 26 -28 FPS. However, here you can play with the settings, I found a balance and a pleasant game at 36 FPS.
Overall, the gaming performance is not bad, and the laptop will help to while away the evening. But, I suppose, the main conclusions from the section on performance are 1. Easy access and replacement of components 2. Excellent work under load (in total, the laptop passed synthetic and stress tests for 6 hours) 3. NVIDIA Quadro T2000 Max-Q card will allow you to play modern toys.
Impression and competitors
Unfortunately, my job is not to get the most out of my laptop. I just typed texts and a little in Photoshop and Premiere did some work. The impressions from the laptop are only positive. A small laptop can not be called, although HP itself says that this is their most compact 17-inch workstation and compared to the previous generation, the size and weight have decreased by almost a third. On the other hand, I am in awe of the battery life, the overall cleverness of the device, and how easy it is to upgrade. I was especially impressed by the last point, suggesting that I would agree to sacrifice a little the dimensions of the laptop if it were possible to replace the battery or a drive with RAM so easily.
The official price for the laptop is unknown to me. In the configurator on the American HP website, the price tag varies from 2 to 9-10 thousand dollars in the maximum configuration. The option as in the review costs around 4-4.5 thousand dollars, with a direct translation into rubles, the price becomes a little bad – 350 thousand rubles.
I see no point in talking about competitors, since they are obvious. Firstly, this is the Dell Precision 7750. Similar customization (both for drives and LTE) and a similar price tag. Dell does not have a trackpoint and you will be surprised, but despite the great elegance in design, the Precision starts at 3.01 kg.
If we talk about Lenovo, then, of course, ThinkPad P73. This is another, one might say, legendary laptop, with which I would really like to get to know live. Judging only by the characteristics, Lenovo seems to be inferior to both HP and Dell: it weighs from 3.4 kg, why is the mobile option not mentioned, the maximum memory capacity is 6 TB, and the maximum screen brightness is 400 nits. But the battery life is up to 17 hours and the proprietary statement of reliability: "From the arctic wilderness to dust storms in the desert, from zero gravity to high humidity with moisture and drops, you can rely on this device in any life situation."
Considering that the price tag of workstations reaches $ 10, you can tell in the comments which car you would better buy with this money. Or try to imagine what kind of specialist the company will buy a laptop for that kind of money. And in general, do you need laptops for such amounts.
Back to content >>>
Share: 





we are in social networks:
Anything to add ?! Write … eldar@mobile-review.com