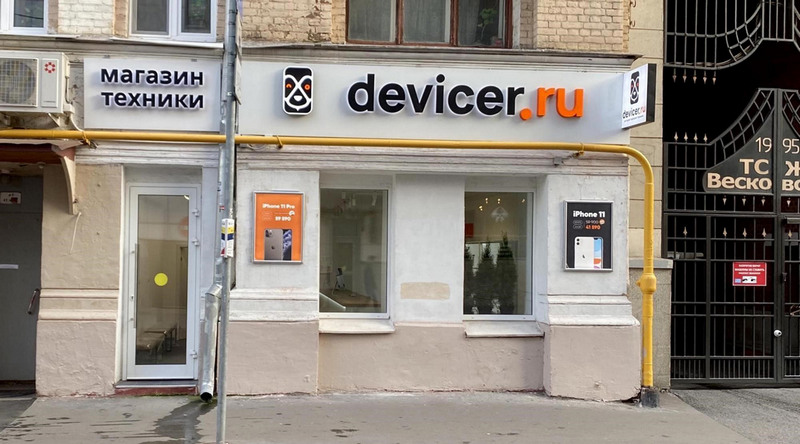 Hey.
The topic of fraud constantly pops up in our publications, but it is described from the other side of the barricades, this is the view of the victims, a description of their ordeals. The criminal element almost never talks about how certain schemes work; for many, this is know-how that allows them to feed, and often not bad. More than ten years ago, it was a great success for me to interview a man who talked about how mobile phones are stolen on the streets. But soon this problem faded away, the market changed, and phone theft ceased to be a profitable business for those involved in crime. Taking away someone else's property has become dangerous, difficult, and earnings with high risks – scanty.
Almost a month ago, I began to dig a topic around fraudulent schemes for the sale of electronics, talked with very different people and tried to collect information in order to compose a complete picture. I plunged into a very interesting world in which someone knows something, but no one wants to share this knowledge with a stranger. Fragmented information, which, like pieces of a puzzle, need to be put together, something to guess about. One of my acquaintances offered to give my phone number to a "friend who might know something". In one of the messengers, I received a message from a stranger who promised to answer my questions. I had a lot of them, but it was not possible to dump them all at once. The dialogue developed, and gradually the answers became more detailed and detailed, and the language of my interlocutor became more lively, he did not hesitate to explain in simple and intelligible phrases how scammers work.
Since the identity of my interlocutor is unknown to me and it is impossible to verify in practice his statements – there are no specific persons, names, addresses – the issue of publishing such material was controversial. After talking with those who had previously shared grains of data about fraud, and showing our dialogues, I heard that the person is deep in the topic and all the stories sound like real. I thought that such material might be of interest to our readers in order to protect them from scammers. This is by no means an instruction for use in practice, since most of what my interlocutor describes is a criminal offense in Russia. And it's just bad for karma. Therefore, he retained what conveys a person's view of his occupation and attitude towards other people.
The material has been edited, this is not an ordinary interview, where questions and answers have been verified, the format itself was originally different. The mat is removed from the brackets, many passages are softened and edited, but I tried to keep the meaning, highlight the logic of the interlocutor. I hope this "interview" gives you a different perspective on the scams and who is behind them. For simplicity, let's call the person Alexander – the name, of course, is a fictitious one, but he introduced himself that way.
Eldar. How did you get into this business, because, probably, you did not grow up with the idea that you would deceive people?
Alexander. I have not deceived people and I will not, it is bad for health. It all started a long time ago, I owed a large amount of money to serious people, they put me on the counter, and every day the interest dripped. It was impossible to earn that kind of money in the city even in ten years, all that was left was to drop everything and run. They expected me to run. I didn't run. I thought I was looking for a way to give the money. Instead of the option to rob and sit down for many years, I chose the option to breed suckers. In a week I came up with a scheme, found comrades that they helped to implement. I gave the money a month later, there was still money left for drinking, partying. Got a taste for easy money. Then just lucky, newbies are lucky. The next two stories taught me a lot, I got myself into trouble, I barely got out. I realized that it is more expensive to touch people, specialization is needed.
E. You say that people should not be touched, but you are deceiving people. Inconsistency?
A. I work with terpily, they are my bunnies, breed and feed, grow. Consider me a farmer. One of them raises cattle, I grow tolerant and suckers, so that they bring meat, milk, what else are the farmers doing there? Without me there will be more of them, and we will drown in shit. The strong survives, though with the one who knows what he is doing and why. Can stand up for herself. Patient is afraid of everything and cannot stand up for herself. I do the same thing that does some "Yandex", but I just do not hide it behind beautiful phrases, I call things by their proper names. Corporations cut their loot from enduring, calling it business and the rules of the game. I do the same and also give a product to them.
E. Do you believe in God? Karma?
A. I believe. But I don't give a damn about the way it is presented. God is in man, within us. Get through to him and then you did it. Karma is something Indian, I don't like their films and snot, it's all foreign. God exists. Karma? I do not know. I believe for myself and my children, my wife, for my family.
E. Can you tell us what you came up with to repay the debt?
A. In a neighboring town, I sold a large batch of phones that I did not have. I bought two dozen different phones from Euroset, expensive and cheaper. I came to the city nearby, offered the local hucksters favorable prices, gave the goods to try. I did not take money in advance. An expensive car, a house, a good restaurant, we went to the bathhouse. Showed that I was fine. He explained the low prices by the fact that his brother-in-law can steal devices from Euroset, but some money needs to be deposited into the cashier so that the security officers do not immediately see the shortage.
We went to the city, introduced me to my "brother-in-law". Collected the order, received an advance payment. The amount is noticeable, but I didn't have enough to pay off my debts. Therefore, we bought the phones and gave them away as agreed. We lost a lot of money, but the guys got involved, they counted the profits and how they would squeeze their girls at sea. The next order was also given, and then everything was taken away. There was just enough money for everything I needed.
E. Who was your "brother-in-law"?
A. Some guy from Euroset, consumable. Found him by accident, he agreed to make easy money. It seems that he was then pressed for a long time by poor people without telephones. But these are the problems of the consumable, the fool himself who agreed.
E. Consumable?
A. In every scheme there are consumables, those who will be responsible for everything that you have done. Have you watched The Golden Calf? There was a chairman who was imprisoned for stealing others, he signed everything. Our schemes are always complex, consumables are needed, as they relax the client, inspire confidence. Few people believe that a real person will risk their freedom to get some money from you. This should be used, and consumables are a cheap way to get as many customers as possible into the scheme.
E. Clients are? ..
A. Terpily. Each diagram is built around an idea. Greed is a great idea. It is necessary to offer the client a product that will be beneficial to him and he will consider that he has pinned the system, deceived everyone, he is handsome. The client must be patient so that there are no problems and the scheme works for a long time. In my work, there is a simple formula: I endured a hundred – little money, I endured a thousand – good, but it's time to discover something new and move on.
E. Are there among the "endured" those who are not?
A. Almost never, my staff is trained to distinguish people from patients and does everything to avoid problems. Mistakes do not happen, we constantly have trainings on this topic. It is very expensive to solve problems with people who can close you and find you very quickly.
E. Trainings? Staff? Do you have a lot of employees?
A. There are several projects going on at the same time, they are parallel. This is an ordinary business, it has accountants, managers, ordinary staff. The lowest level is consumables, they can be anyone. The general director of some LLC is also a consumable and does not play any role. Higher level are those who are not directly involved in the processing of the client, but are able and know a lot. They have been in business for many years, valuable employees. They need to be motivated, protected and protected. You are nothing without people, people are the main thing in this business. On one project I usually have about ten people, now there are several such projects in different cities.
E. Is it difficult to work simultaneously in different cities?
A. No. Some projects require simultaneous implementation in different places, otherwise information about the scheme will become publicly available and emissions will be less in other cities. We come up with schemes, colleagues at a smaller and thinner level use what we have done or those who work like us.
E. Does this activity generate a lot of income? How much do your employees get?
A. I will not answer the first question in numbers, but I will say that this is enough for a good life and the absence of any everyday problems. I have nothing to do with anything. I am the owner of a medium-sized business, I am respected by others, I do charity work, everything is like everyone else.
Employees receive at the market level, there are their own rates. I want to emphasize that hiring staff is an important part of the job. It is often possible to hire people who, to the last, do not believe that they are participating in something like this, sincerely believe that this is the right business and those who accuse it of something are wrong. Competitors are to blame for everything, they envy us.
E. Give an example of how you can use an employee in the dark?
A. When you need to promote something, then you need a good SMM. You buy an employee, you don't even see him, he sits somewhere in Syktyvkar and scribbles reviews on the Internet, spreads information on forums about how good you are. On Yandex.Market, we also collect reviews, pay the manager, he is already spending the budget on those who write there, how great everything went and what they bought. There are no differences from ordinary business, everything is exactly the same. We only send money to the employee by transfer, it's easier and better for him, everyone is happy.
E. Do you have a favorite scheme?
A. The simpler the circuit, the better. Greed is something that has never let me down. Many people think that they are the most cunning and can deceive others. In gadgets, we do the same thing all the time, the client goes in jamb and carries money. Give them goods for a pittance, they will crush each other, only to be among those lucky ones from whom we take money.
E. Can you be more specific?
A. Of course. Look, I sell AirPods not for 20k, like the feds, you can buy them from me for 15k, and if a few pieces, then for 12k. Profitable. Why is the price so low? Any explanation you can think of – gray market, confiscated goods, sale from the service, stolen. Our people most of all love to buy stolen goods, they have a riser from this. They deceived the system, pulled on the most, do not play around, fucked everyone. Handsome men. They receive Chinese headphones, many believe that this is the original, and then they themselves scribble positive reviews, recommend to friends. They do not believe that they were bred.
They are bred for Avito, and when you have an official store, an Apple logo and a landline phone, what kind of a divorce is it? You don't run anywhere, you have everything officially and there is a guarantee. The more you are in sight, the more they believe you. They do not understand that this is part of the scheme and greed has let them down.
E. Wait, but there are those who demand to return the money, know that they were deceived?
A. Of course there is. But do you know how many there are? 20 percent on the strength, the rest endure and wait for the weather by the sea. They need to be fed breakfast. Give them gifts. Call constantly and remind that the problem happened with the supplier and we are dealing with it. Our name is very dear to us. Waste time until you are ready to change the sign and start over. I have dozens of people on my phones, they work in different shops, they calm down the bunnies. And they obediently endure.
E. Wasn't there a situation when they came somewhere and just closed the shop?
A. Part of the business, a common situation. They will come to the store, there is a shish in the warehouse. Losses are zero. The consumable will be detained, and on health, he does not know anything, he cannot tell anything. In the first month no one will come, guaranteed not. And during this time you will already have time to trade for a good amount.
E. On average, how long does each individual business live?
A. Depends on what you are doing. Usually it is from a month to three, the best keep up to six months.
E. How many people do you manage to serve during this time?
A. Strongly depends on the scheme. But at least 100-150 people per month on each scheme, less is unprofitable.
E. What is the most profitable now, do you have some know-how?
A. Everything was invented before us long ago, you need to wrap this candy in another package so that the client does not recognize it at first glance. Our client thinks he is smart, which is why he is so stupid. We like to collect money from clients as an investment, you can earn money with us and do nothing.
Many thanks to trainings, propaganda of the fairy tale about passive income. The people went crazy and want to make the right investment once and live happily ever after until the end of their lives. Thanks to banks for advertising investments and supporting this fairy tale. We just had to create the right story. You can grow rich with us before your eyes, buy a smartphone with us, we will sell it. We'll give you the profit. Then you can invest again, and so on ad infinitum. We pay our loans, they bring more and more money, level 99 investors. In the first months, all payments come from what they brought. In each case, the manager works with the bunny, knows exactly how much you can squeeze, and milk it to the end. Then the shop closes. The pyramid has been the favorite entertainment of the whole country since the times of Vlastilina and MMM.
E. You speak so calmly about this, are you not afraid that they will find out and will not bite at it?
A. Greed will prevail over all. They are greedy and stupid. So you write all this for yourself, do you know what will happen next? You will be accused of destroying a profitable business, you are a goat who does not want to earn money yourself and let others earn money. That you support greedy operators, the greedy Euroset, or whatever it is called now. Got the idea? You will be the goat, not them. It will be your fault that something does not work out for them. They are patient, and this cannot be changed, everyone is to blame except them.
The first years I could not understand how the same people spend all their money with us in different schemes. And then everything became clear, they don't want to do anything, they just want to draw out a lucky ticket. Lottery. A tale about a fool who got everything without doing anything. I work like a goddamn thing, I make money. This is a job and a hard job. They do nothing, they are useless, for people like them, there is television and everything around.
This scheme has worked its way, a farewell tour, and we will postpone it for several years. There are other topics.
E. Do you face crime? Is someone trying to press you, take the money?
What about me? Nobody knows me. Those who work in the fields are being pressed. They are not important. Nowhere to come to take something from me. The inner circle gets the loot and is faithful, people tested over the years. The rest don't know anything. This is how it works wherever people have brains. This is the quietest business possible in Russia.
E. You said that you have children. Are you telling them it's good to deceive people? What do you tell them, how do you bring them up?
A. Trying to catch. I bring up normally, I give education. They don't need to do my business. I explain in other words how to understand people, how to read them and be people. How to earn the respect of others. Everything is like everyone else. My profession is my choice, they will have their own choice. I need to get them on their feet. Make them real people.
E. A strange question for you, but is it possible to somehow defeat fraud and such schemes that you come up with?
A. Easy. You need to make people honest and make them turn their heads on, not just eat them. But no one has invented such a pill that he drank and suddenly began to use his head. Therefore, this story will be eternal.
E. Still, I am tormented by one question. Why are you telling all this? Are you bored?
A. Just because I can. Because it will be nice to read the comments. Whining about how bad it is that people like me live and do not deny themselves anything. Most will never understand that my work is no worse than theirs. Perhaps even better, I am much more useful.
Afterword
I find it difficult to add something to the text that you read. I want to get into the shower and wash it all off, this is probably the first emotional reaction. The man shows himself, he plays to the audience, although it is possible that he really believes in what he says.
This text confuses me, and I thought for a long time about whether it should be published or not. I threw out individual parts, removed the mat, and then added again to show the original message of the interlocutor. I filled it in with examples, and then I realized that for someone this could be a guide to action, and removed them, leaving only what emphasizes the train of thought.
Showed the text to several friends to understand their reactions. One of them said the right thing, which resolved my doubts: "It's disgusting, sticky, but it's better to know how such people treat you in order to be smarter and always think what you are doing."
For me, this is the story of a man who enjoys what he does. In any case, this is the impression I have. From our communication, I realized that this business is put on stream, it is diverse, it takes various forms. But always the basis is the belief of people that nothing like this will ever happen to them and they know exactly what they are doing. This is the first mistake and vulnerability to scammers.
Related Links
Share: 





we are in social networks:
Anything to add ?! Write … eldar@mobile-review.com