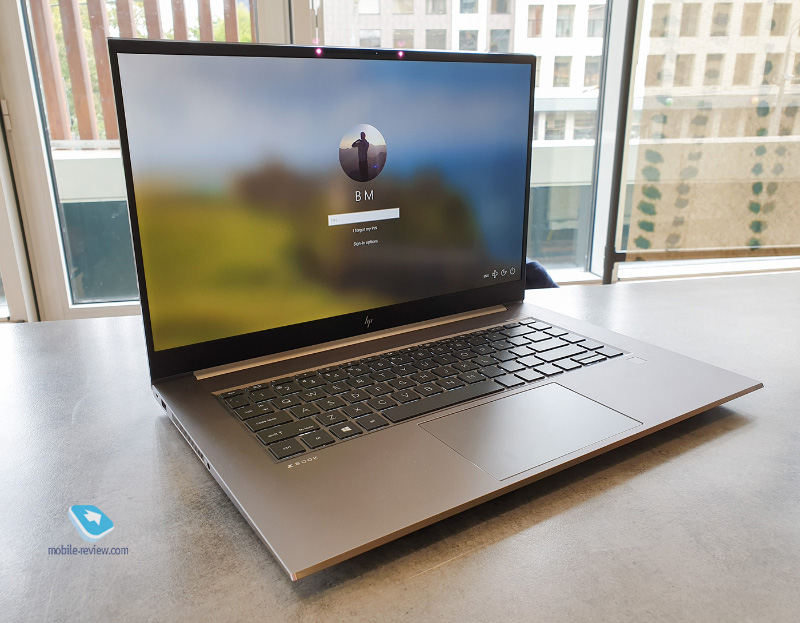 Content
TECH SPECS
Positioning
Introduction
Appearance
Screen, Windows Hello and Sound
Keyboard
Battery life
Performance
Conclusion and competitors
TECH SPECS
Processor: Intel Core i9-10880H, 8 cores, 16 threads, 3MB L16 cache, 2.30-5.10GHz, 14nm process (i5, i7, i9 option available)
Memory: 32GB DDR4-2667 SDRAM, memory soldered to the motherboard, dual channel support
Storage: SSD 256 GB, PCI-E 3.0 x4, NVMe M.2 (up to 4 TB)
Video card: Intel UHD Graphics, Nvidia GeForce RTX 2070 Max-Q 8GB
OS: Windows 10 Pro
Screen:

Test: Full HD IPS (1920 x 1080), 39.62 cm (15,6 ″) diagonal, antiglare, 100% sRGB, ambient light sensor, 400 nits brightness, Windows Hello IR camera, non-touch
4K UHD IPS HDR 400 eDP + PSR (3840 x 2160) 39.6 cm (15,6 ″) diagonal anti-glare, next-generation HP DreamColor 600 nits, DCI P3 100%;
4K UHD UWVA OLED HDR 500 True Black eDP + PSR Brightview (3840 x 2160), 39.6 cm (15,6 ″) diagonal, ambient light sensor, 400 nits, DCI-P3 100%;
1920 cm (1080 ″) diagonal FHD IPS eDP + PSR (39.6 x 15,6) Anti-Glare, Integrated HP Sure View Reflect 1000 nits, NTSC 72%

Webcam: 720p with temporary noise reduction and IR sensor
Connectivity: Intel Wi-Fi 6 AX201 (2×2) and Bluetooth 5
Audio: Bang & Olufsen, stereo speakers (2 tweeters and 2 woofers), HP rear bi-directional digital microphone
Ports:

Mini DisplayPort 1.4
2 pcs. SuperSpeed ​​USB Type-C (Transfer rates up to 40 Gbps, Thunderbolt 3)
USB 3.1 Type-A
headphone / microphone combo
SD card slot

Full-size backlit keyboard with spill-resistant protection
Touchpad with image sensor and glass surface, dimensions 11.5 x 7.5 cm
Fingerprint Scanner
Safety:

Absolute Persistence module;
HP BIOSphere with Sure Start Technology
HP Device Access Manager
HP Power On Authentication;
security lock slot;
Trusted Platform Module (TPM) 2.0 embedded security chip;
protection of the master boot record;
pre-boot authentication;
Microsoft Security Defender
HP Secure Erase;
HP Client Security Manager Gen 5
HP Manageability Integration Kit
HP Sure Recover with Gen 2 Embedded Reimaging;
HP Sure Sense

Battery: 83Wh, 6-cell Li-ion Polymer battery, claimed up to 14 hours, 200W HP Slim Smart Adapter (640g wired), 50% Quick Charge in 30 minutes
Other: MIL-STD 810H (26 drops from a height of 76 cm onto a 5 cm wooden board lying on a concrete floor, protection from dust and sand, moisture, protection from high and low temperatures, etc., more details here)
Materials: aluminum body
Dimensions: 35.4 x 23.46 x 1.79 cm, weight 2.02 kg
Positioning
The HP Z Series is the notebook for professionals. Usually, such devices are not even called laptops, but the term "mobile workstation" is used, that is, a mobile workstation. Workstations differ from conventional laptops in that, as a rule, they are created for specific tasks, and also often have greater performance and reliability.
In the case of the HP ZBook Create G7, it's a workstation designed for 3D artists, video professionals, game developers, and VR. The slogan of the G7 is "the world's smallest 15" laptop for professional creativity.
Accordingly, the HP ZBook Create G7 captivates in that:
professionals can choose from many different display options, including versions with a privacy mode, when when the option is activated, the image is visible only to the person sitting in front of the screen;
The laptops are MIL-STD 810H certified and have an aluminum chassis that is 5x durable;
a huge performance reserve of 9th generation i10 processors, video cards up to RTX 2080 Super, memory up to 32 GB, Wi-Fi 6, storage up to 4 TB;
high standards of security and data protection (just see the list "Security" in the section "Specifications");
long battery life up to 14 hours, compact lightweight charging, fast charging function;
the device weighs only 2 kg.
As one of the advantages of the new devices, I would note that not only professional NVIDIA Quadro video cards are now available in the Z-series, but also universal GeForce RTX 20 series, which makes the laptop suitable not only for work, but also for entertainment. So it is likely that the laptop will be popular not only among demanding professionals, but also among top managers, who usually prefer ultrabooks. The ZBook Create G7 is not much larger than a typical ultrabook, while still carrying powerful graphics. And top managers are people too, suddenly they want to play at a meeting.
Excessive performance, increased chassis reliability, small footprint, built-in data protection features, and increased resiliency all hint that the HP ZBook Create G7 is not easy. This is a premium device aimed at high-paid professionals, and it cannot be otherwise, since the price of the device is in the region of $ 3, that is, 500 thousand rubles. Quite a modest price, the price tag of top-end configurations goes far beyond 261 thousand rubles. By the way, HP themselves say about their ZBook 300 that these are the world's best-selling mobile stations.
Introduction
For a long time I wanted to spin the Z-series from HP in my hands. Always intriguing this combination of productivity and mobility, for which the manufacturer wants some incredible money, from the point of view of the layman on the street. It all depends on income and attitude, but it's even difficult for me to hypothetically imagine how I go to the store and buy a laptop for such a price. Perhaps it is also difficult for many to imagine this, after all, usually mobile stations are purchased by companies.
A semi-engineering model with a processor that is not even declared in the official configurations came to my test. Interestingly, Aida64 recognized the processor as Intel i9-10875H, and Windows as Core i9-10880H. The case turned out to be covered with stickers that this is a demo model for tests and in general the property of HP. Moreover, the stickers were specially stuck so that it would not be torn off. And, of course, when turning on and then in Windows, the laptop first of all reported that it was only for tests and not for sale. Also, the SSD was only 256 GB, that is, you can't even install Microsoft Flight Simulator (it requires 150 GB). Due to this and the fact that I did not have much time, this text is more likely not an overview, but a first look at the new model.
Appearance
Right side: charging connector, 2x SuperSpeed ​​USB Type-C® 40Gbps (Thunderbolt 3), 1x Mini DisplayPort, SD card slot covered by a cover
Left-hand side: USB 3.1 Gen 1 Type-A, 3.5 mm combo jack
Housing material: aluminum
The fact that HP engineers worked extremely carefully on the new G7 is hinted at at least by the fact that with the RTX 2070 Max-Q graphics card, the case thickness is 17.9 mm. Nvidia itself, describing the bonuses from using the Max-Q design, says that the minimum thickness of laptops can be 18 mm. That is, they specially cut off an additional 0.1 mm in order to show what they can, can and do.
Looking at the ZBook G7, you will never think that there is a powerful discrete graphics card. The laptop looks like a typical ultrabook. The fact that the device is not simple can be understood by looking from the side. The laptop itself is thin, but the two strips of rubber feet give it high ground clearance. After all, RTX cards need full cooling.
Another point is weight. With such dimensions, it seems that the laptop will weigh a maximum of one and a half kilograms, but here everything is 2 kg. There are no questions – both the filling is powerful from a discrete card, and the case is reinforced. There is just a little cognitive dissonance when you pick up the device.
Of course, there are no questions about the build quality. No backlash, no flex, the laptop feels tactilely as a solid piece of aluminum. Actually, it's not for nothing that the laptop is certified according to MIL-STD 810H. You can check it in without fear.
Aluminum lid with Z-series logo
A special screwdriver is required to remove the bottom cover. However, there is no reason to look inside. You can only change the SSD, and the RAM is unsoldered
On the left side is USB 3.1 Type-A Gen 1, 3.5 mm combo jack. It is also noticeable in the photo that the laptop has high legs. This is necessary for proper cooling.
I always wondered why premium versions of laptops leave a lock slot
Right side – charging connector, 2x SuperSpeed ​​USB Type-C® 40Gbps (Thunderbolt 3), 1x Mini DisplayPort, SD card slot covered with a flap
An interestingly made cover for the SD slot. It is necessary to press on one end, then the other will rise, and it will turn out to be able to pick out the plug, making an effort
The charging port has an indicator
Maximum lid opening level
The combination of brushed metal and polished ends looks interesting
Screen, Windows Hello and Sound
To begin with, the laptop has many interesting screen options:
Test: Full HD IPS (1920 x 1080), 39.62 cm (15,6 ″) diagonal, antiglare, 100% sRGB, ambient light sensor, 400 nits brightness, Windows Hello IR camera, non-touch
1920 cm (1080 ″) diagonal FHD IPS eDP + PSR (39.62 x 15,6) Anti-Glare, HP Sure View Integrated Privacy Screen 1000 nits, 72% NTSC;
1920 cm (1080 ″) diagonal FHD IPS eDP + PSR (39.6 x 15,6) Anti-Glare, Integrated HP Sure View Reflect 1000 nits, NTSC 72%
4K UHD IPS HDR 400 eDP + PSR (3840 x 2160) 39.6 cm (15,6 ″) diagonal anti-glare, next-generation HP DreamColor 600 nits, DCI P3 100%;
4K UHD UWVA OLED HDR 500 True Black eDP + PSR Brightview (3840 x 2160), 39.6 cm (15,6 ″) diagonal, ambient light sensor, 400 nits, DCI-P3 100%.
The most interesting is, of course, 4K with DCI P3 100% and 600 nits of brightness. Well, for those who often have to work in bright light, models with a brightness reserve of 1000 nits are suitable. Optionally, you can purchase a screen with protection from peeping (HP Sure View), when a clear picture is saved for the person sitting directly in front of the screen, but the screen is not visible for those looking from the side. Using the HP Envy x360 as an example, you can see how the option works. But it should be noted that the Envy x360 has the previous generation HP Sure View. The new version is, of course, better. Unfortunately, HP Sure View models are not easy to find for testing or commercially available. This option is ordered by the company when buying laptops. I'm not even sure that a regular street shopper in Russia can do that. There is a branded online store in the USA, where you can order HP Sure View for some models.
Unfortunately, they sent me the most boring version: Full HD, 100% sRGB. The measured brightness turned out to be at 353 nits, and the color gamut is slightly more than 100% sRGB.
However, with an anti-reflective coating, even 350 nits is excellent enough to comfortably work with the screen outdoors during the day.
Above the screen is a webcam module that has two noise-canceling microphones and an infrared camera for Windows Hello.
There are no questions about how Windows Hello works. You can enter the system, as well as confirm the password or payment, either using an infrared camera or using a fingerprint scanner.
The webcam's noise canceling feature is good. It is only interesting why manufacturers began to implement it only recently. The laptop filters out monotonous noises well. For example, you can't hear the water flowing from the tap. Below is an example of a 720p webcam shot in a $ 3 laptop. You can find fault with the fact that a corporate laptop for some reason does not have protective shutters or a switch for breaking the circuit, as on the same Envy x500.
Laptop audio system from Bang & Olufsen. There are stereo speakers (2 high-frequency and 2 low-frequency). The maximum volume is 70 dB. To be honest, I really liked the sound. Here, unlike a webcam, do not find fault. Clear sound and very good bass (for a laptop). On the HP ZBook Create G7, you can play music while the laptop is on the desk, and you are doing other things.
Keyboard
Reading the keyboard's official description, you immediately understand who HP perceives as the main competitor for the ZBook Create G7. Let me quote: "Are you used to working on a Mac? Now you can choose the Z Command Keyboard, which replicates a Mac layout, for a seamless switch ) ". It is understood that the bottom row with the Ctrl / Fn / Windows / Alt keys should be redesigned for mac-style (Fn / Ctrl / Alt / Cmd). For some reason, HP decided that this kind of layout might be of interest only to US residents. Rest of the world will have an HP Premium Quiet Keyboard. Stroke depth – 1.3mm, extra rubber pad for softness. Also, the keyboard has a special DuraKey coating (from durable – long-lasting, reliable), which makes the keyboard 50 times (!!!) more reliable to abrasion. There is an interesting phrase in the description of the keyboard: with protection against the ingress of liquids, with a drain hole and DuraKeys. Apparently, it is understood that after spilling liquid, the laptop must be shaken, and the liquid will flow out.
The keyboard is good. Deep key travel, excellent springiness, low noise. Typing on it is easy and comfortable.
I liked that they did not save on the Home, PgUp, PgDn, End, Delete keys. However, it could not be otherwise in a notebook designed for productive work. Another nice thing is that there is a button that emulates the right mouse button, a separate Print Screen and Insert key. On the keyboard, the up and down arrow keys have been made narrow, but this is not to complain about. Everything is done ergonomically. Probably, as a minus, I could say that the power key was placed among everyone. It would be possible to make the power supply a separate button outside the keyboard, and adapt the free button for something useful.
The F12 key, which is assisted by Shift, Ctrl, Alt, is tied to programmable actions, you can configure the combination to launch an application, file, site or perform another action. By the way, the keyboard has a milky white backlight. 2 levels – bright and barely noticeable (ideal for complete darkness)
Uncommon – programmable combinations. Everything is tied to F12, which is assisted by Shift, Ctrl, Alt. You can configure the combination to launch an application, file, site, or perform some other action.
The laptop has a good touchpad, it supports all gestures, the dimensions are 11.5 by 7.5 cm. The touchpad is pressed through, emulating the mouse buttons. On the one hand, there are no complaints. On the other hand, if you started to lure users away from the "poppies" with the keyboard, why didn't you copy the dimensions of the touchpad?
Battery life
The promotional materials state that the laptop can last up to 14 hours. Probably. According to my measurements, in the mode of a typewriter with the Internet in economy mode at an average screen brightness, a laptop can last 12 hours. In video mode with high brightness, it is quite possible to squeeze out 10 hours. Well, under maximum load the laptop will last 2 – 2.5 hours. And in reading mode (without the Internet), measurements showed that the laptop will last 15 hours.
However, battery life will depend on the screen you choose: a 4K screen will likely have a shorter runtime, or if the screen is 1000 nits in brightness, this will also affect the battery life.
One of the nicest features of the device is the 200W power supply. Braided wire. The unit weighs 640 grams with wires. Not a bad indicator, considering that such units weigh 1 kg in ordinary laptops.
Performance
HP tried to fit as much hardware as possible into a compact case. It is interesting that AIDA64 on the page with all data on the system incorrectly identifies the processor, however, the program is being corrected on the thematic tab.
And here is how the processor of Windows 10 itself is identified
Considering that the sample is engineering, and the processor is strangely identified, of course, it would be better to wait until commercial samples become available for testing. However, no one forbids running several synthetic tests, right?
We can immediately notice that the laptop is quiet. And even at maximum load, the noise level does not exceed 38 dB.
One of the main tasks that had to be solved was cooling. The laptop used an evaporation chamber, polymer fans (such fans have a minimum gap between the blades and the walls of the well, due to which much more air is driven in, this is an innovation of the last two years). HP also says that "innovative BIOS-level solutions identify and allocate resources to the appropriate components based on the application at a particular time, which significantly improves the efficiency of power consumption and distribution."
A good SSD, of course.
Results of synthetic tests.
An interesting thing happened during testing. The laptop failed the typical 3DMark stability test, scoring 96.4% against a low of 97%.
I started to understand and saw that if the graphics did not rise above 80 degrees, then the processor jumps up to 97-98 degrees. I did a throttling test. On average (in 40 minutes of the test) the processor performance drops by 12%. The temperature did not rise above 98 degrees. At peak performance, the laptop stays quiet, but gets warm even in the wrist rest. While the top in front of the screen is quite hot. It's unpleasant, but, as I saw, laptops have an optional extended warranty, judging by which, HP is confident that the laptop will work for at least 3 years.
Conclusion and competitors
I didn't have a lot of time to fully get to know and work hard on the HP ZBook Create G7. And judging from superficial experience, the G7 is a delight. Such a powerful machine in such a compact package. 1000-nit screens are also optionally available. At the same time, a full-fledged set of ports, including a slot for SD-memory cards.
The HP ZBook Create G7 is a kind of versatile laptop. It is thin and compact like an ultrabook. It produces a battery life similar to ultrabooks in office affairs, while a super-powerful processor and a video card are hidden in the laptop, so it can turn on the heat on request.
Among the fun features is the overly evil-tuned HP Sure Sense virus protection (on other HP laptops, in my opinion, it was softer). It is more difficult to negotiate with it than with Windows protection. Moreover, HP Sure Sense even resisted the installation of utorrent. However, I understand him, there is a lot of stuff in the installer. The use of "civilian" RTX 20-series cards is undoubtedly a plus, as it allows you to use the laptop not only for work, but also for games.
The main competitor for the HP ZBook Create G7, apparently, is the MacBook 16. If you compare head to head, HP made sure that the ZBook Create G7 was equal to or bypassed the MacBook in all respects – processor, memory, storage, color gamut and screen brightness, time autonomous work. ZBook Create G7 surpasses the MacBook with a greater variety of ports, the presence of Windows Hello, Wi-Fi 6. But the main advantage is the RTX 20 series cards from Nvidia and Windows 10, just allowing you to fully realize the capabilities of an advanced video card. In addition, HP also benefits from the MIL-STD 810H certification, which makes the laptop a reliable machine that can withstand drops, is not afraid of moisture, sand and dust.
On the other hand, there is more likely an attempt to drag users out of the macOS camp, and there is no talk of direct opposition. The target audience is still different. And the conditional user HP ZBook Create G7 is unlikely to switch to macOS.
When you write down all the advantages of the HP ZBook over the MacBook like this, you simultaneously understand why the Z-series from HP is the best-selling mobile station in the world. The main buyers of such devices are corporations that want to buy a reliable laptop so that it does not break down, withstand all the difficulties of life and serve for a long time, and at the same time it is not the size of a suitcase. It makes sense that they choose HP. If you need increased protection, then for a suitcase go to Dell for a Latitude Rugged, which you can hammer in nails.
Among Windows beeches, the main competitor is Dell Precision mobile stations. Laptops are similar, but here HP beats Dell by offering a wider variety of graphics cards, while Dell prefers to use only professional versions in workstations. Obviously, Dell will catch up soon, adding more versions of graphics cards.
Back to content >>>
Share: 





we are in social networks:
Anything to add ?! Write … eldar@mobile-review.com