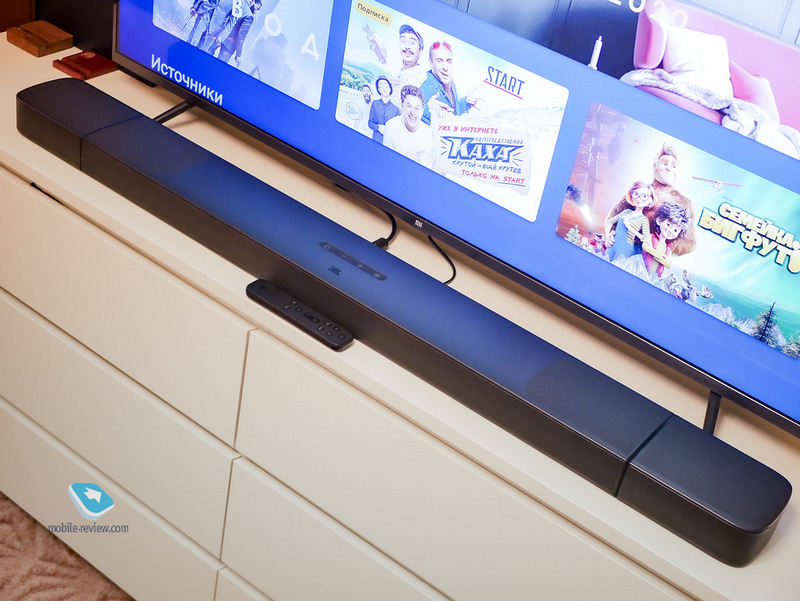 Content
TECH SPECS
Introduction
Contents of delivery
Appearance
Connectors and buttons
Connection and sound
Impression
TECH SPECS
General characteristics:
Model: BAR 9.1 CNTR (soundbar), BAR 9.1 SURROUND (removable speaker), BAR 9.1 SUB (subwoofer)
Speaker system: 5.1.4 channel
Power supply: 100 – 240 VAC, 50/60 Hz
Lithium battery: 3,635 V, 3283 mAh
Total speaker output power (max.with total harmonic factor 1%): 820 W
Soundbar output power (max.with total harmonic factor 1%): 400W
Surround speaker output power (max. At 1% total): 2 x 60 W
Subwoofer output power (max.at total harmonic factor 1%): 300 W
Soundbar transducer: 4 × loudspeaker heads + 2 × full range customizable speakers + 3 × 20 mm (0,75 in) tweeters
Surround transducers (per unit): Full-range configurable speakers + 20 mm (0,75 in) tweeter
Subwoofer transducer: 10 "
HDMI Feature:
HDMI Video Inputs: 1
HDMI Video Output (with Enhanced Audio Return Channel eARC): 1
HDMI HDCP version: 2.3
Audio Features:
Frequency response: 34 Hz ​​- 20 kHz
Audio Inputs: 1 Optical, Bluetooth, USB (USB playback is available in the US version. For other versions, USB is for service only)
USB specifications (USB playback available in US version):
USB port: Type A
USB specifications: 5V 500mA
Supported file formats: MP3
MP3 Codec: MPEG 1 Layer 2/3, MPEG 2 Layer 3, MPEG 2.5 Layer 3
MP3 sampling rate: 16 kHz – 48 kHz
MP3 bitrate: 80 kb / s – 320 kb / s
Wireless characteristics:
Bluetooth version: 4.2
Bluetooth profile: A2DP V1.2, AVRCP V1.5
Wi-Fi network: IEEE 802.11 a / b / g / n / ac (2,4GHz / 5GHz)
Dimensions (W x H x D):
884 x 62 x 120mm / 34,8 x 2,4 x 4,7 inches (soundbar);
173 x 60 x 120mm / 6,8 x 2,4 x 4,7 inches (detachable audio speaker / piece);
305 x 440 x 305 mm / 12,0 x 17,3 x 12,0 inches (subwoofer)
The weight:
3,64 kg / 8,0 lb (soundbar);
0,72kg x 2 / 1,6lb x 2 (detachable surround speaker);
11,10 kg / 24,5 lb (subwoofer)
Introduction
I have long wanted to test a powerful speaker system with support not only for 5.1 sound, but also for Dolby Atmos technology. Therefore, I gladly took to the review of JBL Bar 9.1.
Not so long ago, I wrote material on the Sonos Arc topic and was generally satisfied. The only thing I was missing was the extra rear speakers to create surround sound. In addition, to listen to that same Dolby Atmos, I needed a TV with eARC support. As you know, at the moment I am using Xiaomi Mi 4S. And it is equipped with only ARC technology. Therefore, there was no talk of any Dolby Atmos. Moreover, as I found out later, the model does not support 5.1 either through DNLA, or through movie viewing services (for example, "KinoPoisk"), or on YouTube. In fact, a sad situation. And the problem is at the firmware level …
This time, as a kind of experimental TV, I used the fancy Honor Hunter V700 laptop. Therefore, during testing the JBL Bar 9.1, I was able to achieve listening to Dolby Atmos, multi-channel sound and other effects. Thanks for the tip to the JBL brand specialists: live and learn!
What is JBL Bar 9.1? This acoustics, consisting of a soundbar, two speakers connected to it and a subwoofer. This whole colossus communicates with each other over a wireless Wi-Fi connection.
The main feature is the detachable portable speakers equipped with speakers for creating rear sound and Dolby Atmos effect.
As a result, you get a system of right, left, center, two rear channels, a subwoofer and four more speakers for the same Dolby Atmos. It seems to me an extremely interesting story!
The cost of all assembled components is approximately 60 rubles.
Contents of delivery
1 soundbar
2 detachable wireless surround speakers
1 wireless subwoofer
Remote control with 2 batteries
Power cables
HDMI cable x1
Set of XNUMX L-shaped wall mount brackets (soundbar) and XNUMX U-shaped wall mount brackets (for surround speakers with screws)
Quick Start Guide
Warranty Card
MSDS
Appearance
First, it is worth mentioning the Bar 9.1 packaging separately. It resembles a chair wrapped in thick cardboard. Friends who came to visit us paid attention to JBL and asked in surprise: "What is this – a chair? This is the first time we see that it is packed in such a high quality manner. "
After unpacking all the elements of the system, I was impressed by the design. Technoartists took their business really seriously: I have never seen such beautiful devices until now. It is so stylish that words cannot describe it. The photographs and videos probably don't convey the full completeness of the sophisticated design.
The first couple of hours I was so excited that I sent pictures of Bar 9.1 to all my friends and acquaintances, they say, "you just look at this miracle of technical design." But I repeat once again, the acoustics (system) must be seen live.
All elements of the soundbar are made of gray painted metal. The material both looks and feels expensive. Nowhere are there crooked seams, adhesions, protruding parts of plastic. There is no backlash, no squeaks or other sounds, device cases do not bend. Everything was done at the highest level.
However, it should be noted that gray may not always match the interior. I have a white TV stand and cabinets, and the acoustics look somewhat foreign against their background. Perhaps it would be better if Bar 9.1 were black? ..
The subwoofer is made of durable, almost monolithic gray plastic. It would seem a simple cubic shape, but it is executed perfectly: again, no inconsistencies, useless decorative elements. Strict and stylish.
The soundbar is quite large. Together with the rear speakers, it is 120 cm long. It is also rather big in depth – 12 cm, in height – about 6 cm. I will not indicate the weight, it is completely uncritical.
The dimensions of the subwoofer are downright monstrous: 30.5×30.5×44.5 cm. Fortunately, it has no protruding elements: it costs itself a cube the size of a large stool. I put it in the niche between the TV stand and the cabinet. He neatly blended into the interior there.
The front panel is equipped with a metal grill. Sound passes through it. It would not have been possible to design otherwise, since almost the entire frontal part is crammed with speakers.
Above, they did it differently: where the speaker is located, there is a grill.
As for the soiling, there are no traces of exploitation, since there is a control panel, but dust is an eternal "friend" of acoustics: it is very noticeable in gray. Every day I wipe it with a damp cloth. The situation is similar with the "sub".
Separately, it should be said about the detachable speakers. Initially, they are embedded in the soundbar grooves on the right and left. Held by magnets.
In the kit you will find special pads that cover the holes in the soundbar and on the speakers. Well thought out how! The first week I was even a little upset: such a stylish system, and the open parts look so silly. It turned out that it was necessary to look more carefully in the box.
The rear speakers are relatively compact and light: 18x12x6 mm and a weight of 750 grams. Equipped with rubberized feet.
Total: cool, strict, stylish unit, from which I got great aesthetic pleasure.
Connectors and buttons
They are all gathered from the back in a notch in the soundbar.
Food.
USB Type-A. it is required to connect a drive with software – firmware update. In addition, it serves as a music playback source.
Optical. Connect to an optical output on a TV or digital device.
Ethernet. Connecting to a home network using an RJ45 cable.
HDMI output. Connect to HDMI ARC or eARC TV input.
HDMI input. Connect to the HDMI output on a digital device. It was to him that I connected the laptop.
There are a number of buttons on the top of the soundbar:
Power or standby
Volume control. Holding both buttons – mute
Sound source selection: TV, Bluetooth or HDMI IN.
In addition, there are microphones. They are needed for sound calibration.
A few words about the rear speakers. They are equipped with four pins for connection to the "base". At the top left there is a button for connecting to the soundbar and a microUSB connector for charging the battery. To understand the work in the columns there are indicators. If they blink red, the battery is low, lit red – charging, blinking white – connecting to the system. Etc. More details are described in the instructions.
The set also includes a control panel. With the help of it, the following things are regulated:
Volume
Dolby Atmos – effect level
Bass – effect level
Rear – the sound level of the rear speakers or their mute
The rest is already clear in meaning: power, mute, Bluetooth, switching between TV and HDMI.
The sub also has a couple of elements:
Button and indicator for pairing with acoustics
Connecting to a power source with a cable
The kit includes fasteners to place the soundbar and rear speakers on the wall.
I forgot to say that there is a screen on the front of the soundbar. It is made of small LEDs, which means it is not an LCD panel. It displays information about the connection: for example, DOLBY ATMOS signal, PCM, volume and more.
Connection and sound
With the JBL Bar 9.1 connection, unlike the Sonos Arc, there were no problems. The sound appeared immediately after inserting the cable into the HDMI TV.
Attention, your TV must have ARC technology, or better eARC! Let me remind you that my sad Xiaomi Mi 4S is equipped with only ARC. In addition, as I wrote above, it does not output 5.1 sound through DNLA, YouTube or video streaming services (I tested with KinoPoisk). And this is 99% of the content that I consumed. If you connect a storage device to the TV, the acoustics will understand multi-channel sound, but Dolby Atmos will not appear.
As a result, for the DA test, I connected the Honor Hunter V700 to the JBL Bar 9.1. Everything in order.
First, let's figure out the number of speakers and tweeters in the soundbar:
2 speakers – right and left channels
2 speakers – center channel
2 speakers upward
3 tweeters (right, center and left)
Each speaker has one speaker (pointing upwards) and one tweeter.
From the official information I could not get the speaker data, it is known that tweeters are 0,75 inches in diameter.
From some sources on the Web, I found out that the two speakers of the center channel and the two speakers on the right / left are not the same. The ones on the right and left are more powerful judging by their size.
The power of the soundbar is considered to be 400 W, the "subwoofer" – 300 W, and the rear ones – 60 W. In reality, it seems to me, these are 100 watts, 50 watts and 5 watts.
Inside the external speakers there are 3283 mAh batteries, which are enough for 8-10 hours of continuous sound. Charge in 3 hours from the soundbar. In short, the charge will last for the whole day. I have never had a situation where I watched TV for more than 8 hours in a row. In the pauses, I inserted speakers into the soundbar. Then I put it back on the bedside tables.
"Roma, you've already said so much about the speakers, let's talk about the sound!" – you will say with indignation.
And you know, I cannot describe the sound in detail, since I evaluated the acoustics as a system as a whole: subwoofer, soundbar and rear speakers. And here I can say the following: very good. Why not perfect, great, cool or super cool?
The thing is, I didn't like the voice transmission. Everything I watched had a slightly booming mid-range sound, close to low. Even if you turn off the subwoofer completely. For example, the speakers on my TV were better at picking up voice than the Bar 9.1.
Another strange feature. Since the system is powerful, as a rule, I watched movies and YouTube at a volume from 3 to 7 out of 31. So, it often turned out that 3 was quiet, and 4 was already loud. Moreover, at a volume with a value of 4, the subwoofer was turned on, so the bass level had to be set to one.
When it comes to system power, the JBL Bar 9,1 is strong. But the pressure is not felt. Imagine connecting a huge sub to your TV. Thunders all over the house? Of course! However, there is no detail.
What about Dolby Atmos? For these effects, it is better to calibrate the sound: the speakers call out to each other with a loud and harsh sound. Compared to 5.1 sound, the volume appears, and it can be slightly adjusted up or down. However, if you know how Dolby Atmos systems work, you will realize that Bar 9.1 is trying to copy the effect. Is it good? Not bad. But this is not at all the Dolby Atmos from the cinema. For this, it is necessary to hang the speakers under the ceiling, and not catch the reflection in a room of 20 m2, cluttered with furniture, things, etc.
Total sound: loud, powerful, with excellent channel separation, with an average feel of the Dolby Atmos effect and without a pronounced flow / pressure, that is, a little flat.
You can connect devices to the audio system via Bluetooth or AirPlay. In this case, you will be the king of bass in the whole area! Unfortunately, acoustics does not support aptX or LDAC codecs.
Impression
The appearance of the JBL Bar 9.1 speaker system is above all praise, my deepest respect to the designers. After unpacking and installing the device in the workplace, you will definitely enjoy an aesthetic pleasure.
From a technical point of view, the Bar 9.1 is also not bad: wireless speaker connection, music playback via Bluetooth / AirPlay, Dolby Atmos support, HDMI input and output, and so on. But the sound somehow did not impress me too much.
Last month I wrote about the Sonos Arc soundbar. That's where I liked the presentation and transmission of the voice. But for 80 rubles it is without a subwoofer and rear speakers.
Here Eldar reviewed Samsung Dolby Atmos HW-Q900T. True, there are no rear speakers. For them, you will have to pay another 25 rubles – the HW-Q000T system.
Probably, speaking of JBL Bar 9.1, you should think this way: if you love incredible rumble of lows and are a connoisseur of quality accessories, then Bar 9.1 will definitely suit you.
Back to content >>>
Share: 





we are in social networks:
Anything to add ?! Write … eldar@mobile-review.com