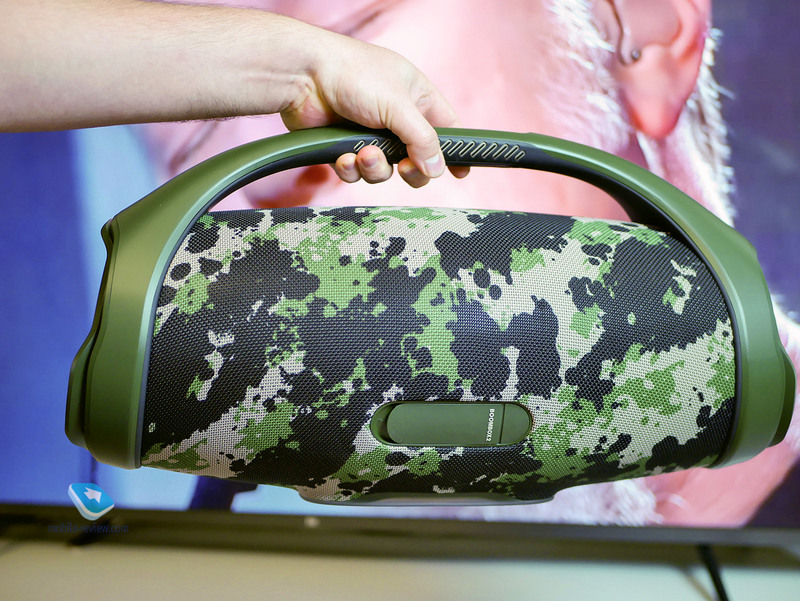 Content
Introduction
Contents of delivery
TECH SPECS
Graphic Design
About sound
Working hours
Impressions
Introduction
The summer season is over, but the time for barbecues and parties on the street is still going on. For such lovers of tasty and fun relaxation, the JBL brand has released a portable stand-alone speaker with the loud name Boombox 2.
Here it is worth highlighting the following:
Full IPx7 water protection
Long battery life for 24 hours
Powerful sound
Possibility to power any device from USB
Partyboost – combining multiple speakers into one system
Cool design
A portable speaker JBL Boombox 2 can be found from 20 rubles.
Contents of delivery
1 x JBL Boombox 2 speaker system
1 JBL power supply
1 quick guide
1 warranty card
TECH SPECS
Dimensions (cm): 48.5 x 20.1 x 25.7
Weight (kg): 5.9
Output power (W): 2 × 40 RMS (mains power) or 2 × 30 RMS (battery power)
Playable range (-10 dB): 50 Hz – 20 Hz
Bluetooth version: 5.1
Battery Capacity (mAh): 10000
Battery charging time (h): 6.5
Functions:

3.5 mm audio cable input: yes
Powerbank: yes
Protection against water: yes, IPx7
Graphic Design
Somehow it happened that at the same time on the review were two portable powerful speakers: Soundcore Rave from Anker and Boombox 2 from JBL. Of course, compared to Anker, JBL looks very cool and stylish – for real boys! Well, simply because the shape of the case is as brutal as possible, and the colors are khaki and black. I put this one near the entrance – and that's it, your girls. For the sake of completeness, it would be nice to have a behu next to it 🙂
But seriously, the JBL Boombox 2 looks really good: the unusual shape of the case, the branded braid (material), durable green plastic (if it is a khaki version), thoughtful symmetry. In short, you understand what you are paying 20 rubles for.
Plastic handle. It smoothly passes to the side faces. For a better grip, it was reinforced with black ribbed rubber inserts with pale green blotches around the perimeter. And the BOOMBOX2 lettering is filled with transparent silicone with a pale green backing. Under the handle there is black plastic.
The design of the external decorative part of the speakers is proprietary, that is, the edges are not even, but made with a wavy edging. As usual, there is an embossed exclamation mark on one side and the JBL inscription on the other.
If you choose khaki (and you will take it!), You will see that the rest of the body is covered with a cloth braid with spots of green, pale green and black colors. I don't really like the military style, but in this case it suits this model quite well.
In the central part there is a large red metal nameplate with white JBL lettering. Below is a powerful plastic stand. The material is soft, so it will dampen low-frequency shocks during music playback. In addition, it will not scratch the surface on which the speaker will be placed. After all, Boombox 2 can also be used at home.
Control elements are located under the handle. They are convex, plastic, painted dark green. Their stroke is minimal, but pressing is very pleasant: clear, with a characteristic sound.
The buttons are as follows:
Partyboost
Volume lower
Food
Bluetooth pairing
The volume is higher
Play / pause
There is a vertical battery charge indicator under the red insert. The higher the white bar, the higher the charge level.
The main connectors were neatly hidden on the back side. Here you will notice a rubber plug with the boombox2 inscription, well, suddenly you forgot what you bought, and just looked – it's JBL!
Since the protection against water in this model is IPx7, the "plug" here is of impressive size. Below it:
Power connector
USB Type-A for charging other devices – PowerBank type. Output parameters – 5V / 2A (officially). However, my Apple iPhone SE charged the column with a current of 1A, and the Honor Pad V6 with a current of 1.2A.
Service connector microUSB
3.5 mm
About sound
The JBL Boombox 2 features two 4 "woofers (4 ohm impedance) and two 0,75" tweeters. 40 W is the peak power when using AC power, 30 W is the peak power when using the built-in battery.
Judging by the board, there is a PCM32 5121-bit stereo DAC inside, a two-channel class D power amplifier – TPA3116 (two pieces). Most likely, the output power will be up to 10 watts per channel.
The declared frequency range is 50 Hz – 20 Hz, the signal-to-noise ratio is> 000 dB. Bluetooth version 80 is used for connection. There is no support for aptX / aptxHD or LDAC. However, it is not very clear why these codecs are needed here: before you are portable acoustics, not headphones, in which, theoretically, you can distinguish SBC from aptX.
The speakers are located on one side only, meaning they are looking at you. Therefore, if you need to get directional sound, then it is advisable to put the speaker "facing" yourself. Stereo sound.
Judging by my measurements, the frequency range of this model is approximately from 50 Hz to 16 Hz. Below is the frequency response, which shows that after 000 Hz there is a sharp decline.
The speaker was tuned for a maximum gain of 100 – 300 Hz, an average gain in the region of 5000 – 8000 Hz and a small gain at frequencies of 14 – 000 Hz. Simply put, the bass was pumped, but not deep.
The maximum measured loudness is just over 110 dB. It's loud: it's hard to listen to music a meter away from the speaker, but it's fine for a room of 100 m2! On the street, the best distance is 3-5 meters.
As for the quality, here I was pleased with the range: moderately low, medium enough and even high enough. If we compare the Anker Soundcore Rave and JBL Boombox 2 head-on, the latter produces a more detailed sound, collected. Whereas Rave screams rather than plays melodies beautifully.
The column is aimed at playing works of any genre: it does an excellent job with metal (powerful and energetic bass, whipping drums), popular music (clear voice, lots of highs), and it is also suitable for jazz (non-disturbing low frequencies, clean sibilants and pleasant clatter of drum sticks with tassels).
Working hours
It is stated that the JBL Boombox 2 will operate without mains power for 24 hours. I have had this column for a month now, and during this time I charged it only once. Of course, I don't listen to music for days on end, given that there are other audio tricks on the tests, but in the country she played 2-3 hours a day for a couple of weeks.
If anything, a 72 W / h battery, 7.2 V, 10 mAh. Collected from six cans of Samsung ICR000.
But what bothered me a little: the included AC adapter (24V / 4.2A). Such a large column – and could not you place the power supply inside the case? Moreover, the block is somehow flimsy, plastic is thin … It is charged, according to the passport, for about 6 hours. In real life, it turns out that way.
Impressions
As usual, I have only positive impressions of JBL brand products. The column is beautiful, stylish, well assembled, well thought out from the point of view of ergonomics, easy to carry and install. Lasts a long time, the sound for portable speakers is excellent. Out of the ordinary – there is a connector for recharging other devices.
Minor disadvantages include a separate power supply unit. It seems to me that inside such a large case there would be a place for an adapter. In the end, only the cable would be needed.
The price of JBL Boombox 2 is about 20 rubles. Probably a little expensive. But here you get a famous brand, cool design, sound, and so on. Therefore, complaining about the price of Boombox 000 is about the same as complaining about the price of an Apple iPhone.
I highly recommend the JBL Boombox 2 column for purchase.
Back to content >>>
Related Links
Share: 





we are in social networks:
Anything to add ?! Write … eldar@mobile-review.com