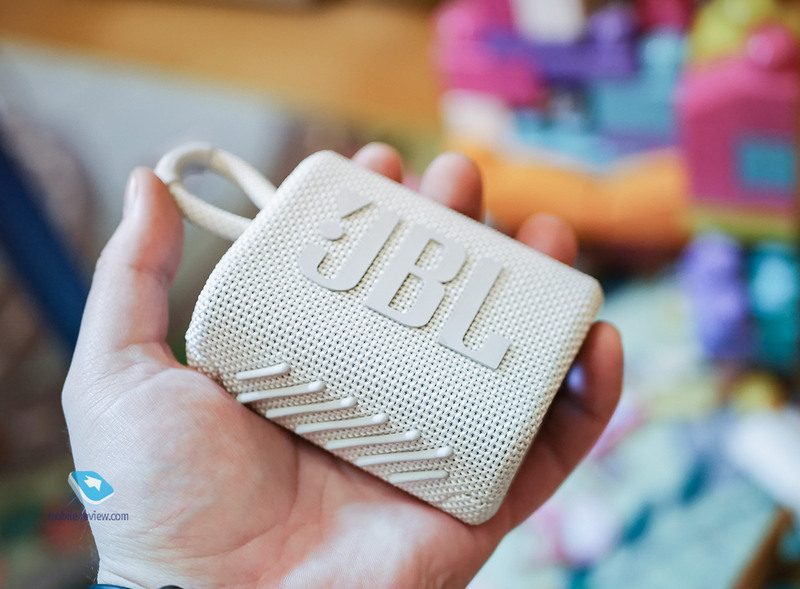 Content
Positioning
Contents of delivery
TECH SPECS
Graphic Design
Elements on the body
Sound
Working hours
Impression
Positioning
The JBL GO 3 portable speaker is an inexpensive solution for listening to music anywhere: compact size, autonomy for more than 5 hours and rechargeable via USB-C, has an IP67 protection degree, sounds pleasant and is equipped with vibroacoustics – put it on the table, and the sound becomes more spacious.
Another feature of this model is the colors for every taste: khaki, white, blue, yellow, green, red and so on. It seems to me that no other brand has such a variety of colors.
The price of JBL GO 3 is 2 rubles. Taken together, it turns out a very good gift: both the cost is adequate, and the degree of usefulness is quite normal, and the appearance will definitely not leave anyone indifferent.
Contents of delivery
1 x JBL Go 3 speaker
1 USB Type-C cable
1 quick guide
1 warranty card
1 safety data sheet
TECH SPECS
Transducer: 43 x 47 mm / 1,5 ″
Output power: 4,2W RMS
Frequency Response: 110 Hz – 20 kHz
Signal to noise ratio:> 85dB
Battery type: lithium polymer 2,7 Wh
Battery charging time: 2,5 hours (5V / 1A)
Music playing time: up to 5 hours
Bluetooth® version: 5.1
Bluetooth® profile: A2DP 1.3, AVRCP 1.6
Dimensions (H x W x D): 87,5 x 75 x 41,3 mm
Weight: 0,209 kg
Graphic Design
The JBL brand has always produced devices that evoke instant emotion. In fact, most people need this, since technical characteristics have recently fade into the background.
The JBL GO 3 column stands out for its miniature appearance, its dimensions are 85x75x40 mm, and its weight is just over 200 grams. It easily fits not only in a backpack, bag, but also in the pockets of a jacket and even jeans. And then it is easily pulled out from there by the loop, which is equipped with a rubber insert for a more comfortable grip.
My daughter expropriated GO 3 already on the first day. And all for the reason that I described above – compact, lightweight and evokes emotions.
One of the features of the column is colors. There are 11 in total. I don't think any brand can afford such variety. Moreover, this is not one color, but a mixture. For example, the gray column is actually made up of the following elements:
The name "JBL" is blue
Inserts on the right and left are gray
Control buttons are red
Orange loop handle with pale crimson rubber grip.
The picture is about the same with the rest of the colors. Very cool and youthful!
I had a column in white on my review. And here everything is much simpler: the fabric braid, the loop, the "GO 3" designation is white, the rest of the elements are light gray.
The last thing worth noting is the IP67 degree of protection. I think everyone already understands these parameters, so in short: you can take with you to the shower or to the pool. I wouldn't dip it under the water.
Elements on the body
Below you will find 7 rubberized stripes applied to the body at an angle of approximately 60 degrees. Thus, the device assumes a vertical position.
On the left there is a loop for hanging a column on something or just wearing it like a hook. Nearby is a USB-C connector for charging the battery.
On the right are the power and Bluetooth pairing buttons. Between them is an indicator of the gadget's operation.
On top of the body there are volumetric control buttons "-", "play / pause", "+", made in the corporate style of the JBL brand.
On the reverse side there is a platform made of dense rubber. It is assumed that the column will be laid flat side. Officially, nowhere is it said about this, but if you put the gadget flat on, for example, on a table, then the sound will become more voluminous. Something like the transmission of sound vibration, when third-party objects act as a sound generator. No, this is not a vibrating speaker, but the meaning is something like this.
Sound
Here you should have formed a puzzle: the fashion brand JBL, the price is 2 rubles, the miniature size … In general, you understand – the sound quality here will not be a revelation for you.
However, the GO 3 is capable of playing decently on some level surface when laid flat. I wrote about this above. The sound really becomes not only more spacious, but also bassier.
If you do not resort to tricks, then the frequency response of the gadget is pretty flat. The volume is sufficient to listen to music at a distance of up to 10 meters.
My daughter listened to audio stories on it. For such purposes, JBL GO 3 is 100% suitable. You can say, they say, buy any – and it will be the same. Not really. Everything is put together here: cool appearance, support for Bluetooth 5.1 (which means that you can wander around the entire apartment, and the connection will not be lost), the simplest control, automatic connection and, of course, a loop for which it is convenient to carry the speaker with you.
Children also love to repeat after their parents. If my wife and I are cooking, then my daughter joins us with her toy stove. Naturally, the column is always somewhere nearby. What am I for? To the fact that we have already accidentally "drowned" the two previous columns. There are no problems with this GO 3 yet.
This is one of the real scenarios for the use of such a baby. In winter, it seems to me, there will be no others, of course, unless you are Elena Flying, who is now resting in the Maldives.
Working hours
The battery capacity is indicated as 2,7 Wh. It doesn't mean anything to me. If you set the volume to about 20-30%, then the battery will last for exactly 8-10 hours. These are about 10 relatively long tales.))
Charges using a USB Type-C cable for about two hours.
Impression
I think you already understood that I liked the JBL GO 3 speaker. Its price is not too high, the design is cool, the colors are a dime a dozen, there is IP67 protection, it works for a long time, the connection keeps excellent.
The sound is average in terms of bass, but pleasant and loud. You shouldn't want more from a box that fits into jeans pockets.
In my opinion, JBL GO 3 is the perfect New Year's gift for all occasions. Even if you already have a powerful portable speaker, GO 3 can be carried around in your backpack as a device for making hands-free calls from your phone. If you give it to a child, you will definitely like it. Another specific scenario: use GO 3 as a cute accessory somewhere in the office or at home.
Back to content >>>
Related Links
Share: 





we are in social networks:
Anything to add ?! Write … eldar@mobile-review.com