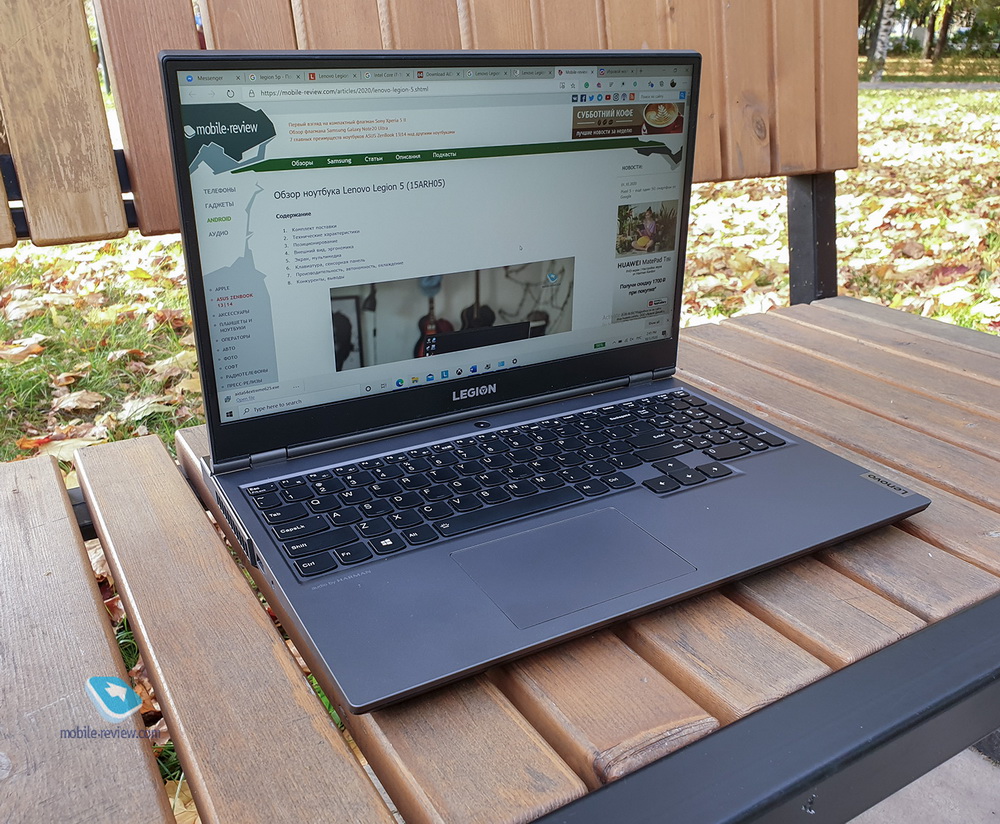 Content
Positioning
TECH SPECS
Appearance
Screen, sound and webcam that doesn't exist
Keyboard and Touchpad
Battery life
Performance
Impression and competitors
Positioning
Legion is a separate Lenovo gaming brand. Under it, Lenovo manufactures a full range of products that game lovers can enjoy.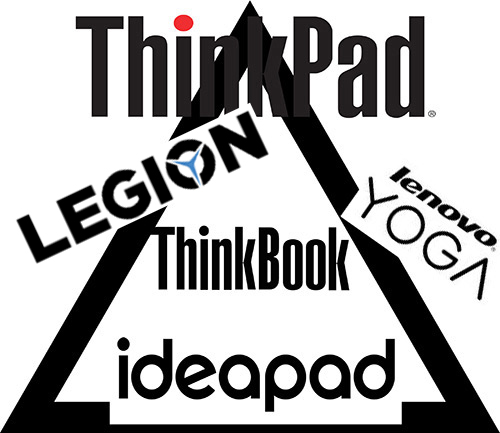 Lenovo Legion 5P, as I see it, is responsible for the more affordable models of the brand. At least there are configurations with GTX graphics and you can find devices with a price of up to 100 thousand rubles.
Lenovo distinguishes as the advantages of this model:
High performance (both GTX and RTX cards are available, there are both Intel and AMD processors)
Silent operation under load (don't lie, the maximum noise level is 50 dB)
A noticeable gain thanks to the screen (this phrase probably refers to a matte 144Hz screen with less than 5ms response). I also liked the phrase about dominance from the brochure: "Check out the brilliant rendering on the 1080p XNUMX% color display. You will unconditionally dominate the gaming space "
Silent keyboard with 1.5mm key travel + white or RGB backlit
80 Wh battery for up to 7.7 hours of operation
High-speed DDR4 3200 MHz, two slots for SSD, Wi-Fi 6
TECH SPECS
Processor: Intel Core i7-10750H, 6 cores, 12 threads
OS: Windows 10 Home
Graphics: Integrated Intel UHD Graphics, Nvidia GeForce GTX 1660 Ti (6GB)
Memory: 16 GB DDR4-3200 (up to 32 GB maximum)
Storage: 256 GB SSD PCI-E 3.0 x4, support for two SSDs
Screen: 15.6 inches, IPS LCD, 1920 x 1080 pixels, 144 Hz, 100% sRGB, Dolby Vision, 300 nits brightness, anti-glare (matte), response time less than 5 ms
Audio: Harman Kardon® 2 x 2W with sound chamber
Battery: 80 W * h, up to 7.7 hours of battery life
Communication: Intel (R) Wi-Fi 6 AX201 160MHz, Bluetooth 5.0
Keyboard: Full-size with separate numeric pad and RGB backlit (4 zones)
Touchpad: 10.5 x 7 cm
Ports:

4 USB 3.1 Gen 1 ports (one USB 5V port always on)
Combo microphone / headphone jack
USB 3.1 Type-C (USB 3.1 Gen 1 and DisplayPort)
HDMI 2.0 connector
RJ45 connector

Other: no webcam
Materials: plastic and aluminum
Dimensions and weight: 22.97–25.5 x 363.06 x 259.61 mm, 2.5 kg, power supply weight with cable 850 g
Price: 120 000 rubles
Appearance
Left-hand side: 3.5 mm combo jack, USB 3.1 Type-A Gen 1 SuperSpeed, USB 5V always on (can be disabled in the proprietary application)
Right side: charging indicator, reset hole, USB 3.1 Type-A Gen 1 SuperSpeed
Rear: proprietary power connector, HDMI 2.0, RJ45, 2 USB 3.1 Type-A Gen 1 SuperSpeed, 1 USB 3.1 Type-C (DisplayPort)
The laptop has the typical look of Legion gaming laptops. I suppose everything can be seen in the photo, so I will only voice interesting points with points.
The laptop is made of metal and plastic, the latter prevailing. But the plastic is different everywhere – on the inner surface (where the keyboard is) it is not like a soft-touch, but velvety, on the bottom it is thick and rough, and on the top cover it is such that at first I thought it was aluminum.
Visually, the laptop is strict. From a distance, guessing that this is Lenovo will not work. Typical branding "tags" are located on the ponytail and on the inner surface.
In the center of the lid there is a mirror logo of the Legion brand. It has a specular glare but does not attract attention, but burns with a milky white fire when the laptop is plugged into an outlet.
The laptop does not have a webcam.
Lenovo has long had a fashion in gaming laptops to leave a tail behind the screen, on which the main ports are located. On the sides, only classic USB Type-A. I like this decision from a rational point of view. But aesthetically, the "tail" annoys me for some reason.
The laptop is quite compact and fits into a regular backpack.
The laptop can be opened with one hand, however, with a weight of 2.5 kg, this is not surprising.
The bottom cover is screwed on with typical Phillips screws, so you can unscrew it even with a knife blade. The laptop has two slots for SSD-drives, by default only one is used, so you can upgrade yourself. It is also possible to upgrade the RAM to a maximum of 32 GB. Please check your memory frequency before updating. Lenovo does not economize and puts high speed. However, the same applies to SSDs.
The ventilation is standard for the Legion: it sucks in from the bottom and blows out from the sides and back. The main air flow comes out from the back, that is, it is done so as not to disturb the user as much as possible.
Screen, sound and webcam that doesn't exist
The screen has two options:
15.6 " FHD (1920 x 1080) IPS (144Hz / 5ms response time / 100% sRGB / 300 nits / Dolby Vision)
15.6 " FHD (1920 x 1080) IPS (60 Hz / 100% sRGB / 300 nits)
And here and there the screen is matte, it has a refresh rate of 144 Hz versus 60 Hz and support for Dolby Vision. Which one to choose is up to you, but if you want to save money, no one will judge. However, it depends on the type of games you are going to play. If you like competitive shooters, then, of course, you should take 144 Hz. And if the classic "adventure" like Far Cry and Assassin's Creed, then you can take 60 Hz. Still, the card in a laptop is not the top-end, so it is unlikely that in many games you will be able to beat out more than 60 fps at high settings.
The declared brightness is 300 nits. When measuring, I got different numbers. In stand-alone mode, the brightness is 285 nits, when connected to an outlet – 293 nits, but taking into account measurement errors, we can say that the brightness corresponds to the declared one. The color gamut slightly exceeds 100% sRGB.
The main advantage of the screen is its anti-reflective matte coating, thanks to which you can safely sit and work in the park with your laptop, even on a very clear and sunny day.
I have a 144Hz laptop on my test. This refresh rate is noticeable even in the interface, and especially when working with text.
One Friday I decided to buy coffee, take a laptop and go to work outside the Moscow Ring Road in nature to a reservoir called the Moscow Canal. A pleasant place, a forest, along which wooden tables with benches are placed for those wishing to sit down for barbecue. Well, on weekday mornings there is no one there, so I arbitrarily use the table as an office. And now a Skype call comes in, dedicated to the weekly editorial meeting, I answer and understand that there is no image, I glance at the top frame, where the webcam should be, and there it is empty, I stare at the keyboard in search of a hidden camera – also empty. I went to the Lenovo website and saw that there was no camera in the laptop. Probably Lenovo's logic is that you can live without a camera. And it's better to turn on Skype on your phone than on your laptop. But be aware.
But the sound in the laptop is very good. Two 2W speakers tuned by Harman. I can't call the laptop particularly loud, but the volume is quite enough to watch a movie in the park or listen to unpretentious music without bass.
Keyboard and Touchpad
Island-style 4-zone RGB backlit keyboard. That is, you can customize different colors. For some reason, it is believed that RGB backlighting is very fashionable, but I still cannot understand why this is so … Tell us in the comments if you know.
Among the advantages, one can single out a separate numeric block, clear arrow keys, separate buttons for PgUp, PgDn, Home, End, Print Screen, Insert, Delete. Purely formally, I can find fault that there is no button that imitates the right mouse button. The rest of the keyboard is beyond praise. 1.5mm key travel, quiet, excellent elasticity. You enjoy typing, your fingers don't get tired. There is a suspicion that Lenovo, probably optimizing production, borrowed technologies from the ThinkPad line, because the laptops of the last year have improved in terms of keyboards.
The touchpad has a typical dimensions – 10.5 x 7 cm, plastic, supports all gestures. The lower part is pressed through, imitating the mouse buttons. There are no complaints, as well as any comments.
Battery life
The claimed battery life is up to 7.7 hours. There is nothing to be surprised at. Lenovo has Yoga ultrabooks with characteristics similar to Legion – a similar battery size, the same processor, only the discrete graphics are weaker, GTX 1650, not 1660 Ti, as here, however, without an outlet, the laptop everything works on an integrated solution from Intel. By the way, for example, Lenovo Yoga Creator, about which a review was recently released, has a 70 Wh battery, GTX 1650, i7-10750H processor, 16 GB of memory. In this case, it is announced up to 13 hours of work. And the Legion 5P has an 80Wh battery.
It is clear that it also depends on the components, for example, the laptop has high-speed RAM and a 144 Hz screen, but in general:
in typewriter mode in economy mode with a screen at maximum brightness with Wi-Fi 5 GHz, you can get 9.5 hours of work;
If you use it also in typewriter mode, but select "better battery" in the settings, the screen will glow brighter and the operating time will be 7 hours 45 minutes;
In "better battery" mode, screen at maximum brightness, Microsoft Edge browser, YouTube 1080p video, the battery life will be 5.6 hours;
In the maximum performance mode – 1.5 hours.
The laptop relies on a 230W power adapter. Lenovo now has a new compact PSU design, but it's still bricks. In this case, the weight with wires is 850 grams. Thus, the total curb weight of the laptop with the adapter and cables is 3 kg 350 grams. In general, a relatively mobile device turned out.
It is also useful to note that the laptop has a proprietary Lenovo Vantage application. There you can turn off the Always-On port, turn on fast charging (really 80% in 1 hour, and almost 2 hours on a full charge), and there is also a battery saving mode when the laptop keeps the charge at 50-60%. Almost all manufacturers have the option to save the battery today. I like the Lenovo app for its consistency and simplicity. For example, Dell has a lot of small applications (one for power, another for updates, etc.), and the save option is hidden under the settings.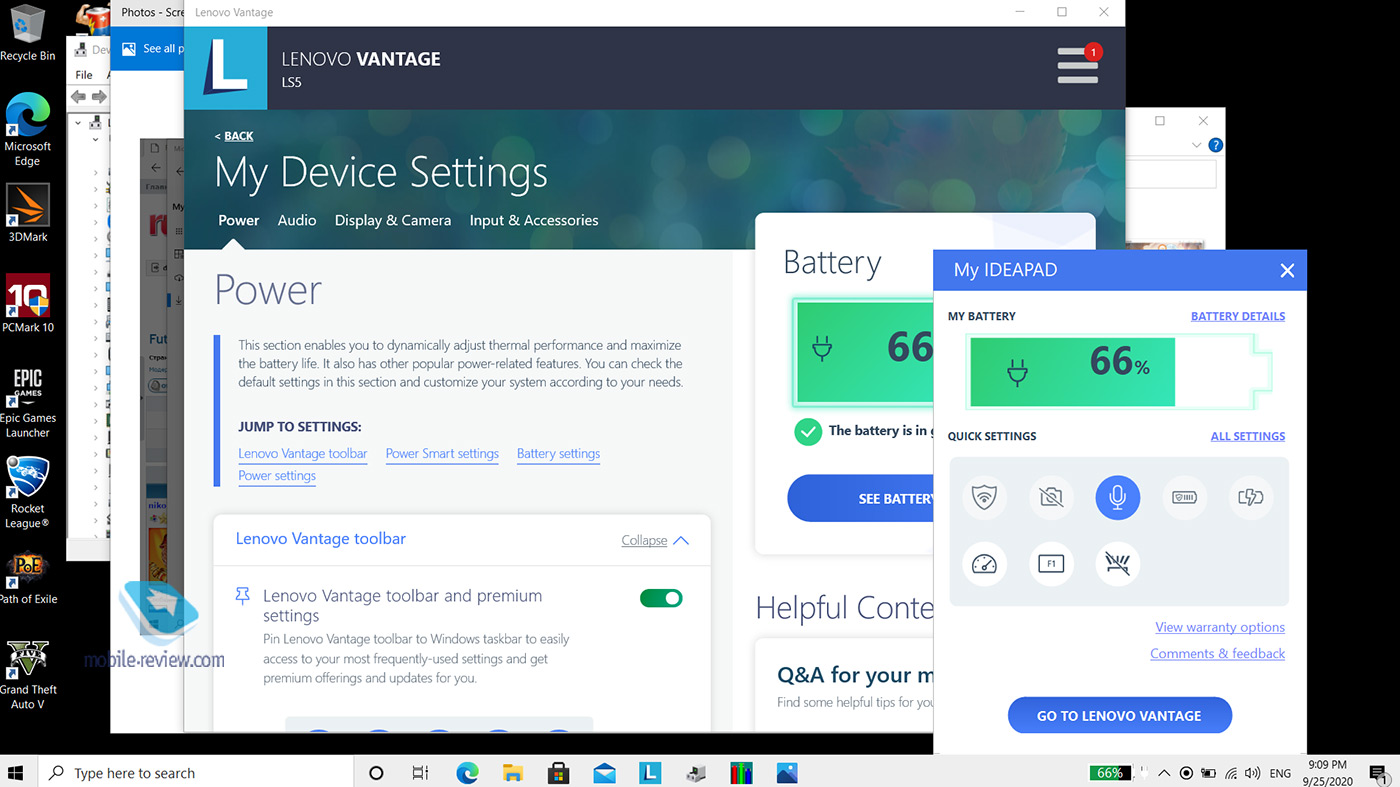 Lenovo Vantage can be displayed on the taskbar and easily enable battery saving or fast charging mode, control function keys, and more.
Performance
So, the 6-core Intel Core i7-10750H, 3200 MHz RAM and 16 GB in volume, a discrete GeForce GTX 1660 Ti card are responsible for the performance.
As usual, at the end there are screenshots of benchmarks, but for now, point by point.
Before moving on to performance, I will say that it is disgusting to issue a gaming laptop with 256 GB of memory for the test. Type install-check-delete-repeat. And in order to install Microsoft Flught Simulator, I had to clean almost everything from the computer, but the game did not fit. I strongly dislike this behavior and express my protest!
The laptop has a low noise level, at maximum load – 51 dB, in office mode the laptop is silent.
The wrist areas stay cool even with maximum stress. The top right side of the laptop gets hotter. But this is not the scorching heat that I recently encountered when testing high-power HP and Dell (there is a combination of thin cases and top-end RTX graphics). Here measurements with my Chinese thermometer showed a maximum of 44 degrees.
The power supply heats up to 48 degrees.
The SSD is only 256 GB, but this is a Samsung drive, therefore, the maximum performance indicators. Who is the manufacturer of disks for other models, you have to look each time manually, as it happens that SSDs of different brands go to one model. Check with AIDA64 for example. Try to choose Samsung.
The laptop passed the stress test well. Under load, performance does not sag, and the laptop does not overheat.
Performance measurements in games:
Assassin's Creed Odyssey (ultra quality) 64 fps
The Witcher 3 (ultra quality) – 60 fps (unfortunately, in the game 60 fps is the maximum limit in the settings, which cannot be disabled
Detroit Become Human (ultra quality) – 60 fps (unfortunately, in the game 60 fps is the maximum limit in the settings, which cannot be disabled)
Impression and competitors
In my opinion, the Lenovo Legion 5, 5P, 5Pi line is one of the most interesting offers on the market in terms of price-performance ratio, especially if you approach business correctly. For example, Yandex.Market Moscow shows that a model with a 87th generation i5 processor, 10 GB SSD, 512 Ti card (1660 GB), but 6 GB of RAM is available for 8 thousand rubles. Accordingly, the matter is small – to buy another high-speed memory bar, since Lenovo promises that laptop upgrades do not affect the warranty, provided that they did not cause a breakdown. A separate plus of this laptop is the presence of a second slot for an SSD drive.
Despite the fact that Legion is a gaming brand, I recommend that anyone looking for a powerful and portable laptop should take a closer look at these laptops. Of course, Lenovo has the same Yoga that has similar specs, with the laptops optimized for better battery life, plus a touchscreen. But they also cost more.
Perhaps the main competitor for this laptop is the HP Pavilion Gaming 15. Not a gaming brand initially, but HP needs affordable gaming laptops, and the company does not want to drop the OMEN brand. There are various combinations, but prices are comparable.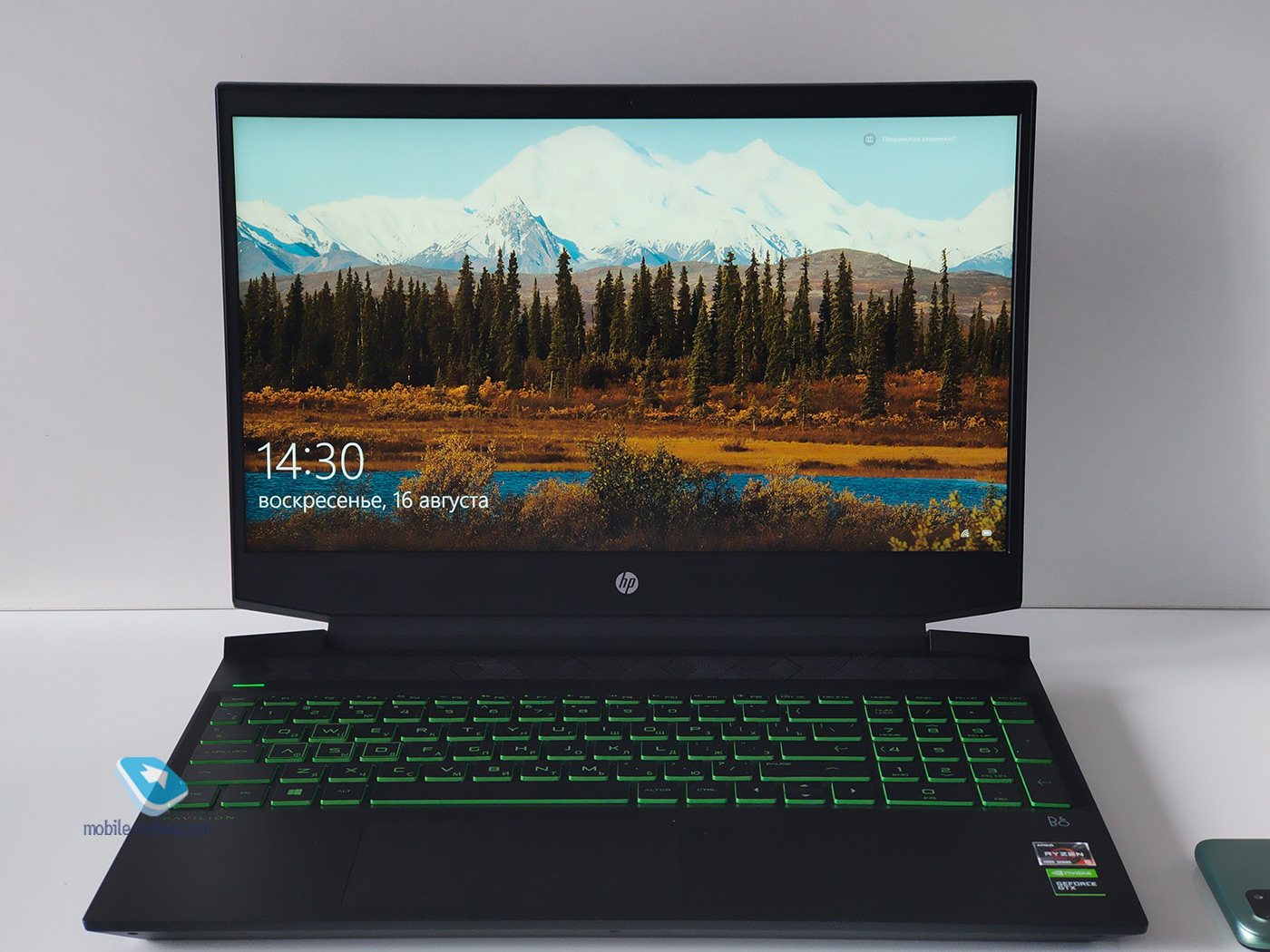 Another competitor is Dell's G3 series. But there are 9th generation processors from Intel, which, however, is no worse, but the price is from 75 thousand rubles and there is even a slot for SD-cards. But Wi-Fi 5 and less battery life. The screen is also 144Hz. Dell G3 will appeal to those who do not like the design with a "tail" behind the screen. In any case, I recommend not buying laptops blindly based on performance alone, since, for example, Lenovo's tactile (case, keyboard, overall design) feels like a more expensive laptop than the G3 and Pavilion.
Back to content >>>
Share: 





we are in social networks:
Anything to add ?! Write … eldar@mobile-review.com