Content
Insanity level
HP ENVY AIO 32
Xiaomi MIIIW Bluetooth Keyboard
Investment
Xiaomi Mijia Sweeping Vacuum Cleaner 1C
TV series
Sony WH-H910N h.ear on 3
Nokia XpressMusic 5310
Conclusion
Insanity level
Probably due to the fact that I spend all day on the Internet and follow the news, I perceive everything more sharply than it is. But there is a persistent feeling that the world is falling into some kind of abyss of madness.
Sitting in quarantine, passes for trips to the store, days for walking (I can walk on Tuesday, Thursday and Saturday!), Playing sports only in masks, turning on the news and social networks, and there American "looters" are engaged in pogroms of a Gucci store, and in press notes that this is an ethical way to combat oppression. They say that shops are the property of whites, and blacks rob them and thus compensate for what they were not given. You go to our media, and here they are discussing nonsense of no less degree about how important it is to adopt amendments to the Constitution, otherwise gays will adopt children. Maybe this is wrong, but in principle I started to look only professional on the Internet – markets and everything related to electronics, otherwise you can go like a cuckoo.
HP ENVY AIO 32
Big, loud, bright and sensual all-in-one from HP. A gorgeous thing. It can become a home multimedia center. The 32-inch, 500 nits display with DCI-P3 color gamut is enough for gaming, watching movies, and working with images.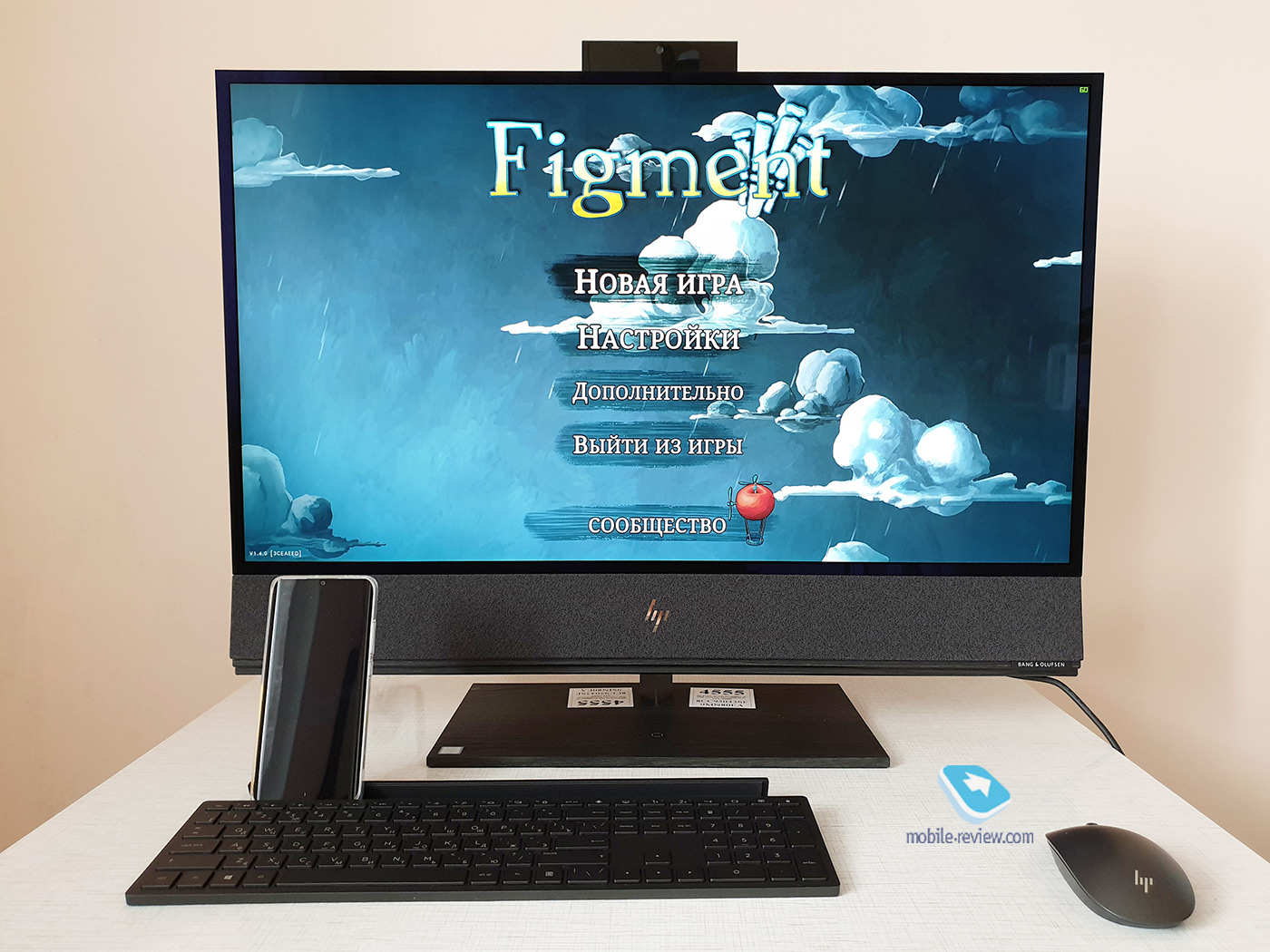 Sound from B&O. Two 8W stereo speakers and 1 woofer. The all-in-one audio system is so great that HP decided not to hide it from the world. You can connect to it via Bluetooth, like a wireless speaker, when the candy bar is turned off.
Wireless charging is built into the monoblock leg. It's such a simple, natural and convenient solution that I don't understand why it belongs to HP and not Apple.
The candy bar comes with a wireless mouse and keyboard. The keyboard (besides being ideal for typing) also has a groove in which you can install a tablet or smartphone. They will be at the optimal angle. And the candy bar also supports fast Bluetooth switching, that is, by pressing a button, you can switch the keyboard to control, for example, a tablet or a TV set-top box. By the way, in HP ENVY AIO 32 everything is thought out to the smallest detail! If I turn off Bluetooth on my home computer, then my peripherals will immediately fall off. HP always keeps the mouse and keyboard connected!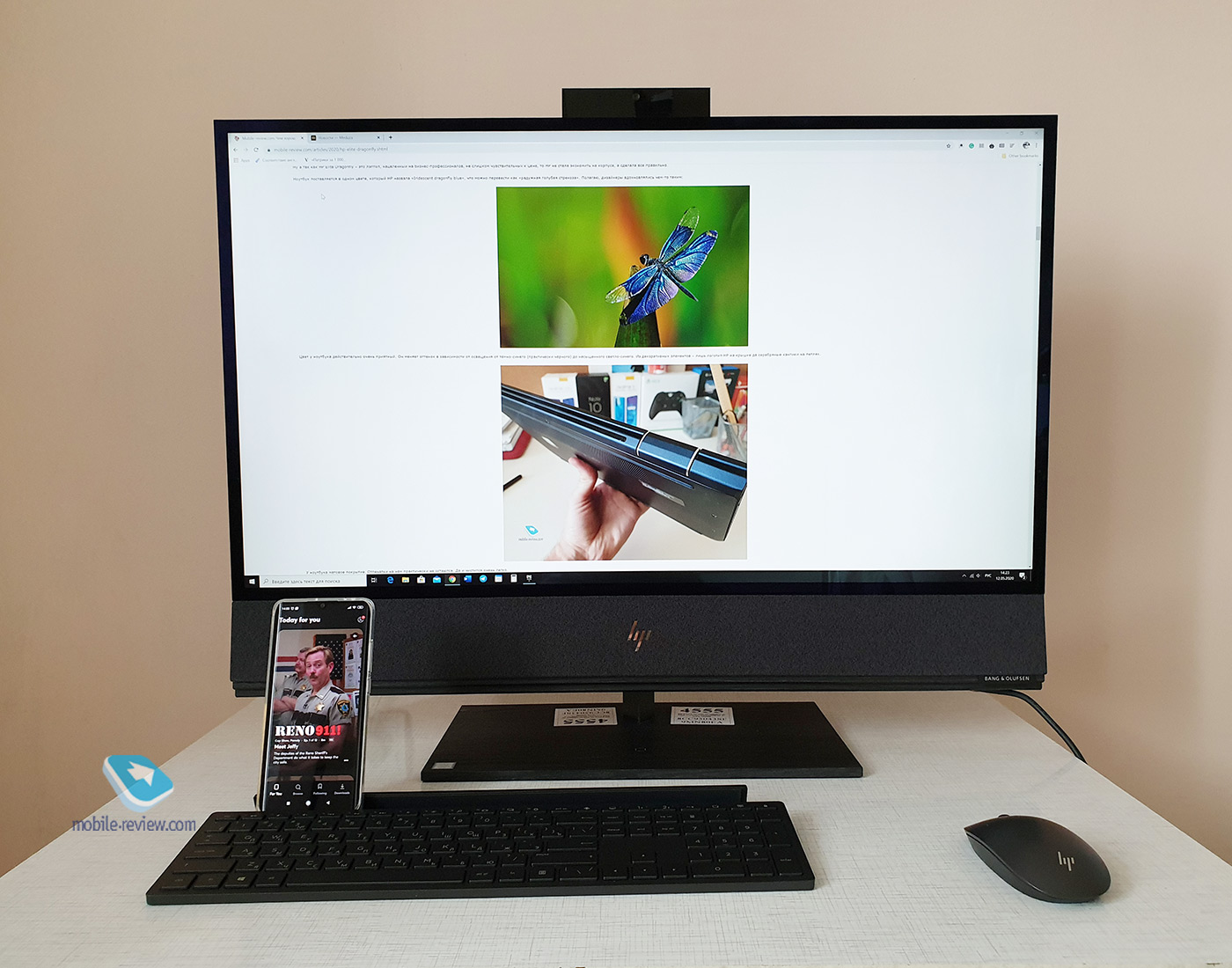 Xiaomi MIIIW Bluetooth Keyboard
By the way, in the review of the candy bar, they immediately explained to me in the comments that the keyboard is rubbish, a copy of the Logitech K480. Of course not. It does not have a separate number pad, round buttons, double arrow keys. But Logitech has the K580 and K780 models. There is also a digital block. Only worth 5 thousand! There is also an analogue from Xiaomi for 3! This is already more interesting, but still, in terms of convenience and additional buttons, it does not reach HP. But so I liked this idea with a stand for a smartphone, which, probably, Xiaomi will buy for myself.
Although, maybe Logitech should first write and ask for a test. They still have a little more experience in keyboards than Xiaomi.
The only thing that stops me from buying is that I can't touch the keyboard live. And how can you buy if you just barely printed it?
If you know comfortable keyboards with built-in stands for smartphones / tablets, then write in the comments!
Investment
To unwind, in mid-April I decided to start investing and brought some money to the stock exchange. Any undertaking must be taken as seriously as possible, so I installed monitors, laptops, and brought the trading terminal to a 32-inch HP monoblock display.
I also began to use professional vocabulary, thoughtfully to read the Wall Street Journal, Financial Times, and next to the pillow I put a volume of "Investments" by William Sharpe, which greatly puzzled the girl. In no less thoughtfulness, I brought the cashier to Dixie, agreeing to take the chocolates at a discount, explaining that it was necessary to hedge the risks due to the difficult market conditions and the increased volatility of such a scarce commodity as cocoa beans. And even somehow in the middle of the night he woke up shouting "Irwin!" And went to the kitchen to drink water. When an alarmed girl came running up behind me, I explained guiltily: "Just flashbacks, Irwin is a friend, we started together at Lehman Brothers, he didn't believe in the crisis until the very end."
And now, after a month and a half of such entertainment, I decided that it was time to take stock. Yes, and I have ceased to understand the market. There is such optimism around, as if there is neither a crisis nor a pandemic. I sold all the shares, recorded the data in the Excel table and was very happy, since, apparently, the income amounted to almost 150 thousand rubles. But I did not see this money in my personal account. It turned out that, trembling with greed, he forgot to put down the current exchange rate. And our wonderful ruble strengthened, and my dollars began to cost 30 thousand less. And when I wanted to withdraw the money, the state asked for another 13% income tax. So, why? How did it participate? They could not even keep the ruble exchange rate.
But in general, investing is fun and more profitable than a deposit. I especially enjoy reading the comments of investors.
And I know that in the comments they will explain everything to me now that it is easy and simple to make money in a growing market and you don't need a lot of mind. I will answer that if this were so, then everyone would have worked long ago and no one would have suffered, that because of the quarantine, you have to stay at home without a salary.
Xiaomi Mijia Sweeping Vacuum Cleaner 1C
I waited for so long and finally a robot vacuum cleaner from Xiaomi came to me. Moreover, it is not simple, but with a wet cleaning function! The official price of the robot is 21 rubles. But you can easily find it on Yandex Market for 990. And for this price it is beautiful and incomparable. It collects dust, can waddle with a damp cloth. Restricted zones can be set. It also looks gorgeous!
Are there any differences from more expensive robots? Of course! I will even try to make a separate article about this. But when you compare the price of a top robot for 40-50 thousand and Xiaomi for 15 thousand rubles, then all the flaws at once seem small. For example, an expensive robot can recognize a carpet and not drive into it in wet cleaning mode, but for Xiaomi you need to manually designate an area where you do not need to drive in before each wet cleaning. But with a difference in price of 30 thousand rubles, not only in the application, I am ready to say to him in a polite voice that there is no need to go there.
By the way, the review of the robot was set on Monday. Come and read!
TV series
The main series of the month are Billions, Space Forces and Through the Snow.
The first two are good because the producers are trying to make the product as relevant as possible. Agree, earlier in the series they tried to avoid any kind of timing. I mean referring to current / fashion events or technology. The same "Billions" have the opposite. The new season was filmed in December. And already in May we see it on screens. Thanks to this, the episodes contain fresh iPhone models, current agendas, and trendy characters. For example, last season they showed a Turkish chef salting steaks from the elbow, and in this one – top grandmaster Hikaru Nakamura (in the US, Nakamura has recently gained popularity by engaging in media activities – twitch, YouTube, and in general chess in the USA are experiencing a rise in popularity). As far as I understand, the general outline of the plot is initially written, and then immediately a couple of weeks before the shooting, actual references are added to it.
"Space Forces" perfectly coincided with the launch of Elon Musk. The series also plays up the current political agenda perfectly. And for once, issues of the rights of women, sexual minorities, racial prejudice are thrust into the plot. And they are not perceived as foreign.
"Through the Snow" is a gorgeous dystopian TV series. Everything is done great. The plot has been changed, so even if you watched the 2014 movie, it will not spoil the experience. If you have forgotten, I will remind you of the general idea. The planet got cold snap to minus 130 (or more) degrees. A certain Mr. Wilford invented a train for 1001 carriages, which rushes around the planet non-stop along a looped route. He will spend many decades on the road until warming occurs. The carriages have cowsheds, gardens, fish pools and much more. A well-thought-out ecosystem has been created when all the elements are interconnected. Relatively speaking, if there are no cows, then the plants will not receive fertilizers, without which the cows will wither and die without feed. The train was designed for a certain number of people, but when it left, those who did not have tickets jammed into the last carriage. The result is a classic society – the first, second, third classes and the tail car of rogue, rioting and demanding justice. The series is interesting in that, unlike the film, it clearly shows that there can be no justice, since if you let everyone out of the tail, the ecosystem of the train will be disrupted and the train will not last the planned time.
A moral dilemma arises when viewing. On the one hand, you sympathize with the oppressed. On the other hand, the most correct and rational option would be to uncouple the carriage. But this is inhuman, and if you think about it, then, most likely, I myself, if I were on the train, would definitely not be in the first grades.
All 3 series are highly recommended for watching!
Sony WH-H910N h.ear on 3
Very cool new headphones from Sony came to the test, and this is just the main sound discovery of the month.
Firstly, they are available in different beautiful colors – blue and red. And also black. They wanted to bring me black ones. But I asked for colorful ones, hinting at reds. Then Gleb called (he carries audio from Sony) and said that he would bring black ones and had already been tested by someone. And I was upset, but he came and brought the blue ones! And new ones!
Secondly, the headphones have a design! Visually, they are like the 1000th series, only more beautiful and interesting.
Third, the earbuds have intelligent noise canceling. The "ears" type are so smart that they constantly monitor suspiciously what their owner is doing and adjust the sound. For example, if you are on an airplane (how I would like to be on an airplane!), Then the headphones understand that you need relaxation – noise cancellation to the maximum. And if you are walking along the road, it is raining and a car is pouring out of a puddle, then the headphones also understand this and drown out the noise cancellation so that you can hear your own curses!
Fourthly, the battery life is 35 hours. With the "shumodav", like, 31 hours turned out. We need to re-measure, but still just super.
Fifth, noise cancellation is excellent! It is just slightly worse than the XM3. Or maybe not just a little. I haven't really been able to test it yet. But nothing, now the government has allowed me to walk within a radius of 2 km from home on Tuesdays, Thursdays and Saturdays, so let's live! On the very first available day, I'll go for a desperate walk and check my ears!
Sixth, and this is the only negative, but in fact a plus! Sony WH-H910N h.ear on 3 costs 21 rubles, and there is a special offer at M.Video now, and black Sony WH-990XM1000s can be bought for 3 rubles! Do you understand what this means ?! You can save 18 thousand by buying "ears", which are even better, and then live with that feeling!
If, after reading, you have a question "how do the headphones sound?", Then I already have a question for you: how, in your opinion, can headphones from Sony (!) Sound for 22 thousand rubles ?! Very loud, juicy and powerful!
Nokia XpressMusic 5310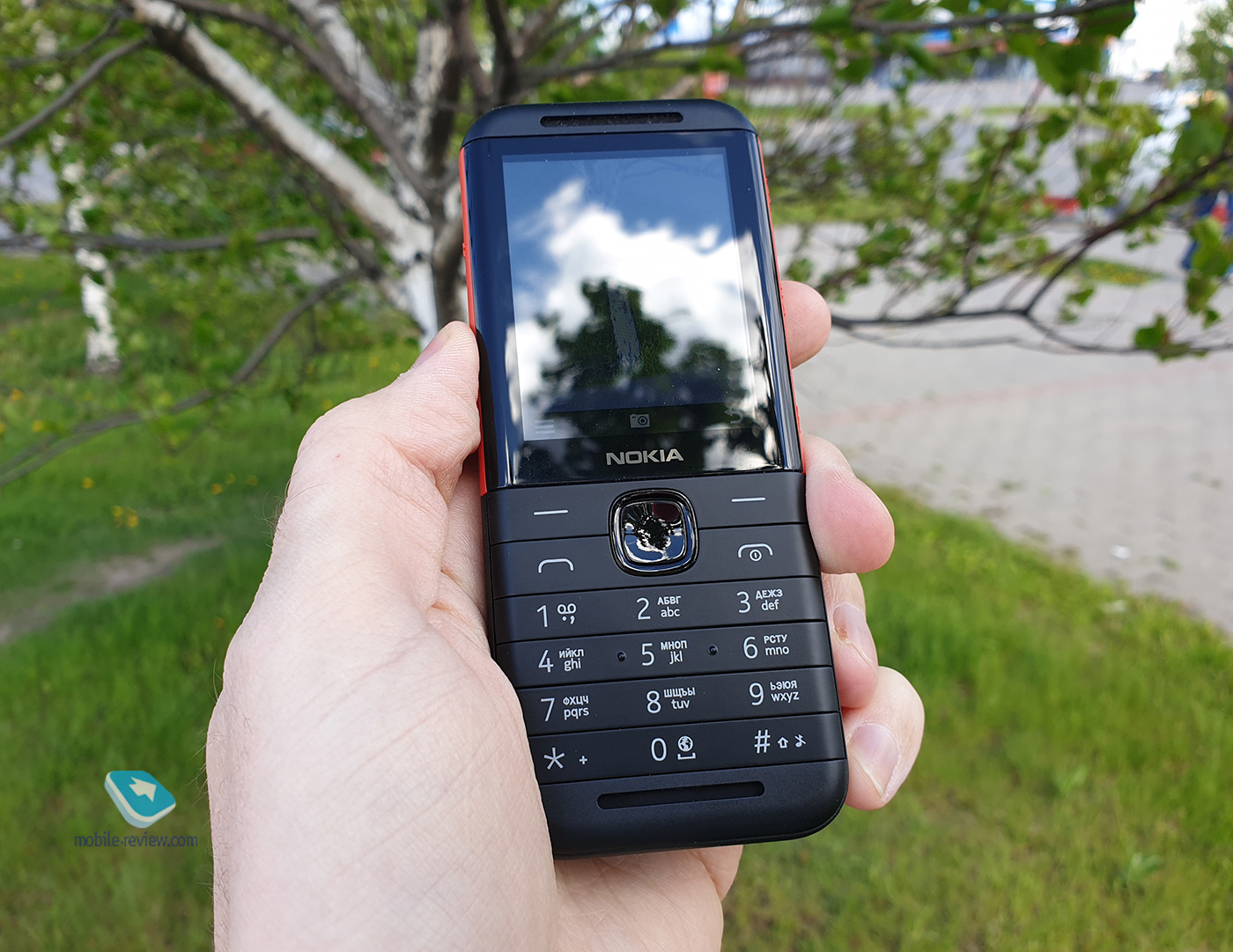 Just a little push-button telephone that brings back memories, as it was good in 2007. In my case, this is the 2nd year of the university, a lot of plans, hobbies, aspirations and energy. And the belief that everything will be fine.
Conclusion
Tell us how you remember May!
Back to content >>>
Share: 





we are in social networks:
Anything to add ?! Write … eldar@mobile-review.com