Content
Introduction
TECH SPECS
Appearance
Performance and battery life
Screen
Камеры
Conclusion
Introduction
Xiaomi has seriously captured the minds, hearts and loins of people around the world. People on the forums confess their love for the company, analyze the slightest leaks and spew out flames on various occasions.
In November, Xiaomi presented the daring semi-flagship Xiaomi Mi Note 10. An interesting smartphone that puzzled many. On the one hand, the device decisively topped the DxOMark rating, gaining a dizzying 121 points and overtaking more eminent competitors such as Huawei, Apple and Samsung. On the other hand, the Mi Note 10 was powered by the Snapdragon 730G chipset, knocking out less than 300 thousand points in AnTuTu. And it was decidedly unusual. After all, as usual – the top-end camera is paired with the top-end chipset. And all together is called the flagship. And then Xiaomi took it and said: why do you need an expensive chipset, if there is enough cheaper one for all things? You can play, watch the video, and sit on social networks. And to make the photos on Instagram look stunning, here's a 108 MP camera. And the price will be good – 39 rubles! And on sales, you can take it even cheaper. Well, people resigned themselves.
Mi Note 10 or Mi Note 10 Lite?
And six months later, Xiaomi introduced a new version of the smartphone, now with the Lite prefix. Same design, same specifications – chipset, memory, screen size and resolution, even the battery and charging adapter are the same. Only the cameras are different. It was 108 MP, and now it is 64 MP. But the price is prettier. In Russia, sales of Mi Note 10 Lite will start at a price of 32 rubles, that is, 990 cheaper than the standard version of Mi Note 7.
It so happened that due to quarantine, the version of Mi Note 10 Pro was delayed in my hands, with which, by the way, I made some interesting materials. For example, here is a general overview, and below is the competition between Mi Note 10 and a brand new mirrorless camera from a famous brand. Now let's compare Mi Note 10 and Mi Note 10 Lite and solve the traditional question that arises in one form or another whenever you deal with Xiaomi – do you need to overpay or can you save money?
TECH SPECS
Xiaomi Mi Note 10
Xiaomi Mi Note 10 Lite
Processor:
Qualcomm Snapdragon 730G (8nm), Octa-core (2 × 2.2 GHz Kryo 470 Gold & 6 × 1.8 GHz Kryo 470 Silver), Adreno 618 graphics
Operating system:
Android 10, shell MIUI 11
Memory:
6 GB / 128 GB, no memory card slot
Screen:
6.47 inches, 1080 x 2340 pixels, 19.5: 9 ratio, 398 ppi, DCI-P3, HDR10, 600 nits brightness, Always-on display, Corning Gorilla Glass 5
Battery:
Li-Po 5260 mAh, fast charging 30 W (58% in 30 minutes, 100% in 60 minutes)
Main camera:
108 MP (7P lens), f / 1.7, 25mm (wide), 1 / 1.33 ″, 0.8µm, PDAF, Laser AF, OIS
12 MP, f / 2.0, 50mm (tele), 1 / 2.55 ″, 1.4µm, Dual Pixel PDAF, Laser AF, 2x optical zoom
5 MP (upscale up to 8 MP), f / 2.0, (tele), 1.0μm, PDAF, Laser AF, OIS, 5x optical zoom
20 MP, f / 2.2, 13mm (ultra wide angle), 1 / 2.8 ″, 1.0µm, Laser AF
2 MP, f / 2.4, 1/5 ″, 1.75µm (macro camera)
64 MP, f / 1.9, 26mm (wide), 1 / 1.72 ″, 0.8µm, PDAF, Laser AF
8 MP, f / 2.2, (ultra wide angle), 1 / 4.0 ″, 1.12µm
5 MP, f / 2.4, (depth)
2 MP, f / 2.4, 1/5 ″, 1.75µm (macro camera)
Front camera:
32 MP, f / 2.0, 0.8μm
16 MP, f / 2.5, (wide), 1 / 3.1 ″ 1.0µm
Sim card:
2 Nano-SIM
Network and data transmission:
GSM 900/1800/1900, 3G, 4G LTE, Wi-Fi 802.11 a / b / g / n / ac, 2.4 GHz + 5.0 GHz, Bluetooth 5.0, A2DP, LE, aptX HD, A-GPS, GLONASS, GALILEO, BDS, NFC, IrDa, USB 2.0 Type-C, OTG function
Sensors:
fingerprint scanner (under the screen), accelerometer, gyroscope, proximity, compass
Other:
there is a 3.5 mm jack, there is a radio, there is no water protection
Materials:
Gorilla Glass 5 + aluminum frame
Dimensions:
157.8 x 74.2 x 9.7 mm, weight 208 g
Appearance
About the appearance of the new Mi Note 10 Lite in the official press release they write: "With a 3-inch 6,47D curved AMOLED display, the Mi Note 10 Lite exudes premium in every detail." However, like the Mi Note 10, as both smartphones are made of Corning Gorilla Glass 5 and an aluminum frame.
Mi Note 10 Lite on the right
However, despite the similarities, smartphones are different. The frame of the older version is shiny, glossy. And the younger one has a matte finish.
The second notable difference is the camera block. Mi Note 10 has as many as 5 powerful cameras that stick out of the body. Because of which, the smartphone cannot even lie flat on its back, slightly tipping on its side. But the "light" version and the cameras are smaller, and in general they are simpler, so the company was able to place them so that they practically do not protrude.
The bottom and top ends of the phones are identical.
The controls are also arranged in the same way. And the dimensions are identical. If you wish, you can put on a cover from the younger one on the older model and even use it. Only the 5th wide-angle camera will be covered by the case. And you will notice the difference if you want to shoot something for "shirik".
If you look at the front panel, then smartphones are twin brothers, but you can tell one from the other. They have slightly different screens, and we'll talk about that in the next section.
In general, it is easy to distinguish Mi Note 10 from the "light" version from afar, if you know that each model has its own colors. Despite the fact that, according to Xiaomi, the premium quality of the Mi Note 10 Lite shines through in every detail, the most juicy colors – stunning white and luxurious green – were left to the older version.
The youngest got her own color scheme. The colors are pretty too. By the way, the white version will probably be similar to the older model, although, in my opinion, it lacks that pearlescent refinement. But my favorite is green. I remember that at one time I overpaid 5 thousand for a Samsung Galaxy S6 in this color. I even had to take the "gray" version, but it was worth it! And I still glance fondly at the S6 as I pass the shelf.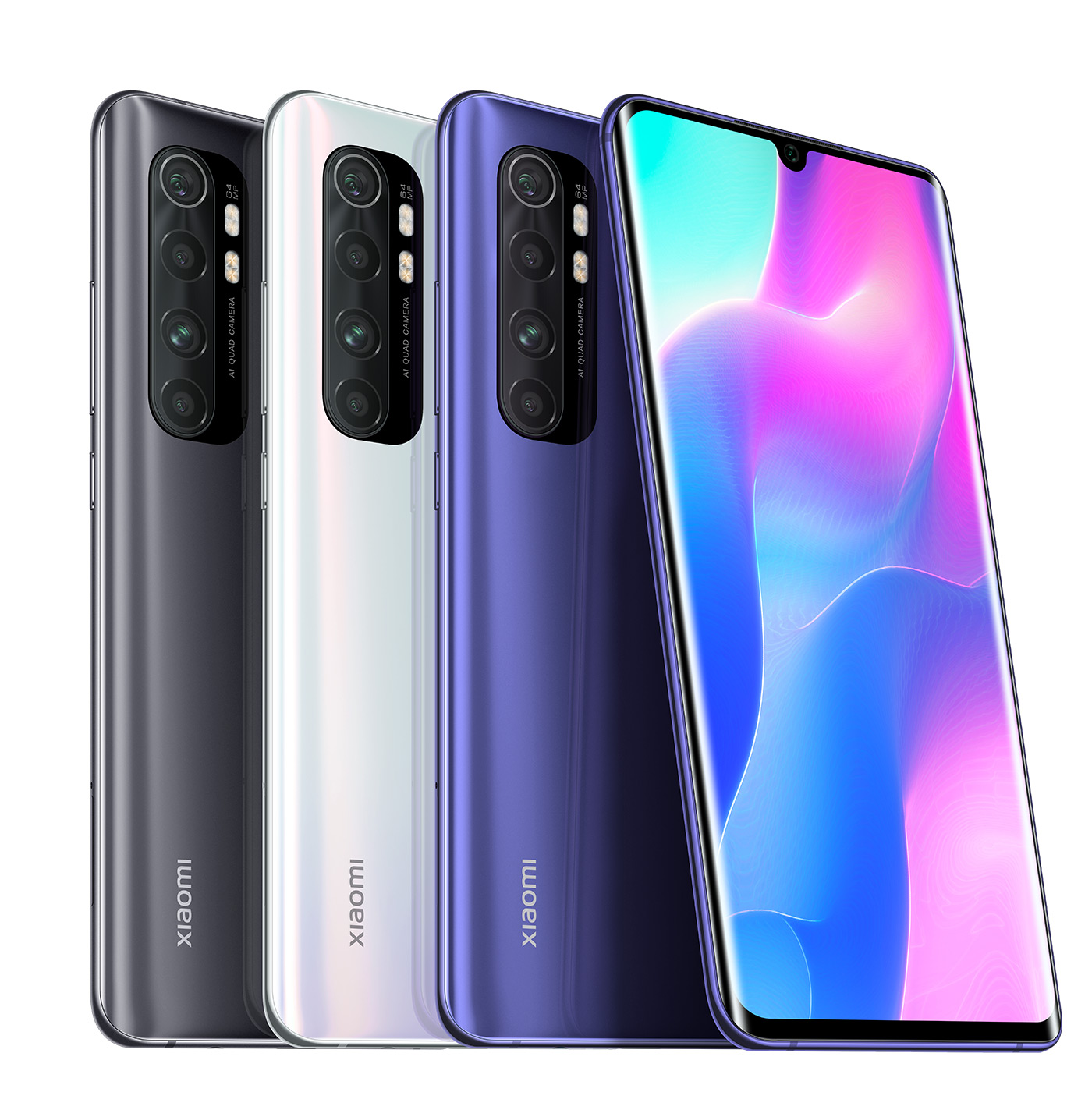 Performance and battery life
Formally, smartphones are the same: Qualcomm Snapdragon 730G (8 nm), Octa-core (2 × 2.2 GHz Kryo 470 Gold & 6 × 1.8 GHz Kryo 470 Silver), Adreno 618 graphics, 6/128 GB of memory.
Well, informally, they are the same too. The devices showed the same performance in all classical tests. The "light" version has a slightly higher score. I associate this with the fact that the smartphone is only out of the box. And Mi Note 10, which I have as a test device for all sorts of applications and has never been cleaned of debris, is slightly jammed.
Mi Note 10 Lite just arrived to me, so I could not carry out a full test of battery life, but there is no visual difference. Relatively speaking, in Mi Note 10 there is 3% for a game session in Call of Duty Mobile, that in Lite.
Screen
Looking at the smartphone screens with the test results, I think you, like me, noticed the difference, despite the fact that the screens are formally the same – 6,47 inches. They have the same 1080 x 2340 resolution, HDR10 support and even the same maximum brightness. In manual mode, 450 nits, and in auto mode, screens with the declared 600 nits "accelerate" to 620 nits.
Both smartphones have the same 100% Dci-P3 color gamut. But the Lite has a slightly warmer screen. This is noticeable only at an angle. You don't need to think about it. Probably just different suppliers of components. It's just a fun fact.
Камеры
Cameras are the only different element in smartphones. It is the 108 MP camera with 7 lenses in the Mi Note 10 that should prompt you to pay 7k more compared to the 64 MP in the Mi Note 10 Lite.
So let's start with the basics. The cameras have a similar interface. With the only exception that the macro mode in the Lite version was sent to the top, and in Mi Note 10 it is started by scrolling. And yes, the "light" version has a black screen, and the Mi Note 10 cannot lie flat on a white table.
Despite the different locations, smartphones have the same macro cameras – 2 MP, 1,75 microns. The macro camera system of the Mi Note 10 series is quite interesting. In a recent article, I was in awe of what kind of 5MP macro camera the Redmi Note 9S has.
By the way, if the "light" version came out with such a 5 MP camera, it would be super. But the Mi Note 10 line has its own macro bargaining chip up its sleeve. For example, in the older model, a 20 MP wide-angle lens helps the macro camera to take high-quality pictures. I could not find such information about the "light" version. But I think that there is a similar technology in "light".
The results are amazing. The "Light" version, for my taste, makes macro shots better. Even when shooting, the smartphone focused a little faster. This is especially noticeable on blue flowers. Also, the white balance is better if you look at the pine shoots. The photo of pine moss is also clearer. But I like the dandelion more in the older model. Perhaps the whole point is that an additional update arrived on the Mi Note 10 Lite the day before the text, but it has not yet arrived on the regular Mi Note 10.
Another difference in the interface, besides macro photography, is the lack of a powerful optical zoom in the "light" version. The Mi Note 10 has 5x optical zoom and 50x digital zoom. The Mi Note 10 Lite only has a 2x zoom.
By the way, when increasing, algorithms are first of all important. When the plate is enlarged, it is not even visible on the screen what is written there. In the final picture, however, too little can be made out, but the AI ​​has done its job, and some letters can be seen.
Night shooting is a mode where Mi Note 10 should have an undeniable advantage – more sensor, more light. And this is noticeable, even on the screen, the pictures look different.
Mi Note 10 Lite screen
Mi Note 10 screen
Here are examples of night shots for each of the smartphones. Three frames were taken – a regular photo, a photo in maximum resolution (108 MP and 64 MP), night mode.
Mi Note 10 is the king of night photography. I would like to draw your attention to the fact that when it comes to beauty, you need to choose the night mode. The photos are much more interesting. But if details are important, then the maximum resolution mode. Mi Note 10 allows you to read what is written on the sign.
My Notes 10
Note me 10 Lite
Let's move on to regular daytime photos. AI disabled, HDR in auto mode.
Undoubtedly, the Mi Note 108 has an advantage in 10MP mode. However, I liked the algorithms for processing photos in "light" more.
Note me 10 Lite
My Notes 10
There is parity in portrait photography.
In the photo I am at the same distance from smartphones. So in this regard, I liked the "light" more, since it allows, for example, to take a portrait on the main camera, stretching out his hand. When you use Mi Note 10, only the "booth" fits into the frame from the distance of an outstretched hand.
The selfie camera of the Mi Note 10 Lite is formally 2 times worse in terms of characteristics. That's noticeable.
And finally, I must say that photos of flying planes on both smartphones are excellent.
Conclusion
Mi Note 10 Lite is really a very interesting solution. When it comes to detailing images, he is, of course, inferior to his older brother. As in matters of night photography. But if you mainly send photos to Instagram or watch from TV, then perhaps you shouldn't pay extra? Let Mi Note 10 buy photography, those who want the most from the camera. You can buy a slightly simpler device, but for 7 thousand … Well, I think everyone will figure out how to spend the extra money.
By the way, at the presentation it was announced that from May 29 to June 7, the first buyers of Mi Note 10 Lite will receive a Redmi 8A smartphone as a gift. This is a budget device, which is sold like this for 8 thousand rubles.
Back to content >>>
Share: 





we are in social networks:
Anything to add ?! Write … eldar@mobile-review.com