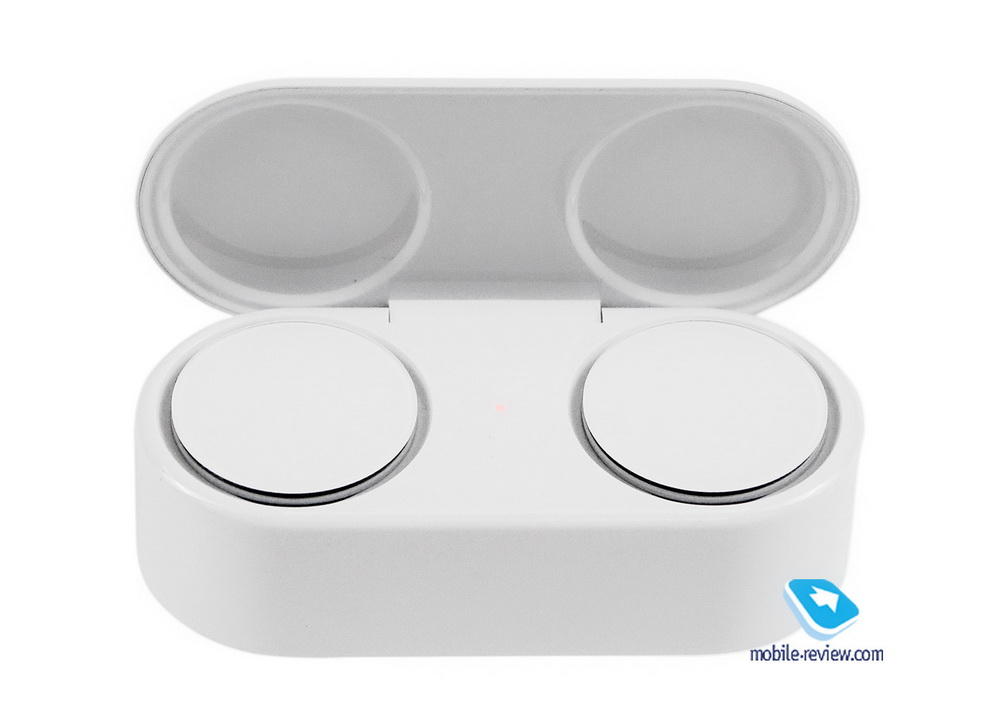 Contents of delivery:
Headphones
Case-charging
Silicone earbuds in three sizes
USB Type C cable
Instructions
Specifications:
Case dimensions – 75×33.2×25 mm, weight – 40 grams
Earphone diameter – 19.9 mm, weight – 7.2 grams
Color solutions – white or gray
Two microphones in each earpiece
13.6 mm driver, frequency 20 Hz to 20 kHz
Touch controls on each earbud
Bluetooth 4.2, one device
IPX4, sweat proof
SBC Codec, AptX
Working time – up to 4.5 hours during a call, up to 7 hours of listening to music
The case allows you to get up to 24 hours of work
Imagine that you are a huge ancient creature living somewhere under a snag in the depths of a lake. You almost remember how this lake world arose, how other creatures grew around you, and you remained one of the main inhabitants of this world. We can even say that you set fashion, someone was afraid of you, someone copied, but you did not leave anyone indifferent. The world was gradually changing, newcomers mastered new niches, someone began to crawl out on land in between, there was a huge world in which you decided to find a place for yourself. But pride did not allow you to see how others do it, and so you began to reinvent the wheel where you could copy a lot from your predecessors.
Talking about Microsoft hardware, you can't help but smile. The development team is not just lagging behind the market, it seems that this is an almshouse, which gathers everyone who has been refused elsewhere. Even small Chinese factories producing copies of the same AirPods refused. Otherwise, it is impossible to explain the fact that Microsoft launches devices so late in comparison with competitors and they are so mediocre. Beautiful marketing phrases hide emptiness and desolation, and the technical stuffing often does not correspond to the market level.
It so happened that I already spoke in detail about production and flaws in it using the example of Surface Earbuds, the text turned out to be large. There is no point in repeating it, I just ask you to read it if you have not.
Here I will focus on what Microsoft did with their first TWS headphones and why it turned out so ugly. But I'll start with the statement that Microsoft engineers are so brilliant that they never look at competitors, they "invent" everything almost from scratch. I can vividly imagine a picture in which they are forced to forget their experience with AirPods, imagine that they are creating a new, unique device, and apply their solutions. And also do not pay attention to the fact that there is an already established niche on the market. So, this summer, Surface Earbuds came out for $ 250, which looks like at least a bold statement from the madmen, because for this money, TWS noise canceling headphones are offered, which Earbuds does not have. What's more, simple AirPods of the same specification cost 50% less! In the same America, these are the most popular TWS-headphones, and it is at least silly to ignore their presence. But Microsoft, as usual, lives on its own wave.
It's hard for me to imagine a portrait of a Surface Earbuds buyer. No, seriously, think for yourself, who is it? A Microsoft fanatic who can't see the world around? The man who was taken to a Microsoft store at gunpoint and forced to give up his money? I don't know and I cannot guess. But I am sure that the sales of these headphones leave much to be desired. Even after dropping to $ 200, they are out of the market, completely separate from it.
See how unusual the headphones are, how they look in your ears.
Or here is such a display of headphones in the ear, I specially took an official photo so that there is no doubt about how engineers and designers see their offspring.
Let's take a closer look at the earbuds to appreciate their construction.
Somehow, these headphones reminded me of the tunnels that young people insert into their earlobes, perhaps the associative array is simple – round pieces, an ear. The earbuds are large, clearly visible, and at the same time they are quite securely fixed in the ear canal. When running, they will not slip out, when shaking their head they will also keep in place. Someone may get the deceptive impression that this is not so, but this is an illusion. The headphones fit snugly, you just need to choose the right silicone earbud, they are included in three sizes.
The earbuds are IPX4 waterproof. In fact, this is protection from sweat, nothing more should be expected from them, but it potentially allows you to run. Knowing the genius of engineers, I would not expect that those who run will live long, there is no reason to believe in this.
There is almost no passive soundproofing, you can hear ambient sounds and hear them well. Active noise cancellation was not added here either, but it seems that this is space for Microsoft, since all other technologies are at the level of the first TWS headphones. The first is the size that allows you to use almost any component, there are no restrictions. There is only one 13.6 mm driver, which is neither bad nor good. But there are only two microphones on each earphone, which makes them far from the best as a headset on a noisy street. You hear the interlocutor through the veil of the city hubbub, he hears your voice is not very clear. You are on the same wavelength! As a headset, the headphones are good indoors, there are no questions for them. But any wireless headset from the most unknown manufacturer has exactly the same skills, and here we have Microsoft!
There is a hole along the edge of the earphone. What looks like a design decision is needed to get the earphone out of the case. Ergonomics is something that Microsoft designers skipped in class in their schools. Look at how the headphones are in the case; you can get them only by prying the edge with your fingernail. It is not comfortable! They are magnetized, and even shaking them out on your hand will not work.
Each earphone is perfectly round, you can put them in the case right and wrong! I would like to cry over the logic of the creators, they left users no chance, the earpiece can perform!
And the case itself was made amazing: a light lid, which is inconvenient and can break off on impact. The inability to open the case with one hand and comfortably get the headphones on the go, as well as hide them. They become an accessory that requires more attention, and this is a very bad design for an everyday item.
There is one indicator inside the case, it shows that charging is in progress. Designers and engineers stuck it, simply because others have something like that, and why they need it, they did not understand. To begin with, in TWS headphones, an indicator is needed to understand that you have charged the case, and therefore it is located outside, there is no need to open the lid. Here either they saved money, or forgot where it is needed – the indicator is only inside.
Further – more, it cannot show the charge level of your headphones, it just shines. For example, in my Galaxy Buds Live, when I open the case, I see a green light, the headphones are fully charged – there is just a light right there, and there is no sense from it. Rather, it is a signal: we are still alive, we are still fighting!
The case is striking in that you can only charge it with a cable, wireless charging was not added to it! This is a very complex, simply impossible technology for Microsoft in 2020, it will take engineers a year or two to invent such a charger and add it to their devices. I want to hug these unfortunate engineers who are disconnected from the Internet, cry with them.
The full charging time of the case from the wire (and there are no other methods!) Will be about two hours. Microsoft says you can get up to 4.5 hours of battery life on a call, up to 7 hours of listening to music. I got about 4-5 hours on average, listening to music more than talking. Yes, the operating time is not a record, but it is quite comfortable for everyday use.
I would like to say a few words about touch control, each earphone has a large panel that is easy to find. Tapping pauses music or starts playing. But the rest of the controls are separated between the headphones, so the volume control is in the right ear, swipe up or down. Fast forward and rewind – on the left earphone. You can cope with adjusting the sound level, but jumping between songs works strangely, you need to find and feel how to do it, the first time only few people succeed. By holding your finger on the earpiece, you can call the voice assistant.
They saved a lot on the sensors in the headphones (more precisely, the engineers do not know that this is possible), take out the earpiece and hear how it continues to play. A trifle, but unpleasant. Interestingly, the volume level was limited to 108 dB, since at a higher volume it is already physically unpleasant, but external noises still cannot be completely muffled.
Sound quality? It is typical for such headphones from C-brands, somewhat reminiscent of AirPods – like a headset ok, for listening to music the experience is at least strange. There is almost no bass, high frequencies are cut off, there is no clarity of reproduction. You can listen to music, but the quality of this music is average regardless of what the source is.
The Surface App lets you see your battery level and adjust equalizers. There are no advanced features here.
Support for SBC and aptX codecs is sufficient, all the same, headphones cannot reveal the sound of the compositions. The fact that Bluetooth 4.2 is here is surprising, and Microsoft has not added simultaneous work with two devices, fast switching between them.
This product surprised me and amazed me at the same time, at a cost of $ 200 (in Russia, the gray market is 21 thousand rubles), this is some kind of misunderstanding. You can stand out with these headphones, but you can't enjoy using them. The price is prohibitive, the possibilities are minimal, and it is simply impossible to compare this model with the current generation of TWS headphones. Microsoft needs a time machine because their products will be successful in the past, before there were competitors. The company's engineers are simply incapacitated and demonstrate this, including at the level of this headset, it was even difficult to make it worse on purpose.
We thank surface-pro.ru for the provided device.
Related Links
Share: 





we are in social networks:
Anything to add ?! Write … eldar@mobile-review.com