Content
Contents of delivery
TECH SPECS
Positioning
Design, dimensions, ergonomics
Setting up the clock on a smartphone, how to manage it
Performance, battery life, chipset
Price and conclusions
Contents of delivery
Watches
Leather strap
Charger with USB Type C cable
Instructions
TECH SPECS
Diameter, thickness
43.5mm, height 14.4mm, standard straps 22mm
Body materials 
Stainless steel, black DLC coated stainless steel or titanium;
Back cover – glass and fiberglass polymer;
Sapphire crystal
Display
1.28 inches, round, AMOLED, 390 x 390 dots (312 ppi), auto brightness
Operating system
Wear OS
Platform
Qualcomm Snapdragon Wear 3100, Quad-core ARM Cortex A7 @ 1.2GHz, separate DSP for watch QCC1110, Adreno 304 GPU
Memory
1 GB RAM, 8 GB ROM
Wireless Interfaces
Wi-Fi b / g / n, Bluetooth 4.2
eSIM (LTE B4, B13, B2, B5 (CAT 1 Single Antenna)
Navigation
GPS / A-GPS
Sensors and Connectors
NFC (Google Pay support), accelerometer, proximity sensor, light sensor, barometer
Battery
Li-Ion 440 mAh, operating time in smart watch mode – up to one full day, in watch only mode – from 3 to 6 days, charging time – less than 3 hours
Degree of protection
IPX8
Positioning
Montblanc launched the Summit 2018 at the end of 2, the main task was to provide a smartwatch for those who want a product not from a manufacturer of mass electronics, while maintaining the Montblanc ideology. It is clear that the filling of such a watch could not be on a par with Apple, Samsung, since the company has much less experience in electronics. But the beauty of the modern market is that you can create smartwatches on a standard platform, in this case, Google's Wear OS, not the best solution, but there are simply no other solutions for independent manufacturers.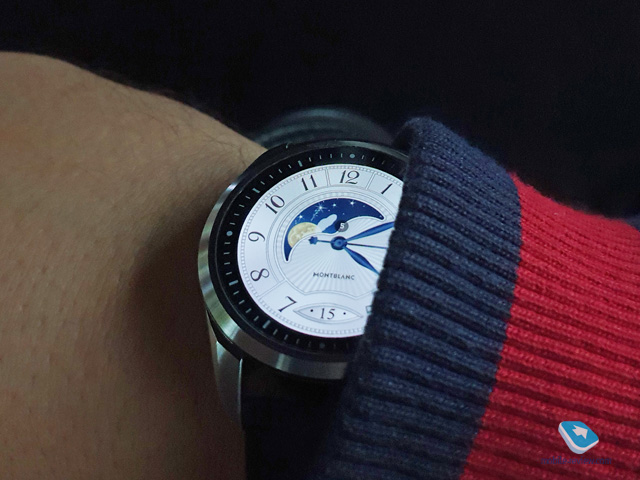 The Summit 2 model turned out to be quite successful for its segment, so the company decided to extend the life cycle of these watches and expand the model range by adding a model with the Plus prefix. The decision not to change the number to three looks logical, since the Summit 2+ is a slight improvement on the previous watch, and both models are sold in parallel. The new watch added support for eSIM, a speaker, increased the battery and screen, slightly increased the case and changed the design for different elements. It is impossible to say that this is a fundamentally different watch in spirit and perception. But in the end, this is an additional model that can be chosen based on characteristics, as an option – cost, the latter, for obvious reasons, is higher.
Let's take a look at the watch and evaluate its capabilities.
Design, dimensions, ergonomics
The previous model had a diameter of 42 mm, but due to the height of the case it looked noticeable enough for a man's hand, the watch looks good. My son appropriated the watch and periodically noticed that it looked good on his hand. So funny is the perception of the same thing on yourself and on another person, it is strikingly different. The angle of view on your hand is completely different, it is extremely difficult to adequately assess how this or that thing looks.
Now the diameter is 43.5 mm, as the screen diagonal has grown a little. This is a nice change for me, I'm used to massive watches. Summit 2+ looks great and suits both a suit and a casual style. It is important to make a reservation here that the Montblanc brand itself has a noticeable number of fans, but it is not the largest watch manufacturer, they love the brand for notebooks, accessories, for example, pens or backpacks. But there are fans of the brand who are happy to consume other goods, the same watches. Montblanc has never aspired to conquer the whole world, they have their own well-developed niche in which the company feels great. Those who choose Montblanc watches almost always say the same thing – we didn't want to choose a mass brand, we are interested in the watches being unique in design and perception. Summit's style can be safely described as a classic that differs from conventional smartwatches. Check out what Samsung's Titanium Watch 3 and this watch looks like.
It is curious how electronics and its popularity intrude into the standard dimensions of the watch industry that are familiar to us. Typically, watchmakers provide protection against water, measured in atmospheres (optionally in bars). When you read that the watch can withstand 5 ATM, it is clear that in such a watch you can swim, dive shallowly. In the 80s, Casio did a harmful thing – to emphasize the protection from water in their G-Shocks, they drew a sign and boldly wrote there that 5 ATM protects exclusively from splashes, you cannot swim in such a watch. In the original version, there was even a footnote as to which watches at Casio were considered substandard, and these were incomprehensible brands that used the designation as marketing, but in fact did not have any protection. Normal brands had such protection, but gradually the perception took root in society that 5 ATMs did not allow diving.
Montblanc, as well as hundreds of other companies, are tired of explaining that their watches can withstand immersion in water, so the Summit 2+ does not indicate pressure, but a rating of water resistance, here it is IPX8. That is, the watch can withstand immersion in water, it is not worth diving in, but nothing will happen to it at a depth of one meter. It is easier not to fight with some delusions, since it is still pointless, too much energy consumption. When a person has learned something wrong, he will not relearn in most cases, but will leave everything as it is. Do you know how many people think that "parachute" should be written differently? Their darkness, and this is only one illustration of this phenomenon.
Refreshing color schemes is something that can be done painlessly, and that's exactly what Montblanc did (gold, bronze, black and steel, the latter I just had).
The bronze case with the green strap is very similar to the Longines Legend Diver, which I honestly like in terms of style. They are similar in size, Longines has a diameter of 42 mm, but they are smaller in profile, which is understandable.
The first change that catches your eye is the swivel head, now it has the enamelled Montblanc emblem, it is clearly visible, and it's cool.
There is a speaker on the other side of the watch, it was not there before.
The inner surface of the watch is now plastic, there is no glass insert.
There are also four contacts for charging, this is the first difference from most smartwatches, where charging is wireless. A kind of tribute to the past, the charger is simple, on a magnet that sticks to the body.
The clasp has rectangular keys, not round ones, this did not affect the convenience and ergonomics.
The watch fits well on the wrist, the leather strap is excellent.
The straps are standard, 22 mm, there are a great variety of them, there are metal straps.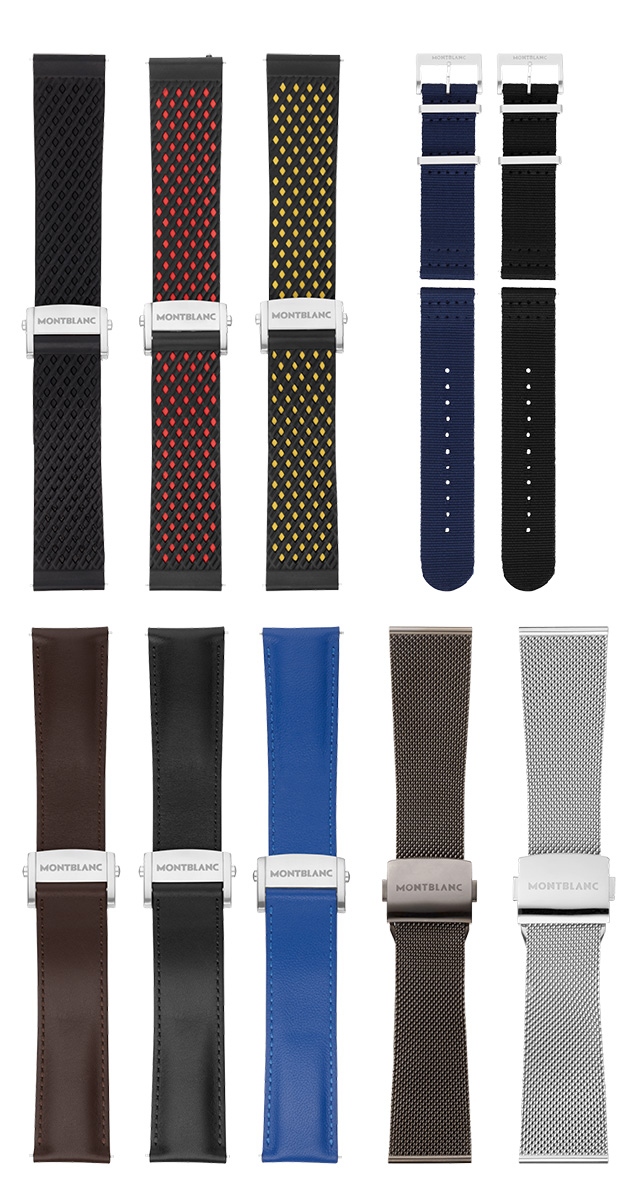 Setting up the clock on a smartphone, how to manage it
Setting up your watch is straightforward, you just need to download the Google Wear app to your smartphone (iOS / Android) and follow the on-screen instructions. You can copy your Google account to the device, you can not do this, then the watch will be a companion to the smartphone and will not be able to check mail on its own, as well as use the settings that you made in Google.
The watch has three keys, the crown supports the entry into the menu, as well as the exit. The other two buttons are programmed by you for any action, you can customize them at your discretion.
In addition to standard applications from Google, which I see no point in talking about, although I will mention that there is a voice search, an assistant can set an alarm, and so on, there are additional applications – this is a stopwatch (the countdown timer was also called a stopwatch for some reason), an application for fighting with a jet lag, a kind of travel tips.
A flashlight is filling the screen with white, you can see it well in the dark, it saves you.
I will not describe all the software, since the main thing is all the same notifications from the phone, which regularly arrive on the screen. You can reply to messages by voice, since typing on the keyboard is almost impossible, it is too small (I had to enter the password for Telegram, I gave up this activity).
The rotary crown allows you to scroll through the lists, there is no difficulty. This is not always convenient; rather, it is an additional control element, not even required. You can understand the watch pretty quickly, there are no problems here.
When the watch is discharged, they switch to power saving mode, when a simple dial appears on the screen, so they can last for several hours. This is a good option so as not to be left without a watch at all.
The dials are different, and you can download new ones. They are made under the classic Montblanc watches, they look nice. With the screen always on, the dial is simplified, as is the case with other watches.
Performance, battery life, chipset
The chipset from Qualcomm has already become outdated for a couple of years, but the clock runs smoothly, there are no slowdowns, everything works fine. From this point of view, there are no complaints.
Battery Li-Ion 440 mAh (previous – 340 mAh).
In my scenario with the screen turned on, the clock lives daylight hours, when the screen is turned off (that is, turning on when moving or pressing the buttons) it is a full day, from early morning until late at night, with 15-20% of the charge remaining. Unfortunately, it's impossible to say that much, the same Galaxy Watch, which I have, live 2-3 times longer.
Using only in watch mode (no notifications, with network functions disabled) will give you about 5-7 days of work. But why buy a smartwatch if you don't use notifications? It would be weird.
The full charging time is about three hours, which is typical for such products. There is a power saving mode that you can use when needed. You can also use automatic screen brightness or manual.
The readability of the screen in the sun is excellent, I like the automatic brightness control.
The presence of not only Bluetooth, but also Wi-Fi makes the watch modern, data synchronization does not waste energy too much. In general, everything is more or less at the level of other similar devices.
The heart rate measurement is quite average in quality. It is important that the watch is snug, otherwise the heart rate monitor does not work well. There is no constant measurement, which is also a minus (the exception is workouts in Google Fit). In short, we also need to work on this here.
In some countries, eSIM installation is available, for Russia this function is still closed. That is, in theory, you can download an eSIM from the Wear OS application and use the watch as a phone. Conveniently? Probably. But when this option will appear in our area is unclear. For now, you should expect that you will not get such an opportunity. The speaker that appears allows you to use the watch as a headset, to receive a call on it.
Price and conclusions
The Summit 2 model costs 81 rubles in Russia today, and the Summit 200+ came out at a cost of 2 rubles (in the US the cost of this watch is $ 97, which is comparable). Interestingly, the company also launched Summit Lite, which is technically similar to Summit 900, but costs 1 rubles, quite interesting straps and colors. I think I'll take this watch for a try, it looks attractive for young people.
I like Summit 2+ in terms of aesthetics, the Swiss watch as it is, the same Galaxy Watch 3 in terms of a set of features, operating time, cost is much better for the buyer, but their perception and design are much worse.
And here it all depends on your sense of beauty, since most do not understand and do not perceive luxury products (why pay so much for something that has fewer opportunities?). People often don't think a brand is worth the extra money. It is impossible to call Montblanc a mass brand, for example, unlike this manufacturer, I perceive Apple as a mass market with the cost of luxury items. One of the dimensions of luxury is its limitation; such products cannot be widely distributed. And then everyone gets exactly what they want, someone buys an Apple Watch or Galaxy Watch, someone buys a smart watch from Montblanc. There is no contradiction here.
A confident day of work, interesting dials and, most importantly, a well-made case in different colors. A good value proposition for those looking for something unbroken, yet standout. A watch is not a thing for all times, so expect to use a smartwatch for a year or two, and then, most likely, change it or diversify it with something new.
Back to content >>>
Related Links
Share: 





we are in social networks:
Anything to add ?! Write … eldar@mobile-review.com