Content
TECH SPECS
Positioning
Equipment
Appearance
Screen
Performance
Battery
Camera
Communication capabilities
shell
Competitors
Impressions
TECH SPECS
Processor
Snapdragon 460 (11nm), Octa-core (4 × 1.8 GHz Cortex-A73 & 4 × 1.8 GHz Cortex-A53), Adreno 610 graphics
Operating system
Android 10
Memory
4GB / 64GB microSDXC combo slot
Screen
6.5 inches, IPS LCD, 1600 by 720 pixels, aspect ratio 20 by 9, pixel density 270 ppi
Battery
Li-Po 5000 mAh, charging 10 W
Main camera
48 MP, f / 1.7, 26mm (wide), 1 / 2.0 ″, 0.8μm, PDAF
2 MP, (depth)
Full HD video recording
Front camera
8 MP, f / 2.2, 26mm (wide), 1 / 4 ″, 1.12μm
SIM card
2 Nano-SIM
Network and data transmission
GSM 900/1800/1900, 3G, 4G LTE, Wi-Fi b / g / n, Bluetooth 5.0, A2DP, LE, A-GPS, GLONASS, GALILEO, microUSB 2.0
SENSORS
Fingerprint scanner (rear), accelerometer, proximity, compass
Other
No NFC, 3.5 mm jack, FM radio
Materials
Plastic
dimensions
165.2 x 75.7 x 9.2 mm, weight 200 g
Positioning
The E-series are the most affordable smartphones from Motorola. These are the phones in which Motorola is trying to find a balance of minimum price and good quality. Compared to other brands, such devices have good build quality, a clean shell without ads, as well as support and updates.
The company identifies the following as selling elements of Motorola Moto E7 Plus:
Dual camera with a 48 MP main module with excellent shooting quality even at night;
High level of portrait photography;
5000mAh battery provides more than 2 days of operation;
Snapdragon 460 chipset, 4 GB RAM and 64 GB storage + microSD support;
6.5-inch ultra-wide Max Vision HD + display with 20: 9 aspect ratio;
Dedicated Google Assistant button.
Motorola E7 Plus at a price of 9 rubles is, in my opinion, one of the best smartphones in its price segment at the moment (November 990). A fresh hardware device with Android 2020, which recently received a September security patch, a good battery and a decent camera. This is one of those comfortable-to-use devices that will not annoy its owner, and you will not have to regret the purchase.
Equipment
Smartphone
SIM card tray clip
10 W adapter
USB Type-C wire
Documents Editing
There is no cover included.
Appearance
Right side: Google Assistant button, volume control, power button
Left-hand side: SIM card slot
Upper butt: 3.5 mm jack
Bottom end: microphone, microUSB connector, speaker
Front panel: 6.5-inch screen, 8 MP camera, earpiece
Back panel: 2 cameras, LED flash, fingerprint reader
The body of the smartphone is made of matte plastic with a slight gradient. As a plus, it can be noted that fingerprints are practically invisible
The camera block protrudes slightly. The location of the fingerprint scanner is good. The smartphone is large enough, 165 x 75.7 mm, so even if you have big hands, you won't be able to get onto the camera lens instead of the scanner
The power button is ribbed. I would like to praise Motorola for such a location of the Google Assistant button. Often it is placed on the left side, and as a result, you constantly touch it. The location above the volume rocker is convenient and helps to avoid accidental clicks. You cannot reassign the button, but you can completely disable it
On the left side – only a slot for two nano-SIM cards
The meaning of this savings is not clear to me, but there is no separate slot for microSD, you need to choose either 2 SIM cards, or a SIM card and a memory card
At the top there is a 3.5 mm jack. But there is no second microphone responsible for noise reduction. On the other hand, what did you want – a new chipset, a good camera, a big battery, a decent screen … you had to save on something. They refused the microphone, and there is no cover included
At the bottom there is a microphone, microUSB (well, you need to save money to keep within the price!) And a speaker
The front panel of the smartphone looks standard. There is no factory film here, which, however, is good
The speaker is loud and conveniently located
Summing up this section, we can say that the smartphone has a typical appearance for its price segment. On the one hand, without any special design delights, on the other, everything is on the case, good ergonomics, tactilely pleasant materials are used. I emphasize again that the smartphone is quite large, so I recommend holding it in your hands before buying.
Screen
The Motorola Moto E7 Plus has a 6.5-inch screen with IPS LCD technology, an aspect ratio of 20 by 9, a resolution of 1600 by 720 pixels typical for this price category. By the way, the full name of the model sounds like this – Motorola Moto E7 Plus. If you remember, after the purchase Lenovo thought for a long time what to do with the Motorola brand – just Motorola, Lenovo Motorola, Lenovo Moto. How it all ended is unclear, one thing is clear – now they are asking Motorola Moto to speak.
The brightness of the screen is standard for this price category. In the region of 450 nits. It is possible to work outdoors, but it will be uncomfortable to do it under direct sun. The color gamut of the smartphone is 100% sRGB. This is not to say that the screen turns yellow or blue. But the accuracy of the rendering of blue and green colors suffers from him, respectively, all derived colors are lying. However, I noticed this when I began to conduct a test with a color meter and the colors were simultaneously displayed on a smartphone and on a good computer monitor.
The screen has all the typical settings – auto brightness, dark mode, there are even several color modes (saturated, bright and natural), night mode settings, when the blue color is filtered. Here you can also choose the menu style: how icons look, color pads in folders, size of fonts and menu items. There is even a trick, typical for devices of higher price segments: while you look, the screen will not go out.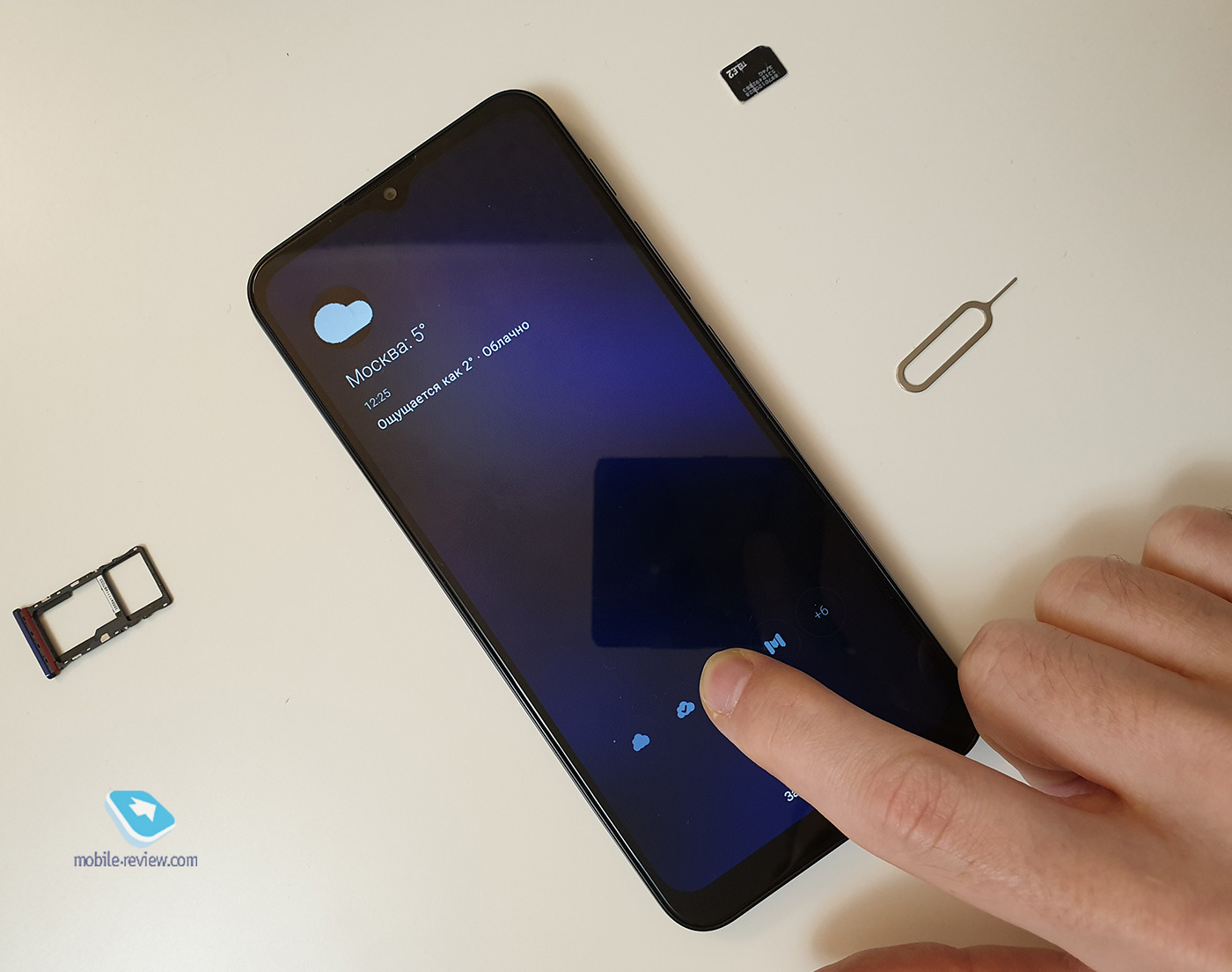 If you click on any of the notification icons, the smartphone will show an extended version
Performance
The smartphone has a Snapdragon 460 chipset, 4 GB of RAM and 64 GB of internal memory. In my opinion, Qualcomm made a mistake. Snapdragon 460 replaced Snapdragon 665. They even have the same graphics part – Adreno 610. This is quite an average performance chipset. However, in the eyes of the consumer, the 400 series is a completely budgetary low-performance solution, so you need to retrain.
Let's immediately determine that this is not a gaming smartphone. I understand this is obvious, but just in case I will repeat it. However, it is quite possible to play on it, perhaps, any games, since the Adreno 610 is very productive graphics. The smartphone will automatically adjust the graphics for optimal performance. You can play either PUBG or Call Of Duty Mobile. However, platformers, adventure games and quests look more organic on a smartphone.
The memory and storage in the smartphone are quite good.
Under load, the performance drop is small, and the smartphone itself does not heat up.
Battery
The smartphone has a modern 11 nm chipset, the current version of Android, there are no advertising applications, that is, there are no harmful factors affecting the battery life. With a 5000 mAh battery, the smartphone can really calmly live for 2-3 days. I installed a Beeline SIM card in my smartphone and mostly used it for distributing the Internet via Wi-Fi, taking photos and messengers. In 2 days, it turned out 5 hours of screen operation.
Some statistics:
Watching video at maximum brightness in airplane mode – 15 hours
3D games at maximum brightness over Wi-Fi – consumption 12-15% per hour, that is, 6-7 hours.
PCMARK test, simulating daily workload (browser, video, document editing, etc.), maximum brightness, Wi-Fi, mobile connection is active – 9 hours 32 minutes.
Comes with a 10W adapter. It makes no sense to connect a more powerful adapter, the smartphone does not support, so you will charge for a long time – almost 2.5 hours. Charging takes place via the microUSB port.
The smartphone has a great battery life. So it can probably be recommended as a second smartphone as well. It is great to distribute Wi-Fi to a laptop from it, you can watch a movie, check your mail.
Camera
The smartphone has three cameras. The main camera is a double 48 + 2 MP photo module. Selfie camera – 8 megapixels.
The appearance of the Camera application is typical for all Motorola smartphones. And that's a plus. Do not be too lazy to look into the settings, there are such options as auto-shooting on a smile, mute the shutter sound, shooting, if you show your hand to the smartphone, etc.
The smartphone's camera is very good for its price – excellent color reproduction, fairly accurate white balance, high details. Despite the fact that the camera is 48 MP, shooting in the original resolution is disabled, only the already compressed 12 MP frames. Daytime shots are great.
In promo materials, Motorola emphasizes the quality of night shots. There are difficulties here. For example, a smartphone does an excellent job of taking photos in dark rooms. Check out the two frames below – everything is fine with blur, and ordinary photos.
But on the street, the night landscapes are less remarkable, although, in general, they are also quite good.
A few more examples of night photography.
And here are examples of a selfie camera. As if there is a beautification effect, but in the settings this option is not at all. The last shot is an example of selective color.
Communication capabilities
The smartphone copes well with its direct responsibilities. Convenient speaker placement, good call volume. The absence of a second microphone responsible for noise cancellation at the top end is a minus that your interlocutors will feel, who will hear extraneous noises, for example, howling wind, etc. In general, this is a small problem, especially considering that most people now speak through headsets, which have even worse voice quality.
As a minus, I can note the absence of a compass, that is, there is a point on the map, without a direction where you are looking.
The lack of NFC is more the norm than a minus in this price segment.
There is an FM radio with a recording function. But you need wired headphones as an antenna. You can turn it on without headphones, but in this mode I couldn't catch the radio stations – only the noise of interference.
shell
One of the nice bonuses of Motorola smartphones is the shell. Although it cannot even be called a shell. These are rather a few tweaks that make working with pure Android more enjoyable. Here are gestures, and notifications on the lock screen, and design styles, and a weather widget. All settings are essentially in one Moto app on your desktop. Take a look at the screenshots below. Moto's skin is one of the best in terms of simplicity and conciseness.
Competitors
There are a lot of smartphones for 10 thousand rubles. You can pay attention to realme C15.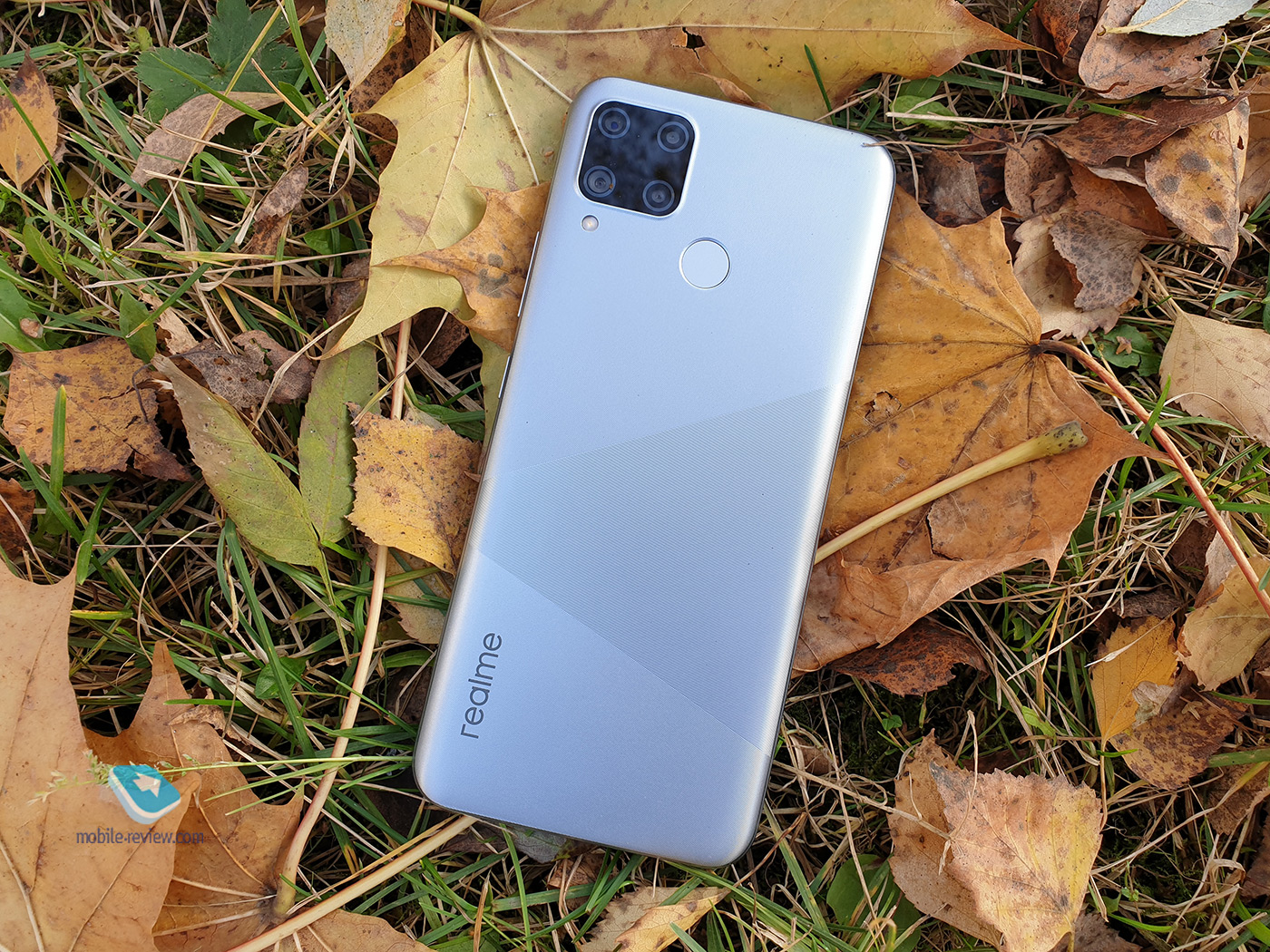 Of course, there are variants from Honor. For example, Honor 20E on Kirin 710F can be searched on sales. And, of course, there are options from Xiaomi. For example, Redmi 9A or 9C.
Also take a look at the Motorola G9 Play. Its standard price is 12 rubles, but from time to time you can find it for 990 rubles for shares.
Impressions
Motorola Moto E7 Plus leaves a positive impression. If you don't have high expectations, but just want a good smartphone with a normal camera and battery life, then you should pay attention. Let's break down the pros and cons.
Pros:
Camera
Battery life
shell
Large screen with good color reproduction
Fresh Android + updates
Up-to-date chipset and comfortable performance
4 + 64GB storage and microSD support
Convenient location of the Google Assistant button
Has FM radio
Cons:
No compass (see the screenshot with the map from the item "Communications")
No NFC
Combo card slot (or dual SIM or SIM + microSD)
No second microphone for noise canceling
Removed the cover from the kit
When you write down the pros and cons like this, you immediately understand what the engineers saved on when creating a smartphone. In general, the cons are insignificant. Some users won't run into them at all.
Back to content >>>
Share: 





we are in social networks:
Anything to add ?! Write … eldar@mobile-review.com