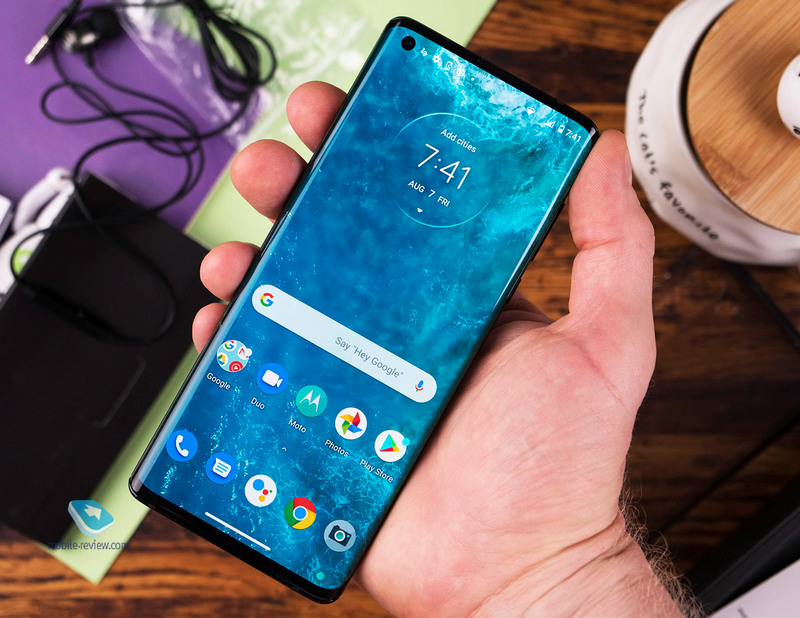 Live photos
Content
Contents of delivery
TECH SPECS
Positioning
Design, dimensions, controls
Display
Battery
Memory, RAM, performance
USB, Bluetooth, communication capabilities
Camera
Software features
Impressions
Contents of delivery
Smartphone
TurboPower 18W charger
USB Type C cable
Wired stereo headset
Instructions
Clip for SIM tray
Silicone case (not available in all countries)
TECH SPECS
Dimensions and weight
161.6 x 71.1 x 9.3 mm, 188 grams
Body materials
6000 series aluminum frame, glass bezel, plastic on the back, P2i water resistant 
Display
6.7 inches, 1080×2340 pixels (19.5: 9), OLED, 385 ppi, 90 Hz, HDR10, automatic brightness control, Corning Gorilla Glass 5
Operating system
Google Android 10
Platform
Qualcomm Snapdragon 765 (7nm technology), one Kryo 475 Prime core up to 2.4 GHz, one Kryo 475 Gold core up to 2.2 GHz, 6 Kryo 475 Silver cores up to 1.8 GHz, Adreno 620
Memory
4 GB RAM, 128 GB ROM (free over 100 GB), UFS 2.1
microSD memory card up to 1 TB
There are options 6/128 GB, 6/256 GB
Wireless Interfaces
Wi-Fi a / b / g / n / ac, dual-band, Bluetooth 5.1, NFC
Сеть
2G / 3G / 4G / 5G
Dual SIM, nanoSIM (combo slot)

5G: NR Sub-6GHz | 4G: LTE (UL Cat 13 / DL Cat 18) | 3G: UMTS / HSPA + | 2G: GSM / EDGE
Bands: 5G: 1/3/7/28/38/78/78(HPUE)
4G: LTE band 1/2/3/4/5/7/8/­12/17/20/26/28/32/38/40/­41/41(CHINA)/41(INDIA)/66
3G: UMTS band 1/2/4/5/8
2G: GSM band 2/3/5/8

Navigation
GPS / GLONASS / Galileo
Sensors and connectors
USB Type C (USB 2.0), OTG
Accelerometer, Proximity Sensor, Ambient Light Sensor, Gyroscope
Fingerprint sensor built into the screen, optical
Face unlock
Main camera
64 MP Quad-Bayer (f / 1.8), OIS, PDAF, laser autofocus, LED flash, 4K video recording
16 MP wide-angle, 117 degrees, 
8 MP telephoto, x2 optical zoom, OIS, PDAF
5 MP, depth sensor
Front-camera
25 MP Quad-Bayer (f / 2.0), bokeh effect, various additional effects
Battery
Li-Pol 4500 mAh, mixed mode battery life up to two days
Quick charge 18 W
Degree of protection
no, P2i moisture impregnation
Colours
Solar Black, Midnight Magenta
Sound
FM radio, two microphones, stereo speakers
Payment System
Google Pay 
Positioning
Motorola left the flagship segment for several years, as the company was not doing very well, all efforts were thrown into patching financial holes, regaining the ability to make money. At the very least, Motorola coped with this task and in the spring of 2020 decided to show two models that can be considered the company's flagships – Moto EDGE / EDGE +. Both devices are betting on the availability of 5G, and they are built on chipsets from Qualcomm, which is not a surprise. Prices – $ 700 for the younger model and $ 1 for the older one. In all senses, we can assume that Motorola has decided to return to the high price segment and give its own reading of such devices.
If you look around and look closely at other manufacturers, we will see that in these price ranges there are not only and not so much Chinese companies, they are still often lower in value, and the same Samsung with the S20 line is present. And with the similarity of cost, the question arises, how can Motorola compete with a more successful competitor, which they are ready to provide to the user.
In my opinion, there is still a loyal audience for Motorola smartphones, but it is scanty, and there is no way to make special sales on such people. At the same time, any manufacturer needs flagships in order to sell models easier, but at the same time demonstrate that technology is in order and the buyer has room to grow. Probably, the main task of these EDGEs is precisely this – to show that the company has not left the flagship market at all.
But questions about whether the base EDGE is the flagship still remain. For formal reasons, you can imagine that this is a flagship. But the backrest is made of ordinary plastic, which is surprising in a product of this level and probably unacceptable. This shows that we have a model on steroids, which they tried to turn into a flagship. In the line of Motorola you can see such a device as Moto One Zoom, it appeared almost a year ago. And its price / quality ratio was more interesting than in Moto EDGE, and most importantly, it was made in a glass case, which literally was a cut above what we see in the smartphone in question. And their price is close!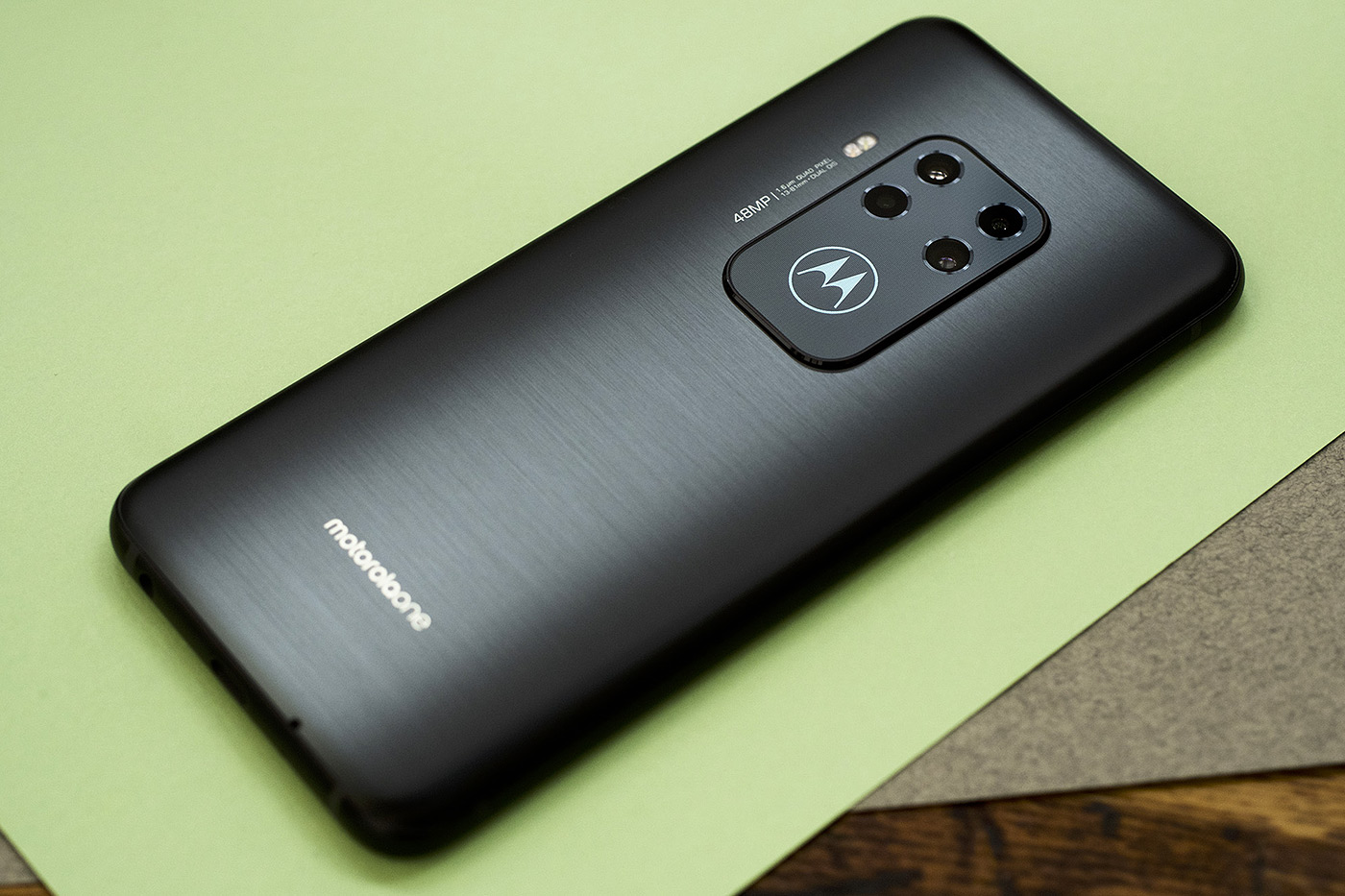 Who, apart from loyal Motorola fans, might be interested in EDGE? Probably, these will be those who look at unusual devices, do not want to buy Samsung or Chinese flagships, do not favor Apple. A small number of those who are looking for a device not like everyone else. Let's take a look at the model and how it is assembled.
Design, dimensions, controls
The device is produced in two colors, each of them is attractive in its own way, look at these colors.
Unfortunately, the backrest is made of plastic, and this feeling cannot be overcome. In this price group, such an economy looks very strange, it makes the device cheaper in every sense.
The camera block is visible on the back panel, it is located in the same way as on many Chinese smartphones, no special design was used here. On the top there is a second microphone and a SIM card slot (combined).
At the bottom there is a speaker, microphone, as well as a USB Type C connector, there is a 3.5 mm jack. Everything is standard. On the right side there is a paired volume rocker and an on / off button.
The build quality is excellent, there are no flaws here. Protection against water is minimal, this is the impregnation of the components with a special P2i solution, it will protect the device from water ingress, but it can still damage it, so you should not tempt fate.
The phone measures 161.6 x 71.1 x 9.3 mm and weighs 188 grams. It lies well in the hand, invisible in clothes.
For those who are used to looking at the LED indicator in order to know about missed events, I will say that it is simply not there. Replaces it with Activity Display, which is activated when you touch the phone. There are also no IR sensors, as in previous models, which responded to a gesture above the screen. One of the advantages of such a screen is that you can quickly go to the application, see the notification on the screen and immediately respond to it. To some extent, this is a replacement for AlwaysOn Display. Someone likes this implementation, someone thinks that it is better when information is displayed on the screen all the time.
Display
A curved screen is a thing that many people do not like, once Samsung launched such screens with a large curvature, but gradually changed their curvature, smoothed them out. In this model, the screen is strongly curved, too much. And this definitely affects ergonomics, and not for the better. On the other hand, in the settings you can turn off the display of the image on the side edge, this can be done also for individual applications. But the screen itself looks dubious and does not add anything to the device, the menus on the side edge are unambiguously inconvenient here, since the bevel is too big, the finger bumps into the edge.
The technical characteristics of the screen are as follows – 6.7 inches, 1080×2340 pixels (19.5: 9), OLED, 385 ppi, 90 Hz, HDR10, automatic brightness control, Corning Gorilla Glass 5.
Indoors the display is excellent, there is a margin of brightness, it is even excessive. The matrix is ​​a little dull, this is not a Samsung display, the level of Chinese smartphones with OLED screens. You shouldn't complain about the screen, but I can't say that it is outstanding. Average level.
Battery
The characteristics of the built-in Li-Pol battery are as follows: 4500 mAh, full charging time with a complete charger is about 1 hour 15 minutes. The phone has TurboCharger technology (similar to Qualcomm's QuickCharge or Samsung's Fast Adaptive Charge). It's a shame, but there is no wireless charging. On average, the device works for about one day with 5-5.5 hours of screen, or with a more economical approach, it will be a couple of days.
Memory, RAM, performance
My device has 6 GB of RAM, internal memory of 128 GB (there are other options in different countries), but there is also support for microSD memory cards up to 1 TB.
The chipset inside the phone is a Qualcomm Snapdragon 765 with 5G support if you need one.
I didn't have any problems with the interface, third-party programs, everything is smooth and good.
USB, Bluetooth, communication capabilities
BT 5.1 version, all profiles are supported. Depending on the model number, different frequencies are supported for LTE, but there is aggregation and the device is omnivorous, this is a big plus, it will work efficiently in all countries of the world.
For Wi-Fi there is support for 802.11a / b / g / n / ac, dual band, dual-band 2×2 (MIMO). The phone has NFC, OTG is supported for USB.
Camera
The front camera, as well as the main one, is built on a Quad-Bayer matrix, so you can safely divide the resolution of 25 megapixels by four. The quality of the picture does not make much of an impression, see for yourself.
There are various additional effects, somewhat similar to those on the iPhone.
The main camera consists of several modules. The camera seemed to me average, it does not impress. Take a look at the interface and below for some sample pictures.
Sample Photos
Software features
Motorola does not pamper Android add-ons, it is an almost clean interface, without being overloaded with third-party programs or interface finds.
From the multimedia point of view, I liked this device, it plays music well, and, comparing it with classmates of mainly Chinese origin, I prefer it, the sound is reproduced cleaner and better.
The Moto app shows you how you can activate the camera with a wrist movement, how you can record a voice tag to activate your phone, and also introduces night mode.
Individual applications have been redesigned, for example, a gallery or creating multimedia cuts from videos and photos that you receive automatically.
There are no complaints about the radio either, it works as it should.
The device is somewhat empty in terms of software and additional features, but, perhaps, someone will like such austerity, on the contrary.
Impressions
The call quality is at a good level, I like the fact that there is a noise reduction system from several microphones. Ringtone volume and vibration quality are also excellent. At a price of $ 700, the device did not have much of a chance of success, so when they started selling it, they dropped the price by $ 200, it was a temporary offer. However, it can be found in the US today for $ 550 and up. This model is not a flagship, but close to them. The presence of 5G is captivating, in any case, it is interesting for countries where such networks exist.
I rather didn't like the device than liked it. An elongated, curved screen in 2020, which looks unusual, but the ergonomics suffer from it. Not so hot what cameras and their capabilities, savings on the materials of the back. In short, it turned out very strange, and it is impossible to say that the model is attractive in terms of price / quality ratio. However, exactly the same words can be attributed to the older brother – EDGE +. Considering that this device is not officially sold in Russia and it is possible that it will not even appear, the audience for it will be represented by those who buy devices on the gray market. This offer is clearly not for everyone.
Thank you for the provided phone motorola-phone.ru.
Back to content >>>
Related Links
Share: 





we are in social networks:
Anything to add ?! Write … eldar@mobile-review.com