Content
Positioning
TECH SPECS
Equipment
Appearance
Screen
Battery life
Communications
Performance
Камеры
Operating system
Conclusion and competitors
Positioning
To begin with, Motorola is not very noticeable in Russia. A girl I know who does not follow the smartphone market was even surprised to see Motorola, because she believed that they had disappeared long ago. However, Moto smartphones are popular in the US. The company holds 7-8% of the market, confidently occupying the fourth place after Apple (46%), Samsung (25%) and LG (12%). Apart from the Motorola Edge and the Motorola razr with a flexible screen, the company is betting on inexpensive models with pure Android. The average smartphone price in the US is just under $ 500, with most Motorola models costing up to $ 400 ($ 200 – $ 350 mostly).
A couple of phrases about Motorola gradation. The E-series are the cheapest models, followed by the G-series, which is already responsible for the "Average minus" segment, then smartphones of the Motorola Onu line ("Average plus"), and this year Motorola has its own flagship – Motorola Edge + … The company also has a Motorola razr, but this is already such an experimental luxury product.
The Moto G9 Play is a workhorse with a 2 full day battery. Motorola itself highlights the following selling characteristics:
Triple camera 48 MP
2-day battery life
6.5-inch Max Vision HD + Display
4/64 GB internal memory
Dedicated Google Assistant button
The price is 10 rubles (in general, the official price is 990 rubles, but retailers regularly receive promotions on the smartphone)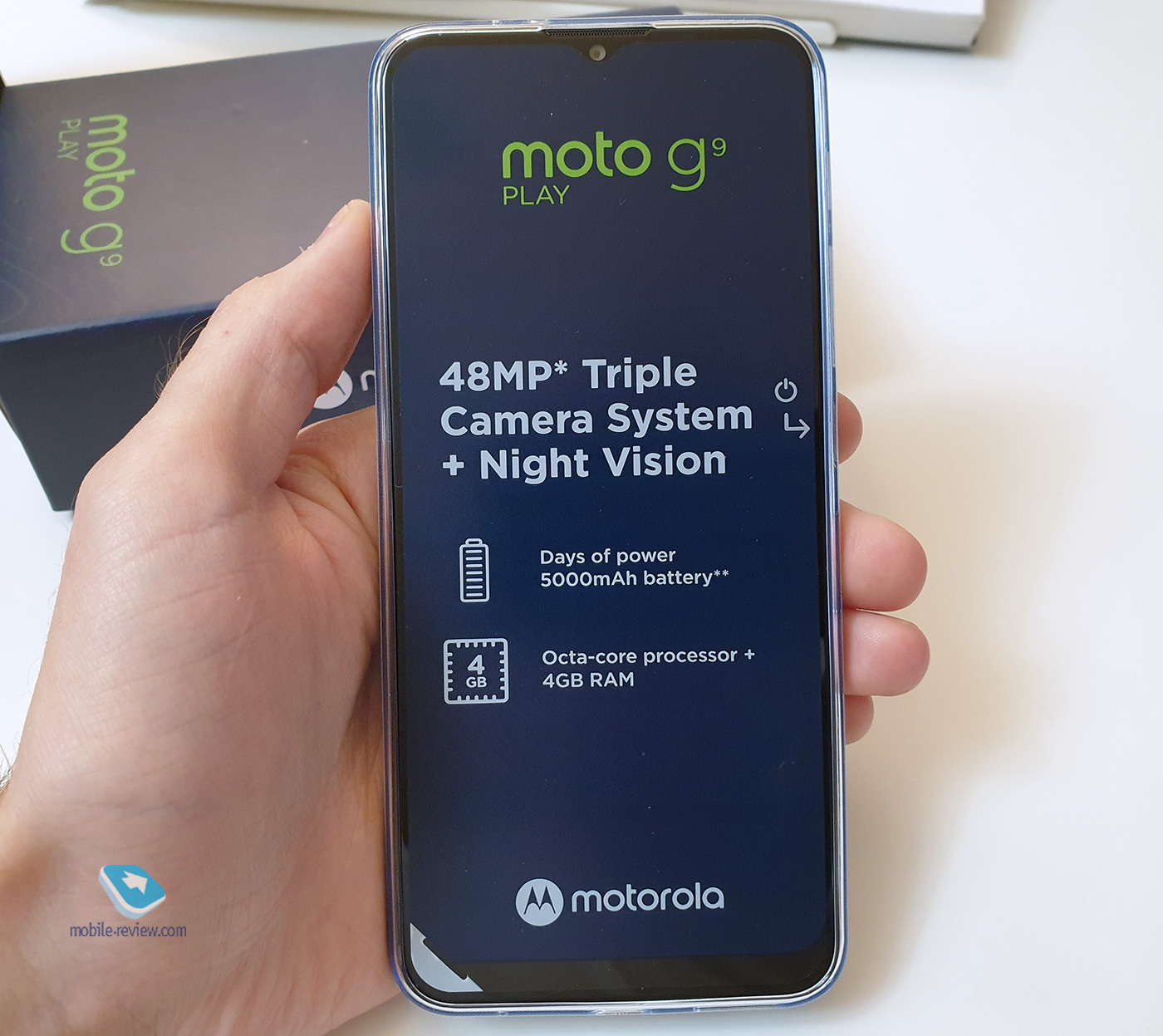 TECH SPECS
Processor
Qualcomm SM6115 Snapdragon 662 (11 nm), Octa-core (4 × 2.0 GHz Kryo 260 Gold & 4 × 1.8 GHz Kryo 260 Silver), Adreno 610 graphics
Operating system
Android 10
Memory
4 GB / 64 GB, combo microSD slot up to 512 GB
Screen
6.5 inches, IPS LCD, 1600 by 720 pixels, aspect ratio 20 by 9, pixel density 270 ppi
Battery
5000 mAh, charging 15 W
Main camera
48 MP, Output 12 MP (f / 1.7, 1,6 μm), Quad Pixel Technology
2 MP (f / 2.4, 1,75 μm) depth
2 MP (f / 2.4, 1,75 μm), macro photography
1080p @ 30 / 60fps video recording
Front camera
8 MP, f / 2.2, 1.12μm
SIM card
2 Nano-SIM
Network and data transmission
GSM 900/1800/1900, 3G, 4G LTE, Wi-Fi 802.11 a / b / g / n / ac, 2.4 + 5.0 GHz, Bluetooth 5.0, A2DP, LE, A-GPS, GLONASS, GALILEO, LTEPP, SUPL, NFC,
SENSORS
fingerprint scanner (rear), distance sensor, accelerometer, ambient light sensor, SAR sensor, gyroscope
Other
there is NFC, there is a 3.5 mm jack, splash proof
Materials
front glass, plastic case and frame
dimensions
165.2 x 75.7 x 9.2 mm, weight 200 g
Price
10 rubles (for shares), 990 rubles (without shares)
Equipment
Basic equipment:
Smartphone
Clear case
Charging 20W
Type-C wire
SIM card tray clip
Documentation
It's nice to put in a 20W adapter.
Appearance
Front panel: IPS LCD screen 6.5 inches, speaker mesh
Back panel: plastic, 3 cameras and LED flash, fingerprint sensor
Upper butt: microphone, headphone jack 3.5 mm
Bottom end: microphone, Type-C, speaker
Right side: Google Assistant call button, volume swing, power button
Left-hand side: SIM card slot
The smartphone is initially in a box in a silicone case. The case is nice and comfortable, so I recommend using it. Still, the frame and back cover are made of glossy plastic. Although it is important to note that we chose a good, dense plastic, which I initially even mistook for glass. Considering that the color of the smartphone is beautiful – a rich dark blue-purple with darkening along the edges – then most likely you will want to protect it from scuffs and scratches.
On the top there is a headphone jack and a noise canceling microphone
Microphone, Type-C and speaker
Perhaps the main ergonomic feature of the Moto G9 Play is the choice of where the Google Assistant button is placed. And, you know, a very cool idea. Usually the Google Assistant button is annoying that you constantly press it accidentally. This is the case with the recent Nokia 8.3, and I often hit the Bixby button on my Samsung. Motorola has placed the Google button above the volume rocker. That is, you need to specifically reach out to press. Extremely good location. During the week of testing, there were no accidental clicks.
Combo SIM slot, one of which can be swapped for microSD
The smartphone lies well in the hand, the fingerprint scanner is located perfectly, so you won't miss and touch the cameras. However, the device seems slippery without a cover. I would also like to note the unusual weight – 200 grams. That's a lot for a plastic case and a 6.5-inch diagonal.
Of course, there are no complaints about the build quality. Motorola emphasizes that the smartphone is splash-proof (and has a water-repellent coating). This also means that all seams are carefully glued, so there is no room for poor assembly.
Screen
6.5 inches, IPS LCD, aspect ratio 20 by 9, and a resolution of 1600 by 720 pixels. The front camera is a familiar cutout. By the way, I want to note right away that I did not find an option on how to hide the cutout. Apparently, Motorola decided that since the cutout is so tiny, it doesn't have to bother.
The smartphone has auto brightness, which I recommend using. Measurements showed that in manual mode, the screen brightness is 390 nits, while in auto mode it accelerates to 455 nits. 455 nits is an indicator that allows you to use your smartphone outdoors. However, on a sunny day, there will be a desire to cover the screen with your hand. Still, for comfortable work in the bright sun, you need from 550 nits.
However, the time has come for eternal twilight
Among the interesting screen settings are styles when the smartphone offers to slightly adjust the color scheme of the curtain and icons. The user has his own options available.
In the "Screen" section, you can also customize the style of notifications on the locked screen. There is also a nice feature where the screen will not go blank while you are looking at it. The option "Attentive display" is called. There is also a Three Finger Screenshot option here. By the way, Motorola has an excellent screenshot tool that allows you not only to take standard screenshots, but also draw something on them right away.
There is no Always-On screen here, but as soon as you pick up your smartphone, all missed notifications will be displayed on the screen
If you click on any of the notification icons, the smartphone will show an extended version
Battery life
Battery life is one of the selling points of a smartphone. Motorola promises up to 2 days. Overall, with a 5mAh battery and a Snapdragon 000 chipset, that's a well-founded promise. In the PCmark test at maximum brightness and with Wi-Fi turned on, the smartphone showed almost 662 hours of screen life. The PCmark test simulates various daily activities – browsing the Internet, touching up photos, editing documents, etc.
If we talk only about video (airplane mode, maximum brightness), the phone is capable of delivering 14.5 hours of screen operation. Refreshing the page in the browser every 15 seconds (airplane mode, Wi-Fi, maximum brightness) – 15 hours. Good indicators, but keep in mind that in real life they will be slightly less, since, firstly, the maximum brightness was in manual mode (and in auto mode it is 100 nits more), and secondly, the level of reception of the mobile network.
Communications
I will outline in points:
In total, I spoke on the phone for a little over 30 minutes. The speaker is loud and clear.
The second microphone provides noise cancellation. Copes well with the wind, but starts to pass and let the noise of cars when walking along the road.
The chipset of the smartphone supports 2 × 2 MIMO LTE, respectively, for certain operators this can give an increase in the speed of mobile Internet.
The smartphone has NFC, which means Google Pay. The terminal in the "Perekrestok" and the turnstiles in the Moto G9 Play metro understand. For some reason, the NFC switch is hidden in the settings, you cannot add it to the shutter (but you can add a selfie camera launch icon to the shutter)
NFC settings
In the smartphone, they saved on a magnetometer, or in the common people a compass. This means that only the point will be visible on the maps, not the direction in which you are holding the phone. There are no questions about GPS, it catches satellites quickly and well. In general, it can be used as a navigator.
The smartphone supports Wi-Fi 2.4 and 5.0 GHz. By the way, I don't know why, but the interface has different fonts for Latin and Cyrillic.
The smartphone has an access point option, while Wi-Fi can be distributed both at 2.4 GHz and 5 GHz
There is an FM radio, but it requires wired headphones to function as an antenna.
Performance
The smartphone is powered by the Qualcomm Snapdragon 662 (11 nm) chipset, 4 GB of RAM, an HD + screen and the purest Android (only the proprietary Moto gestures were added on top). Accordingly, the smartphone turned out to be nimble.
Lest you decide that the smartphone is based on outdated hardware, I'll say right away that Snapdragon 662 was presented on January 20, 2020. This is a mid-range chipset. The chipset is aimed at performing everyday tasks, for example, Qualcomm's strengths include: fast processing of GPS coordinates, support for cameras up to 48 MP, the ability to digest big data when connected via Wi-Fi 6 (it's a pity that the smartphone has Wi-Fi 5), increased energy efficiency.
In the smartphone, the indicators of the speed of RAM and storage are basic for this segment.
Chipset, as you know, there are not enough stars from the sky. In AnTuTu, it knocks out 175 thousand points.
I guess you can guess that this is not a gaming smartphone. However, thanks to the developers for the optimization. And you can play Call of Duty very comfortably.
And for casual toys – balls or Mario Kart – a smartphone is generally perfect.
Let's fix it – surfing the Internet, any videos, casual games, photos and easy photo processing in photo editors – these are the works in which the smartphone will not disappoint you. Call of Duty Mobile – yes you can. PUBG? Fortnite? Better not.
Other synthetic tests are below.
Камеры
The smartphone has 4 cameras:
48 MP, 12 MP (f / 1.7, 1,6 μm) output, Quad Pixel technology
2 MP (f / 2.4, 1,75 μm) depth
2 MP (f / 2.4, 1,75 μm), macro photography
8 MP front photo module
And I must say right away that the 48 MP module works only in the 12 MP output position, that is, it cannot be removed in the original resolution. 2 MP for portraits is generally the norm. 2 MP for macro photography is not the best solution, since the frames are noisy.
Camera recognizes QR codes
Before talking about the quality of photography, a few words about the camera application. It has typical Motorola design and features. Don't forget about the settings that are hidden behind the gear icon. There you can select the quality of photo and video shooting, turn on automatic shooting by a smile (when someone is smiling in the frame, a smartphone takes a photo), turn off the shutter sound, etc.
I'll tell you about a couple of interesting points. The smartphone has a customary Motorola option for selective color, when you can choose which color to leave in the frame, and everything else becomes black and white.
Another interesting option is background removal. And in the future, you can put yourself on some other background. As a background, you can choose either your own picture, or those offered to choose from. Apparently, in order to emphasize that the function is comic, and not for fake, the algorithm leaves a thin white aura around the cut figure. It is imperceptible from a distance, but upon closer examination it will immediately become clear that the photo is fake. So if there were those who wanted to use the function to lie about their location by throwing fake photos, then it is better to download the Photoshop application to your smartphone.
An example of shooting with the front camera.
Examples of portraits with the main camera.
Examples of daytime photography. Perhaps, I will not comment, because everything is already obvious. At a price of 10 rubles, the quality of photographs is not bad, but at a price of 990 rubles, there are better options.
When shooting at night, it should be said that you must definitely use the night mode. Not a bad algorithm that suppresses noise and improves the picture. See what the street looks like when shooting in auto mode. And then – night mode.
Sample video (MP4, 111 MB) >>>
Operating system
Motorola uses the purest Android possible. Of the preinstalled applications – only the browser and the search string from Yandex. All this is easily removed. Motorola's shell is almost invisible. Unusual wallpapers and a Moto application that allows you to customize your smartphone for yourself. The main component of Motorola's shell is Moto-gestures. For example, if you sharply shake your smartphone twice, the flashlight will start, if you twist your wrist twice, the camera will turn on. I recommend taking the time to study. Use gestures to turn on the flashlight, for sure.
Perhaps most of all, Motorola was surprised by the choice of wallpaper for the model. It looks funny. Another fun moment is tuning the vibration motor, giving a response like walking and crunching in the snow.
Conclusion and competitors
A typical Motorola smartphone that doesn't feel different from the G8 or even the G7. Of course, iron is better, cameras are more interesting to shoot, but no global breakthroughs. Just a solid device that will faithfully serve its owner. The smartphone is often sold for 10 rubles. This sets the G990 Play apart.
With competitors, everything is both simple and difficult, because if you look at the "white" retail, the G9 Play is the most interesting purchase. And more memory, and better cameras. And it is either opposed by smartphones from Huawei / Honor without Google services, or realme c15. However, realme c15 is a very interesting device, so pay attention.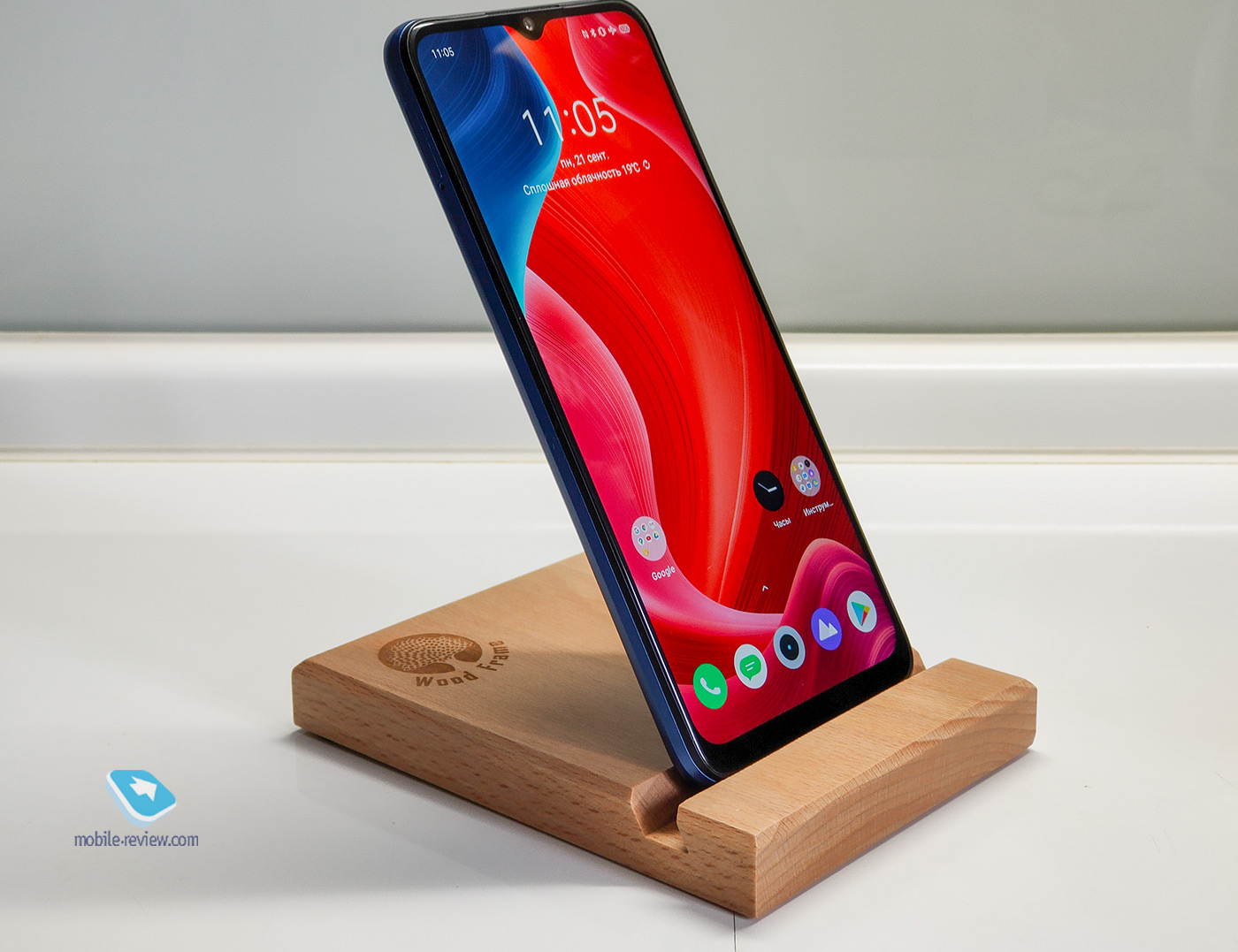 If we add gray shades to white, that is, there are many models from Xiaomi, sales from Samsung, in the end, Nokia 5.3 (pure Android, a 4000 mAh battery, but a slightly better chipset, a smartphone can be found for 13-15 thousand rubles).
By the way, for 12 rubles you can buy in white retail a Samsung Galaxy A990 (30) on Exynos 2019. Similar technical characteristics, but the SuperAMOLED screen is Corning Gorilla Glass 7904.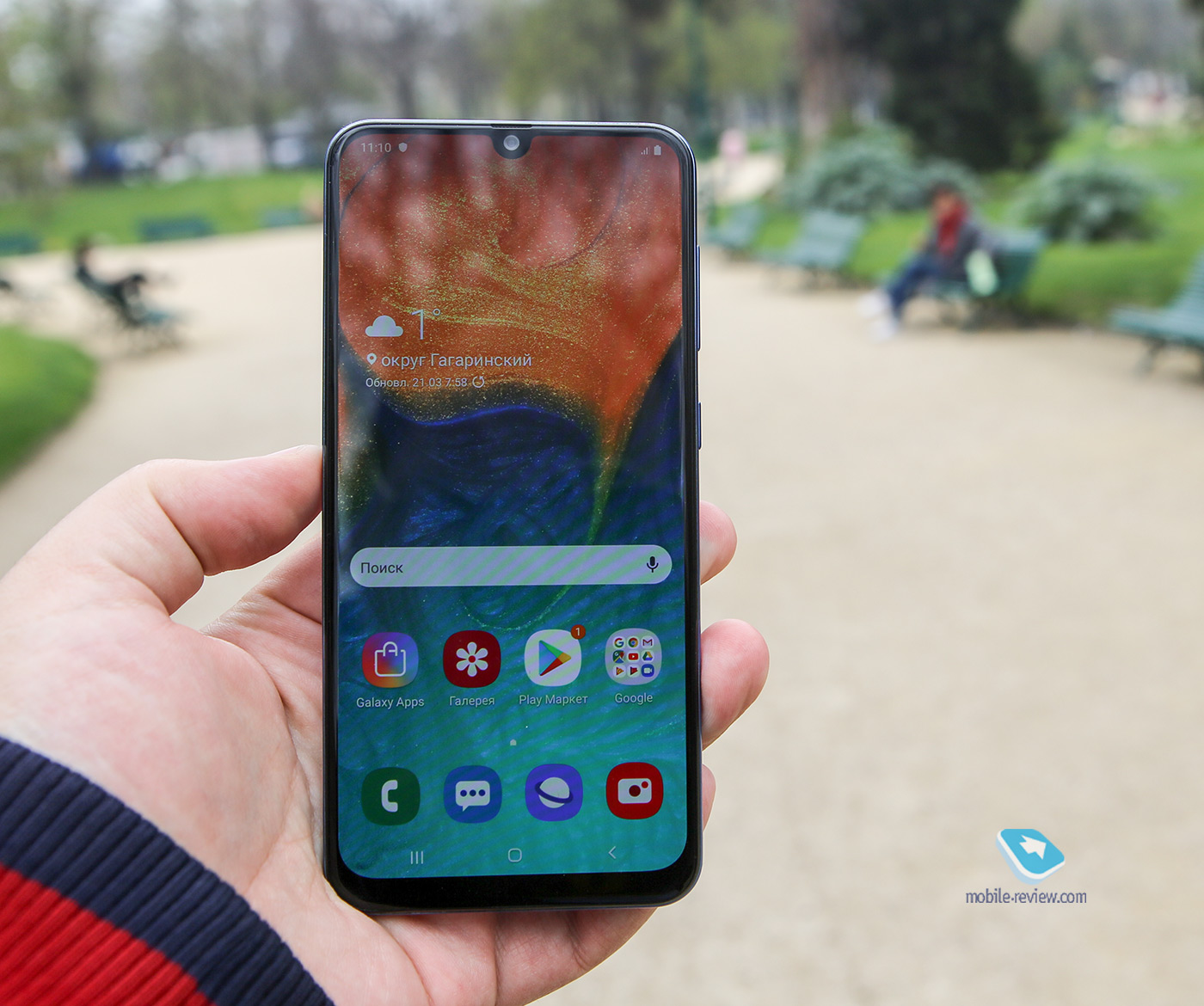 Back to content >>>
Share: 





we are in social networks:
Anything to add ?! Write … eldar@mobile-review.com