Content
Most important (briefly)
Why must the operator's proprietary mobile application be installed on a smartphone?
Most important (briefly)
"Beeline" has updated the proprietary application "My Beeline", expanding the functionality, thus turning it into a full-fledged online store with services for all users. Now you can:
Purchase and order delivery of a new SIM card (even if you are not a Beeline subscriber)
Purchase an eSIM, that is, an electronic SIM card, provided that the smartphone supports this technology
Choose a beautiful or ugly (here everything is to the client's taste) number
Change your current number (SIM card will remain the same)
Submit an application for the transition with the preservation of the number
Apply for a credit card "Beeline 100 days without%"
Connect home internet
Connect movies, music, magazines, TV channels, get gifts
Personalized promotions and discounts
Why must the operator's proprietary mobile application be installed on a smartphone?
All information at your fingertips
The creation of proprietary applications that allow you to manage communications services has played a huge role in humanizing the image of telecom operators. Before the creation of such applications for subscribers, the operator was a kind of black box, when it is not clear what options and tariffs exist, how they are connected and how much they cost, a thousand and one other questions remained unanswered, if only for the reason that not everyone had time visit a communication salon. As a result of this situation, people perceived their mobile tariff as something eternal and did not change it for years, and communication salons preferred to bypass, as there were horror stories that they would connect something else there.
With the advent of proprietary applications, there are no secrets left for the subscriber. It became easy to see how many minutes, SMS, megabytes of the Internet are available, what options are connected and what else can be connected, how much they cost, etc.
And also you can always see current expenses and statistics in general, replenish your account, as well as connect or disconnect services, see their price.
Change tariff
Many subscribers still live in the paradigm that a tariff is something forever. However, operators are constantly issuing updated tariffs, as well as various promotions. So it's best to take it as a rule and check from time to time what offers have appeared. This way you can always choose the best deals.
Change operator
After the abolition of "mobile slavery", each subscriber had the opportunity to keep the number and switch to another operator with more favorable tariffs. For example, "Beeline" has almost all tariffs (even those with unlimited Internet), the option of distributing Wi-Fi from a smartphone is free. For some, this may be a good reason to change the operator.
Beeline has raised the convenience of the service of switching from one operator to another to a new level. Now the application can be made directly in the application.
Issue an eSIM
An electronic SIM card is a great option to quickly connect to an operator, getting rid of a trip to a communications salon or waiting for a courier. Just a couple of taps on the screen, and you can already use it. The main thing is that the smartphone supports this technology.
Change number
One of the coolest features. Beeline makes it possible to change the phone number without changing the SIM card. In the application, you can choose either a simple or a "beautiful" number. The price is only 30 rubles for a simple room. Beautiful ones are divided into 3 categories (gold, silver and bronze) and are more expensive.
Connect home internet
Beeline offers not only mobile communication services, but also high-speed wired home Internet. In theory, it is best to choose one of the converged tariffs that offer a combination of "mobile communications + home Internet + TV" in one package. For example, some tariff from the "Close people +" line. So, "Close people 3+" offers unlimited mobile Internet with free distribution, as well as home Internet 300 Mbit / s, to which they will also provide a Wi-Fi router. By the way, now there is a 50% discount on the tariff for the first 3 months.
However, if you just want to connect your home Internet, then in the application "My Beeline" you can leave a request.
Promotions and gifts in honor of the New Year
One of the important features of the application is the availability of personalized promotions and discounts, and there are promotions both from Beeline and in partner stores.
For example, now Beeline is giving out gifts in honor of the New Year!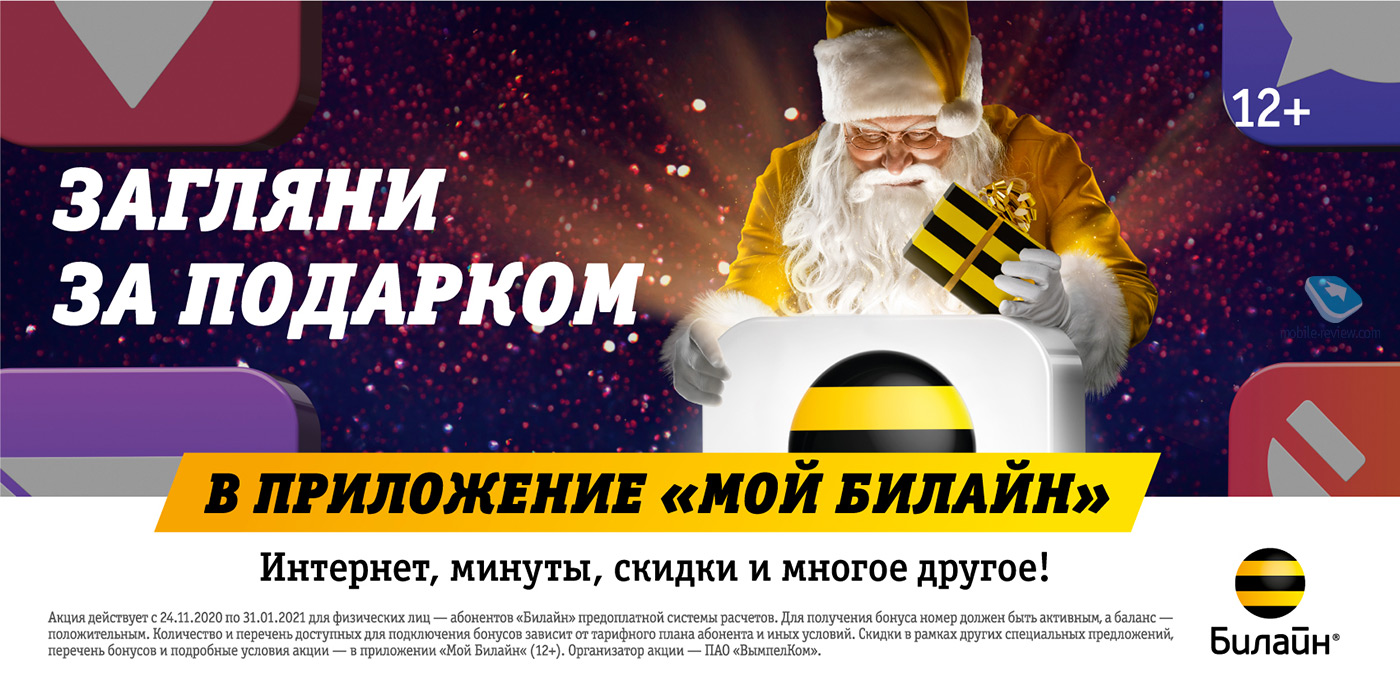 In the application, you need to click on the "Get a gift" banner and see how Beeline will surprise you. For those whose tariff does not include unlimited Internet, it will probably be especially pleasant to get a free doubling of traffic in the package. Most of the gifts are valid for 3 months from the moment they are connected in the My Beeline mobile application, and doubling the traffic is forever. The most pleasant and correct thing is that you do not need to set up a reminder about the end of the promotional period – the services will turn off automatically. To continue using the service you like in the future, it is enough to independently activate similar options in the mobile application. That is, not a single extra penny will be debited from your account!
Entertainment is always at hand
You can always find the latest movies, music or magazines in the application. The magazine option is particularly interesting, I suppose. Finding yourself in a boring line, you may get bored of just surfing the Internet and want to read a fresh "gloss". However, the application is not only him. There are about 100 magazines for every color and taste from psychology and business to science and history.
Broken screen insurance
One of the most useful options in the app. For just 150 rubles a month, you can protect yourself from potentially significant expenses and lengthy repairs.
Financial services and 5% on the balance
Apply for an online card
For online shopping, all security experts recommend getting a separate card. Beeline, in partnership with Alfa-Bank, offers instant and completely free registration of a virtual card for payment in online stores.
You can also apply for traditional bank cards in the application: a credit bank card for 100 days without% or a debit card that gives up to 5% on the balance.
"My Beeline" is an excellent example of a good and understandable application from the operator. Nothing supernatural, simple and convenient.
Back to content >>>
Share: 





we are in social networks:
Anything to add ?! Write … eldar@mobile-review.com