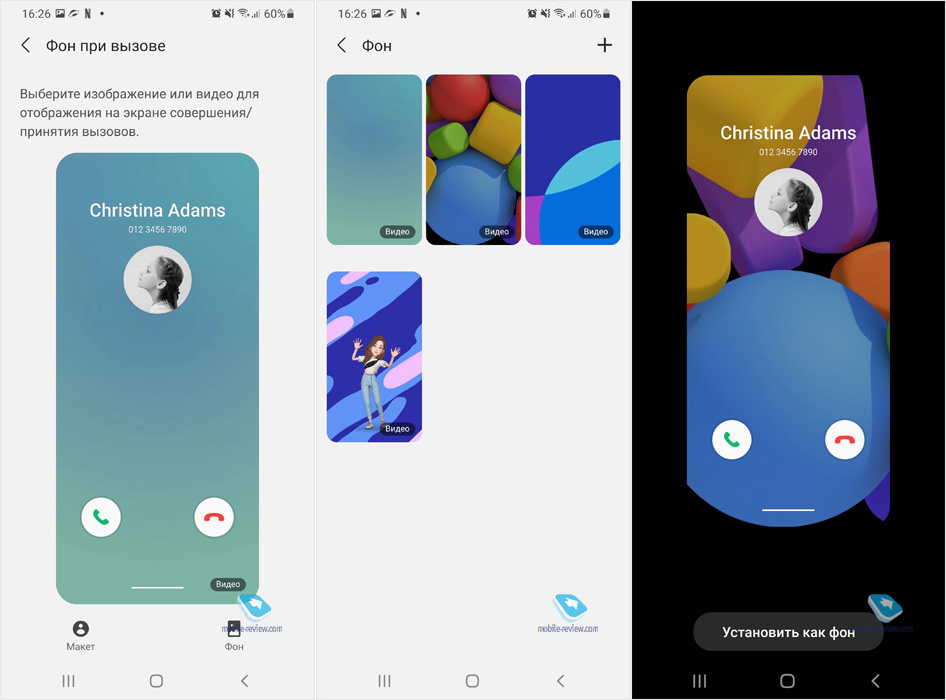 Hey.
OneUI 3.0 has recently appeared, many have installed this version on their smartphones, but the new generation Galaxy S21 has OneUI 3.1. Gradually, OneUI 3.1 will come to all devices, but already now it can be argued that the number of changes in the shell in comparison with the usual third version is noticeable. So, it's time to discuss them and see what is fundamentally new, how much more interesting the devices are in terms of software.
For simplicity, I will highlight each new function, describe how it works and what it gives in practice. For those who want to see what has appeared in OneUI 3.0, I suggest reading the full review of this version.
Content
Call screen background
Vibrations for notifications
Navigation gestures
Alarm clock and timer for sleep monitoring
Video calls, additional effects
Google news instead of Samsung feed
Updated image editor
Camera and software capabilities
Eye comfort, screen
Geodata in photos
Private Share
Google Home for smart home control
Continuing applications
Short conclusion
Call screen background
At some point, you get tired of the same type of screen fill in the call window. The question was solved very simply: you can put your picture, including from the self-emoji section, then it will be animated (!), Or you can choose something from what is already in the settings. The video pours beautifully on the screen, refreshes the call window. Someone will say: "Fi, why this animation?". Some, on the contrary, will be glad that there is an opportunity to diversify the device.
Vibrations for notifications
Now you can select the type of vibration not only for the ringtone, but also for notifications. The number of possible vibration options has also expanded, everyone will choose what will be guaranteed to feel when the smartphone is in their pocket.
Navigation gestures
You can configure additional parameters, as well as set the screen sensitivity. Let me remind you that in the settings there is a parameter "Screen sensitivity", and if it is enabled, then the sensitivity increases, for example, for working with gloves. But this leads to increased energy consumption. Right there, for navigation, you can set the sensitivity level that you need. Someone will need a minimum level, as it seems that the screen is too responsive.
Alarm clock and timer for sleep monitoring
In the "Clock" section, a copy of the alarm clock from iOS appeared, in which you can set not only the time when you wake up, but also when you go to bed. The alarms are set in the usual way, you can set the automatic operation of the blue filter. From the interesting – the integration with SmartThings, you can run different scenarios, for example, turning on the TV if you are at home. It is curious, but obviously not everyone will need it.
Video calls, additional effects
We are used to the fact that in some programs you can choose a background for a video, for example, in Skype, you can mask your surrounding reality. Samsung decided to build such an opportunity for the main programs in which you can communicate via video, you can blur the background, put your photo.
The list of supported programs is not very long – Google Duo, Zoom, Teams, Webex. And here is not the same Skype. When you start the program, the camera automatically changes the background, but so far the function works very badly. Look how the background rips off my head, the result is terrible, and does not give anything good.
In short, this is definitely not what you will use to improve the picture. But, I hope, these artifacts will be fixed and later the function will become digestible, the idea is excellent, but the implementation is good.
Google news instead of Samsung feed
I am sure that many of you use Google's hints when, when opening a widget or on a blank page in Google Chrome, they show articles and notes collected by topic, taking into account your preferences. I like this section as I occasionally stumble upon something curious. Prior to OneUI 3.1, when moving to the left from the home screen, you always got to a similar menu, assembled by Samsung, but the algorithms were noticeably worse, hitting the target of such articles below. As a result, many people simply did not use this page. Now in Russia, by default, there is a page from Google, but you can return back the option from Samsung. As for me, it is so nice and useful, for the first time in many years I swipe the screen to the left and read that I am being offered hints from Google.
Updated image editor
The standard editor functions have not undergone much changes, but additional options have appeared in the menu. For example, new filters that allow you to change the style of the drawing, the emphasis is on watercolors or pencils, it turns out very beautiful and unusual.
You can change the resolution of the picture.
Or you can choose a point of color, which makes it possible to draw on your photos, make them much more vivid.
It doesn't always paint perfectly, but with tinkering, you can achieve a good result, especially for shots from a short distance, as well as people in bright clothes. The example of the Kremlin wall shows artifacts, but they are quite expected.
In the Labs section, you can find a tool that removes certain objects from images, while it works, frankly, poorly, I talked about this in a separate video.
Camera and software capabilities
When shooting objects that are close, "Improved focus" is activated, the function is typical for models with a 108 megapixel module (and when using it). The result is different, but always an icon appears in the lower right corner in the form of two yellow circles.
Cinema mode allows you to shoot yourself and the world around you at the same time, you see two pictures at once when shooting a video. But the most important thing is that shooting from all cameras is involved simultaneously, both from the front and from several main ones.
Multi-shot 2.0 allows you to choose what kind of images you want to take, and the AI ​​algorithms have also changed. The thing is interesting and useful.
Eye comfort, screen
What used to be called a blue filter has evolved into Eye Comfort. You can set a schedule or enable adaptive mode so that the phone itself knows when to switch the colors on the phone. The essence is the same, but the design of this function has changed.
Geodata in photos
When sending photos, you can delete all geodata that are stored in them, a corresponding reminder appears in the window.
Private Share
A separate utility that allows you to send other people different content that has an expiration date. The recipient must have a smartphone with OneUI 3.1 or newer, or they must supply the program from Samsung. A picture is opened in the program, after a specified time it is deleted. The solution is interesting, you won't be able to take a screenshot, but you can always take a photo of the screen, no one can forbid you to do this. Therefore, how important and necessary it is, think for yourself.
Google Home for smart home control
Samsung smartphones had the SmartThings app to control their smart home, but you could use others like Google Home. Now you can copy all settings and devices from SmartThings to Google Home, as well as select this software to work with your smart home by default. Conveniently!
Continuing applications
We can safely say that the function is still experimental, but it will definitely develop. If you have multiple Samsung devices, then you can start working on one and then continue on the other. To do this, you need all devices to be on the same Wi-Fi network, they have Bluetooth enabled, but for now, work is supported in two applications – the Samsung Internet browser and Samsung Notes. Considering that this happens within the same network, I don't see much point in such a scenario, all notes are automatically synchronized through the cloud, they are the same anywhere in the world. So in the current version it is not clear why this is needed. When the number of applications is expanded, then we'll see how applicable it is in real life.
Short conclusion
The transition from version 3.0 to 3.1 for most does not look fundamental, the interface has remained the same, but little things have been added that may come in handy. Or not useful, it all depends on how carefully you set up your smartphone. I don't see much difference for myself between 3 and 3.1, but the capabilities of the camera and photo editor are pleasing, more or less often I use these innovations. There are no performance or stability issues with this version, as well as with the previous version of OneUI 3.0.
Back to content >>>
Related Links
Share: 





we are in social networks:
Anything to add ?! Write … eldar@mobile-review.com