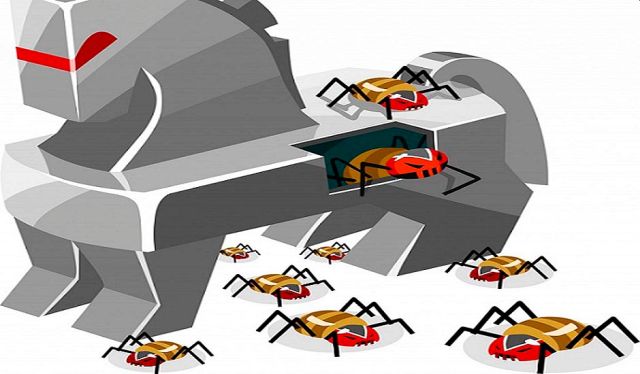 Another year has passed, this time without the tragic consequences expected by pessimists. In my opinion, the common phrase "could have been worse" is ideal for describing the past 2020. There were plenty of difficulties on the telecom fronts, and the year was quite costly for operators in terms of finance. Our officials love to shove all the costs of operators, leaving themselves only laurels of fighters for the interests of the masses. This is already a classic of the genre: they say, greedy cell phones are trying to rip off the last shirt from subscribers, and officials are heroically fighting on the side of the oppressed masses. It goes without saying that in the process of an irreconcilable struggle against shameless cell phones, officials also live well and eat tasty food, although they are regularly caught and punished with bribes. It's also a difficult situation, good positions are expensive, and the costs of obtaining them need to be recouped. And it is advisable to pay off quickly, otherwise why would anyone rush to a troublesome but profitable position? No, there probably is a certain percentage of "fighters for the idea" and unmercenary officials, but such people are more likely to be in top positions, and they have something to lose.
Looking back over the past year, we understand that it really could have been worse, and much worse. The cellular companies have a lot of very costly projects imposed on them, after all, the state has a lot of expensive wants. Local administrations are also racing trying to push financing of various projects onto cellular operators, considering cellular operators to be the owners of bottomless wallets. In general, all this is complicated and contradictory, which is why I believe that 2020 has passed successfully and there have been many achievements in the field of cellular communications. Look, networks are expanding, and coverage is improving, and the density of base stations is increasing, and the development of technologies is not forgotten.
And what about the prices?
Prices are rising moderately. Official statements such as "even the inflation rate is not catching up with the rise in price!" we will leave it for the storytellers, but we have nothing to complain about. Just today, we discussed with a colleague the level of growth in prices for telecom services, agreed that the average 10% looks quite close to the truth. This is the average temperature in the hospital: someone managed to maintain the same level of expenses, someone started paying significantly more. Someone less, but this is rare. Here you also need to understand that those who have kept the same level of expenses, most likely, have noticeably overpaid before, or we are talking about penny average communication costs, when the level of increase in costs is already in the area of ​​error. One thing is clear: about the famous phrase "our communications are constantly getting cheaper!" you can forget, God forbid, that in 2021 the price does not rise, or at least it does rise in price in moderation.
I also have a feeling that the "resource" of imperceptible increases in prices is already close to exhaustion, and in 2021 operators willy-nilly will have to switch to a direct and open increase in prices instead of gaining rubles and kopecks on spot price increases for services, replacing free services with paid ones, and others " little tricks. " Is it really that bad? For me, direct and open price increases are more honest, and we will understand and forgive everything. Otherwise, it's some kind of "sacred cow" phenomenon, spin as you like, but you cannot touch the price tag on the window! You might think that people do not go to stores or suffer from amnesia: the same butter smoothly loses in package weight (200> 180 grams), in fat content and, most likely, with a thoughtful comparison, there is still a lot of things even in the printed numbers of components. And if everything is good and stable with the price and the published composition, then the butter of the same manufacturer will taste worse than its own margarine half a year ago. I mean, the processes in communication services are somewhat similar, with the difference that we are still arguing about the ability of operators to individually vary the quality of their services depending on the "status" and the client's subscription fee. Different priorities of network access – yes, the tool is old and well-known, but this is not entirely about the quality of communication.
Creators and "operators" of Trojans do not rest on holidays
And why would they rest if the holidays are a time of relaxed complacency of the population? On the contrary, it's time to work with this population. In any case, even if all your processes are going normally on their own, it makes sense to familiarize yourself with the fresh material here. This is not just another "horror story", there is a very specific list of the names of programs that the Rogue Trojan disguises as, the list below. Probably, it will be possible to remove the Trojan, although the program resists, threatening with all sorts of punishments and deleting data from the device.
So this review is not an entertaining reading matter, but rather a guide to action and a "bell" for the owner of the device. If you see anomalous behavior of the device, it would be harmless to check the list of Trojan versions, what if you picked up something? I was interested in the name of one of the versions of the AppleProtect Trojan, [se.spitfire.appleprotect.it]. I won't dare to say anything, but the name hints that this particular version is prepared for Apple smartphones, so be on your guard, you never know what. If it really turns out that iPhones are at least partially vulnerable, then this is unpleasant. Android users for the most part have heard about the risks at least with an ear, but many lovers of "apples" firmly believe in the total security of their devices and can behave carelessly. As for the capabilities of the Trojan, this is some kind of very tricky and multifunctional infection, quote:
"Check Point has warned that the new Trojan is programmed to gain access to the device's microphone and camera. The list of tasks that Rogue can perform on an infected phone is extensive. Among them are calling and sending SMS, stealing messages and contacts, recording sound, taking screenshots, tracking location, deleting files and installing applications. The company clarified that the Trojan can also access the WhatsApp database on the phone and delete all stored messages. "
Why would a Trojan delete WhatsApp messages, I don't understand, but there must be a reason. Not because of harm! Or do they send a link to a Trojan via WhatsApp and then "cover their tracks"? Or are we talking about SMS messages? And the rest of the list of the malware's "functions" is impressive and not at all pleasing, even each individual component of the kit can greatly spoil the mood of the owner of the device, and only in the bundle … In general, this new Rogue looks like a serious foundation for building various "structures" on top of it, and It seems to me that we will read about this Trojan more than once. More and more often it seems to me that all these hacking tools have already reached such a level of development that trying to "cure" a smartphone will soon become not only useless, but also dangerous, especially if banking services and so on are tied to the smartphone. God forbid you from such "New Year's gifts".
The picture was taken from the site og.ru, due to the popularity of this image, it was not possible to establish its authorship
In short, be vigilant, wash your hands before eating, and better not click on links, even from friends and acquaintances. After all, the Trojan does not just steal the addresses of its victims, for the owner of the Trojan this is the shortest way to fat new "clients". Not being a specialist, if I suspected a caught infection, the first thing I would do would be to turn off the smart card, pull out and replace the SIM card in the salon, and only then start trying to understand what exactly is happening and why. You can hardly outplay a professional (I never even hope that they are professionals), but at least when you replace a SIM card, you get from the operator the blocking of outgoing SMS (usually for a day) and, accordingly, some timeout for making a meaningful decision … And incoming calls go through as usual, everything is fine with them.
As for the continuous improvement of any Trojan evil spirits, this is a constant and continuous process. As long as there is demand, there will be supply. I often delve into fresh materials about new viruses and already thought that it was difficult to surprise me, I had not met fundamentally new solutions for a long time. And here they wrote about a Trojan that lives only in RAM, and its "parental house" is on a video card memory chip, who would have thought! The Trojan blocks the antivirus, and the malware is launched when the computer starts up among the first processes loaded before the antivirus. I have not read about how they dealt with it, but usually such reviews are published only when a solution has already been found. An interesting case, and even His Majesty format C: will not help here, it became curious how you managed to cope with this rubbish?
In general, once again I congratulate you on all the holidays, do not get sick yourself and take care of your electronics. As you can see, malware quickly grows smarter and is difficult to catch and destroy, it is easier to take care of it. And yes, your own nerves are priceless, but money is also rarely superfluous. And the Trojan, even in an optimistic scenario for us, if it does not get to the cards and bank accounts, it will feed it heartily with spam, fray our nerves, and the computer may need to be repaired. How much do we have motherboards now? And this is even if the specialist is "in the subject" and immediately makes the correct diagnosis. You will hardly undertake to solder and change the memory chip, now they are repairing by replacing large modules. Or they can send them to the store for a new typewriter, why waste little things there!
Related Links
Share: 





we are in social networks:
Anything to add ?! Write … eldar@mobile-review.com