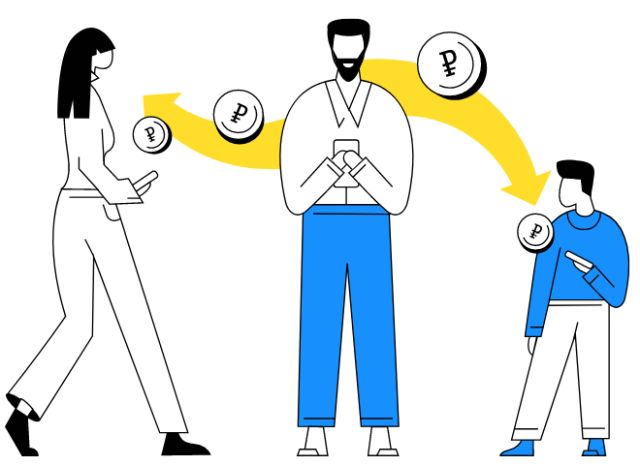 "Mobile ticket" MTS, I did not even know about the existence of such a divine divine, but he exists in nature, and for a long time. "Beeline" overclocked the home Internet up to an impressive 500 Mbit / s, is this really necessary? Targeted SMS advertising only at first glance from the outside may seem like something simple, but in reality it is a whole science.
I hope that everyone is finally awake after the long holidays and deep in work, this is good. And so much time sitting at home idle – you can go crazy. It is easier for active fans of all kinds of social networks, they are always in business, but even they are probably tired of having a rest, especially if they are sitting within four walls. Nothing, it should soon get warmer, and then spring is already on the nose. Let's go!
500 Mbps home Internet "Beeline"
Immediately a question: 500 Mbps is a lot or so-so, nothing special? I can't judge by myself, I certainly don't need such speeds. I don't download films, I rarely watch videos, but where else would I have such speeds? Even if this is a full-fledged unlimited home Internet. Although there certainly is a consumer: they are professionals, and even quite ordinary consumers. I recalled Eldar's long-standing complaint that his pictures were slowly uploading somewhere into the cloud (it seems). Subscription fee 700-800 rubles. per month does not look prohibitive if you need maximum speeds. In the end, since you use the home Internet "Beeline", you still pay for your Internet, ie. for that 500 Mbps, you'll just pay a little more.
Let's read the original press release so I don't have to retell it. A few quotes:
"Beeline informs about the possibility of using home Internet at speeds up to 500 Mbit / s in Moscow and the Moscow region on a number of tariff plans.

The operator provides home Internet and TV services in 33 thousand residential buildings in Moscow and the Moscow region, which allows more than 8,5 million Muscovites to have access to the network. On 85% of the coverage area, speeds up to 500 Mbps are available.

The company is also implementing a large-scale program for modernizing the broadband access network, which includes upgrading equipment, expanding the capacity of existing communication channels to stabilize the quality of service.

According to the research project Beeline Analytics, the growth of traffic in the broadband access network in December 2020 amounted to almost 40% compared to the same period last year. Internet traffic per user also increased by 35% and is about 220 Gigabytes per month.

The operator's tariff line includes high-speed tariffs with a maximum speed of up to 500 Mbit / s, complete with a router with a monthly subscription fee of 700 rubles per month ("Premium" tariff) and complete with a router and a TV set-top box – for 800 rubles per month (tariff "Premium with TV." This speed has also become available to converged offer customers in the "Close people 4+" and "Close people 5+" tariffs.
In the process of analyzing tariffs and other issues of mobile communications, I somehow almost missed the issues of broadband access, and this, as we see, is a very vividly developing service. Although the prospects of the wired Internet "Beeline" in Moscow seem to me ambiguous, I assumed that MGTS confidently "holds" most of the Moscow broadband market and is not going to give it to anyone. Perhaps I was wrong, or the prohibitive 500 Mbit / s "Beeline" is designed, among other things, to "bite off" a certain number of customers from the Moscow market. And Moscow is not the whole of Russia, and there is life even outside the Moscow Ring Road, surprisingly (smiley). The current modernization of the broadband access network is a "pleasure" for Beeline, probably not cheap, they write "… a large-scale program for modernization of the broadband access network, which includes upgrading equipment, expanding the capacity of existing communication channels to stabilize the quality of service." Who would doubt that when the broadband access network was being built, they hardly counted on such speeds, but here the modernization of one section implies the upgrade of other sections too, one pulls the other, otherwise "bottlenecks" appear and the whole project largely loses its meaning.
Yes, it's expensive. On the other hand, it is also a reliable investment in the future. People in Moscow and the Moscow region, for the most part, where they lived, will live there and will not go anywhere. And in general, broadband users are very conservative on the principle of "works – and thank God", these are not always dissatisfied mobile users. And if, at the same time, the most progressive and best in terms of its parameters broadband access network is still declared, there is nothing to twitch, live for yourself and rejoice. And, of course, advertising by advertising, and 500 Mbit / s is a good reserve for the future, "investing" in the modernization of the broadband access network, then you can sleep peacefully for a while. Probably a fairly long time to sleep well.
"Mobile ticket" MTS
A curious little animal, for some reason it passed completely past me for some reason. And then I read a complaint about glitches, got interested and started asking. I found the official description on the MTS website here, I advise you to familiarize yourself. You do not risk overworking, there are very few letters, and at first glance everything is simple and clear. But the practical experience of using it personally does not inspire me with enthusiasm. Although I am not an indicator, I am lazy and personally accept new technologies only with a noticeable improvement in the quality of service or with obvious additional conveniences. Thank God, there are people who get to the bottom of everything, although not always on their own. Theoretically, you can learn about all the features of the service from the monumental pdf-file (12 pages in small print) here, but I have mastered only individual paragraphs. Enough to understand (including by the full name of the service) that the ideology and implementation are largely copied or taken from the same Troika. In which I do not see anything wrong: there are already enough inventors of bicycles, and a reasonable person will try not to touch a well-cycled bicycle in vain.
From the point of view of the practical applicability of the Mobile Ticket, let's get acquainted with the features that are written about on the MTS website and which are indicated by a real user of the service.
The "entry price" is zero, after all, everything is provided free of charge, including a special NFC-SIM card. Unless they do not single out free trial rides, but that would be too bold, and in general this is the prerogative of Deptrans.
An NFC SIM card seems to be a good thing, but it is in short supply. It is impossible to order (they refuse), but they claim that this rare bird is found in some MTS salons. They suggest looking for yourself.
They write that the lifespan of a "mobile ticket" is 2-3 years, then you need to change a special NFC-SIM card for a new one, since they do not know how to "restore the vital functions" of the ticket or for some reason do not want to.
To transfer the balance from an expired card to a new one, you need to go to their center (Moscow transport). There are only two of them in Moscow, which transfer money from an old SIM card to a new one (or to another medium). To do this, you need to have a passport and a copy of the room service agreement. Despite the absurdity of the situation, I am ready to believe. I remember that a long time ago, in order to raise their own money, it seems that from Troika it was necessary to go to almost the only specialized office in Moscow, if not, I confuse it, somewhere on Krasnoselskaya and then follow a long way on foot. Such traditions are very tenacious in our country and have been perfectly preserved for almost decades. To be fair, I don't even know if now they are giving away the unspent money from simply Troika, and if they do, then is it not exclusively in the same two points in Moscow and only with the same heap of additional documents?
Now, in all honesty, answer to yourself a simple question: do you need this apotheosis of high technologies, or will you somehow live in the old fashioned way? Undoubtedly, if everything works perfectly (and this also happens), then you will get a wonderful user experience, but if something goes awry, then MTS will receive invaluable experience with you, and in return you will get a headache and, perhaps, the pleasure of running around around the city in this beautiful winter weather. Which is also not bad in terms of improving the body, but not very good for the nervous system, already exhausted by the quarantine.
About mutations of voice spammers
As I can see, a new trend has emerged in the "promotion" of lawyers, dentists, clinicians and other already very annoying spammers. It somehow goes and develops in waves, there was a period of enthusiasm for a call back, they called (more often from a regional number) and immediately fought back in the hope that the client would call back. They called from beautiful city numbers, often from other cities, and the "client" sometimes boasted later in the forums that he was dragging out time and probably "punished" the spammer with money. Yes, yes, he punished for money ip-telephony with a substituted number, shchazzz … Well, and other tricks in order to show at least some number, and at the same time not allow the spammer to be found by this number.
From the latter, lawyers-lawyers and dentists-clinicians who are already well known to us call from a hidden number, I have already accumulated three episodes in just 2 days. I mean, if, for example, my spouse simply does not answer calls from unfamiliar city numbers, then now I will have to get used to not answering calls from any hidden numbers. I still won't try to put some kind of software calibrators (if there are any), laziness. And the caller from a hidden number surely understands the possible attitude towards him in the event of such tricks of his. Another thing is interesting here: judging by the spam in this format, the question of the obligatory display of at least some, even if the "left" number has ceased to be relevant for spammers. And this is a bad sign of the approaching end of the "uncompromising struggle" with the substitution of left numbers and other outrages.
At the same time, this is a reason to remind you of the existence of a Personal Account for all operators. If you are very curious, then just look at the list of recent calls and you will see everything. I'm not at all curious about the origin of calls from spammers, but I looked into my Personal Account to check the service's performance especially for you and saw the actual number and what was called from the MTT operator in Krasnodar Territory. Or at least this MTT number belongs to. So if spammers are very angry, then the Personal Account of your operator will help you, complain to Roskomnadzor, even to the Ministry for Health. Probably, a screenshot from the Personal Account will not hurt to attach. If I don't confuse, once upon a time it was necessary to order detailing to get the number of an undecided phone, but now there is not even this hassle, everything is as simple as possible. It took me longer to receive a temporary password to enter my Beeline account. Naturally, no one will scratch on one of your complaints, hardly on ten or twenty complaints either. But when there are a lot of complaints (and there will be a lot of them, our people have strongly disliked spammers since the time of their total telephone terror), then the regulators may ask themselves the question "where are the firewood from?" And operators will have to shake things up and remember that this struggle is eternal, it will never end, and any indulgence will quickly give a response from spammers. After all, spam is primarily money, and money is easy and relatively safe, though not God knows what kind of money.
Beeline canceled fees for additional numbers
Naturally, not on all tariffs, but on those where this service is available. And you understand that these are far from the most budgetary tariffs, although 900 rubles / month cannot be called an expensive tariff in Moscow today.
Now a quote from the press release, so as not to repeat the same in other words:
"February 8, 2021, Moscow – Beeline made the popular" Close people "tariff line even more beneficial for family communication. From January 29 to March 31, 2021, customers will be able to combine up to 6 numbers within one tariff of the "Close people" line completely free of charge. The offer is valid only for those who connect additional numbers to their tariff for the first time.

By connecting all members of their family, grandparents or even friends to one tariff, Beeline customers may not worry if someone close to them runs out of Internet on time or if someone of them is left without connection in a difficult situation, forgetting to replenish the account. After all, "Close people" is a unique line of tariffs that allows you to connect up to 5 additional numbers. The tariffs combine all the most popular services for family use at once, and all devices (from smart watches to tablets). Among them: large packages of minutes, an Internet package or unlimited Internet, unlimited options, access to "Beeline TV" for home or mobile devices, Home Internet at speeds up to 500 Mbps and much more. The content of services varies depending on the selected tariff and the city of connection. "
Everything would be fine, but when I wrote (it was a long time ago) about the Beeline line, I really did not like the lack of the ability to dose the allocated traffic packet by additional numbers. It turned out that one addicted or simply irresponsible family member could quickly eat up the entire packet of traffic, leaving the whole family with nothing. And, I remember, it was impossible to fight this. It seems that the owner of the main number could connect additional packages to himself, not giving the others access to these packages, but this was an obvious "crutch". I wonder how it is now? I doubt the scheme has changed radically, but I would like to hear from those who actually use this sharing scheme today. Tell us about the difficulties and problems, and we will read about all the good things on the Beeline website (smiley).
By the way, on the Beeline website you can read about it in general terms with pictures here. Nice pictures, by the way, I like graphics in this style. But most importantly, what about package sharing?
Targeted SMS Ads: It's Easy!
Simple, but a little expensive, in my opinion, for a small company. First, let's read the main thing in the press release, a quote:
Beeline Business (a structural subdivision of PJSC VimpelCom) presents new functionality for its multi-channel advertising platform Beeline.PROdvizhenie. The company's clients will be able to simultaneously send targeted SMS-mailings to the networks of other telecom operators. At the same time, users do not have to study additional interfaces – all operations can be performed using the usual solution from Beeline Business.

Beeline.PROdvizhenie is a multi-channel platform for finding clients for small and medium-sized businesses based on big data technologies. It gives companies with a small budget access to key technologies in the advertising market. The platform allows you to customize the search for a target audience by 200 or more parameters in order to find new customers and increase conversions from advertising campaigns.

Targeted SMS-mailings to the networks of other telecom operators using "Beeline.PROdvizhenie" – this is the first offer of this kind on the Russian market. Customers will not have to waste time concluding contracts with another telecom operator, and the cost of sending an SMS will correspond to the public cost set by such operators. In the Personal Account, users will be able to find data on the approximate number of SMS messages that are planned to be sent as part of the advertising campaign, broken down into the home network and the networks of other operators. At the same time, detailed information will always be available to clients in an aggregated report.

It will be possible to use the new service with a minimum budget for an advertising campaign of 30 rubles. VAT included, as well as an additional payment of 3 rubles. VAT included for the right to use the sender's name on the networks of other operators… As part of the advertising campaign, the budget for targeted SMS-messages will be distributed as follows: at least 70% of the budget for the Beeline network, no more than 30% for the networks of other operators (in equal proportion for each operator). "
The subtleties / prices of their advertising mailings, cellular operators have never published in detail. You cannot frighten people with the difference between the public price of SMS messages and those pennies that are charged from corporate clients for SMS in bulk SMS messages on their network. But here it is different, here we are talking about mass mailings to other networks.
The most interesting, in my opinion, I highlighted above in bold:
The cost of sending SMS is declared in the public amount, that is, the full cost of SMS by the partner operator. Hmm … And what about discounts for the operator through which you work, sending SMS to the network of another operator? Really, absolutely nothing you are entitled to? Or is it supposed to, but not for you?
3 rubles. appreciated your right to use your name (company name?) when sending SMS messages in someone else's network, how! If these are normal, generally accepted rules of the game, then when erasing another SMS advertisement from some "Trakh-Tibidoch" corporation without reading, take comfort at least by the fact that this corporation was thrown away just for mentioning its name, God forgive me, for some good money.
But what does the client of the advertising platform "Beeline.PROdvizhenie" get when sending messages on other people's networks? Well, firstly, the client does not have to study additional interfaces – all operations can be performed using the usual solution from Beeline Business. This is the main plus (laziness is the engine of progress), but there are other pluses!
For example: "" Beeline.PROdvizhenie "is a multi-channel platform for finding clients for small and medium-sized businesses based on big data technologies. It gives companies with a small budget access to key technologies in the advertising market. The platform allows you to customize the search for a target audience by 200 or more parameters in order to find new customers and increase conversions from advertising campaigns ".
Now everything becomes at least a little clearer. It seems that "Beeline.PROdvizhenie" trades, if not air, then some kind of ethereal substance with beautiful names "competence", "Big Data" and so on. They are sold to relatively small firms with small budgets, who also want to use these budgets competently and effectively. Well, the wind in the sail, if everything works out as planned, small firms also have a right to exist.
Instead of a summary
I hope you have received some, if not very useful, then at least informative information. I learned a couple of things new to myself, I remembered about the same number of forgotten ones. Let's dwell on this for now until next time.
Related Links
Share: 





we are in social networks:
Anything to add ?! Write … eldar@mobile-review.com