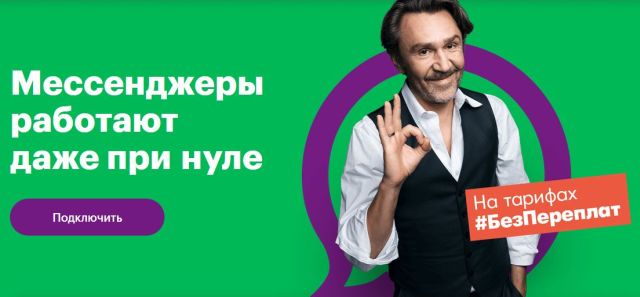 The "great zeroing" of traffic through Telegram has not yet taken place, but a start has been made. Again, about spam and theft of databases, it seems that in Russia it is indestructible. Favorite number in "Beeline", if you fit the criteria, then be sure to use it, it's a good thing.
So what's on Telegram?
Traffic consumption for the Telegram messenger seems to be zeroed out by all operators, whose tariffs provide for unlimited Internet for messengers. As far as I understand, those who use this messenger received SMS notifications from MTS about this. I didn't get it, although not so long ago I installed Telegram for myself (I don't remember for what purpose) and even looked there a couple of times. Maybe you sent a notification only to active users or only to those with appropriate tariffs? I would like to believe in the dramatically increased intelligence of billing, but doubts are gnawing: he, dear, every month sends me warnings about the need to have enough money on the balance on the eve of writing off a subscriber, although there is usually a lot of money there. I pulled a screenshot from Twitter, this is how congratulations on the advent of the Telegram freebie era look like.
I was not personally sent a message, but I received a press release from MTS, so I was aware of the details. And I got interested in this issue because people began to cheerfully discuss the possibilities of unlimited downloading of video clips using the Telegram messenger (!), Unexpectedly. I read a whole bunch of information about special bots that convert video clips into Telegram messages, about the fact that, unfortunately, the file size of a video clip cannot exceed a "pathetic" 2 GB, and many other ideas and opinions. It's amazing how any tiny freebie is quickly transformed by people into a big freebie. It is a pity that at the time of reading (September 9, 2020) no one confirmed the effectiveness of their works of the righteous, but it seems to me that the operators will close this loophole, even if it is still working.
In the meantime, here's a press release from MTS on this topic, an absolute record holder for brevity! I quote almost entirely with minimal abbreviations:
MTS PJSC has zeroed Internet traffic to the popular Telegram messenger for subscribers of X-line tariffs, as well as unlimited options for popular social networks and instant messengers.

Users of the line of tariffs "X" and options "VNets", "My messengers" and "Unlimited messengers" will be able to communicate and exchange files in Telegram without spending the main Internet package. "
What about your colleagues?
I looked that like anyone, for September 10, 2020 I was not very inspired. MegaFon has not yet (?) Added Telegram to its tariffs with unlimited messengers, unlimited is valid for WhatsApp, Viber, eMotion, Facebook Messenger, TamTam, Snapchat. Either they have not yet figured out that Telegram has already been "rehabilitated" due to the impossibility of strangling it administratively, or they are preparing for the sake of this matter another monumental update of the tariff line.
In "Beeline" I looked at the tariffs "Close people", which include unlimited instant messengers. The wording on the window is "Unlimited messengers. Unlimited access to WhatsApp, Viber, etc. ". Hopefully a comprehensive "dr." includes Telegram? Alas, the decoding of this "dr." not pleased, "Without spending the Internet package, access to messengers WhatsApp, Viber, ICQ, Skype, Google Hangouts, Snapchat, KaKaoTalk, WeChat (including voice and video calls) is provided." So in "Beeline" Telegram is not different. Or, let's say, while it is "unworkable", but there is hope for an early "others."
Only Tele2 pleased with unlimited Telegram even on the democratic "My Online" for 400 rubles. (this is in Moscow). And in the description they emphasize unlimited on Telegram, they write "Telegram and others". When exactly Telegram was made unlimited in Tele2, I don't know, but quite recently. When I reviewed the latest Tele2 tariff line on July 20, 2020, there was no such unlimited limit. Oh, I lied: I didn't know, but I should have known. We launched this case in Tele2 and it's true quite recently, on August 24, 2020, read the press release here, a small quote for reference:
"In June, restrictions on access to Telegram were lifted in Russia. In this regard, the operator is launching a service that will allow customers to use the messenger without spending the Internet package.

The "Unlimited on Telegram" option is available free of charge to subscribers of the "My Online" and "My Online +" tariff plans, in the capital also on "Everywhere Online" and on the "Everywhere Online +" tariff in Moscow and St. Petersburg. Subscribers of other package tariff plans can activate the service on their own for an additional fee. "
Well, I missed this press release, do not kill me for that? But our people are attentive, back in July they asked why no limit on Telegram appeared in the new line of Tele2 tariffs. So Tele2 was the first to take note of the lifting of "sanctions" on Telegram, followed by MTS very soon. And I hope that the rest of the operators will also catch up. For the sake of an unlimited messenger, people are unlikely to rush to change the operator "that's right now", but we have such a phenomenon as emotional attachment to a certain service, so the presence of such unlimited tariffs still gives the operator some competitive advantage.
"There was a database on the shelf"
I've been writing about trading in various databases since 2003, the Internet remembers everything. What has changed over the past 17 years? Only that the choice of the buyer has become much wider, the interfaces are more convenient, and the sellers are more benevolent. And advertising-marketing based on stolen-bought acquired accuracy and purposefulness.
Recently, I hardly see SMS-advertising, they spam in a voice, but here it is right to the point. I sent an advertisement to the phone for an online store of animal food, and advertised exactly that brand and format that I rarely, but regularly take in "Pet". And he indicated the price, which is really 85 rubles lower. Probably, the IT specialist quit his job at Lyubimchik and took the customer database with him. For the sake of 85 rubles. the difference (about 7%) will not run to change the store, but for many the price is a matter of principle, they will be happy to take risks and spoil their nerves, count it for three kopecks.
As for the irreconcilable struggle for the integrity and safety of our personal data, the "struggle" does not subside, it has already become a tradition and a sign of stability. And the money spent and sawn for this over a decade and a half would be enough for … A lot of that would be enough.
We are fighting against the theft of personal data in about the same way as in Belarus they are fighting against Lukashenko: for twenty (!) Years nothing has changed, but people seem to care about the very process of the struggle. In our country, judging by the results of the struggle for data security, officials are also enjoying the process.
About "Favorite number" in "Beeline"
An interesting and useful thing, a description for Moscow can be found at the link here. I would call this "Favorite number" a rather generous gift: after the number is announced as "beloved wife … number", the owner of the number, for whom any mobile number was assigned as a favorite, receives 1 minutes of calls to this number per month as a free bonus. Naturally, free gingerbreads are only in fairy tales, and a number of conditions will have to be met. Let's talk about these conditions, the prices are for the Moscow region.
A huge plus – your favorite number can be any number of any mobile operator in Russia, like that! We get our additional 1 minutes (over the package) if our favorite number is from another operator, and if it is a Beeline number, then calls to it will be generally unlimited.
You can change your favorite number as often as you like, that is, in fact, a package of 1 minutes (or unlimited) per month is given as an "addressless" additional package. If you specifically set such a goal, then, theoretically, you can only spend this additional donated package from an additional number, without spending the main package of minutes at all, if you are not too lazy to bother with this business.
The main limitation is the entrance ticket price. "Family" tariffs in "Beeline" start from 650 rubles / month ("Close people 2+"), the fee for an additional number – from 150 rubles / month. In total, the minimum price of the "entrance ticket" is 800 rubles / month. It may be possible to connect your favorite number without connecting an additional number for 150 rubles, but I'm not sure.
With a negative balance, the service does not work, it seems to be predictable. It would be strange if other services in financial blocking did not work, but call your favorite number to your health.
Despite the "family" of the tariff, the "Favorite Number" service exists as if independently. If you connect to an additional number, then these 1 minutes of calls are spent precisely and only by this additional number, no "common fund".
Service management is organized conveniently, no disconnections are required. To connect a new favorite number, just indicate it in the USSD command, and the number will take the place of the previous one. Quotes from the description:
"To activate the service, choose which number you want to connect as a favorite and dial from your phone: * 303 * digits of your favorite number without 8 # (call).

To change one favorite number to another, simply connect a new favorite number by dialing from your phone: * 303 * digits of your favorite number without 8 # (call). Check which favorite number you have connected now: * 303 # (call) ".
As a summary, we can only praise Beeline for a good gift. If USSD commands are clearly practiced, then for a number of clients the favorite number will be doubly useful, if the commands slow down and fail, then without such acrobatics with a constant change of numbers it will also be good. Actually, the majority will use the service just like this: once "love" their most popular number and not touch anything else.
Related Links
Share: 





we are in social networks:
Anything to add ?! Write … eldar@mobile-review.com