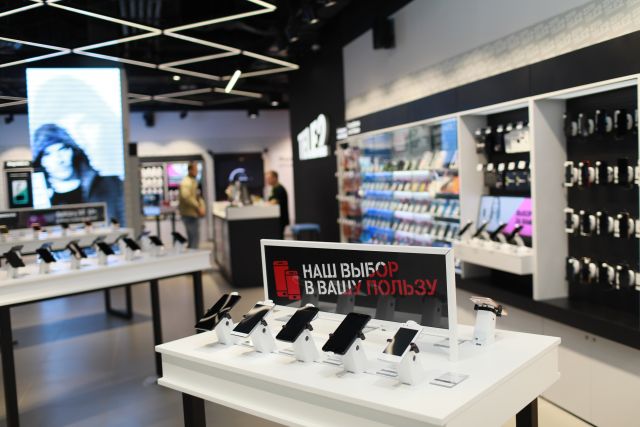 Incredible adventures of the "Everywhere Online +" tariff in Tele2: do you see a gopher? And he, in fact, is not, ha ha! Trade-in in Tele2: progressive, however, in my opinion, if together with "Combo", then an indigestible heap of additional conditions turns out. Another new Smart in MTS: nothing terrible happened, the tariff, rather, became a little better.
So 80 or 40 GB in Tele2?
I have a bad or, on the contrary, a good habit of focusing on a specific problem being solved. All these tariff guts are so multifaceted that it is worth a little distraction, and you already write about something else, and a little more – and no longer remember what was originally discussed. In the last review, I wrote about zeroing traffic in Telegram and took a screenshot of the Tele2 tariff showcase, without even paying attention to the indicated 80 GB in the parameters of the "Everywhere Online +" tariff. At that moment, I was only interested in the question from Telegram. However, the reader noticed, asked, I was surprised and climbed to read. And he read to a state of slight amazement.
It turns out that no such miracles happened and users of this tariff still have a 40 GB package, switching to this tariff also receive 40 GB. And 80 GB from September 9, 2020 are given as a promotion only to new subscribers, and information about this can be found in a pdf file, a link to which is in a small note in the depth of the tariff description. As usual, the needle is in the egg, the egg is in the duck, and the duck is in the clouds. But this small note in Tele2 was considered sufficient reason to draw a large figure of 80 instead of 40 GB on the tariff showcase. Beautiful, you will not say anything!
Further more. The pdf file can be read here, from a short explanation, we learn with interest that these additional 40 GB need to be cared for and cherished, avoiding delays in charging a subscriber. Once I missed the lack of money at the time of writing off – that's it, kirdyk forever to your additional package. I changed the tariff – similarly, the package is taken away. And, of course, this additional 40 GB cannot be transferred to anyone else or sold on the exchange. Oh, and transferring these gigabytes to the next month is also impossible. I readily admit that there will be a certain number of meticulous and disciplined users who are watching and monitoring their balance, but sooner or later the tariff will rise in price, and they will miss this business, then Tele2 will catch them and take the package away. And I'm only talking about those who dig into the note and read it, and it's good for those who have 20% of those who connect. The rest who have not read it, for the most part, will use this additional package hardly more than a couple of times, then they will run into sanctions and lose the package.
In total, in the bottom line: a very beautiful figure of 80 GB on the tariff showcase and a phenomenally accurate user who does not allow a single day of delay in writing off the monthly fee. Is it worth giving 40 GB for this? I think it's definitely worth it, the operator loses more on delays and numbers in the financial block.
Trade-in in Tele2, who gets what
Probably, it can be formulated even more simply: "Do you really need it?" The idea itself, of course, is good: bring your old smartphone to Tele2 and after a while leave the salon with a brand new device in your hands, without paying anything significant. That is, for the difference in cost between the old and the new device, you can apply for a loan or installment plan without leaving the cash register. And you can not draw up, but pay the difference right away, the owner is the master. You can read the news here, quotes:
"Tele2 continues to offer its customers profitable and convenient products and services. For example, the operator launched the sale of smartphones under the trade-in program in communication stores and modules. This is a service that allows you to exchange your old smartphone with a surcharge for a new one. Due to the redemption value of the old smartphone, the client can pay up to 70% of the price of the new device. In this case, the surcharge for a new phone can be issued on credit or by installments.
At the same time, subscribers can get a discount from 20% to 50% within the framework of the "Combo in Tele2 salons" campaign. In order to receive a 50% discount, you need to purchase two 4G smartphones in one check, an additional product to protect a more expensive smartphone and a SIM card with the "My Online +" or "Everywhere Online" tariff (prepaid for 3 months) in one from Tele2 salons participating in the promotion. A 50% discount will apply to a smartphone of a lower cost. You can learn more about the rules of the "Combo in Tele2 stores" promotion and participating smartphone models on the website.

To get a 20% discount on a smartphone, you need to purchase in one check a 4G smartphone, the "Comprehensive Protection" insurance program and a SIM card with the "My Online +" or "Everywhere Online" tariff (prepaid for 3 months) in one of the communication salons Tele2 participating in the promotion ".
Somehow it is, hhm, with this "Combo" it turns out a little too much. You need to buy a second smartphone (it can be inexpensive), buy an "additional product for protecting your smartphone" (a cover, or what?), Buy a sim card with the "My Online +" or "Everywhere Online" tariff and pay for three months of a subscriber at once (from 1 to 500 rubles), while on an inexpensive smartphone, which, most likely, was not needed in FIG, you will get a discount of as much as 2%. For a 100% discount (for a more expensive smart one, which you originally wanted), you will also have to buy the Comprehensive Protection insurance program. Truly "combo", only everything in this "Combo" is not in your favor. So, as one of the greats wrote, "Think, horse, think!"
This is how I see this trade-in: I came, handed over my smart, paid the difference with the desired new one in cash, gave up the film-cases and "setting" the smartphone, waved a pen and left in my direction. And no compound feed, which is known to whom they feed. It's still all right and radically easier and more enjoyable than spending a lot of time and nerves selling an old device. Although you will certainly lose money with a trade-in, don't go to a fortune teller. But a big saving of your time and nerve cells too. In general, what can they not think of in order to stimulate the client to part with the money! I remember that there was a completely furious story with some, God forgive me, leasing of smartphones, I no longer remember the details of this brilliant project.
Another new Smart in MTS, we are not in a hurry to scold
And why should you scold him? As far as I can see, nothing has changed much, the monthly fee was 420, it became 450 rubles / month. But for these additional 30 rubles. (7% price increase) added 50 minutes and 50 SMS-messages to the packages. Considering that the price would have been raised anyway, 50 minutes would be useful. You can read the news here, quotes:
"From September 15, 2020, the updated Smart tariff is open for connection and transition, with which you can communicate on favorable terms with subscribers of any operators in the region of your stay and use the Internet package both at home and while traveling around the country in the MTS network.

With the new Smart tariff, you get every month:

UNLIMITED on MTS of the host region (after a package of minutes)
5 GB internet;
250 minutes to all numbers of the region of residence and MTS of Russia;
250 SMS to numbers of all networks in the region of residence.

The monthly fee for the tariff is 450 rubles. The tariff is valid in the MTS network throughout Russia. To switch to Smart, dial * 111 * 1024 # (call) on your phone. "
It would be better, of course, to make unlimited on MTS separately from the package of minutes, then 200 minutes would be enough for a much larger number of calls, if calls to MTS did not consume the package. Otherwise, what can you say? This is MTS, they don't go there for cheap tariffs.
Willy-nilly, I remembered the tariff "VO Smart" MGTS, recently I did a review on it. How much better this "VO Smart" from MGTS is simply incomprehensible! For 400 rubles / month, it is two to four times better, depending on what exactly you need from the package tariff. However, this "VO Smart" is available only on condition of availability or connection of fixed services from MGTS, alas.
Returning to our updated MTS "Smart" I would like to note once again that it is advisable to compare the tariff of a certain operator in a certain region, first of all, with the previous tariff of the same operator, and only then with the tariffs of other operators in the same market. There are many reasons why a tariff may be more expensive or cheaper than the average price.
Some errors
More precisely, including the lack of such work. A kind person here gave me a tip on an article in Vedomosti dated September 09, 2020, you can read it here. In a note, MTS and Beeline reported about free and unlimited traffic via Telegram. The same kind person gently reprimanded me that Beeline probably simply did not have time to update the tariff description on the website. Well, a week later, he still "did not have time", but it's okay, if only it worked as stated. In general, there is some kind of confusion and vacillation among the operators with this Telegram. MTS seemed to have posted their news on September 08th, I haven't seen it, it's strange. Then, at the very bottom of the news, I read that this was a revised and supplemented version of the news from September 10 on September 8. That is, whether the news at all existed on September 08 or it was released after the 10th, they know only in MTS. But these are little things.
MegaFon also officially woke up with some delay, already on September 16, 2020, read the news here. However, I read about the fact that unofficially Telegram is no longer charged for some time. One way or another, the situation is improving, and, probably, very soon everything will be fine with Telegram fans, regardless of which operator they use.
Related Links
Share: 





we are in social networks:
Anything to add ?! Write … eldar@mobile-review.com