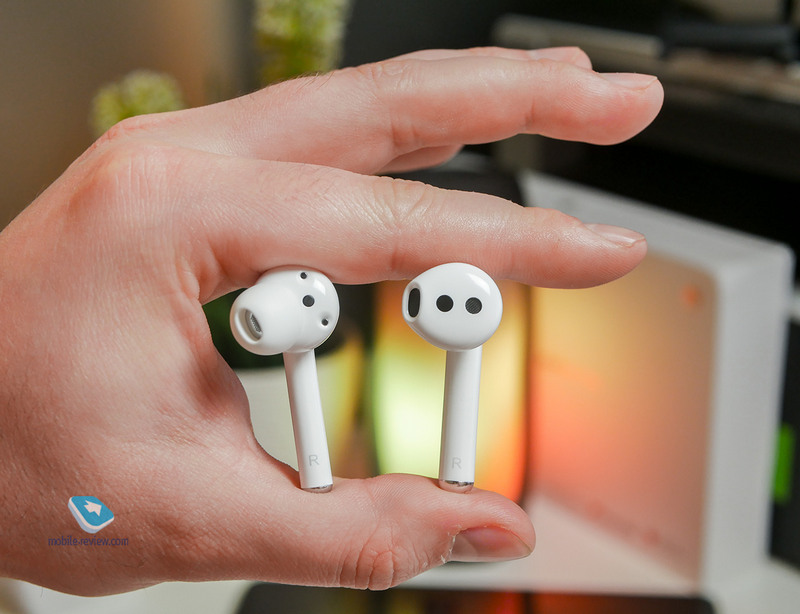 Content
Introduction
Case design
Elements on the case
Headphone design and usability
Elements on the headphones
Smartphone connection
Noise canceling operation
About sound
As a headset
Working hours
Impressions
Introduction
I have been using Huawei Freebuds 3 headphones for a long time, during this time I managed to test all the possibilities, find out the exact operating time and understand the sound. The devices are notable for being in-ear, but with active noise cancellation. Not a single model of such a plan comes to mind. There is almost no sense in such a design and the simultaneous use of ANC, nevertheless, all this works at the very least.
As you know, the Honor brand every time for a new Huawei product makes a retaliatory step: they released Freebuds 3, and after a while a slightly modified analogue appears – Magic Earbuds.
The trick of the new wireless headphones from Honor is that they are in-ear, which means, in theory, should work better in terms of noise suppression: passive plus active isolation.
But let's first understand the technical similarities and differences between these two models. Here's a table for simplicity.
| | | |
| --- | --- | --- |
| | Honor magic earbuds | Huawei Freebuds 3 |
| A type | In-ear | Inserts |
| Processor | BES2300Y | Kirin A1 |
| Codecs | AAC and SBC | AAC and SBC |
| Driver | 10 mm | 14.2 mm |
| ANC | There is | There is |
| Microphones | 3 | 2 + Bone sensor |
| The weight | 5.4 grams | 4.5 grams |
| Charge | Via USB-C | Via USB-C and wireless |
| Battery capacity | 37 mAh | 30 mAh |
| Case battery capacity | 410 mAh | 410 mAh |
With prices, the situation is as follows: Honor Magic Earbuds will be sold for 8 rubles, and Huawei Freebuds 990 are already available for the same price (for the promotion until May 3, without it – 5 rubles).
Case design
These are two solutions, completely different in style. As I see it, Huawei is a stylish and fashionable accessory: pay attention to the case – round with a metal insert, I have never seen such designs. While Honor is a typical TWS device: a glossy loaf case. The first-generation Huawei Freebuds released in 2018 were roughly the same.
Note, I am not saying this is good or bad. This is about the perception of products.
Both cases are made of glossy plastic. Huawei has it in black or white, while Honor has it in blue or white.
I would have bought it white, since the traces of operation are almost invisible.
The dimensions, of course, are smaller in Huawei Freebuds 3. This is the most convenient case that I have ever seen: it is streamlined from all sides, flat and round. Fits in the pockets of any clothing, does not pull or bulge shirt pockets.
The Huawei case weighs 57 grams, while the Honor weighs only 6 grams more, but it seems like all 50.
The cover of the Huawei case opens easily, it is clearly fixed in the extreme position. It closes back almost instantly with a characteristic click. While the cover of the Honor case opens a little less pliable and does not have a lock. Closes smoothly, without a loud click.
The construction of the Honor "box" is assembled as tightly as possible, that is, the lid does not play. In Huawei, the lid moves a little to the sides even when closed. Probably due to long-term use.
Elements on the case
Everything is quite typical here: both models have a USB-C connector for charging batteries in cases, there is an operation indicator (Huawei has it on the bottom, Honor on the front panel), there is a pairing activation button (Huawei has it on the side, Honor has it on the back) …
Headphone design and usability
As you already understood from the introduction, Huawei headphones are made in the in-ear style, and the Honor brand headphones are in the in-ear style.
Everyone decides for himself which type of headphones suits best. If you have any discomfort when wearing in-ear, then of course use earbuds. For example, lately I have been putting on the last type of "ears": no pressure is created on the eardrum, the surrounding sounds are better heard in them, they even look trite clean and tidy.
Honor Magic Earbuds fit perfectly in the auricle, do not fall out.
Huawei Freebuds 3 resemble Apple Airpods as much as possible. I don't see anything wrong with that: sometimes users of different brands are latent lovers of Apple 🙂
The Magic Earbuds are nothing like the Apple Airpods Pro. They are made in the style of the first generation Freebuds from Huawei. The "stem" is 25 mm long, its shape is somewhat unusual – an oval, which has been slightly narrowed downwards. The upper part of the earphone is round, and the shape of the sound channel is oval.
The "stem" is decorated with a silver tip, in fact, as in Freebuds 3. Most likely, it is a tribute to fashion (that is, Apple) and does not carry any functional load – just for beauty.
Can cases be opened with a wave of the hand? A Huawei case is possible, but Honor is not.
Do the headphones fall out if you turn the case over? Neither there nor there – no. They sit perfectly in their places thanks to the magnets.
Elements on the headphones
It is very important to emphasize here that the Huawei Freebuds 3 headphones are equipped with two microphones and a special sensor called Bone. It serves to react to tapping on the headphones (rewinding tracks, turning on or off "noise reduction" and so on) and for better voice transmission during a call. As far as I understand, the bone conduction sensor picks up the vibration of the voice and clears the reception / transmission of sound. Thus, the interlocutor hears you perfectly, and you hear him without extraneous noise.
The Honor Magic Earbuds 3 has three microphones. Two of them are located on the outside of the case, and the third is near the "nozzle" of the sound output. External microphones pick up external noise and compensate for it with a backward sound wave of the same amplitude. An internal microphone analyzes the sound inside the ear and also suppresses any remaining noise with sound back.
If Huawei headphones work out tapping on the body, then Honor recognizes touches.
Both models are equipped with proximity sensors. It seemed to me that this function works much better on the Magic Earbuds from Honor: it more accurately tracks removal and installation in the auricle, playback turns off and turns on a little faster.
But here, it seems to me, it's all about the software. A dozen updates have already arrived on Huawei: some improved something, others worsened. But, as for me, nothing new was introduced.
Smartphone connection
If you are using a Huawei device with EMUI 10 or higher, the screen will automatically display a picture with the data of the case and headphone batteries.
Honor's automatic connection takes about 3-5 seconds (I don't know why there is such a spread), while Huawei connects in literally 1 second.
It is noteworthy that for Honor there is no noise reduction setting, and for Huawei there is a round element for selecting the level of noise reduction. In fact, it is almost useless, because it only works when the hand is conventionally set at 1-5 o'clock.
Noise canceling operation
Both Magic Earbuds and Freebuds 3 have active noise cancellation, that is, microphones pick up external noises and compensate for them with a backward sound wave of the same amplitude. However, Honor also boasts passive noise isolation, as it has an in-channel design.
Headphones Huawei Freebuds 3 from the point of view of "noise reduction" is a thing in itself. There seems to be an effect, but it is indistinct. Worse, it automatically selects the level of suppression: it often hardly works outdoors, in a fitness club (when it was still possible to walk) it "removes" the hum, but in general all other sounds are audible. It is also worth noting that if the headphones are inserted deeper, then the noise suppression effect seems to work the other way around: Freebuds 3 turns into a hearing aid.
With Honor Magic Earbuds, the story is completely different. They really actively dampen almost all the noises around you. In this regard, Honor and Huawei headphones are just heaven and earth.
Just the other day I bought an air purifier. At an average power, it gives out 40 dB (according to the passport). Honor earbuds 100% eliminate the sound of air coming out of the purifier nozzle. But Huawei seems to change the frequencies of this sound.
When the air purifier is running at 50 dB, Honor earbuds eliminate sound by about 70% and convert the hum of the fan into gray noise at low volume. In Huawei headphones, the sound is almost not suppressed, perhaps its tonality changes slightly.
What's on the subway? Unfortunately, self-isolation, remote work and all that … Therefore, I got out of the situation as follows: I found videos of a trip on the subway on the Web, turned on the sound louder and put on headphones with ANC. Well, it's better this way than nothing at all, you see.
In this case, the hum is removed by the Honor headphones by 100%, leaving high-frequency noise somewhere in the distance. That is, the noise level is attenuated approximately 2 times.
You will be surprised, but "noise reduction" on Magic Earbuds works in much the same way as on Bose QC35. And this is one of the coolest headphones that can effectively remove noise.
All in all, the noise cancellation on the Honor Magic Earbuds is extremely impressed!
About sound
As usual, just in case, I repeat that testing the sound of headphones and other audio systems is a subjective opinion that depends on many parameters, primarily, of course, on hearing.
If you read the review of Huawei Freebuds 3, then you know that I spoke rather dryly about the sound quality, since it is simple:
"I found FreeBuds 3 to sound better than the first generation FreeBuds and Lite versions. The low frequencies have been worked out better, the mids have become clearer. Everything is fine with high. The frequency range is from 30 Hz to 17 kHz. "
Honor magic earbuds
Deep bass starts at 25Hz, which is pretty good! Highs are limited to about 18 kHz.
"Linda -" Do it. " Pleasant rather deep bass, the width and depth of the stage are average, the quality of high frequencies is not bad. Here I did not have enough sound volume, the composition sounds a little crumpled.
"Mill -" Grass ". In this case, the instrument is pitiful, which sounds, apparently, at a frequency of about 3000 Hz, is strongly knocked out of all instruments – very loud, even unpleasant to listen to. The melody sounds with a slight overload of the middle treble.
Marilyn Manson – Personal Jesus. There is a lot of middle top here again. But unlike "Melnitsa", it sounds cooler. The sound is assertive, biting.
Huawei Freebuds 3
"Linda -" Do it. " Significantly less bass and slightly better stage width and depth.
"Mill -" Grass ". Sounds about the same as Honor. However, the sound is squeezed here, as if it is strongly cut in frequencies – few lows, many highs.
Marilyn Manson – Personal Jesus. Not as much mid-range as the Honor headphones. It sounds sluggish, completely non-aggressive.
Findings. Huawei Freebuds 3 are more suitable for podcasts, where sound quality takes a third place. The Honor Magic Earbuds play excellently: the sound is punchy, the bass is deep, but the middle top bulges too much forward; the depth is poorly audible.
As a headset
I propose to evaluate on two records made in the same conditions. It seemed to me that the sound of Honor is much clearer, there is no speakerphone effect. Perfect for conversations.
Working hours
Each Honor earbud is powered by a 37mAh battery, which is 7mAh more than the Huawei earbuds. Inside the cases, Honor and Huawei have the same 410 mAh battery.
According to official figures, Honor headphones are capable of working up to 3.5 hours without using ANC and up to 3 hours with noise canceling. Calls – up to 2.5 hours. In the case "ears" can be recharged 4 more times.
I got up to 4 hours without ANC and about 3 hours with ANC. Charged in the case three times.
But Huawei has a slightly better time: 4.5 – 5 hours with ANC. However, from the case, you can charge them a maximum of a couple of times, or even less.
While the Honor case is charged via cable, the Huawei case also has Qi wireless charging.
Impressions
I would divide these headphones as follows: if you want a stylish and cute device – Huawei Freebuds 3, you want to buy headphones for listening to music with really working noise canceling – Honor Magic Earbuds.
Indeed, I was impressed with the noise reduction capability of the Magic Earbuds compared to the Freebuds 3. The sound of Honor is also better: deeper bass, better highs.
The disadvantages of Honor are as follows: not the longest battery life, simple design, large case.
Competitors:
Apple Airpods Pro… Prices start at 17 rubles. Ideal for those who use Apple technology – maximum compatibility.
Sony WF-1000XM3… Prices start at 13 rubles. There is only a 000 mm driver, two microphones, a large weight of both the headphones and the case. But the operating time is more than 6 hours even with ANC.
There are no competitors among TWS headphones with active noise canceling, given the cost of Honor Magic Earbuds a little less than 9 rubles. Therefore, I can safely recommend this particular model for purchase.
Back to content >>>
Related Links
Share: 





we are in social networks:
Anything to add ?! Write … eldar@mobile-review.com