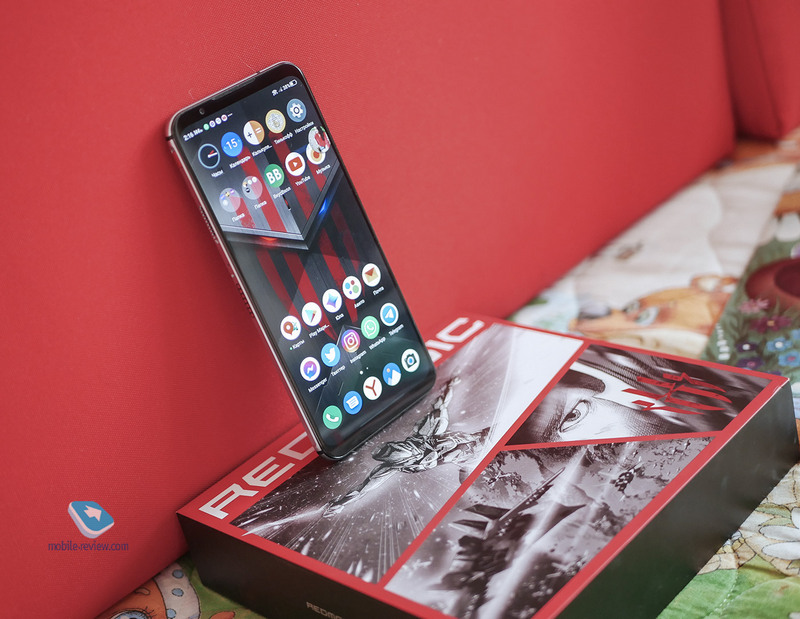 Content
Contents of delivery
TECH SPECS
Positioning
Graphic Design
Display
Working hours
Communication capabilities
Камеры
"Iron"
About games
Game Mode
Musical possibilities
Impressions
Contents of delivery
Smartphone
USB-C cable
Network adapter
Silicone Case
Instructions
Warranty Card
TECH SPECS
Dimensions and weight
168x78x9.75 mm, 218 grams
Body materials
Glass and metal
Display
6.65 inches, AMOLED with DCI-P3 color space, 144 Hz refresh rate, 240 Hz touchscreen response, DC Dimming eye protection technology. 
Screen resolution 1080×2340 pixels or 387 PPI, aspect ratio 19.5: 9. Corning Gorilla Glass. Brightness up to 600 cd / m2.
Operating system
Google Android 10 + proprietary shell Red Magic OS 3.5
Platform
Qualcomm Snapdragon 865
Memory
8GB LPDDR5 RAM and 128GB UFS 3.1 internal storage
Wireless Interfaces
Wi-F 6 2 × 2 MIMO, Bluetooth 5.1
Сеть
5G (NR n41 / n78, SA + NSA)
4G (B1 / B2 / B3 / B4 / B5 / B7 / B8 / B20 / B12 / B17 / B18 / B19 / B2)
Navigation
GPS / AGPS / GLONASS
Sensors and Connectors
In-display fingerprint reader, USB-C, 3.5 mm (CTIA)
Light sensors, digital compass, proximity sensor, gyroscope
Main camera
64 MP (main, Sony IMX686)
8 MP ("shirik", HI846) 
2 MP for blurring the background.
Front-camera
8 MP
Battery
4500 mAh capacity, 18W adapter, fast charging
Audio
Two loudspeakers
Three microphones for noise canceling
Color
Silver
Price
50 rubles
Positioning
It seems to me that even without explanation it is clear that this model is "for all its head" playful. Usually such big words "sculpt" almost all smartphones on Android, but with RedMagic the story is really interesting.
A fast Qualcomm processor is no surprise now. And if I tell you that real mechanical coolers are used here to cool the phone? Now, it has already become much more fun. These miniature fans are located on the sides of the device and turn on not only in hot battles, but also when charging the battery. After all, when recharging the battery, gadgets also heat up, and sometimes even more than in applications. Of course, all these features with coolers are configurable, to the point that they can be turned off altogether. But that's not fun, is it?
The smartphone also has touch triggers on the right side. They can be used in games as auxiliary buttons or used as main buttons.
What else do you need for a gaming smartphone? Loud stereo speakers seem to me. And they are here.
And in order to consolidate the idea of ​​"RedMagic 5S is a gaming smartphone" in the mind of a potential buyer, the manufacturer installed a large 6.65-inch AMOLED screen in the device with DCI-P3 color gamut setting and, most importantly, support for a 144 Hz screen refresh rate and frequency touch sensor update at 240 Hz to "take out" opponents in any toys. And if the gamer's eyes get tired, DC Dimming technology enters the battle, preventing PWM.
By the way, I have not yet said about 5G, a 4500 mAh battery and support for 55 W charging, about 8 GB of RAM.
Surely all this "stuffing" should cost a lot of money, comparable to top-end Android smartphones? But no: RedMagic 5S is currently on sale for 50 rubles!
Graphic Design
Over the past few years, the smartphone industry has been marking time in terms of the design of the device's appearance. All phones are similar to each other. It smelled of mothballs especially from 2020: the devices came out with the same camera units a la Samsung Galaxy S20. This year promises to be more original: an unusual block design in the Galaxy S21 series, a cute block in the Xiaomi Mi 11, an extremely original design in the Xiaomi Mi 11 Ultra. Well, the hope for a massive release of folding / sliding devices.
Smartphone RedMagic 5S looks good: matte silver lid, various patterns, emphasis on the camera, insert "REDMAGIC Ag" (Ag is present here, since the cooling system is made with components based on silver). The slots for coolers look especially cool: you immediately realize that this is a serious device. The frame is matt, metal. On the left is a red switch for the game mode. The front panel is without any cutouts, and the front camera is located separately on top of the body. As they say, the wolves are fed and the sheep are safe.
I cannot call RedMagic 5S unusual, but it is definitely more interesting than its fellows in the shop. True, it is somewhat inferior to the creativity of Xiaomi Shark and Asus Rog Phone.
The dimensions of the gaming smartphone are 168x78x9.75 mm, and the weight is 218 grams. Yes, the phone is big and heavy. But it is designed in such a way that you hardly feel either size or weight. It even seemed to me that my Apple iPhone 12 is even heavier and less comfortable in the hand.
On the top of the front panel there is a battery charge indicator, an earpiece (aka the second stereo speaker), sensors, and a camera. The fingerprint scanner is located under the screen. The response speed is low, the accuracy is average.
Below is a metal slot for nano-format SIM cards, a microphone, USB-C, a speaker (the grid is similar to the one on the coolers).
On the left is a contact group for gaming accessories (I can't say more precisely yet), a left cooler and a switch to gaming mode. I'll talk about this a little later.
On the right is another cooler, a volume rocker, a power button, and two touch triggers. Their clicks are configured in game mode.
Above is a noise canceling microphone, 3.5 mm headphone jack.
On the reverse side there is a diamond-shaped design of two lenses, protruding literally by a millimeter, a round lens slightly lower and a flash.
In the center there is an oblong metal insert with the inscription "REDMAGIC Ag". It seemed to me that this thing is made of silver, they say, protection from bacteria, but no.
Total: excellent appearance, good ergonomics, all buttons in their places, nothing superfluous, no protruding elements.
Display
And then crazy technologies begin: a 6.65-inch screen, AMOLED with DCI-P3 color space, 144 Hz refresh rate, 240 Hz touchscreen response, DC Dimming eye protection technology, and so on. And it all really works, and is not a marketing husk. Screen resolution – 1080×2340 pixels or 387 PPI, aspect ratio – 19.5: 9. Corning Gorilla Glass. Brightness – up to 600 cd / m2.
The 144Hz refresh rate has just started to appear on smartphone screens, and it's a really freaky thing. The animation of the system becomes as fluid and smooth as possible.
I wrote on Twitter some time ago that I don't see much difference between 120 / 144Hz and 90Hz. My opinion has hardly changed. There is a difference, but minimal. And then if you switch between 120/144 Hz and 90 Hz several times and try to understand how the phone behaves.
But between 60 Hz and 90 Hz – the abyss. If you choose 60Hz after 90Hz, it looks like a pumpkin, like how could I use it? I already foresee in the comments: "Roman, how do you use your Apple iPhone 12, there is only 60 Hz there?" This is a separate topic. But in short, iOS itself is as smooth as possible, the animation is extremely smooth, seamless. Of course, after 90/120/144 Hz you can see the difference, but after a couple of minutes you are no longer soaring. And I'm not trying to persuade myself, they say, I bought such an expensive iPhone 12 with 60 Hz and shield it. Not.
So what's up with the RedMagic 5S? Yes, everything is great! Cool screen without any questions.
There is a display mode in the settings. Normal, Vivid and Natural modes are available. In the first case, there will be more or less saturated colors, in the second – nuclear, as many as the eyes begin to flow out, in the third case, the colors become too pale.
There is AOD. But on the lock screen I could not figure out how to display notifications. Also, couldn't find AOD display settings. For example, the themes include a huge digital clock that can be used as a desk clock. But the nonsense is that AOD will automatically turn off and on at a specific time. And where the time settings are is unclear.
Working hours
Battery capacity – 4500 mAh, fast charging at 18 W (QC 3.0, optionally there is also 55 W).
During testing, I was in a little shock, since the screen worked constantly at 144 Hz and gave out almost 6-7 hours of glow! This is some kind of amazing result. Moreover, switching to 90 Hz and 60 Hz during normal operation with the device did not give an increase in time. Only in games and when watching videos: at 90 Hz you win another hour, at 60 Hz – a maximum of 3.5 hours.
Example:
144 Hz – 10 hours of video playback at maximum brightness
90 Hz – 11.5 hours
60 Hz – 13-14 hours
With games, there will be percentages: at 90 Hz + 15%, at 60 + 25-30%. From 144 Hz, I squeezed out of the smartphone about 4 hours of toys with sound output to the speakers and at almost 100% brightness.
That is, you can set 60 Hz to save energy, but not necessarily. And that's cool!
Coolers may turn on while the battery is charging. In the settings, the fans can be turned off.
Communication capabilities
There is nothing original in this section. The device is equipped with all the chips of a modern smartphone: 5G (NR n41 / n78, SA + NSA), 4G (B1 / B2 / B3 / B4 / B5 / B7 / B8 / B20 / B12 / B17 / B18 / B19 / B2), VoLTE, VoWi-Fi, GPS / GLONASS, NFC, Wi-F 6 2 × 2 MIMO, Bluetooth 5.1.
The signal is stable, definitely better than the Apple iPhone 12.
Камеры
Since the smartphone is designed for the gaming component, the emphasis was not placed on cameras. Therefore, the RedMagic 5S cannot boast of zooms and 100 megapixel super sensors. I can tell right away that the main camera is so-so, in fact, like the sensor with a wide-angle lens.
In total, the device has three or four cameras: frontal 8 MP, rear – 64 MP (main, Sony IMX686) + 8 MP ("shirik", HI846) + 2 MP for blurring the background.
During the day, as usual, the main and "shirik" are filmed well. There are definitely no problems. But when the light level is lowered, the picture starts to wash. In the evening, the image becomes quite sad.
But the video RedMagic 5S shoots just bombically! Here you have both 4K 60 FPS and 8K at 30 FPS, fast and accurate autofocus, beautiful natural background blur. In terms of video stability, I can compare with Apple iPhone!
The only thing is that you cannot shoot video with a wide-angle lens. Well, or I have not found such a way. Actually, a photo on a "shirik" can only be taken through the Pro mode.
In general, the photo part is extremely average, and the video camera shoots surprisingly well, I liked it.
The interface is simple: on the top – additional functions, and on the bottom – Pro mode, photo / video, night photo creation and "Portrait" mode. In video mode, there is a choice between the resolution and the installation of a digital stabilizer (there is no optical one here).
Sample Photos
"Iron"
This model uses 8GB LPDDR5 RAM and 128GB UFS 3.1 internal memory. The speed, frankly, is average: RAM – 16 MB / s, and built-in – 000/670 MB / s. I met and much faster. On the other hand, these parameters are quite enough for any task.
The processor is Qualcomm Snapdragon 865. I will not talk about it in detail – the most popular SoC last year: fast, almost without throttling, with high performance, which will last another 2 or even 3 years. In the Antutu test it scores more than 600 points !
Is your smartphone getting warm? Yes, it heats up at high processor load up to about 43 degrees. But here we are helped out by coolers (centrifugal fans): the speed is 15000 rpm. They turn on only when the game mode is activated or when the battery is charged with the appropriate setting in the settings.
How efficiently do they cool? In about 1 minute, 43 degrees are reduced to 35 degrees. It is impossible to make the phone case cool (under load).
How loud are the fans buzzing? You can hear them, but very quietly. You don't notice during the game.
Do you feel the heat coming out of the holes? Not. This is not a gaming laptop, which blows air with a temperature of 50-60 degrees from all the cracks.
There are other cooling components: liquid cooling tube, high thermal conductivity copper foil, thermal gel and graphite cooling thermal pad.
About games
Of course, RedMagic 5S "pulls" any toys from the Google Play Store. However, it is worth knowing that in the Google Android operating system there is a concept of "non-optimized applications". If the games are written for a specific processor correctly, then you will get maximum FPS and no lags. If the toy is made crooked, expect frame sagging and constant lags. Therefore, unfortunately, everything depends on the software, and not on the hardware.
What toys did I launch and what data I received:
Dead Trigger… An old toy, but so, purely for experiment. Stable with 144 FPS. Still would)
PUBG… 90 frames are displayed here, but there are "drops" of frames up to 60 FPS.
WOT… Here, the number of frames reaches 120. There are periodic drawdowns up to 70 FPS.
Genshin Impact… A very heavy toy weighing 10 GB! Great graphics, open world. There is a maximum of 60 frames with a drop of up to 30. And in jerks. The game slows down on almost any hardware. This is just an optimization question.
Shadowgun legends… At the minimum settings, the number of frames reaches 110. But everything goes in tatters: now 110, then 80, then 50, then 100 again.
ARK: Survival… The game is strange and keeps constant 30 frames.
Call Of Duty… The most popular game today. Comes with an average of 60 FPS.
Standoff 2… Stable at about 120 frames per second.
What conclusions can be drawn? 144Hz screen is great, but more games with high frequency support are needed, since most are still locked at 60 FPS maximum.
Game Mode
It is switched on by a toggle switch on the left end of the device body. Next, you add games and start customizing for yourself: enabling / disabling coolers / calls / messages, and so on.
In the game itself, when you swipe from right to left, a menu pops up. There you can adjust performance, triggers, select display frequency, screen brightness, and more.
To apply triggers, you need to move the right and left trigger icons to the places you want to use. Probably, this mode is convenient for those who play on consoles and are used to a gamepad.
There is also such a thing as 4D vibration. But it only works in three toys, including PUBG and Asphalt 9. Vibration is similar to what is found in Xbox controllers. For example, in Asphalt 9, vibrations are transmitted throughout the body during collisions, driving on rocky roads, and so on. Very cool!
However, it should be understood that game developers will not embed 4D vibration just for the sake of RedMagic 5S. Actually, that's why now only 4 games support it.
It seems to me that only Apple can do such tricks – a single concept for all devices. There is no point in writing about applications and games for Android devices: there are hundreds of models and all are different (memory, processors, screen resolutions, OS versions, and so on).
Musical possibilities
There are two stereo speakers here. They are very loud. Sounds clear, without overload. But they have one trick: from 0 to 70% the volume changes slightly, and after 70% the device starts screaming.
The device has a 3.5 mm headphone jack. But if anything, you can connect TWS headphones without delay with sound.
Impressions
The RedMagic 5S is arguably the best gaming smartphone I've tested in recent years. Provided that the price for it starts from 49 rubles, its technical features are impressive:
Screen 144 Hz, "touch" – 240 Hz, AMOLED matrix
Air-cooled processor
A lot of memory
Long battery life
Game triggers
Stereodynamics
Video
I was a little embarrassed by the photography – the quality is average. The operating system is damp and needs to be refined.
Among competitors – Xiaomi Black Shark 3, which can be found up to 50 rubles. Hardware is still quite relevant: Snapdragon 000, 865 Hz screen, 90 mAh battery, Wi-Fi 4700, 6 cameras.
As an option – Asus Rog Phone 3 for 80 rubles. The processor is slightly faster – Snapdragon 000+, 865 GB of memory, 12 mAh battery, 6000 cameras, 3 Hz screen.
Well, if you do not take into account the gaming chips, then you can really take the Xiaomi Mi 10T Pro with a 144 Hz screen, Samsung Galaxy S20 / S21 with a 120 Hz screen and other similar models.
In any case, I think RedMagic 5S is a success and deserves attention!
Back to content >>>
Share: 





we are in social networks:
Anything to add ?! Write … eldar@mobile-review.com