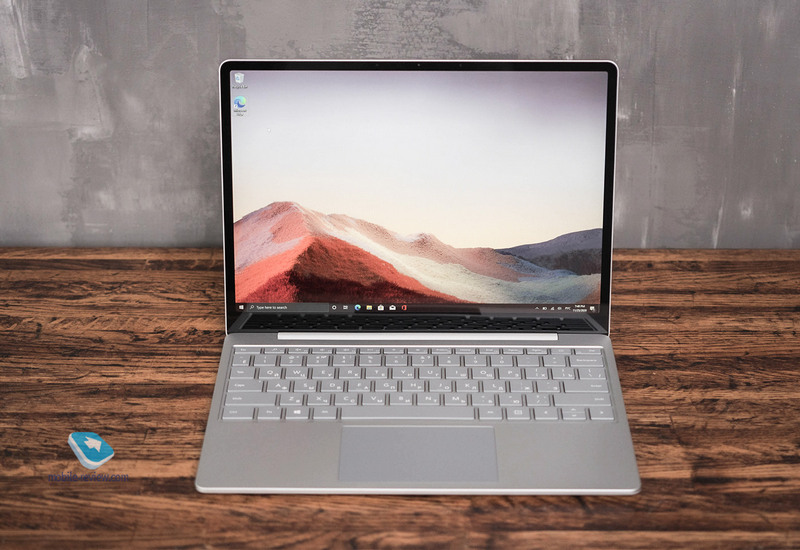 Live photos
Content
Contents of delivery
TECH SPECS
Positioning
Design, dimensions, controls
Display
Memory, performance, processor
Battery
Communication capabilities
Camera
Impressions
Contents of delivery
A laptop
39W charger
Instructions
TECH SPECS
Dimensions and weight
278.18 x 205.67 x 15.69 mm, from 1.110 kg 
Body materials
Aluminum lid, reinforced plastic bottom with rubber inserts and fiberglass
Display
12.4 inches, PixelSense, 1536×1024 pixels (148 ppi), IPS, 3: 2, touch, up to 10 clicks simultaneously, automatic brightness control, maximum brightness 350 nits
Operating system
Windows 10 Home S
Platform
Quad-core 10th Gen Intel® Core ™ i5-1035G1 processor
Intel® UHD Graphics
Memory
4/8 GB RAM (LPDDR4x),
eMMC 64GB
128/256 GB SSD
Wireless Interfaces
Wi-Fi b / g / n / ac / ax, Wi-Fi 6, dual band, Bluetooth 5.0
Sensors and connectors
USB Type A
USB Type C (3.1, PD 3.0)
3.5mm headphone jack
Surface Connect Port
Light sensor
Fingerprint sensor
In older models, not in the basic version
Камеры
720p, f / 2.0
Battery
Li-Pol 39.7 W * h, working time up to 13 hours in mixed mode
Degree of protection
No
Colours
Ice Blue, Platinum, Sandstone
Sound
Two Omnisonic Speakers with Dolby Audio
Positioning
Microsoft is consistently expanding the Surface lineup and wants to capture all price segments, including the budget one. Playing low-cost Windows laptops is not new to Microsoft partners, you can find dozens of different configurations from dozens of manufacturers on the market. The lower the price, the higher the chances of selling such devices, but at the same time the speed of their operation decreases, you have to make compromises. Typically, manufacturers sacrifice design and case materials in order to achieve the best price / quality ratio. Microsoft decided to give its own reading of such machines, but with an emphasis on design and body materials. This is a very interesting approach, as it is a cross between a traditional Surface computer and a budget model, this is a rare case of a premium budget laptop.
I know it sounds very strange, even somewhat unusual. But the fact remains that this positioning most accurately describes the Laptop Go. It is no secret that many people need a typewriter on which they can type texts, read pages on the Internet, occasionally watch videos, and that, most likely, for educational purposes. It's tempting to call the Laptop Go a reading machine for education, like Chromebooks, but that's not entirely true. Sure, the Laptop Go can do all the tasks normally found on Chromebooks, but it's not exactly an education device, it costs more. Rather, we are talking about a laptop with a good, eye-catching design, small size (12 inches diagonal), ideal for schoolchildren and students, as well as for those looking for a compact laptop with a decent design. This is a machine for work, to a lesser extent for entertainment; heavy toys will not work here. Word processor, Internet and further down the list, in this capacity the laptop looks adequate and against the background of competitors wins due to the design.
Let's take a look at the Laptop Go and its capabilities to get a feel for who it is for.
Design, dimensions, controls
Many manufacturers chased after the miniature dimensions of the laptop case, so that the machine could be hidden in any bag, it did not drag the shoulder. The Laptop Go has a minimal dimensions (278.18 x 205.67 x 15.69 mm), as well as a weight of 1.1 kilograms. Thin enough to hold it easily in one hand.
The task facing the engineers was very contradictory – it was necessary to achieve a premium look, but to reduce the cost of the device as much as possible. Hence the fact that the upper cover is made of aluminum, but the lower part of the case is made of plastic, reinforced with fiberglass, with rubber inserts.
The design is laconic to match the Surface line, and for its price range, the laptop looks great. You can find fault with the little things, but it's definitely not worth doing this, keeping in mind the cost of this solution.
The top cover protrudes by almost a millimeter, but it is impossible to open the laptop with one hand, you need to make an effort. Therefore, I opened the Laptop Go with two hands, so it is more convenient. For those who do not like to open a laptop with two hands, this model is definitely not suitable.
On the left side there is a USB connector, also USB Type C, 3.5 mm. On the right side is the Surface Connect Port, a proprietary connector from Microsoft. Alas, there is no memory card slot here, there is none.
The assembly is of high quality, the laptop is tightly packed, all the details are well fitted. The device is produced in three colors – dark gray, silver and bronze.
Opening the lid, you will see well-spaced keys, each of them has a pleasant stroke, but a fairly hard press (comparing with the same MacBook, this is so). The compromise was the lack of backlighting at the keys – for those who work in bed at night without external lighting, this is a clear disadvantage.
A fingerprint sensor is inscribed in the power key (it is not in the base model, here they saved on this). The sensor works great, while IR lights for the camera and Windows Hello are not present on either variant of the Laptop Go, which is also a savings.
The convenience of the keyboard directly depends on the diagonal of the screen and the size of the case. For my taste, good quality keyboards start in models with a diagonal of 13 inches and above, hands do not get tired, you can type large texts. The Laptop Go has a keyboard that is almost comfortable (just like a 12-inch MacBook). If you type a lot of text during the day (from 10 thousand characters and more), then most likely, such a machine will not suit you, focus on 13-inch models, look for your ideal among them. On the other hand, for schoolchildren, on the contrary, this size will be more convenient, since children's hands are smaller, and they do not need to type so much text.
I looked at this laptop this way and that, but in the end I decided that this was a very adequate offer for my money (which is usually not even typical of Microsoft). If you want a great looking device that is hard to recognize a budget model, then the Laptop Go is just that choice.
Display
The characteristics of the screen are as follows: 12.4 inches, PixelSense, 1536×1024 pixels (148 ppi), IPS, 3: 2, touchscreen, up to 10 clicks simultaneously, automatic brightness control, maximum brightness 350 nits.
Whatever one may say, the screen resolution is low, which is noticeable when viewing photos, while typing it is not so striking. I was latently expecting that the screen would be normal, but no, a sensor was added here, you can touch it and control Windows by pressing. Unfortunately, Microsoft Pen support has been removed, which is also a compromise. If there was support for the Microsoft Pen, this laptop would compete with the Surface tablets (more precisely, two-in-one devices).
In manual mode, the Laptop Go has a brightness of around 300 nits, which is enough for almost any conditions. The weather is cloudy in Moscow today, so I could not test the device in the sun. But I can say in advance that in the bright summer sun of California, the screen will not be very readable, you will not get pleasure.
However, the same can be said about viewing photos and films on the Laptop Go screen. In the same YouTube everything is OK, you will absorb any content and not pay attention to any problems. But films, where scenes, the play of light and shades are important, are unpleasant to watch here. This can be done, but the feeling that you are watching a movie through a dusty window, there are no colors, there is no immersion in the picture. Therefore, it can be argued that this machine is for work, and even then not for everyone.
If you look for pluses in the minuses, then for parents this is something of a gift, a restriction for children, they will not play games (it is doubtful, because if they want and there are no alternatives, they will still be). On the other hand, the hardware component is such that games here will only be from the cloud or casual.
The bottom line is that the display is suitable for work, for entertainment to a lesser extent, this is a compromise.
Memory, performance, processor
All three variants of this model are built on the same processor – Quad-core 10th Gen Intel® Core ™ i5-1035G1, integrated graphics from Intel. We are accustomed to the fact that low-end models are equipped with processors that are very limited in their capabilities, this is not quite the case here. The performance is sufficient for most typical tasks; in the same text editor, you will not notice any heating or slowdown. In the absence of a powerful computer, you can use this laptop to work with video, but this is not its main task, it will be slow and long.
The laptop has active cooling, the fan starts to work when the case heats up, and this happens in heavy tasks. Usually, the heating goes on when you are connected to a power source, and at the same time a dozen tabs open in Chrome and, for example, you are watching YouTube. Multitasking is not bad here, but you need to be aware that you have a budget device.
In the basic configuration, you are offered 64 GB of internal eMMC storage. And this, of course, is slow and sad, I do not recommend taking such a machine at all. My experience with laptops on eMMC memory is negative, you can work with a lot of patience, and the difference in cost is still not so overwhelming that you can save so much on yourself.
The two older models, 128 and 256 GB, come with an SSD, as well as 8 GB of memory instead of 4 GB (I have this configuration on my test). And so it's worth choosing how much memory you need, it's up to you to decide. Unlike other models of the Surface line, there is no way to change the SSD on your own, the memory is soldered inside the case. It's also a budget tradeoff.
Battery
Built-in Li-Pol 39.7 W * h, the declared operating time in mixed mode – up to 13 hours. In my experience, the laptop is able to work from 5 to 6 hours during the day (I have almost maximum backlight, balanced power mode, that is, not maximum performance). Complaining about the working time is difficult, in ordinary tasks (web, mail, typing) this is enough for the eyes. When watching a video, you will get about 4.5 hours of operation at maximum brightness.
The full charging time of the battery is about 3 hours.
Communication capabilities
There is no version with an LTE module, and it is not needed. The machine supports Wi-Fi 6, which is already quite good. It is possible to connect external accessories via Bluetooth 5.0. There is not much to talk about here, everything works as it should.
Camera
The front camera is 720p, it is very simple, and if you are constantly chatting on Skype via video calls or using other programs, then most likely you would prefer to do it using your smartphone, since the picture quality there is noticeably higher.
Impressions
When I said that this is a premium budget laptop, I did not distort reality in the least. This is an excellent design for its class, an appearance in which it is impossible to recognize a budget device. But we achieved this by a compromise in many details, some of them are not fundamental (the material of the lower part of the case), and some are important (keyboard backlighting).
Oddly enough, he treated the Laptop Go in absentia as a dull, uninteresting and budget device. Life turned out to be much more interesting, it is not the biggest record holder in productivity, but it is enough for most typical tasks and comfortable work. The device turned out to be enjoyable, and it's a workhorse for those on a budget. In the US, the base model (4/64 GB, eMMC) costs $ 550. The price is low, but the performance of the solution is not so great, I do not advise you to choose this option. The 8/128 GB variant costs $ 699, this is a good price / quality ratio, this particular model should be considered for purchase. The 8/256 GB variant costs a hundred dollars more (it originally came out at a price of $ 900).
It is impossible to say that the Laptop Go is sold at a very low price, but this is an adequate price for its capabilities. For a number of buyers, this is an adequate offer; here it is important to correctly assess what you need and how Laptop Go is capable of solving your problems.
We thank surface-pro.ru for the provided device.
Back to content >>>
Related Links
Share: 





we are in social networks:
Anything to add ?! Write … eldar@mobile-review.com