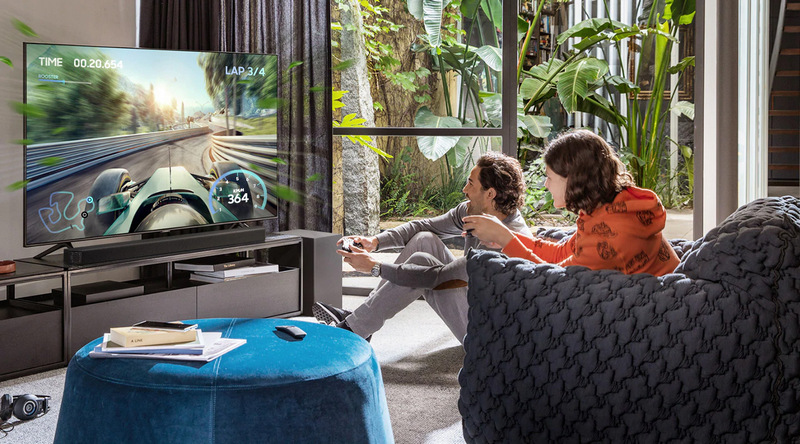 Hey.
From my living room I hear the roar of the engine, even from the kitchen, I can hear the car accelerating on a straight line to sharply slow down before turning. The sound is concealed by the corridor, but knowing the route, one can imagine exactly where the children are "driving". Some time ago they got fed up with racing, now children prefer football, regular adventure games with friends in multiplayer worlds. But now racing is back in favor, the virtual dust has been shaken off the game due to the appearance of a soundbar from a large QLED TV in the living room. New experience, different perception of games due to the changed sound.
Why do I need a soundbar, I already have an excellent TV, it has a lot of speakers and good sound – this question is asked by many people, I am no exception. The first time I answered it simply: I want to listen to music in the living room, but not through the TV, but through separate speakers. And I decided to combine my desires, got a soundbar, which allowed both listening to music and getting a different sound for films and TV shows. I remember very well the moment of first switching on and how different the sound was, it became more spacious, filled the room. A typical mistake of a beginner was that he chose the soundbar tightly, because he did not understand how much he would have to be in the court, what it would become in everyday life. Reading reviews of experts from audio technologies did not add clarity, from the texts I got the idea that any soundbar is good compared to listening to sound without it. Until I started using it myself, I did not understand what and how should work, what is important and what is not.
My set of wishes for a soundbar in 2020 was formed from my previous experience. You may have it different, and that's okay. I will briefly list what I wanted to see in such a device:
strict, laconic design with no frills;
the possibility of both wired and Wi-Fi connection;
both a separate remote control and control from the TV remote control;
availability of HDMI for connecting external devices, for example, a game console;
listening to music from a smartphone, Wi-Fi connection;
surround sound, so that the sound envelops in the living room (more on this later);
the ability to work with 4K video.
The set of wishes is standard and quite simple; a huge number of soundbars will fall into these conditional requirements. Since I have a QLED TV from Samsung, I primarily looked at the soundbars of the same company. In the end, I was bribed by the presence of Q-Symphony, this technology synchronizes the speakers of the TV and soundbar, increases both the power of the sound and its volume. In theory, this all sounded good; in practice, it was completely incomprehensible how big the difference was. A survey of friends showed that they do not have similar models with Q-Symphony, many said that their soundbar plays perfectly and they do not understand why something should be checked, looked for and studied. Finally, a person was found who categorically stated that he would provide an opportunity to listen and hear the difference.
We killed half a day listening to his two TVs and lugging a soundbar between them. On a large QLED TV from the latest range, the sound itself is good, but the soundbar gives it a different level of sound. This was expected, no surprises here. We turned Q-Symphony on and off to feel the difference and understand how important it is. They used a Dolby Atmos YouTube demo and 6 Underground from Netflix to evaluate what the Q-Symphony sounds like. In the first case, the video itself is designed to show the advantages of surround sound, and this effect is not always achievable in films or games. In the second case, it is a regular film with Atmos technology. A quick comparison showed that the TV speakers add volume to the sound image, the difference is not overwhelming, but the immersion is more noticeable in this case. Our perception is a subjective thing, and therefore we came to the conclusion that Q-Symphony is a useful thing, but one should not expect any huge leap in perception. Our problem was that we knew when this technology was enabled and when it was not. Arranged impromptu blind testing on my friend's daughter, she, not knowing when and what works, each time unmistakably said that she liked the sound with this technology better.
To make you realize the difference and understand what to evaluate, and it is difficult to describe these differences, I will give an example with smartphone screens. The refresh rate of the screen at 60 Hz is usual for most models, the flagships allow you to work with a frequency of 120 Hz. Smooth scrolling of lists, other animation – all this the eye hardly distinguishes, it seems that there are no differences as such. But after you start using the 120Hz screen, you cannot refuse it. Going back to 60 Hz creates a subtle inconvenience, something is wrong. The story is exactly the same with sound, you cannot estimate it in numbers, but you feel that when the TV speakers are involved, the sound picture is much more interesting.
I decided that I would watch Samsung soundbars, the use of TV speakers bribed me, especially since there are six of them in my TV model and they are quite good (tracking sound, creating surround sound, high volume). I looked at what is offered from a dozen models, Q950 and Q900 turned out to be new, these are top-end solutions. For me, the Q950 is overkill as it comes with two speakers for mounting behind the listener. In my living room, the sofa is almost against the wall, the space on the sides is occupied by tables, other furniture, you can squeeze the speakers there if you want, but it's difficult. It is impossible to place them behind, so the need for them disappears by itself.
I began to carefully examine the Q900, it turned out that this soundbar fully meets all my tasks. You can connect your smartphone with a touch and immediately play music, the subwoofer is connected via Wi-Fi, and it can be placed on the side of the TV.
A meticulous study of the characteristics did not reveal any pitfalls, there is no AUX-output in the soundbar, which was not important for me, since I did not plan to connect any equipment with wires. The presence of HDMI eARC, on the other hand, was important as it allows you to receive lossless sound from other devices, for example, from the same game console. I also did not look for smart functions in the soundbar, all this is already in the TV itself. I don't understand those who want to get a replacement for a smart TV from such a device, what is the point? It is possible that our use cases differ dramatically.
By and large, it was necessary to go to the store to see live how the soundbar was made, but the credit of trust is high, so I first saw it when the courier brought in a fairly large box. The body is covered with fabric, it is black, there are control keys and a small display.
The subwoofer is a separate rectangle, you need to connect it via Wi-Fi, which is not difficult. Before buying, look at the compatibility of the soundbar with your TV, this can be done on the company's website, an important moment for those who want to get all the possibilities without exception.
It took about fifteen minutes to set up, plugging in the wires, turning on and moving the subwoofer to get the best sound in my room. Half an hour after I opened the box (I was still distracted by photographing everything), I installed the soundbar. While this is a temporary option, since I looked after a shelf for it, more precisely, a floor TV stand. I had been planning to buy it for a long time, but somehow everyone did not get it.
The family members came, listened, and said that it sounds good. We played with music from a smartphone (I installed Spotify on my device, it connects via Wi-Fi with one touch). There is also an application called SmartThings, which users of Samsung devices know well. But the possibilities of the soundbar are revealed, of course, gradually, only at first glance it seems that one listening is enough and conclusions can be drawn. This is not true.
The soundbar is good for listening to music. And this is a complete replacement for the music system. Since here the system is 7.1.2, the sound goes both forward and in a circle, envelops. Two speaker taps are directed upwards, see how this works in the diagram.
It is a mistake to think that this is just a speaker with a large number of speakers. There is a built-in processor that processes sound depending on the profiles. It can be a sports competition, a theatrical performance or a film, there are several dozen such AI scenarios in total. The sound is adjusted so that you hear every detail. Let me give you an example. You are watching a theatrical performance, in it they whisper and then gurgle in eager rivalry. The algorithm in each case preserves the loudness and differences, but highlights the voices, they are well heard. And it doesn't matter how many people are talking at the same time. For those who learn languages, this will be a good help, the voices of the speakers are clearly separated, there is no mess introduced by the technique itself.
In games, the adaptive mode is also turned on, the sound changes, it stands out with effects. It is voluminous, immersion in the game is complete. When connected to consoles, Game Pro mode is activated. And this explains why old and forgotten games are playing again, they have an attraction.
Speaking of surround sound technologies, I will mention the presence of Dolby Atmos as well as DTS: X. And if many are familiar with Atmos, then DTS: X is not so well known yet. In fact, this is a direct competitor for Atmos, it also encodes two channels upward, in some Blu-Ray players this technology is already available (I do not have such a player). Surround sound is supported by this soundbar in all available uncompressed formats (thanks to HDMI eARC).
A few words about the connectors – the main unit has one Optical Audio In, HDMI ARC / Out, two HDMI In. A USB connector for software updates, service, file system support for the user is not provided here.
The remote control is very simple, but it is also possible to control the soundbar from the TV remote control, they are compatible and universal. This is a big plus for those who constantly lose remotes in the space of an apartment or house.
I will not write about obvious things, they are not so interesting. The main point around the choice of a soundbar or the fundamental desire to purchase it is always the same – is it needed or not. By and large, there is no practical need for it, the speakers reproduce sound on the TV, you can play, watch movies, there are no problems with this. But the soundbar is a fundamentally different sound quality, immersion in the same films. The thing is not necessary, but it gives new emotions. A kind of dolce vita element. And besides, the opportunity to "finish building" your TV, to get additional acoustics as a replacement for the music center.
And since this is an element for better perception of sound, films, then it can cost as much as you like. Compared to many soundbars, the model I have chosen is worth it. But the most important thing is that I got exactly the emotions I expected. Convenient control, maximum performance, filling the living room with sound from edge to edge. A good thing that changed the perception of sound when playing games, watching movies. I recommend thinking about a soundbar for your TV, but, of course, the question here is which models should you buy such a device for. As for me, this is best done for models with a diagonal of 65 inches and above. Although you can set the soundbar for smaller diagonals, the choice is yours.
Related Links
Share: 





we are in social networks:
Anything to add ?! Write … eldar@mobile-review.com