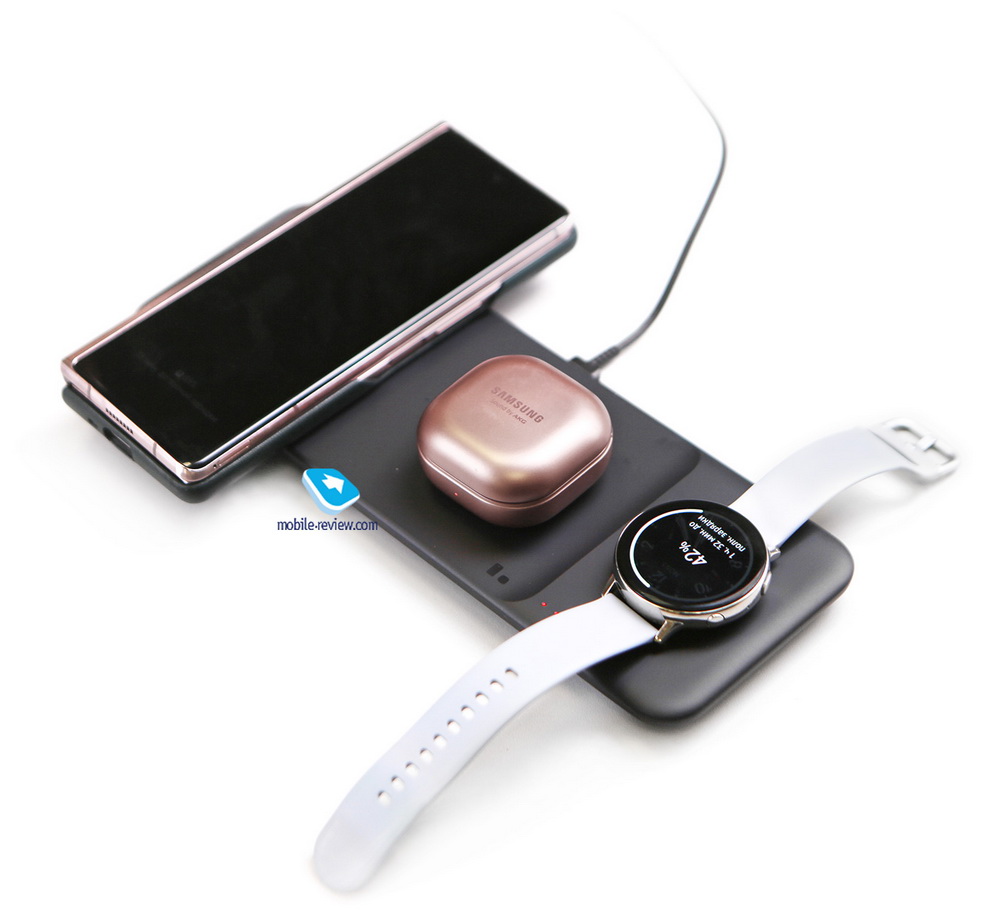 Contents of delivery:
Wireless charging
Fast charging 25W
Instructions
Specifications:
Dimensions – 240x86x15.5 mm, weight – 320 grams
Six coils
Standard Qi
Maximum power per device – up to 9 W
Lack of active cooling
LED indicators (controlled from a smartphone)
Wireless chargers have penetrated our lives so much that it is difficult to imagine existence without them. Charging a case with headphones from a smartphone on the go is no longer exotic, but something that millions of people around the world do. And wireless chargers have become the norm for many, despite their obvious drawbacks compared to wired ones – the main one is that they charge the smartphone longer. But the convenience outweighs all these disadvantages. For example, most modern cars now have compartments with wireless charging, which allows you to put your phone in there while driving and get some extra power.
At home or in the office, wireless charging seems like overkill, plugging in a wire is easy. But it's convenient not to be fooled and just put your smartphone or something from the accessories on the charging mat. Moreover, for the latter it looks more relevant, the same watch does not have a standard USB Type C connector on the case, and you have to carry their own charger with you, which is inconvenient.
I have acquired wireless chargers in all habitats, I have a Wireless Charger Duo, designed for two devices.
On the plus side, there is a separate plate for the watch, which is convenient. You can also charge a smartphone on it, there are no problems. A fan is built into the stand; in summer and when it overheats, it starts to hum. On the smartphone, you can specify the night clock so that charging does not interfere with the illumination of indicators or a fan, the charging power in this case drops. The maximum power that you get is 10W, which is not the ultimate dream, because the company has wireless chargers for one device with a power of up to 15W. But the history of wireless charging itself is not about speed, but about convenience, and therefore power is not paid attention to, it is less important than the ability to charge a couple of devices at once.
In the new Wireless Charger Trio, you can put three devices to charge at the same time.
The beauty is that the six coils provide charging for different devices, from headphones to smartphones. The charging area is divided into zones: on the right is a plate for smart watches, moreover, a magnet is inserted there, and the watch rises like a glove, holds in the right place. It is very comfortable.
On the left – five coils, on the body they are indicated by small dots. Here you can charge any device, for example, place two smartphones at once. Positioning accuracy is not so important, but you need to place your smartphone correctly, usually you need to put it perpendicular to the base. On the right are three charging indicators. When positioned correctly, charging starts, the indicator lights up in a solid red. If it blinks, then something is wrong, it is worth changing the position of the device. After the device is charged, it will glow solid green.
One of the problems with wireless charging is that the use of thick cases interferes with charging the smartphone. Exactly the same can be said about covers with splashes of metal or metallized film. Samsung guarantees work with native cases, tested the charger with them. And you definitely don't need to take off the covers before charging.
The charger is well fixed on the table, does not slip, on the bottom there are two rubber inserts.
Now is the time to talk about the included 25W wired charging. It is standard, as is put in the kit of most flagships from Samsung. But there is one hitch, the cable length is only one meter. This is a little to place the charger under the table, it may not reach. The company has cables of 1.5 and even 2 meters, they would be more appropriate in the package with this charger. Yes, and it was possible to refuse charging in the kit, many buyers already have such a charger with exactly the same cable length. They obviously didn't think about this moment, it's a shame.
Now let's talk about the charging speed, as the maximum power is 9W, which is less than the previous charge and significantly less than the 15W output of a single charge. I heard swearing about this in absentia, since many are accustomed to assessing the numbers head-on, not making the slightest effort to understand what they are talking about. I'll make a reservation, there is no doubt that 9W is significantly less than 15W!
I usually charge my watch and smartphone, and occasionally put a second smartphone or headphones on charge. Let's see what happens with this charging if we put a smartphone, headphones and a watch. And it turns out that the charging power for watches and headphones is such that you get the same 9 W on your smartphone. Of the advantages, I note that the charging does not have active cooling, it is not noisy, like the same Duo or fast charging for one device.
Now let's complicate the task, we will charge the watch and two smartphones. What will we get? The power will drop to 7.5 W per device (for watches it is less and does not change in any way). The same Apple iPhone can consume a maximum of 7.5 W, so there will be no changes, charging on Samsung smartphones will be a little slower. But I repeat that this kind of charging is not about speed, but about convenience. And in this capacity, Trio charging is convenient, I have it on my bedside table. Doesn't make any noise, the LED indicators in the smartphone menu turned off at night, in a word, beauty.
My friends know that when I travel I take a wireless charger with me, the Duo is very convenient to put some devices on at night and get them fully charged in the morning. No need to bring a bunch of chargers with you. At the same time, I also have an external battery with me, to which wireless charging is added.
This is just a visual illustration of how such technologies have entered our lives. Perhaps not yet in yours, but in mine for sure. But the Trio is big enough and noticeably heavier than the Duo, I don't see the point in carrying it with me on trips, since there are different charges. This is needed for stationary installation at home or in the office.
The cost of charging in Russia is 7 490 rubles (in Europe – about 65-70 euros). The price is quite adequate, but it is worth reasonably approaching the choice of such an accessory. If you have multiple wireless charging devices, Trio is for you. If you plan to charge only one smartphone, then you can choose another solution, which will be logical.
Related Links
Share: 





we are in social networks:
Anything to add ?! Write … eldar@mobile-review.com