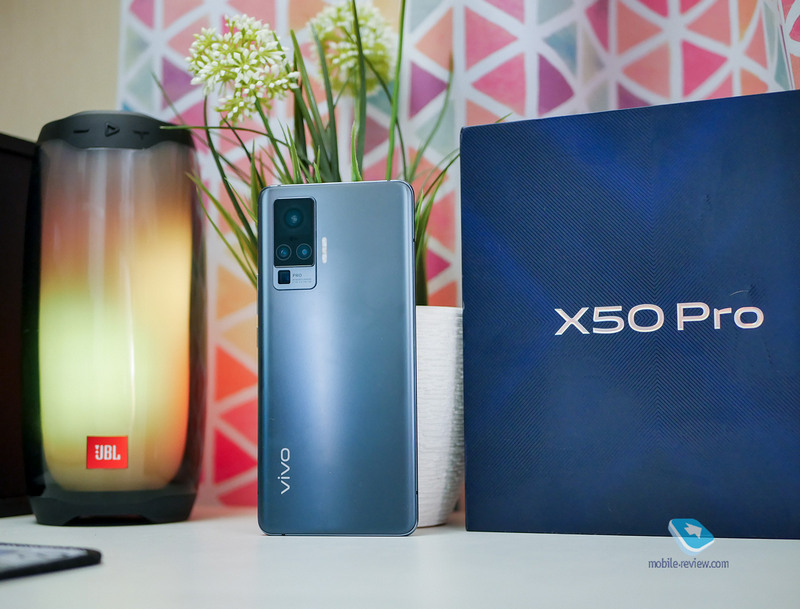 Content
Contents of delivery
TECH SPECS
Positioning
Design, dimensions, controls
Display
Battery
Communication capabilities
Memory, chipset, performance
Software
Камеры
Musical possibilities
Conclusion
Contents of delivery
Smartphone
Silicone Case
Fast charging FlashCharge 2.0 at 33W
USB Type-C cable
USB-C to 3.5mm adapter
Headset XE710 (3.5mm)
Clip for sim tray
Instructions
Warranty Card
TECH SPECS
Dimensions and weight
158 x 72 x 8 mm, 181 grams
Body materials
Metal frame, glass (satin-finished, non-marking)
Display
6.56 inches, 1080×2376 pixels, AMOLED, automatic brightness control, AlwaysOn Display, refresh rate 90 Hz
HDR10 +
DCI-P3
92.6% of usable area
Operating system
Google Android 10.0, Funtouch OS 10,5
Platform
Qualcomm Snapdragon 765G Chipset, 7nm, 8 Cores (1 × 2,4 GHz, 1 × 2,2 GHz, 6 × 1,80 GHz)
GPU: Adreno 620
Memory
8/256 GB
Wireless Interfaces
Wi-Fi a / b / g / n / ac / ax 2 × 2 MIMO, DualBand, Bluetooth 5.1 (SBC, AAC, LDAC, aptX / aptxHD), NFC
Сеть
Dual SIM, nanoSIM 
2G GSM 850/900/1800/1900
3G WCDMAB1/B2/B4/B5/B8
4G FDD-LTE B1/B2/B3/B4/B5/B7/B8/B20
4G TDD-LTE B38 / B40 / B41
Navigation
Supports GPS, BeiDou, GLONASS, Galileo
Sensors and connectors
Fingerprint scanner under the screen, USB Type-C 2.0
Main camera
Primary: 48 MP, 7 lenses, f / 1.6, 25 mm, OIS with stabilization angle ± 3 °

Portrait: 13 MP, f / 2.45, 3x zoom 50 mm 

Wide: 8MP, f / 2.2, 16mm 

Tele: 8 MP, f / 3.4, 135mm

Front-camera
32 MP, f / 2.4, 25mm 
Battery
4315 mAh
Fast charging FlashCharge 2.0 at 33W
Colours
Silver 
Sound
One speaker, no stereo
Asahi Kasei Microdevices AK4377 D / A Converter with Built-in Headphone Amplifier
Sales start price
65 000 rubles
Positioning
This summer, vivo decided to please users with an innovative product called the X50 Pro in terms of introducing an unusual optical stabilization and main camera into the smartphone. It was designed on the basis of a special double-joint. According to the manufacturer, the angle of regular OIS can be converted to about ± 1 °, while the maximum stabilization angle of the X50 Pro camera can reach ± ​​3 °.
But the vivo engineers did not stop there: here you will find not only a 16mm wide-angle lens with macro support, but also a 50mm portrait lens and a 135mm telephoto lens.
For comfortable consumption of information, the X50 Pro used a 90 Hz screen frequency. And the matrix itself allows you to cover 100% of the DCI-P3 color gamut.
By the way, have you noticed the package bundle? Decent "catch" when buying. The vivo X50 Pro is now selling for about 65 rubles.
Positioning is vivo's flagship.
In this article, we will understand the questions: how good is the professional stabilization of the main camera, is the Snapdragon 765 processor worthy of this device, we will figure out the operating time and other important things.
Design, dimensions, controls
vivo X50 Pro is a typical representative of modern "smartphone building". It uses metal (side frames), two types of glass – protective on the front and satin-finished on the back, a large block of cameras (if Sigismund Shlomo were alive – would put a like), of course, a screen with curved corners.
As a result, we get quite a nice smartphone with materials pleasant to the touch.
The dimensions of the vivo X50 Pro are 158 × 72 × 8 mm and the weight is 180 grams. All these numbers tell me that the engineers tried to make a relatively thin, narrow phone with more or less adequate weight. Most of these vehicles flew away with a weight of 200-220 grams and a thickness of 8 mm.
It is convenient to use the device just due to the above-described weight and size parameters: the width allows you to confidently hold the smartphone in the palm of your hand, the satin-finish glass prevents slipping when your hands are wet. In general, I used the phone with pleasure. A definite plus.
The display has an oleophobic coating, it is of high quality. On the back side, prints remain, but are almost invisible due to the use of a special matte finish. I think that absolutely all manufacturers should switch from glossy glass to satin glass: it looks great and practicality is at a high level.
The only thing that gives moral pain is the curved corners of the screen.
The earpiece speaker is located on top of the front panel. The cut is almost invisible, it seems as if it is located under the display. But no. The volume is high, the interlocutor is heard clearly and legibly. I did not notice any problems.
Somewhere near the speaker, there are light and proximity sensors.
The front camera, more precisely, its area in the screen has a diameter of only 4 mm. Therefore, it does not interfere with the interaction with the interface at all.
At the top there is a microphone for noise suppression during a call. At the bottom there is a dual slot for two nano-SIM, a main microphone, USB-C, a speaker for speakerphone output.
On the right is the power button and volume rocker. Both elements are thin, narrow, but easy to use.
On the back of the device there is a two-stage module with lenses: a block with three cameras protrudes by 2 mm, a telephoto lens protrudes by 1 mm. Yeah, not the other way around. The main camera has a massive structure. Therefore, the thickness is 2 mm.
The total block size is 20×40 mm. It looks nice, harmonious. A three-section flash of warm and cold lamps settled nearby.
Total: excellent ergonomics (except for the sloping edges of the screen – a minus), nice appearance, optimal weight and size parameters.
Vivo and Apple iPhone SE 2
Vivo and Huawei P40 Pro Plus
Vivo and Honor 30 Pro
Display
Display
6.56 inches, 1080×2376 pixels, AMOLED, automatic brightness control, AlwaysOn Display, refresh rate 90 Hz
HDR10 +
DCI-P3
92.6% of usable area
I think everything becomes clear from the table. Here is a modern matrix with all the consequences: FullHD + AMOLED 90 Hz.
The maximum backlight brightness is 620 cd / m2. It remains to find out only the ripple factor (PWM). There is a flicker on / off.
Turn off:
100% brightness – 5% CP
50% brightness – 7% CP
25% brightness – 60% CP
5% brightness – 16% CP
We include:
100% brightness – 5% CP
50% brightness – 7% CP
25% brightness – 20% CP
5% brightness – 20% CP
Yes, there is flicker suppression, but the CP is still outside the normal range of 10%. Therefore, at brightness less than 50% on vivo X50 Pro, some people may experience eye fatigue.
The phone has a choice of screen refresh rates: automatic, 60 Hz and 90 Hz. I always set it to 90 Hz and enjoyed the smooth interface. This frequency had almost no effect on the operating time.
I can't make any special conclusions on the screen – everything is typical: plus – 90 Hz, minus – PWM at brightness less than 50%.
Theoretically, what is described below can be taken out in a separate paragraph, but even here it will be quite appropriate. There is an item "Dynamic effects" in the smartphone settings. There is just a sea of ​​different parameters, I will not describe everything.
There is home screen transition animation, unlock animation, fingerprint icon animation, face recognition animation, and so on. You can also choose animations for an incoming call and even a message. All this, of course, is cool and exciting, but the first couple of hours. Then you set the parameters to "default" and sleep soundly without these visual "whistles".
Oh, yes, I forgot to say that there is an analogue of AOD – "Always on screen". Easily customize color, background, information placement, and more.
Vivo and Apple iPhone SE 2
Battery
The manufacturer does not provide any super-sophisticated parameters or technologies for this model. It uses a 4300mAh battery. Quite a familiar meaning for most Android devices.
Toys consume 100% of the battery charge in 14 hours – this is a very good value. Most have about 6-8 hours. The video plays for 19 hours. The luminescence of the screen is on average around 5 hours with automatic brightness and 90 Hz information refresh. If you set it to 60 Hz, there will be about 6 hours of glow. I would not sacrifice smoothness for an hour of operation. Although, if the battery runs out, you can reduce the load by choosing a lower frequency.
Despite the fast charging of FlashCharge 2.0 at 33 W, the device still takes quite a long time to charge – an hour and a half. And if you decide to use a third-party network adapter (even a regular 5V / 2A), then the time will be at least 3 hours.
Communication capabilities
Wireless Interfaces
Wi-Fi a / b / g / n / ac / ax 2 × 2 MIMO, DualBand, Bluetooth 5.1 (SBC, AAC, LDAC, aptX / aptxHD), NFC
Сеть
Dual SIM, nanoSIM 
2G GSM 850/900/1800/1900
3G WCDMAB1/B2/B4/B5/B8
4G FDD-LTE B1/B2/B3/B4/B5/B7/B8/B20
4G TDD-LTE B38 / B40 / B41
Navigation
Supports GPS, BeiDou, GLONASS, Galileo
At first, there were questions with the device: for some reason, MegaFon often broke the connection. About once an hour, the network dropped to 2G and returned to 5G after 4 minutes. Moreover, I changed the memory card slots, and the situation repeated itself. In another compartment there was an MTS SIM card, which worked without question.
MegaFon claimed that everything was in order with them, so it began to sin on the phone.
All this took place at the dacha, 55 km from Moscow. As soon as I arrived home, in Moscow, the network was restored. In addition, the employees still answered my reports as follows: in the area of ​​your SNT, work was underway to modernize the equipment.
Otherwise, there are no questions. Everything works like a clock. In this model, there is no choice of a 5G network. But there is VoLTE 🙂
From the point of view of network quality, I can't say anything. It seems to me that almost all modern smartphones work in the same way, plus or minus. To a greater extent depends on the operator, on the number of cell towers, workload on a particular day, hour and minute. But old phones like the iPhone SE of the first generation were really weak in receiving a signal: even MTS in the country showed 1-2 divisions on the phone and often slipped into 3G.
Memory, chipset, performance
There is especially nothing to deal with here – 8 GB of RAM and 256 GB of internal memory, there is no support for microSD cards. The speed of RAM in vivo X50 Pro is 20 MB / s, this is an average value for devices, not a flagship one. The built-in memory speed is 000/660 MB / s, which is also a slightly above average result.
Platform
Qualcomm Snapdragon 765G Chipset, 7nm, 8 Cores (1 × 2,4 GHz, 1 × 2,2 GHz, 6 × 1,80 GHz)
GPU: Adreno 620
And with the processor there is such a problem. Most likely, in the comments I will see something like this: "What a bad vivo that put such a dead chip into such an expensive smartphone." And I will answer you this way: the processor is adequate here, it digests any information, whether it be games at maximum parameters or some heavy applications. In short, the Qualcomm Snapdragon 765G has enough power for any task.
Another issue is savings. Surely the 765G costs much less than the 865. Hence the crooked disgruntled faces at the sight of the chip and the price tag on the phone – the manufacturer saved money! And I didn't spend much on memory. However, the company makes money. It's like being outraged that Apple puts its products on horseback prices. Well, not to engage in charity, selling to zero? Capitalism is like that.
Returning to the smartphone. Under load, it hardly heats up, does not glitch and does not slow down. In the Antutu test, it scores 330 points – mediocre.
Software
The vivo X50 Pro runs on Google Android 10 operating system with support for Google services. Now it is extremely important to write such phrases. The proprietary shell Funtouch OS 10.5 is stretched over the OS. Here we have an overview of version 9.1:
A few words about the new version, until we have prepared a full review of the top ten:
New icons
Updated Standby (AOD)
Live wallpaper support
Jovi app (water balance reminder)
Albums (presenting photo catalogs as albums)
Various settings such as Ai beauty, lighting effects, automatic cleaning of storage space and so on.
What I didn't like: Extremely tough work with applications that are running in the background. The first week passed more or less normally, although Yandex.Mail did not send letters in the background. But the rest of the time – the mail will not "arrive", then the FB messenger will not deliver the message, then Telegram with WhatsApp will be "dull". And all this with the phone screen off. You activate the display – messages fell. All applications were given rights, control is only manual.
Usually, Huawei / Honor smartphones with their AI power saving mode suffer from such nonsense. And here is vivo.
Камеры
Main camera
Primary: 48 MP, 7 lenses, f / 1.6, 25 mm, OIS with stabilization angle ± 3 °

Portrait: 13 MP, f / 2.45, 3x zoom 50 mm 

Wide: 8MP, f / 2.2, 16mm 

Tele: 8 MP, f / 3.4, 135mm

Front-camera
32 MP, f / 2.4, 25mm 
I think the main questions will be about stabilizing the main camera module. How the stub system is described on the official website:
"The professional-level image stabilization system was implemented on the basis of a gimbal. Vibration occurs during shooting due to natural hand shake. Thanks to the electromagnets attached to the suspension, the lens begins to move to minimize vibrations, which can be seen with the naked eye. "
You can see how it works in the official video:
Another question is how effective is such a solution in relation to typical OIS in smartphones? In my opinion, the plus or minus is the same when compared with flagship devices such as Huawei P40 Pro Plus, Samsung Galaxy Note 20 Ultra and others. But at this stage, Apple iPhones (even SE 2020) are filming more smoothly.
If we are talking about a photo, then here the gimbal in vivo X50 Pro behaves exactly better than any stabilization in a smartphone. I already wrote at the beginning of the text: the angle of normal OIS can be converted to about ± 1 °, while the maximum stabilization angle of the X50 Pro camera can reach ± ​​3 °. But this does not mean that you can get adequate pictures with wildly trembling hands: Vasily Ivanovich from the third entrance should definitely not be trusted with a smartphone.
As it used to be simple: one camera – one conclusion. And now phones have 3-5 cameras, and you need to write a review for each one.
The main module. Excellent picture quality, maximum dynamic range. In addition, the HDR mode, which works in automatic mode, is worth praising. In general, the shots from the X50 Pro remind me of the shots taken on the Apple iPhone 11. There is also a SmartHDR.
Wide-angle module (aka "makrik" with autofocus). Angle too wide – corners distorted. Medium quality: low DD, clarity and other things. That same auto HDR helps – the picture becomes at least colorful.
Portrait. An ordinary lens without any bells and whistles. Convenient when shooting people at a short distance. Medium quality. Of the minuses – switching to the main camera when the lighting level decreases.
Telephoto lens. Here you are offered 135mm or 5x zoom. It is fashionable now, everyone wants to photograph the Milky Way and galaxies. The quality of the frames is more or less good considering the focal length. For what it is useful – you decide. I almost never had such scenarios. Is it easy to capture the moon? It is extremely difficult without the use of artificial intelligence. More precisely, like this: you can catch, but the image will be of low quality. Therefore, use the special option in the camera parameters.
Front-camera. A very good quality. The viewing angle is average, so there is almost no distortion.
About the video. Here again the crazy situation with camera resolutions. Since for 4K you need to have an adequate module, only the main camera shoots in high resolution. The rest – 1080r. And again leapfrog: only the main module writes at 60 fps. All others – 30 fps.
The videos are recorded normally, I can't highlight anything interesting. It captures the moon badly.
During video creation, you can select the audio source: either the microphone above, or below, or both. It is better to use the latter option – you can always hear clearly there.
The device has object tracking when creating a video. The meaning is something like this: you click on an object (a person or whatever) in the frame, and when the camera is moving away / closer, the software "sprinkles" the picture so that the object is always in the frame. It works so-so: a lot of artifacts due to digital zoom, distortions are present, tracking is not always accurate. In addition, when the function is turned on, a hint lights up on the screen, which simply does not fit into the screen. Therefore, you cannot see the beginning and end of the text. Yes, there is a creeping line, but it does not reach the end. Oh, these Chinese craftsmen. For them, for sure, everything is indicated in hieroglyphs without a creeping line.
But what really amazed me was the astrophotography. I thought it was some kind of useless thing that wouldn't work. But no. Look at the photo below. Moreover, the shots were made in artisanal conditions. It looks cool.
Total: the main camera has a cool module with really effective stabilization when taking photos; when shooting a video, this is hardly noticeable; the rest of the cameras are ordinary and not particularly remarkable.
Video examples:
Sample Photos
Shirik:
Main:
Tele 5X:
Tele 60X:
Astrophoto:
Frontal:
Musical possibilities
The vivo X50 Pro uses one speaker for speech, one speaker for hands-free output. Unfortunately, there is no stereo sound. The second speaker is very loud, but the sound is mostly high-frequency, somewhat squeaky. I didn't like it.
The device does not have a 3.5 mm jack. But there is a separate DAC with a built-in headphone amplifier from the Japanese company Asahi Kasei Microdevices – model AK4377. Probably cool. Why "probably"? I think because most people use wireless headphones, including TWS. I haven't held wired headphones in my hands for three years. However, all modern codecs SBC, AAC, LDAC, aptX / aptxHD are available here.
But you still expect me to comment on the AK4377? The sound with the help of an adapter for headphones of different brands (Bose, JBL, Sony) seemed to me quite good: pleasant bass, accurate high frequencies, voices are heard well. However, the volume could have been higher.
Conclusion
I am sure that the main complaint against this device will be something like this: the price is too high for the Qualcomm Snapdragon 765G processor. And I agree with you. For 65 rubles (this is how much the vivo X000 Pro costs) I would like to see Snapdragon 50. In addition, we remember the low memory speeds and come to the conclusion that the manufacturer saved a lot on the chip and memory.
On the other hand, the device is fast and non-braking, everybody plays games. What if we didn't know about the hardware of the X50 Pro? Surely our evaluative opinion would change.
What positive aspects do I see in this model:
Excellent build quality, ergonomic design, pleasant materials. The device is thin, relatively light and narrow.
Good AMOLED quality. Here you have DCI-P3 (which no one will notice), and 90 Hz.
Decent battery life
Excellent quality of the main camera
Dedicated DAC Presence
Good equipment
What confused:
PWM at less than 50% brightness even with anti-flicker option enabled
Average quality "shirik"
Overcharge
On the whole, I liked the phone. I enjoyed it. I will definitely recommend buying if people find the X50 Pro a little cheaper.
All current flagships can be recorded as competitors: Huawei P40 Pro, Samsung Galaxy S20 Plus, Apple iPhone 11 Pro, Oppo Find X2 (another overrated friend), OnePlus 8 Pro.
Which Apple iPhone 12 will you buy this year?
Back to content >>>
Related Links
Share: 





we are in social networks:
Anything to add ?! Write … eldar@mobile-review.com