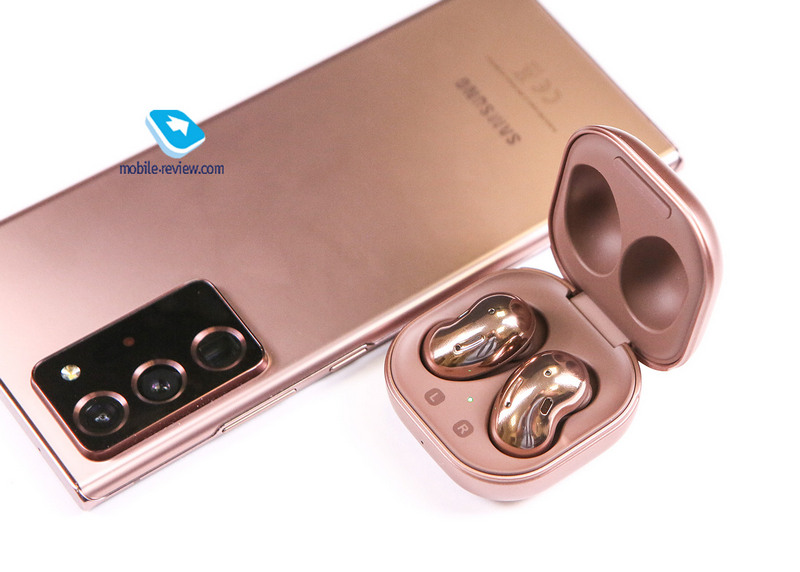 Contents of delivery
Charging case
Charging cable
Instructions
TECH SPECS
Colors – bronze, black, white, blue and red;
Headphone dimensions – 16.5 x 27.3 x 14.9 mm (wxdxh), weight – 5.6 grams;
Case – 50 x 27.8 x 27.8 mm, weight – 42.2 grams;
Three microphones – two external, one internal;
A sensor that reads the vibrations of the jawbone;
Single-way speaker -12 mm;
IPX2;
Active noise cancellation;
Bluetooth 5.0;
Accelerometer, Infrared Sensor, Hall Sensor, Compression Sensor, Touch Panel, Voice Pickup Unit;
Battery – 60 mAh, battery life – up to 4.5/5.5 hours of talk time (with and without noise canceling), up to 5.5/8 hours of music playback via Bluetooth;
Battery in the case 472 mAh, at least three full charges of the earbuds;
5 minutes of charging gives up to an hour of music playback;
Qi wireless charging;
USB Type C, 2.0;
Voice prompts in Russian;
Compatible with any Android smartphone version 5 and higher, the headphones work with any device; iOS10 and newer starting with iPhone 7;
Additional audio codecs – Samsung Scalable Codec, SBC, AAC;
Audio transparency, broadcasting ambient sounds when listening to music;
Headphone search function;
Buds Toghether function, sharing music with friends;
Microsoft Swift Pair support;
Game Mode (reduces audio latency during games);
Use as a wireless microphone for Samsung smartphones with OneUI 2.5 (not all models).
Samsung loves to experiment, and Galaxy Buds Live is the result of such experiences, when the company tried to create unusual TWS-headphones, where unusualness is not harmful, but beneficial. The company did not have noise canceling TWS headphones, while the AirPods Pro offer this, as do models from Sony and other manufacturers. Noise cancellation is what consumers living in cities want to see, using headphones in the subway, in the car, on the streets. In urban conditions, TWS headphones cannot cut off all the noise, it is simply unrealistic, but they are able to reduce them to a comfortable level.
Large on-ear headphones can accommodate multiple microphones, spread them apart, add sophisticated electronics and large batteries, but TWS headsets simply don't have room for that. The small battery imposes limits on the performance of the processor, which cannot be very complex. Therefore, TWS noise canceling headphones are obviously inferior to large models, there can be no miracles. Samsung decided to design headphones for a specific task – for urban conditions, for an active lifestyle, and hence the name Buds Live.
The first thing we tried to change was the shape of the earbuds so that they provide passive noise cancellation, but at the same time skip external sounds (hello Pixel Buds, where I scolded this option, it just did not work fine). Samsung has swung into the anatomical shape of the headphones, they look like beans and follow the curves of the auricle. We are accustomed to mistrusting everything new, and I am no exception, I was afraid in absentia that the form would be uncomfortable. I was wrong. The headphones are like a glove, and in children, adults, women and men the Buds Live fit is the same, the only difference is how much you "drown" them in the auricle.
A meticulous survey of Buds Live users showed that headphones are not suitable for everyone, there are people who have them poorly fixed in their ears, but this is rather an exception. Unfortunately, it is impossible to try headphones before buying, as is the custom with all manufacturers. But the likelihood of problems is minimal, usually the first time it is not clear how to insert the headphones correctly, but you can quickly get used to it.
With a snug fit of the headphones, you will get sound insulation, the ear will start to sweat, this is inevitable. Sweat can push the earphone out with sudden movement, it will slip out. To prevent this from happening, a hole was made for ventilation, but it also allows sounds to pass through (the controversial task is to give access to air, and therefore to give external sounds as well). But this issue was solved due to the noise cancellation system, the earphone is designed so that when ANC is working, external noise is cut off. But even here the engineers decided to approach the issue pragmatically. If in headphones from other manufacturers we see an attempt to cut off all external noise, in Buds Live it is only low-frequency noise up to 700 Hz. The same noise of transport, subway, city, fans and street noise. Why try to remove all the noise when you can only neutralize the effect of the annoying city noise?
And this makes Buds Live different from other headphones, noise cancellation works here delicately. On the one hand, you are in a sound cocoon, the feeling that there is a quiet room around, but at the same time you hear people's voices (they sound unusual, a little digital, there is no low frequencies), car horns, and so on. How good and different is this headphone from other noise canceling models? This is a feature that someone will like, and someone will say that this is complete nonsense.
But due to such a noise canceling system, the sound of music in the headphones has become more interesting, the bass is rich. Let's talk about this separately, but they sound noticeably better than the AirPods Pro, not like the Buds +, the sound is different.
Another point is the presence of a vibration bone conduction sensor, the headphones recognize a noisy environment and switch you to this sensor during a call. The interlocutor will instantly hear the clipping of all sounds, your voice becomes a little muffler, a little digital. But the feeling is that you are talking in an empty room, and not on a noisy street or, for example, at a concert.
The headphones have voice commands (they can be accessed directly by voice, for example, ask to pause the music). Alas, this feature has been implemented only for countries where the Bixby voice assistant works, Russia is not among them. Therefore, voice functions are not applicable here. But you can call the Google voice assistant by clicking on the earpiece and talk to it.
The colors of the headphones are black, white and bronze (some will say that it is gold, but no, it is bronze).
A little later, headphones in blue and red appeared.
The charger cases have changed their shape, they are now rectangular. It is convenient to carry them in your pocket, the box is small.
Of the minuses associated with the shape of the earphone, I note that you can try to put it in the wrong box, it will not close in this case. There are magnets that keep the "ears" in the box even if it is turned over.
The headphones are almost symmetrical, so when you put them in the box on the go, you can put them backwards or mix them up. They will click into place, but the box will not close. I do not like this moment, since several times it turned out that the headphones were put incorrectly. We need to focus on this, nothing like this happened with previous models.
I also came across several times that the correctly removed headphones did not fit tightly into the lodgement, the box did not close completely, although the charging indicator turned on. This threatens that the headphones are not disconnected from the smartphone, the sound continues to go into them. The ergonomics of the case in this aspect is far from ideal, but in everyday life this moment is not very annoying, you do not come across it so often. These are rather isolated cases that should have been mentioned.
Bright, glossy cases are not a minus, since handprints are practically invisible. Longer operating time is ensured by the fact that the battery in the larger case is small, in the headphones themselves. The operating time is typical for such headphones – 5.5 hours with noise canceling, eight without it. Talk time, respectively, 5.5 / 8 hours.
Wireless charging in case (Qi), full charge takes 2.5 hours. But the headphones themselves get at least an hour of work in 5 minutes of charging, which is quite good.
It's time to tell you about the application and setting up the headphones. They can work with any smartphone with Android 5 and 1.5 GB RAM, as well as iPhones with iOS 10 and higher (starting with iPhone 7).
To work with headphones, you need to download the Galaxy Wearable application, in which you can set up headphones, control equalizers. Synchronization occurs almost instantly.
In the "Lab" section, there is an improvement in the settings for games when the latency becomes minimal, which allows you to play comfortably.
The set of codecs is typical here (AAC, SBS, Samsung Scalable), the sound quality, as mentioned above, is good. For those who like to listen to streaming services (Spotify and the like), these headphones are, if not ideal, then very good. They have a surround sound, the sound is soft, the bass is highlighted. Moreover, regardless of which equalizers you use, the bass is well heard – you can make it clearer or softer. Due to this, even ordinary films look different, the sound changes, it becomes richer. For fans of "natural" sound, such headphones will not be very interesting, but then the question arises, what is natural sound and how to evaluate it. For ordinary people, the sound in Buds Live looks interesting. In comparison with the same AirPods Pro, these headphones are superior in sound. Watch the video comparing these headphones.
In practice, how noise cancellation works can be confusing. Due to the fact that not all noises are cut off, on the city street it seems that the external noise is reduced, but you still hear the beeps of cars, the background of the city is not cut off in full. But, for example, inside the car, you will not hear the voices of people who are traveling with you. In the room, you are also guaranteed to be cut off from sounds, especially when you are addressed, you have to pause the headphones or remove one ear.
I have no complaints about noise cancellation, it works and provides additional comfort, but we cannot say that this is the level of the same Sony. But this is quite enough, compared to the usual Buds +, there are completely different sensations here, and most importantly, there are no side effects from wearing the headphones for a long time. The ear canal does not sweat, there is no feeling of squeezing, the anatomical shape plays a role.
I set up the headphones so that noise cancellation works by default, on the left earpiece I hold down Spotify, and on the right one I turn on / off noise cancellation. Pressing the touchpads is unusual at first, they are offset to the edge of the ear in relation to the previous Buds headphones. And it takes some getting used to, but after a week you don't miss. At first, every now and then you smear a little, press on the touch surface, but it does not react. Habit issues. Therefore, if these headphones are the first, then there will be no such problem at all, but after Buds it can arise and cause discomfort.
I would also like to say an important thing for myself and those who constantly participate in conferences and calls. Indoor headphones provide a confident connection over a greater distance than AirPods Pro or Buds +. In my apartment, with TWS headphones, I could never leave the kitchen from the office (two main walls and a corridor); with these headphones, such a journey goes without interruption of communication. And then another curious incident arises, the headphones work well over long distances, but sometimes one ear falls off when the phone is in your pocket. I could not find a pattern, but in the first Buds the first months there was something similar, firmware was released every couple of weeks, which increased the stability of the headphones. Here is exactly the same picture, four firmwares have already been released within a month, they improve the quality of the connection. How often does the signal drop in one ear? This happens every two days during a conversation on the street (there was never such a thing in the room, or I was so lucky). At the same time, the second earpiece continues to work, the conversation is not interrupted. But this is unpleasant because the sound changes. The Buds Live users surveyed either did not pay attention to this point, or they say significantly less than I do. I have not met any massive complaints about this situation.
Now the most important thing is to work as a headset. The earphones are a real delight, this is the best headset in many years. The interlocutor hears you clearly and loudly, even from noisy places. There is no need to raise your voice or shout, often the other person does not even understand what you are saying on the headset. And for those who speak a lot in different places, these headphones will be very good. Therefore, I recommend them not only for listening to music, podcasts, but also for conversations.
Impressions
At a price of 13 rubles, the headphones are positioned higher than all previous Buds, but they are noticeably better in almost every aspect. It is difficult to compare in cost with AirPods or AirPods Pro, since they are much more expensive and at the same time play music worse, however, and as a headset they are far from ideal. But here is the question of what you think is important – the image of Apple in your ears or the quality of the headset that you hear all the time.
It is impossible to count on the fact that noise cancellation in these headphones works in the same way as in models from Sony, the headphones occupy an intermediate position. But this has its advantages: the sound is excellent, you hear the sharp noises of the city, not completely isolated from what is happening around. But in the cab, the insulation is maximized. A matter of habit and what are you waiting for.
Of all the TWS earbuds I've tried in recent years, these I like the quality of work as a headset, as well as the price / performance ratio. It's great here.
Related Links
Share: 





we are in social networks:
Anything to add ?! Write … eldar@mobile-review.com