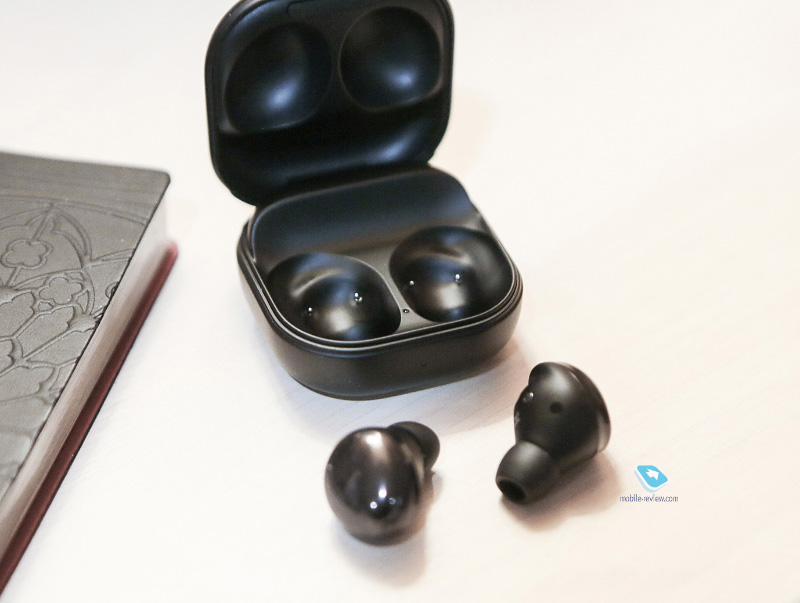 Live photos
Contents of delivery
Charging case
Charging cable
Instructions
Silicone earbuds S / M / L (one already installed on the headphones)
TECH SPECS
Colors – black, purple, gray;
Headphone dimensions – 20.5 x 19.5 x 20.8 mm (wxdxh), weight – 6.3 grams;
Case – 50 x 50.2 x 27.8 mm, weight – 44.9 grams;
Three microphones – two external, one internal;
A sensor that reads the vibrations of the jawbone;
Two speakers – 11 mm woofer, 6.5 mm tweeter;
Chipset BCM 43015, RTOS;
IPX7;
Active noise cancellation;
Bluetooth 5.0;
Accelerometer, Infrared Sensor, Hall Sensor, Compression Sensor, Touch Panel, Voice Pickup Unit;
Battery – 61 mAh, battery life – up to 4/5 hours of talk time (with and without noise canceling), up to 5/8 hours of music playback via Bluetooth;
Battery in case 472 mAh, 2.5 times charging of the earbuds;
5 minutes of charging gives up to an hour of music playback;
Qi wireless charging;
USB Type C, 2.0;
Voice prompts in Russian;
Compatible with any Android smartphone version 5 and higher, the headphones work with any device; iOS10 and newer starting with iPhone 7;
Additional audio codecs – Samsung Scalable Codec, SBC, AAC;
Audio transparency, broadcasting ambient sounds when listening to music.
Headphone search function;
Buds Toghether function, sharing music with friends;
Microsoft Swift Pair support;
Game Mode (reduces audio latency during games);
Use as a wireless microphone for Samsung smartphones with OneUI 2.5 and above.
Samsung loves to create product lines, when customers can choose a product for every taste, with different designs and carefully select characteristics, as well as measure their desires against their capabilities. The line of TWS headphones from Samsung today is represented by three current models – Buds +, Buds Live and the new Buds Pro, which became the flagship of this line. The prices for these models are 10, 990 and 13 rubles, which also describes the differences in capabilities, since the Buds Live and Pro have noise canceling function, while the regular Buds + lack it.
But the choice of headphones is not only cost, but also ergonomics and usability, because the best headphones may not suit you specifically, and then all their advantages will be crossed out. To give an understanding for readers and some starting point, I will say that the Buds + fit is comfortable for me, the headphones have never caused discomfort. Ergonomics Buds Live from the category of anatomically correct, the headphones sit in the ears like a glove, there is nothing to complain about. For the last six months, these have been my main headphones for the city, one of the best headsets that exist in their segment. In short, Buds Live is very satisfied in all aspects.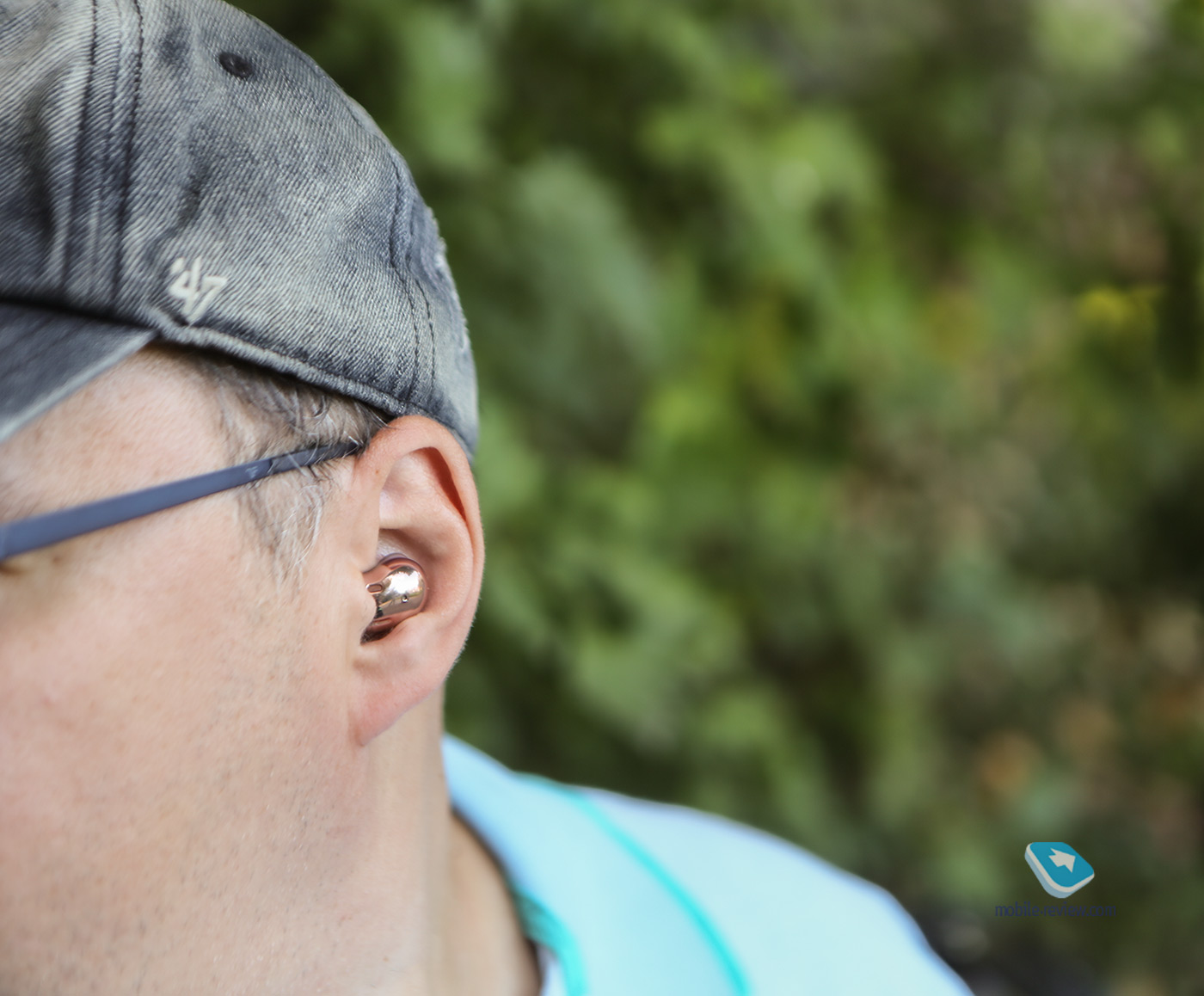 It is important to make a reservation that the sound quality of any TWS headphones is a compromise, since it is impossible to achieve good sound from wireless headphones, to put it mildly. But if Apple has no sound at all in all dimensions, then Samsung headphones favorably differed in their sound. And in Buds Pro they worked on the sound. For this, the design of the headphones was changed, not only a woofer was added, but also a tweeter.
These are the first IPX7 headphones, which means they can be dropped in water and they won't get anything from it. The downside of the water protection is that the design de facto cannot be repaired at home, it will not work to replace the battery, it was possible on previous models. In any case, most buyers will definitely not do this. How important it is that the headphones do not sink is an open question, but for the pool it is a handy feature. You are swimming on a mattress, listening to music (you cannot swim in these headphones, they are not intended for this).
Externally, the shape of the Buds Pro is similar to the Buds +, but there are no silicone wings that fixed the headphones in the auricle. The headphones are held due to the fact that the oval-shaped silicone insert enters the ear canal, and the outer part lies in the ear shell. The process of installing the earphone does not raise any questions, but there are roughnesses with ergonomics.
Due to the fact that the headphone is held on the stem, which is a consequence of the location of the speakers, the headphone can fly out from a sudden movement, especially if you have not fixed it completely. But this is half the problem, the other flaw is in the ergonomics and discomfort that occurs in the ear canal. The earbuds have noise cancellation, so they were chosen so that they would close the ear canal (there is a valve in the earphone itself so that the ear does not sweat, sound passes through). But the earbuds are more or less rigid, oval in shape. Having changed the earbuds from M to S, I got slightly better ergonomics, but still it is far from all previous models. It is important to emphasize that the structure of the ear canal is an individual matter, so what is good or bad for me may be exactly the opposite for you.
Listening to headphones on the street, I did not experience big problems, there is pressure on the channel, but it did not give me much discomfort. But an attempt to listen to headphones for the coming sleep, when you press your ear to the pillow – and all the disadvantages are right there: pressure on the walls of the ear canal, at some point the discomfort becomes too obvious. I tried this moment on others, gave Buds +, Buds Live, AirPods Pro and these headphones for testing. Most singled out Buds Live for convenience (anatomical headphones, they are simply amazing), many like the fit of AirPods Pro, they are in second place. But my surprise knew no bounds when my friend said that the Buds + are very uncomfortable, press on the ears, but the Buds Pro, on the contrary, are very comfortable. These are the differences in anatomy that make us so different. It is impossible to draw any conclusions on this single example, but for you, perhaps, this will become a starting point for understanding which ergonomics are closer to you. For me, Buds Pro, alas, is not the best choice, I can use them on the go, but there is another point that upsets me: they have an AirPods disease, at high volume, others hear what is playing in your headphones or what they are saying to you on the phone …
Therefore, my advice is simple, if you can try headphones before you buy them, then do it. They are not versatile in fit. Also, the design feature is that running, playing outdoor games will not be happy with how tightly the headphones are fixed, there is a possibility that they can fly out.
Now is the time to talk about noise cancellation, in the previous model Buds Live it was an intermediate solution, they removed the low frequencies of the city. In the review, Buds Live called that solution intermediate, it looks like that. Buds Pro has noise cancellation without any gimmicks, city noise is filtered at all frequencies, external noise is cut off perfectly for TWS headphones. We can say that everything here is at the level of the same AirPods Pro, you will not notice any special differences.
Sound transparency can be set by pressing the earpiece, or you can turn on automatic detection of your voice, then the music is muted and you hear the world around you. The transparency level in the settings can be adjusted, which is nice.
I don't like automatic voice detection, because when set to 5, 10 or 15 seconds, the music turns off. The headphones can even react to the fact that you sing along, muttering something under your breath. Therefore, I disabled this feature.
Another point is the presence of a vibration bone conduction sensor, the headphones recognize a noisy environment and switch you to this sensor during a call. The interlocutor will instantly hear the clipping of all sounds, your voice becomes a little muffler, a little digital. But the feeling is that you are talking in an empty room, and not on a noisy street or, for example, at a concert.
The headphones have voice commands (they can be accessed directly by voice, for example, ask to pause the music). Alas, this feature has been implemented only for countries where the Bixby voice assistant works, Russia is not among them. Therefore, voice functions are not applicable here. But you can call the Google voice assistant by clicking on the earpiece and talk to it.
Headphone colors are black, silver and purple.
A little later, there will be headphones in other colors, the company likes to add color schemes.
The charger cases are rectangular, just like the Buds Live, albeit slightly changed inside. It is convenient to carry them in your pocket, the box is small.
Unlike Buds Live, it is impossible to put the headphones in the box incorrectly, they are also easy to get or hide on the go, here the ergonomics have become noticeably better. There are magnets that keep the "ears" in the box even if it is turned over.
Bright, glossy cases are not a minus, since handprints are practically invisible. The operating time is typical for such headphones – 4 hours with noise canceling, eight without it. Talk time, respectively, 5/8 hours.
Wireless charging in case (Qi), full charge takes 2.5 hours. But the headphones themselves get at least an hour of work in 5 minutes of charging, which is quite good.
It's time to tell you about the application and setting up the headphones. They can work with any smartphone with Android 5 and 1.5 GB RAM, as well as iPhones with iOS 10 and higher (starting with iPhone 7).
To work with headphones, you need to download the Galaxy Wearable application, in which you can set up headphones, control equalizers. Synchronization occurs almost instantly.
In the "Lab" section, there is an improvement in the settings for games when the latency becomes minimal, which allows you to play comfortably.
The set of codecs is typical here (AAC, SBS, Samsung Scalable), the sound quality, as mentioned above, is good. For those who like to listen to streaming services (Spotify and the like), these headphones are, if not ideal, then very good. Resounding sound, clear upward, there is an opportunity to push out the bass. The headphones are one of the best in their class in terms of sound quality, I really liked them for their sound.
Among the new features, I will note Audio 360 (Dolby Head Tracking), in the settings you can enable this sound (on devices with OneUI 3.1 and higher). This is another equalizer that will go well with compositions created for surround sound, such as are found in a number of streaming services, in the same Spotify, using this option is mostly pointless.
I set up the headphones so that noise cancellation works by default, on the left earphone, by holding down, I call Spotify, on the right one I turn on / off noise cancellation. Pressing the touchpads does not cause problems, blindly everything is fine.
I would also like to say an important thing for myself and those who constantly participate in conferences and calls. Indoor headphones provide a confident connection over a greater distance than AirPods Pro or Buds +. In my apartment with TWS headphones, I could never leave the office (two main walls and a corridor) to the kitchen (two main walls and a corridor); with these headphones, such a trip goes without a disconnection. Unlike Buds Live, one of the "ears" never fell off, the sound always went correctly to both headphones.
Now the most important thing is working as a headset, which is the same as Buds Live. The earbuds are a real delight, this is the best headset in many years. The interlocutor hears you clearly and loudly, even from noisy places. There is no need to raise your voice or shout, often the other person does not even understand what you are saying on the headset. And for those who speak a lot in different places, such headphones will be very good. Therefore, I recommend them not only for listening to music, podcasts, but also for conversations.
Impressions
The price of the headphones is 17 rubles, which, against the background of the AirPods Pro price of 990 rubles, looks like at least an interesting offer. But you need to compare Buds Pro and Buds Live. On the Pro side, there is better sound, better noise reduction, but worse ergonomics, slightly less operating time (which is not essential). And the price differs by 25 thousand rubles. And if you do not consider yourself very picky about the semitones in the sound, then it is more rational to choose Buds Live, the headphones are excellent, especially if you buy them without trying them on, the chances of overshooting are much less. In Buds Pro, another disadvantage for me was the sound leakage outside, although there is more than enough headroom in volume, and therefore I usually listen to them at 4%. Their noise cancellation is better than Buds Live, another level. But in the previous ones I was comfortable with this function. I caught myself thinking that I was almost always in bed with Buds Live. On the road, when I understand that this is just chaotic movement around the city and you don't need to constantly wear headphones, this is the Buds Pro. Ergonomics is not horror-horror, but clearly in my case it is inferior to the same Buds Live.
Samsung is consistently expanding its line of TWS headphones, so the company calls Buds Pro its best model, and in terms of sound, noise cancellation, everything is really excellent here. And the ergonomics are individual for everyone, try to try on headphones, listen to them for at least five minutes, evaluate how they fit your ears.
Related Links
Share: 





we are in social networks:
Anything to add ?! Write … eldar@mobile-review.com