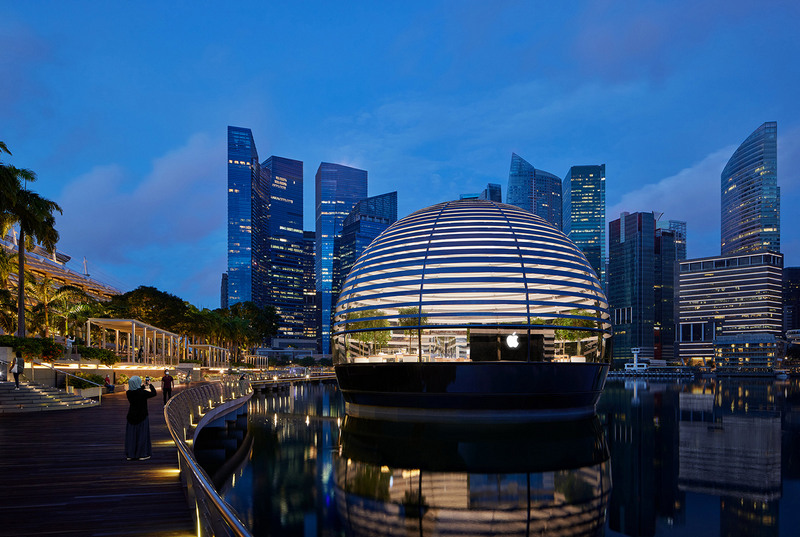 The week was rich in news, there are new smartphones and wearable devices, as well as consoles and cars. If you want to quickly find out everything from the world of technology, then subscribe to our Telegram channel, there, in addition to news, you will also find exclusive information from our authors and, of course, a daily "dessert".
Content
POCO X3 NFC Officially Unveiled
New Xbox coming in November
Huawei announcements
Baby watch + communication forever
Apple presentation
LG brought the biggest OLED TV
New Land Rover Defender in Russia
… and dessert
POCO X3 NFC Officially Unveiled
Xiaomi, or rather, its subsidiary POCO, introduced the POCO X3 NFC smartphone. The device received a 6,67-inch DotDisplay screen with FHD + resolution, 120 Hz refresh rate and 240 Hz touch layer polling rate. It is built on the basis of the Qualcomm Snapdragon 732G processor, on board 6 GB of RAM and 64/128 GB of permanent memory. The main camera has in its arsenal a 64 MP Sony IMX686 sensor, which was already installed on the POCO X2, in addition to it, there is a 13 MP ultra wide-angle lens, a 2 MP depth sensor and a 2 MP macro lens. The battery in the smartphone has a capacity of 5160 mAh, there is support for fast 33 W charging. The manufacturer tried to make the design as original as possible in the current conditions, the camera unit was arranged in a new way, which already looks fresh.
A rather interesting device at a reasonable price, sales of which have already started on AliExpress. By the way, the site approached the sales of the smartphone in an interesting way, setting a sort of initial price for the device at $ 995 and $ 1 and immediately making a discount of up to $ 245 and $ 199, respectively. As usual, they launched a sales counter, although only the seller knows how real the numbers are.
We don't have any material on POCO X3 NFC yet, but I suggest you read our fresh review of the Motorola EDGE smartphone:
New Xbox coming in November
Microsoft has officially unveiled the next generation Xbox Series S compact console, which lacks a Blu-ray drive, unlike Series X, but will be 60% smaller, will be able to run games in 1440p resolution at up to 120 frames per second with the ability to upscale up to 4K, play streaming video content in 4K resolution, and a special version of a 512 GB NVME solid-state drive with a capacity of XNUMX GB and with low latency will be used as a drive.
The company also announced that it will open pre-orders for the new Xbox Series X and Seris S consoles from September 22, and from November 10, they will go on wide sale around the world. The prices for consoles in Russia were also announced, so the older model will cost quite a decent 45 rubles, but the compact younger version may well become a hit on New Year's sales, since the price was set at 590 rubles. Now it remains to wait for the answer from the Japanese company Sony, which has not yet announced the prices and the date of the start of sales of its new PlayStation 26.
In the subject of news, it is worth saying that we have released a review of two gaming headsets from JBL, read:
And for those who prefer to play exclusively on a PC, I suggest reading our material in the wake of the presentation of new video cards from Nvidia:
Huawei announcements
The Chinese company Huawei has announced the launch of a new generation of flagship TWS headphones Huawei FreeBuds Pro – the world's first headphones with intelligent dynamic noise canceling. Dual microphones, located outside and inside the FreeBuds Pro, allow you to quickly recognize ambient noise and automatically switch between three noise canceling modes – Ultra Mode, Cozy Mode and General Mode to effectively eliminate extraneous sounds. With the noise canceling mode on, the battery lasts for 4.5 hours; without it, the operating time is 7 hours without the need to recharge the case.
HUAWEI AI Life's Awareness Mode and Voice Mode use two microphones to help users hear the world around them when crossing a road or talking.
The device has a suggested retail price of 199 euros.
The headphones are very similar to Apple AirPods Pro, not only in design and their capabilities, but also in price, so the question remains how much Huawei FreeBuds Pro will be in demand in the market for that kind of money.
The new Huawei FreeBuds Pro seems to have already arrived for the test at the editorial office, and we will definitely tell you about it, but for now I suggest you read a fresh review of the AC Robin Mist armature TWS headset:
And also Huawei introduced the Huawei Watch GT 2 Pro smartwatch. The screen of the device is protected by a scratch-resistant sapphire crystal, and the case is made of titanium. With two hundred different dial options, you can customize your personal style. In addition, changing the design of the watch face is made easier with the OneHop Watch Face feature included in the Huawei Share package. To install an image from the gallery of his smartphone on the dial, the user just needs to touch it with the watch.
The Huawei Watch GT 2 Pro supports over 100 training modes for both beginners and experienced athletes. The new flagship watch represents the company's cutting-edge developments in the measurement and analysis of key physiological parameters. The updated Huawei TruSeen 4.0+ heart rate monitoring technology, combined with a 6-in-1 LED lens and a sapphire crystal case back, provides more accurate readings.
The price of the Huawei Watch GT 2 Pro in the classic style (Classic edition) is 349 euros, and the sports (Sport edition) is 329 euros.
The price of the model is comparable to that of the new Samsung Galaxy Watch 3, the sales of which started recently. The product from Huawei, of course, is also interesting, but, as I understand it, all its capabilities can be revealed only in conjunction with a device from the company itself, which means that the majority of the owners of new Huawei smartphones will become potential buyers of the device.
If we're talking about the Samsung Galaxy Watch 3, then I suggest you read the review on this watch, which we released last week:
In addition, the company presented an updated operating system of its own design – HarmonyOS 2.0. However, Huawei decided to go beyond this, and according to the company's executive director for the consumer sector Yu Chengdong (also known as Richard Yu), in 2021 Huawei is going to release a smartphone that will run on HarmonyOS 2.0. "Next year, Huawei intends to release a smartphone based on the Harmony 2.0 operating system," he said at a presentation on September 10, 2020 in Guangdong, China.
Of course, it's great that Huawei is already developing its own OS, and where to go, the US sanctions are putting pressure on them more and more, but the question remains whether devices on HarmonyOS will ever come out of China or whether it will be an internal product.
In the meantime, we have released material on the new shell EMUI 11, which Huawei also presented this week:
By the way, the US sanctions are hitting Huawei hard, as it was reported last week that Samsung will stop supplying chips under contracts with Huawei on September 15. Additional sanctions imposed by the US Department of Commerce last month prohibit any company using technology or software developed in the US from supplying Huawei without licenses issued by US regulators. This decision leaves Huawei unable to purchase DRAM and NAND memory chips. Another Huawei supplier, HK Hynix, will also stop supplying chips. Huawei, fearing such a turn of events, began to stock up on memory chips in advance and has now created significant stocks in its warehouses.
Baby watch + communication forever
"Beeline" offers to buy children's watches and get a connection for them on an ongoing basis. From June 29 to December 31, 2020 at Beeline sales offices, when purchasing a set consisting of children's smart watches, the "For smart things" tariff and the "For smart things forever" option, a special price is valid for the watch. Children's watches from several brands are participating in the action, so there is a choice, models from Smart Button, Jet Kids, Geozon and Elari are presented.
Apple presentation
Apple has posted information about the presentation, which will take place on September 15 at 20.00 Moscow time. This year, due to the coronavirus pandemic, the presentation will be held one week later than usual.
It is expected that at the presentation, Cupertinos will present a new generation of iPhone, as well as show a new watch. We are waiting, until the announcement is very little.
By the way, on September 10, Apple opened its new store in Singapore, it looks, of course, amazing.
And also last week, the company filed a counterclaim against Epic Games, continuing its earlier legal battle. Apple accuses Epic Games of blatant contractual neglect and misconduct that has caused Apple significant damage and undermines the entire iOS ecosystem. In its lawsuit, Apple claims that all of its actions, including the removal of Fortnite from the App Store and the suspension of the Epic Games developer account, were based on full legal and commercial grounds.
LG brought the biggest OLED TV
Корейская компания LG привезла в Россию самый большой OLED-телевизор. Модель LG SIGNATURE 88» 8K OLED, как понятно из названия, имеет диагональ 88 дюймов с разрешением 8К. Из интересных решений отметим наличие комплектной металлической подставки со встроенной акустикой и возможность ТВ на лету трансформировать контент 2К и 4К в изображение 8К. Не стоит забывать про время отклика в 1 мс и поддержку технологии HGiG, что важно для игр. А также ТВ умеет взаимодействовать с умной техникой и может использоваться в качестве хаба для управления устройствами, а самим телевизором можно управлять даже с помощью голосовых команд. Единственный минус LG SIGNATURE 88» 8K OLED, кроме размеров, так как не во всякой квартире он поместится, это цена, которая в России составляет 2 499 990 рублей.
Yes, the model is expensive and therefore very niche, but for us, ordinary buyers, this is an opportunity to look at mass technologies that we will be able to get over time. Indeed, just recently, a 65-inch OLED TV cost 300 rubles, and now it can be bought for less than 000 rubles. But besides the screen size, there are other things that we now see from the premium brand SIGNATURE and which are sure to get other mass models soon. For example, voice control without using a remote control or content transformation on the fly. And personally, I am interested in complete stands with built-in acoustics, since recalling my experience of searching for one for a 150 "OLED TV, I would be very happy if the stand was already included in the set, and if it also had built-in sound, it would be so it's better.
New Land Rover Defender in Russia
Jaguar Land Rover has announced that it has begun accepting orders for the new 21st model year Land Rover Defender. The basic cost of a car on the Russian market is 4 rubles. The new Defender will appear in Russia with three engine options – two diesel with a maximum power of 060 hp. from. and 000 liters. from. respectively, and with a six-cylinder 200-horsepower petrol engine with mild hybrid technology (MHEV).
The base Standard package includes a wide range of technologies and features, such as independent air suspension on all wheels with Adaptive Dynamics, LED headlights, dual-zone climate control, Pivi Pro multimedia system with navigation and 3D surround camera system.
It is very interesting to look at the new Land Rover Defender in the basic configuration, nevertheless the price is interesting, but with a high degree of probability such cars will be available only on order, and the dealers in the salon, as usual, will have options only in richer equipment.
… and dessert
Warner Bros. has released the first official trailer for Denis Villeneuve's Dune. The film based on the novel by Frank Herbert is due out on December 17, 2020.
Back to content >>>
Related Links
Share: 





we are in social networks:
Anything to add ?! Write … eldar@mobile-review.com