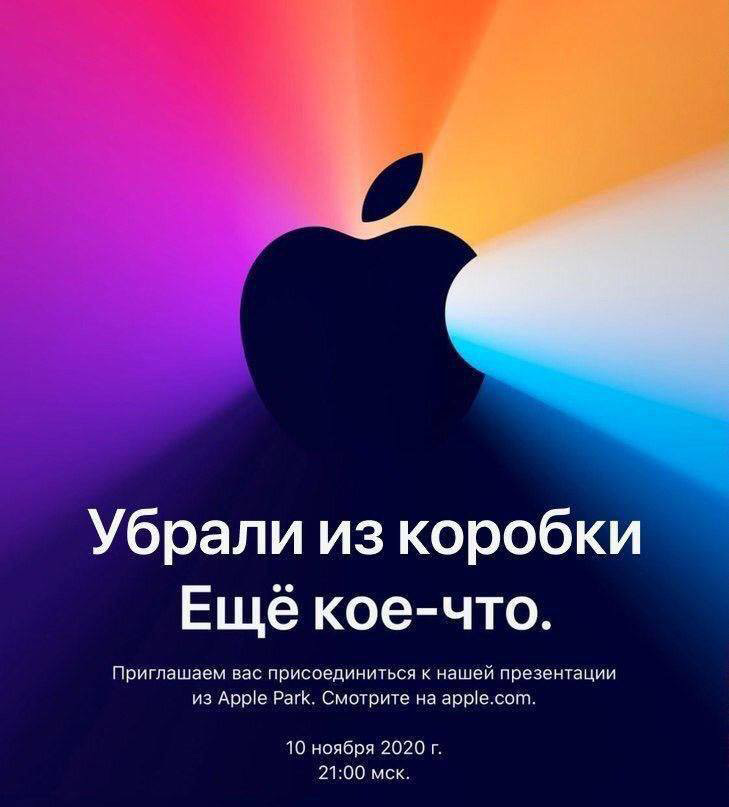 Content
Apple's third presentation
Smartphone at half price
Cyberpunk 2077 Smartphone
Gifts for Huawei / Honor owners
LG PuriCare mask goes on sale
Podcasts appeared in "SberSvuk"
New Huawei
… and dessert
Apple's third presentation
Apple announced that it will hold another presentation of its new products on November 10 under the slogan "One more thing". This year, the company first showed new iPads and Apple Watch as part of two online events in September and October, and then unveiled a new iPhone line. It is expected that the third presentation, which, like the previous two, will also be held online, will demonstrate to users the company's new developments in the field of computers and will present a solution based on its own processor, the plans for which were announced earlier. The plans to replace the chips with products of our own design are explained by the need to improve performance with lower power consumption. Experts believe that the company will introduce one of the MacBooks with a new chip, and then consistently replace the chips in all of its computers with its own solutions for some time.
It is interesting, of course, to look at a MacBook that uses an ARM chip, but it's hardly worth switching to it at the start, since there will definitely be difficulties with the software at first. We are waiting for the presentation and see what else the company will remove from the boxes with its devices.
About Apple we had here this week:
And also here:
And we also have a new buying guide comparing the iPhone 12 Pro and Galaxy S20:
Smartphone at half price
Beeline continues to delight buyers with its promotions. The operator has launched a new offer "Smartphones at super prices in Beeline!", According to which you can purchase Huawei P40 Lite E, Xiaomi Redmi Note 9 (64 GB) or Samsung Galaxy A51 (64 GB) for half the price, adding a set of services and accessories to the device itself … For example, a smartphone Xiaomi Redmi Note 9 complete with an external battery Redmi Power Bank 10000 mAh, a 6-month Beeline TV Amediateka subscription, the Close People 3 tariff and 6 bonus rubles for communication will cost 000 rubles. The offer looks attractive, and if you have chosen one of these models, then you should take a closer look at them in Beeline, maybe the set offered as part of the promotion will be useful to you.
Cyberpunk 2077 Smartphone
The Chinese company OnePlus presented at home a branded version of its new top smartphone OnePlus 8T Cyberpunk 2077 Limited Edition, dedicated, as you might guess, to the upcoming Cyberpunk 2077 game from the Polish studio CD Projekt RED, whose release was once again postponed, now to December 10.
This limited edition smartphone has the same technical characteristics as the original model, but differs in visual design, including the interface, as well as in the delivery set. OnePlus 8T Cyberpunk 2077 Limited Edition will cost 3 yuan (about $ 999). Whether such a version of the smartphone will be sold outside of China has not yet been announced.
This is the moment when the limited version of the device looks much more interesting than the original, and even comes out earlier than the game, which, in fact, is dedicated to.
Gifts for Huawei / Honor owners
AppGallery turns out to be two years old this year. In honor of such a significant date, from November 9 to November 19, 2020, the store is launching a win-win lottery for all users of Huawei and Honor smartphones, in which it will give away bonuses from its partners and prizes from the brand. So, they promise to give away the devices Huawei MatePad Pro, Huawei Mate 40 Pro, Honor Watch ES, Honor 10X Lite and Huawei FreeBuds Pro. There will also be raffled prizes from partners of the platform, including Delivery Club, SberMarket, Dostaevsky, Papa John's and Krasnoe & Beloe. Partners give from 250 rubles to 30% discounts on first orders and not only.
The lottery scheme has already been used by the company before, this is a "wheel of luck", you need to download one of the partner applications and start the wheel, after which you will find out which prize you won. In the last lottery run by the company, I won a coupon for several hundred rubles in an online store and another one for buying e-books, I hope this time I will be lucky to win one of the brand's devices.
LG PuriCare mask goes on sale
LG announced the start of sales of a wearable air purifier. The purifier was first presented at IFA 2020 in September. Sales of LG PuriCare will start in November in key markets, including countries in Asia and the Middle East, the device will also reach Russia, but the start date and price have not yet been announced.
For personal protection, LG's PuriCare wearable air purifier is equipped with two H13 HEPA filters, which are analogous to those used in residential air purification devices. These filters protect the human respiratory system from the ingress of 99,95% of harmful substances such as viruses, bacteria and common allergens in the air. The device features a dual ventilator and a patented breathing sensor that allows you to breathe clean, filtered air easily in virtually any environment. The sensor detects the user's breathing cycle and volume, and accordingly automatically adjusts the three-speed ventilators, increasing the inhalation speed and slowing it down to reduce exhalation resistance. The built-in 820mAh battery provides up to eight hours of operation at low speed and two hours at the highest. And because key parts such as filters, inner hood, face shield, ear straps and extension straps are easy to remove or replace, keeping your PuriCare air purifier hygienic is easy.
The device from LG in the current reality is very useful, however, the question of the ease of use of the mask and its price in Russia remains open.
Podcasts appeared in "SberSvuk"
Podcasts appeared in SberSvuk (before the purchase of the service by Sber, it was simply "Sound"). Today, the library has several hundred conversational, documentary and fiction podcasts on various topics: IT, cinema, science, space, healthy lifestyle, music, genealogy and others.
«СберЗвук» — не первый отечественный сервис, который добавил у себя раздел с подкастами, ранее это уже реализовал «Яндекс» в своей «Яндекс.Музыке» и для продвижения сервиса даже на время изменил иконку приложения. Теперь две платформы будут соревноваться между собой, переманивая к себе создателей популярных русскоязычных подкастов.
And we have released a requiem for Google Music, a music service that the company will completely shut down by the end of the year:
New Huawei
The Huawei FreeBuds Studio headphones presented as part of the autumn presentation will go on sale in Russia on November 20 at a suggested retail price of 25 rubles.
The novelty is equipped with intelligent dynamic noise reduction technology, a system of eight microphones, the function of simultaneous connection to two devices and is capable of playing high-resolution audio. Fully charged earbuds last up to 20 hours with noise canceling on and up to 24 hours with noise canceling, according to the company. A ten-minute charge gives you eight hours of audio playback with noise canceling off, or five hours with noise canceling on. It takes 60 minutes to fully charge the earbuds.
It remains to wait for the appearance of Huawei FreeBuds Studio in order to listen to them and understand whether they are worth their money or not, since the price of 26 rubles puts the product on a par with devices from market leaders.
And also Huawei presented in Russia under its Honor brand the Honor 10X Lite smartphone, which received a 5000 mAh battery with support for Honor SuperCharge fast charging at 22,5 W, a large 6,67-inch Full HD + screen, a quad camera with a 48 MP main module and 8 MP ultra-wide-angle lens, 4 GB of RAM and 128 GB of built-in expandable microSD memory card up to 512 GB, as well as an NFC module with the possibility of contactless payment SberPay, the use of the "Wallet" application and other payment services. The Honor 10X Lite smartphone will go on sale on November 20 at a price of 16 rubles.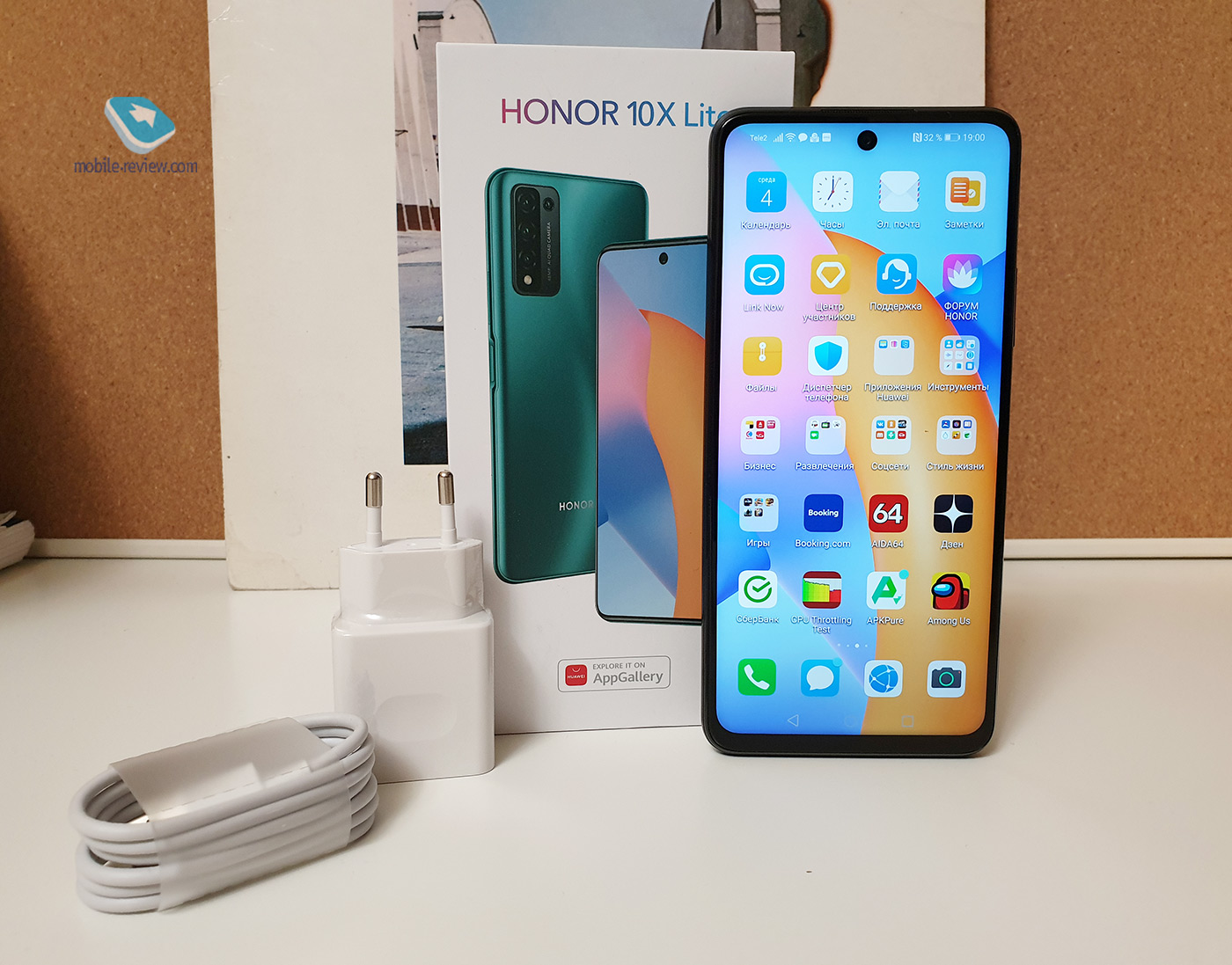 Quite a good device at a fairly tasty price, we have already published a detailed review about it:
If we are talking about relatively inexpensive devices, then this week we also had a review of the Motorola G9 Plus:
And detailed material about OPPO A53:
… and dessert
To brighten up the anticipation of the Cyberpunk 2077 game, you can not only buy a special version of the smartphone from OnePlus, but also buy sneakers from Adidas, which also released a limited collection with CD Projekt RED.
Back to content >>>
Related Links
Share: 





we are in social networks:
Anything to add ?! Write … eldar@mobile-review.com