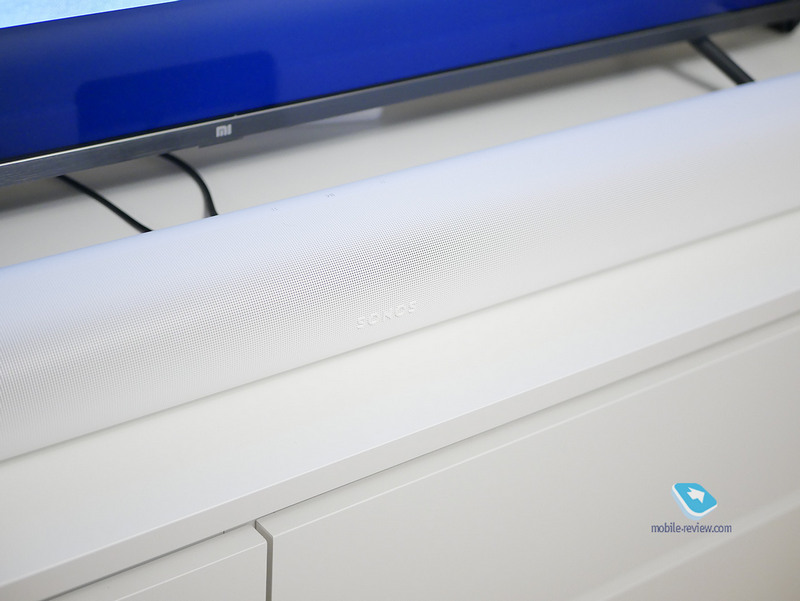 Content
TECH SPECS
Positioning
Contents of delivery
Design, buttons and connectors
TV connection
About sound
application
Impressions
TECH SPECS
dimensions 
114cm length
8cm height
12cm width
Material 
Plastic, black or white
The weight
6.25 kg
Food 
100-240 V, 50-60 Hz
Ports
Optical Audio
Ethernet 10/100 Mbps
Сеть
Wi-Fi with support for 802.11 b / g and 2,4 GHz.
SENSORS 
Infrared (IR) receiver
Processor
4 cores, 1.4 GHz 
Memory 
1 GB SDRAM
4 GB NV
Amplifiers 
Eleven class D amplifiers
Speakers
– Eight elliptical speakers deliver mid-range and vocal reproduction 
 – Three corner tweeters with silk domes 
Microphones
Far-field microphone array
Positioning
This summer, US wireless audio maker Sonos unveiled a premium soundbar called Arc. A little later, he appeared in Russia at a price of about 80 rubles.
Arc operates on the next generation Sonos S2 software platform. This powerful speaker is equipped with 11 speakers. Moreover, each of them received its own class D amplifier. The device supports Dolby Digital 5.1 or Dolby Atmos. To transfer sound from a smartphone, you can use Apple AirPlay 2, that is, the soundbar can easily turn into a fancy speaker for listening to music.
There are also microphones in Sonos Arc. They are needed to work with voice commands. With the built-in voice assistants Google Assistant and Amazon Alexa, you can play music, check the news, set alarms, and more.
By the way, it is easy to connect the remote control from your TV to the acoustics to adjust the volume.
If desired, you can also connect a Sonos Sub subwoofer to the Arc, and One SL speakers for surround sound. They are, of course, purchased separately.
As already mentioned above, the price for this model is 80 rubles.
Contents of delivery
The Sonos Arc device came to me in a shipping box, opened it, got access to a very high quality cardboard box.
To open, you need to move the powerful valves located on the sides of the box to the sides. Unusual and impressive. In general, this topic is reminiscent of Apple products. There, too, a lot is based on pleasant little things.
The column is wrapped in a cloth "film". Next to it you will find instructions, warranty card, HDMI to optical output adapter, HDMI cable, power cable.
Design, buttons and connectors
It's worth mentioning right away that the Sonos Arc is available in two colors – black and white. And so I was very lucky with a test copy: the office and bedroom are decorated in white, and the soundbar was sent for review in white. Therefore, Arc fits perfectly into the surrounding space.
Why am I focusing on this? The fact is that the device is rather big – 114x12x8 cm. To roughly understand: Sonos Arc is about the same length as a 55-inch TV – a large plastic "tube" with a diameter of about 10 cm.
The entire front of the soundbar is dotted with small holes through which sound passes. The sides are made similarly. By the way, they are slightly concave, and the holes are made as if they come from the center.
The back panel is matte plastic, and the bottom is a rubberized platform with legs.
That is, in general, the appearance is relatively simple. Probably, for 80 rubles, I would like some kind of inlaid with precious stones on the touch control buttons 🙂 By the way, they are on the top.
Somewhere along the body there are four microphones for Google and Amazon voice commands. The sensitivity is not bad, but at high volume, the Arc does not hear me. However, it should be emphasized that the device is installed three meters away from me.
I will digress from the topic for a second. I got so used to voice requests via the remote control that it became a torment to search for something on the Web using text input: I have a TV with voice commands, and my daughter has a smart TV without them. Moreover, Google now recognizes words so well that it can be done even with a mouth full of food.
On the front of the Sonos Arc, there are four small indicators combined into one line.
On the back of the speaker, in a recess, you will find a pairing button, an Ethernet port for direct connection to the Network, HDMI and a power connector. Two holes can be seen on the same side. They are designed to mount the soundbar to a wall.
It seems to me that the most correct step is exactly this: hang the TV on the wall, and place the acoustics below. In my case, the TV was on a pedestal, and the soundbar was in front. Thus, the column slightly obstructed the screen in height.
TV connection
On the one hand, everything is simple, on the other, you will have to get a little confused if you do not know some of the tricks in your TV.
It is worth emphasizing here that you may need an HDMI to optical output adapter or just an HDMI cable to connect.
To work with Sonos Arc, I had a 4-inch Xiaomi Mi TV 55S.
At first I tried to follow my intuition: I connected the acoustics via HDMI cable to the TV. Nothing worked. I had to install an application on my iPhone called SONOS. I give a link, because there are a lot of them in the AppStore, but this one is needed.
According to the instructions from the program, it turned out that I cannot connect the acoustics to the TV via HDMI if my TV does not support ARC – a digital interface with a two-way audio channel.
I had to "dig manuals" in order to clarify the presence of ARC in Mi 4S. As a result, it turned out that the technology was present. But Sonos still doesn't work.
After several agonizing hours of TV investigation, it turned out that HDMI ARC was enabled in the TV settings. It seemed to me that such things should be determined automatically so that the user does not experience any difficulties.
The setting is located in the section "Inputs" – "Control HDMI devices" – Enable "To access CEC and ARC".
It was then that the Sonos Arc started working. By the way, I couldn't connect Arc through the optical output. Surely it was also necessary to "chew" somewhere with the TV settings.
In general, make sure your TV has ARC technology before connecting Sonos. And don't panic if you have ARC and Sonos doesn't work: it means you need to get into the TV settings.
About sound
The Sonos Arc acoustics use 11 speakers:
Eight elliptical speakers. They provide accurate reproduction of mid and vocal frequencies in addition to bass. Two Atmos speakers are angled towards the ceiling.
Three corner tweeters with silk domes. They create crisp highs and clear dialogue.
There are different opinions about silk for and against. They say that the material is soft, so such speakers do not transmit hits on cymbals well: the dynamics and after-sound are squeezed, the attack is blurred. But I read these opinions on specialized resources, where audiophiles discussed equipment for millions of rubles.
Let's first understand how movies sound, and then I'll talk about the sound when playing music through a smartphone.
The first thing you notice when listening is the most powerful attack. Maybe I will "float" in definitions, but the point is that the effects of explosions, destruction, sharp sounds are transmitted instantly and with great force. The impression that you are in the cinema. An unusual feeling, frankly: imagine that the volume of the soundtrack is even, but it is the effects that are highlighted by a sharp thrust of several decibels.
Therefore, if you love action films, films with an abundance of all sorts of rumblings, then Sonos Arc will definitely suit you!
The second is speech transmission. She's just amazing here. Even advertising is listened to as something unusual and attractive, since it is speech that stands out in it. In films, this is noticeable against the background of music and other sounds. The voice is transmitted cleanly and clearly.
When watching movies, you can accurately recognize sounds from the right, left and center. Another question is Dolby Atmos. Probably my Xiaomi Mi 4S does not support this technology (HDMI version 2.0, but 2.1 is needed), since Mi 4S does not have eARC. It is she who will provide support for DTS Master, DTS: X, Dolby TrueHD and Dolby Atmos. Correct me if I am wrong.
"Sonos Arc can connect to TVs equipped with eARC, ARC or optical output. EARC is recommended for maximum compatibility.

If you connect to your TV via eARC, supported Dolby audio formats include Dolby Atmos, TrueHD, MAT, Dolby Digital Plus, and Dolby Digital.

If you connect to your TV using ARC, the supported Dolby audio formats depend on the TV model and manufacturer. The TV can carry Dolby Atmos, Dolby Digital Plus, and Dolby Digital. ARC connection cannot support TrueHD or MAT.

When connected to a TV using an optical adapter, the supported Dolby audio formats depend on the model and manufacturer of the TV. The TV may be able to send Dolby Digital. The optical connection cannot support Dolby Atmos, TrueHD, MAT, or Dolby Digital Plus. "
Therefore, I did not hear the surrounding Atmos sounds, immersive effects. That is, for me, the Sonos Arc was just a quality speaker with right, left and center channels.
The manufacturer's website says the following:
"If Arc receives an Atmos signal, it will show up in the Sonos app both on the Now Playing screen and in the settings section of our app."
I didn't have an Atmos icon in any of my videos.
Pay attention to this too. If you buy speakers for listening to Dolby Atmos, then check if your TV has eARC support!
The volume of the Sonos Arc is very high. Despite the lack of a subwoofer, the Arc still produces very pleasant bass. However, if you had enough money for Arc, then buy Sonos Sub and One SL speakers for complete happiness.
The Sonos Arc device is also suitable for listening to music when you send it using your smartphone. In this case I used Apple iPhone and AirPlay 2. True, the sound seemed to me at the level of Harman Kardon Aura Studio. And it costs almost 5 times cheaper.
The official website is talking about Trueplay technology, which optimizes sound for room acoustics. However, in the Sonos app, in the Trueplay section, they write to me that the technology is not yet available. Let me remind you that I tested the acoustics together with the Apple iPhone 12. Most likely, you need an iPhone X, 8, and so on. The support says that this feature does not work for Google Android at all.
By the way, Sonos Arc cannot receive sound via Bluetooth!
application
Since I'm talking about the program for Sonos devices, it's worth talking a little about the application. The link was above in the text.
As usual, you need to register. The program is in English only.
It has many settings, but I will list the main ones:
System. This is where you add acoustics to your gadgets and assign them a location: room, garage, kitchen, and so on. Other compatible speakers, for example, "sub" or One SL, are also connected here.
Equalizer. Two "twists" – bass and treble.
Adding music services. "Yandex.Music" is absent, but there is Spotify.
Playback from a media server. Quite a handy thing: you set it up on a PC, and through the application you choose what you need.
In Sonos software, select night mode. In this case, all sharp and loud sounds are muffled, but the speech transmission remains at the same level.
Impressions
It is worth mentioning separately that the Sonos Arc is the first soundbar I've reviewed. Therefore, some aspects of its application were not announced. If you have any questions, I will definitely answer.
Is the device worth the money? This is a very difficult question. Similarly, you can ask: is the Apple iPhone worth its money? Most likely, the average consumer will say no. And those who are used to consuming expensive products will buy an iPhone without batting an eye.
Expensive acoustics are harder to test than cheap ones. And it's not about the technical characteristics, but about the intricacies of sound recognition, which are almost impossible to hear for a non-audiophile. This I have now neatly summed up the fact that Sonos Arc produces a cool sound, but I cannot compare it with anything like that, since I have not yet had any experience of "communicating" with speakers more than 30 rubles.
And I would also like to note that if you are going to buy a soundbar, then you should buy a subwoofer and speakers for it.
On the way JBL Bar 9.1. With this system, it will already be a little easier, in my opinion. At least there is something to compare with.
As usual, a question for the audience: do you use soundbars, and if so, which ones and why?
Back to content >>>
Share: 





we are in social networks:
Anything to add ?! Write … eldar@mobile-review.com