Hey.
Crazy days because of the politicians and the politics that they are pursuing. The feeling that in some countries they decided to reject any semblance of decency and squeeze out other people's successful businesses, as racketeers of the 90s did with stalls in Russia. To say that this is amazing is to say nothing. On the other hand, we have many examples of how America is plucked in the field of corporate secrets, and at the same time hackers block the work of services of large companies. I planned to write about it here, but in the end this is a separate article.
Samsung told about the announcements in separate materials, the first full review of one of the new products, the Tab S7 +, was released.
Therefore, I will not waste time on what has already been said, on our Telegram channel you can read about what I am doing on the Note20 Ultra, what new chips have appeared in the watch. A leisurely, real-time story about what matters, what I do. A kind of immersion in preparation for the review, where you will see the operating time, what and how I use it on the phone, and much more.
And it's time for us to start our release, let's go!
Content
America attacks China – state racket TikTok, WeChat ban
The new king of noise canceling – Sony WH-1000XM4 headphones
Spotify and alarm clock, nice little thing
Expensive smartphone – curious perception of technology
Colored eINK Kaleido – back to the past
America attacks China – state racket TikTok, WeChat ban
The trade war against China on the part of the current US administration is not stopping, but only gaining momentum. In addition to the ongoing attacks on Huawei, there is an increase in the number of companies that are targeted as victims. The list of victims included the largest Chinese companies – ByteDance and Tencent, the first belongs to the social network TikTok, the second belongs to the WeChat messenger.
As in any war, the attacking side first conducts reconnaissance in force, and only then begins a full-scale offensive. The first wake-up call for TikTok was a 2019 investigation by the US Federal Trade Commission (FTC). That investigation was dedicated to the fact that children under 13 years old can use TikTok without parental control, and the company would also collect their data (violation of the COPPA law). The result was tougher TikTok rules, as well as a $ 5.7 million fine that was paid to the US government. As part of the investigation, officials gained access to information about how TikTok works in the United States, outlined the following goals.
Basic preparations for the attack on TikTok began this spring. Apple was a big help in this to the US government, as it introduced a new feature in iOS14 – viewing what programs are copying data from the clipboard. It turned out that TikTok constantly accesses the clipboard, asking for user information that is not relevant to the application. The behavior is certainly alarming and, at first glance, has no explanation.
But the company gave its explanation – access to the clipboard was carried out only on iOS, on Android it was not. The function was designed to fight spam, to detect that people are using bulk mailing. The explanation may or may not be true. There is no in-depth analysis of what is happening on iOS, how the application behaves, that it sends data somewhere.
But at the end of June, there was a wave of publications in the American media that TikTok was unsafe. Its use was banned by the military, politicians and officials. The way this card was played speaks of a simple thing: first, they prepared public opinion, created an excuse, and then the ban came into effect. The idea was actively added that the Chinese government was monitoring everyone, including the use of programs of private companies. This is a continuation of accusations against Huawei, which over the years in America have not been able to prove.
ByteDance denies any links with the Chinese government, data of American users is stored on servers in the United States and in Singapore (as if it means something, you can copy information in a hundred different ways, oh, those old-fashioned ideas about a place in the physical world). But ByteDance also went further and provided independent experts with access to the application code, as well as to the moderation system – this was to remove suspicions of the possibility of surveillance. The founder of the company, Zhang Yiming, sold his stake in order not to even nominally influence the perception of ByteDance, so that the company would not be perceived as Chinese. In a letter to employees, he indicated that this is a difficult situation, the decision to sell the company is one of the few and should not be blamed for it.
And then the events took off. India at the end of June blocked many Chinese apps, including TikTok, which pose a threat to the country's security. These are the consequences of the border conflict, which caused the abandonment of all kinds of Chinese goods, including not only applications, but also smartphones. The damage to the Chinese economy is estimated at billions of dollars. The ban on TikTok alone means losses of the order of 600 thousand dollars a day.
Why is TikTok so important? It is the most popular app in the world with over 1.8 billion downloads. The estimated value of the business before all the events was about $ 100 billion. And then the US attacked him.
The chronicle of events looks very simple:
July 17th. TikTok has publicly stated that it threatens national security and may be blacklisted by the US government. In America, there are 100 million users of the application, ByteDance has a thousand employees in the United States.
July 22. ByteDance is ready to separate American business from other countries, and is beginning to look for American investors in order to preserve the second most important market after China.
July 31st. The public will learn that Microsoft is in talks to buy TikTok (Microsoft does not have a single social network), and Donald Trump is publicly talking about various options being discussed regarding TikTok, including a complete ban. In this case, no American company or citizen will be able to work with ByteDance. The app will be removed from the iOS / Android app store. The situation will be similar to Huawei.
August 1. Donald Trump says TikTok will be blocked immediately. The American president and his staff are participants in a possible deal with Microsoft, they are actively involved in negotiations. Donald Trump wants TikTok to become an American social network.
August 2. Negotiations have been stopped because Donald Trump strongly opposes the possible sale of TikTok to the American company. Satya Nadella communicates with Donald Trump, while the company announces that it is negotiating the purchase of TikTok. Microsoft CEO convinces Trump that America's economic benefits from such a purchase will be significant.
August 3rd. Trump's mood is fluid. He states that TikTok will work if a US company buys it. At the same time, he states that the US Treasury should receive a significant percentage of the payment for TikTok, since it was the government that made the deal possible (The United States should get a very large percentage of that price, because we're making it possible). In fact, the President of the United States confesses to pressure on a private company to be sold to an American corporation. In China, this causes a sharp reaction, most publications call the actions of the US President an open racketeering, when another country takes away an active and profitable business. Trump stipulates that the sale must take place before September 15.
August 6. Trump signs two decrees stating that both TikTok and Wechat pose a threat to US national security. Applications will be blocked on September 15, no American company will be able to provide them with money, services, development. This is actually the time for the TikTok sale to take place.
Link to decree
If initially Microsoft considered the purchase of TikTok only in the United States, then after Trump's decree we are talking about the whole world, except China. The amount of the deal has not been determined, but it could range from $ 10 billion to $ 30 billion, which is significantly less than the company's real estimate of $ 100 billion. It is impossible to call this situation anything other than racketeering by the state. Under the threat of destruction, the owners of the company are forced to sell it, they are squeezed in favor of their country and all conditions are created for this. The fact that Trump is directly involved in the negotiations, constantly communicating with the CEO of Microsoft, makes him a direct participant in the deal. We can safely say that this has never happened. More precisely, not so – this happened all the time and in different countries of the world, but for the first time no one hides this and everything is done publicly. Trump is proud of his position, but it's still a government racketeer.
The key question is how China will react. You can create pressure for a long time, but sooner or later, China will move from containment to retaliatory actions. He is simply consistently cornered, forced to respond to the actions of America and the current administration. And if a couple of years ago the biggest threat to America was Russia, newspapers came out with 3-4 articles on the first page, where they chehvostyled our country in every way, now we are no longer a threat, the honorable first place is for China. American propaganda creates the image of the enemy, does it persistently and consistently. There is no doubt that America is chopping off the branch on which it sits.
Banning American corporations from WeChat could have very interesting consequences. In China, WeChat is not only a messenger, but also an electronic wallet. You can use it to pay for greens from a street vendor, buy something in a store. A smartphone without the ability to install WeChat will become an outcast, it will simply not be needed. And by banning US companies from working with Tencent, Donald Trump automatically banned Apple from providing WeChat for download on his app store. What does this mean? That iPhone sales in the second-largest Chinese market in units will go down sharply. For local buyers, a phone without WeChat is no longer possible.
Another issue is the American business that works with manufacturing in China. Today, it is WeChat that is a quick way to resolve all issues, mail is not so good. And, apparently, this method will also be deprived of the Americans, they will suffer more from this.
Anyone who uses WeChat knows that it is impossible to simply create an account on this network, an existing user should send you an invitation. And if you do not have those, then write wasted. And this is an effective way to avoid fake accounts, let me remind you that 6.5 billion fake accounts that do not belong to living people are blocked on Facebook alone during the year. WeChat doesn't even remotely have this scale.
In fairness, it must be said that China initially closed its market from American social networks and IT giants. Against the background of what is happening, these actions take on meaning, since they were justified, America has lost additional leverage.
America's trade war against China is reaching a new level. They are trying to stop China at any cost, despite the losses that America bears in this war. Unfortunately, it is no longer possible to play back this situation, it will not be possible to turn the minced meat back. And this creates a new configuration of the world, in which America is not a fact that it will retain its leading position in the IT sphere, a bipolar world is emerging, where Asia, including Russia, goes into another sphere. This means that all standards, all protocols will also change in favor of their solutions. The fragmentation of the world of IT solutions is ahead, and this is very bad, but, alas, nothing else remains. The very logic of the separation of systems will assume that surveillance on them will be difficult.
Since there is a lot of news about the actions of the United States, I will add something funny here. As you remember, Russia has long been accused of Trump's election victory, and that in 2016 it was Russia's intervention that secured him the presidency. After a number of investigations, no evidence of this was presented (it is ridiculous to think that advertising for 10 thousand dollars, and even then articles of Russia Today, can influence something). But in America, Russia's intervention is now a fact that does not require any proof. That they were not there then does not mean anything.
Recently, the US State Department launched a program to counter interference in the US presidential elections in 2020. This is an official program, in it, in particular, they look for any information that someone wants to interfere in the elections. And they are ready to pay up to $ 10 million for such information. These are not only messages on social networks, including in Russian, but also SMS spam. A few days ago, mass SMS distribution swept across Russia, and here it is even important not what was written in the SMS, but who the message was sent to. The addressees were officials, political scientists, the military – that is, all those whose phone numbers in the United States were considered important. This is a direct mailing list that shows a simple thing – we know you, we follow you. To some extent, this can be considered an element of intimidation and pressure.
I can't remember a single story when the state would send SMS to residents of other countries. It seems to me to be wrong in all aspects. But remembering how America is waging a trade war against China, it is already perceived as flowers. Promotion of clean water in another country.
I wonder if Russia starts sending SMS to American residents, then what will they blame? I think that in all mortal sins, actions on the territory of another country, and so on. America, on the other hand, considers itself entitled to do so. But I am sure that this is a deeply erroneous opinion, which will lead the officials of this country very far. But it will be difficult for them to get out of this "far away", they cut the branch on which they sit, and they cut it very quickly.
The new king of noise canceling – Sony WH-1000XM4 headphones
With the release of this series of headphones, Sony has revolutionized and demonstrated what noise cancellation should be in transport, for example, on airplanes. And we cannot say that Sony entered an empty market, became pioneers. At that time, travelers chose Bose, there was no de facto alternative. The headphone market is long, they buy such accessories for many years and get used to the sound, so it is almost impossible to convince the owner of the same Bose that Sony, AKG, B&W or someone else deserves attention. But Sony did this impossible, the noise reduction was such that you just forgot about everything. On the plane, you close your eyes, and there is no feeling that you are flying, external noises are cut off, as if they are not there. For my erratic flights of 10-13 hours in one flight, this was a salvation. Once I managed to forget my headphones at home, either the children pulled it out, or I forgot it in the bedroom myself. I remember the annoying feeling of flying, the plane was making noise! And before that, it did not make noise, since I was wearing headphones from Sony.
My journey with these Sony began with the WH-1000XM2 that came out in 2017. Sony's presentation was great, the journalists were rolled over Moscow in a single-engine helicopter, and we listened to music, and then took off our headphones to hear the noise of the propellers.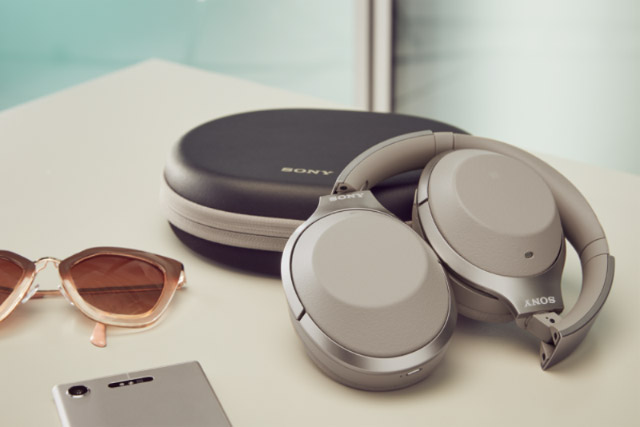 Perhaps it was then that I realized that this was my product. I praised these headphones and the next version that came out exactly a year later, exorbitantly and almost everywhere. The family has several pairs of these headphones, since nothing better for travel has yet been invented. Rarely does a product inspire such excitement, but this is what happened with these headphones. Yes, and according to my observations from travel, a lot of people use these headphones, their number gradually began to grow, the audience tried Sony.
It is important to note that the market for such travel headphones is extremely small. If we talk about Russia, then it is measured in thousands of pieces per month for all manufacturers combined, and there are about a dozen of them here. Sony took a bite out of it and set the standard that everyone else followed. I tried different headphones, but kept returning to my XM3, these are my current ears.
But enough Enkomies, the next version WH-1000XM4 has come out, and we will talk about it. There is practically nothing to improve in those headphones that I have. This is a small technological miracle, which has a pressure sensor that monitors the level of pressure outside (house, street, plane), sound and noise cancellation are adjusted to suit you. There is a head coverage sensor so that trapped hair, ears, temples of glasses do not affect the sound. Many other sensors that together create a complex system that delivers great sound. For example, sensors can automatically change the noise reduction level depending on whether you are sitting or moving. Other companies are not even remotely close to this, but for me this is an indicator of the manufacturability of the product – and this is not just a hodgepodge of cool words, but actually working technologies, the result can be heard.
I use these headphones on an airplane, in the city I have TWS-headphones, as walking or traveling with large headphones is somehow not handy (this is more of a youth style, although I often see my peers in such ears on the streets). It is possible that everyone has their own ideas about beauty. But it's not about that. As a headset, I don't use headphones, and if so, then only indoors. As a result, I do not experience any problems with their work, the sound is clear, the interlocutor hears you well. It turns out that in an urban environment, XM3 users complained that the microphones do not always pick up speech correctly, the interlocutor often complains about extraneous noise.
In response to the problem, Sony redesigned the microphones to make them more sensitive. Does it sound counterintuitive? After all, such microphones will better pick up both your voice and surrounding noises. This is true, but the sound is processed by the headphone processor, it separates it and removes noise. This gives it a bit of a digital color, but your interlocutors hear you in any situation, and they hear you well. For those who do not plan to use these headphones in their daily life, the problem is not worth a damn. As well as for those who will talk on headphones from time to time.
I noticed that Sony's marketing communications focus not on travelers, but on those who use headphones in the city. The time of the pandemic leaves its mark.
Please note that outwardly these are exactly the same XM3s, the design has not changed in any way. They do not look for good from good, and this can only be welcomed, since the previous model was excellent in ergonomics.
Other updates include a new Bluetooth chip, up to two simultaneous connections are supported (you can work with two smartphones, for example, for urban conditions, it is excellent), a quick search for a device from Google. But otherwise everything is exactly the same, to distinguish the XM4 from the third version is unrealistic, only on the bow there is an inscription with the version designation.
In America, these headphones can already be ordered, you will receive them at the end of the month. The price remains the same – $ 350. So far I have not had the opportunity to try these headphones (but I have already ordered them), I do not expect any special shortcomings in them. During the quarantine, XM3 was sold at a noticeable discount in Russia, so users arrived in the regiment, they scattered very quickly.
But the question remains, who are you – an optimist or a pessimist, expect that planes will start flying soon, or think, like me, that everything will be the same until next March. At the same time, I believe that my forecast is optimistic.
Spotify and alarm clock, nice little thing
I am sure that almost no one uses old alarm clocks, which rattle disgustingly and call to wake up. For most people on the planet, their phones, push-button or smartphones have become an alarm clock. You choose a melody, and then you begin to quietly hate it, as it pulls you out of your slumber and makes you get up. And I also like the fact that many have created a kind of list of alarms, when a new one starts every five minutes.
You miss the first alarm clock, then turn off the second, by the third or fourth you realize that you need to get up, and reluctantly wake up. Particularly advanced people not only set several alarms, but also change the melodies on them.
I have no problem getting up in the morning, especially if I fell asleep not very late. Rather, an alarm clock is a cut-off point when you can slowly open your eyes, lie around for a few minutes and collect your thoughts. But the sound of a repetitive melody itself is annoying, so I always set one or another melody on the alarm clock. With the official release of Spotify in Russia, I had a little joy – now I put a playlist from this service on the alarm clock (there are many different playlists for the morning). The music is different, it is not annoying in the morning, as it gradually picks up the volume and there is no feeling that you are being pulled out of sleep by a sharp sound. You wake up anyway, but it's softer.
Perhaps someone likes to come to this world harder in the morning so that the alarm clock hits their brains. I need it extremely rarely, when there are important meetings. It's easier to wake up to nice music, and Spotify does it.
For those who rush to look for this feature on their Samsung smartphones, I suggest that it is available on OneUI 2.x, you need to have the Spotify application installed, and you can install a playlist by selecting ringtones in the settings of a specific alarm clock (not in general settings!).
Expensive smartphone – curious perception of technology
The other day there was a remarkable conversation, discussed with a friend far from technology, the ups and downs of the market and the like, new devices from Samsung. And he uttered a curious phrase: "Samsung is somehow very expensive, just morally not ready to buy a tablet for that kind of money". It was about Tab S7 +, which is the flagship of the line.
He said that the iPad is more expensive, and also showed a plate from a fresh review, by the way, here it is for a start.
In response, I heard from a non-poor person who earns decent money, the following: "These people flew into space completely, until the tablet has never replaced the computer, which means that I am not ready to pay that kind of money for it. It all started at about $ 500, now tablets are twice as expensive. But my needs have not changed, I want to watch a movie, read my mail. In my laptop, the screen is of a larger diagonal, it is noticeably better. Why would I pay for another device that I don't really need? The laptop is expensive, thin, and the tablet with the keyboard is the same, only weaker in all aspects. And for what?".
We discussed the topic for more than an hour, brought out simple and somewhat banal thoughts from this. We have not changed, our requests and tasks have also remained the same, but manufacturers now take at least twice as much money to solve our problems.
For example, I want to watch a movie and can do it on TV. Sometimes I want to lie in nature, for example, on the lawn. And here the mobile device becomes the perfect help for viewing something. But am I ready to buy the same tablet for the rare moments of felting on the grass? Probably not. We need tasks that can only be solved using a tablet, and another device will not help me with this.
A huge number of Windows computers have acquired touch screens, these are transforming cars that turn into tablets, you can tear off the keyboard and use only the screen. Isn't it a tablet for you? I do not like them, since it is always a compromise, but, as the market shows, the majority is ready to put up with this approach. Samsung tablets have a rich pen experience – you can draw, write, annotate and much more. And, perhaps, for some it is defining, but there are relatively few such people. What about the rest? Why would they buy this or that tablet? Give children to watch cartoons or draw? Maybe. Why else?
In the presence of a laptop and a modern smartphone, the tablet becomes somehow unnecessary, which shows the fading of this trend in the market, it is not developing very actively. I have several tablets, but since the appearance of the same Galaxy, the Fold has never taken them out. What for?
And here we come to a very important point in our discussion. Stop a tablet of the same money as it used to be, and not just a tablet, but a device with good functions, a maximum screen (and you don't need more), and many would buy it just like that. Because they are mentally ready to spend that kind of money even on a device that is not particularly needed. But at a different cost, you begin to meticulously study how you will use the tablet, how much you need it. And most people understand that it is not needed at all and that you can easily do without it.
Of course, there are those who abandoned the laptop in favor of the tablet, there are many such people. But this is the use of a tablet as a two-in-one device, that is, the perception of it as a substitute for a laptop and with the same set of functions. This is a perfectly acceptable scenario, why not? And here the cost can be justified, since the tablet competes with laptops, which are more expensive. And the profitability of the tablet, despite a number of limitations, the rationality of the purchase becomes evident. For some, such a set of features in a tablet is enough.
It will be interesting to hear your reasons for and against tablets. Why do you need them or why you do not consider them at all.
Colored eINK Kaleido – back to the past
An electronic reader Pocketbook 636 Color appears in Russia, the name already reveals that there is a color screen here. This is not a TFT screen, as in many readers, but a real eINK Kaleido, that is, in theory, we get all the advantages of electronic paper.
The technology used in this reader is not new, to put it mildly, the first eINK color screens appeared almost ten years ago. Seven years ago, Pocketbook had a model with a color eINK screen, Color Lux did not win much love, the reason is that the screen looked faded compared to tablets and phones.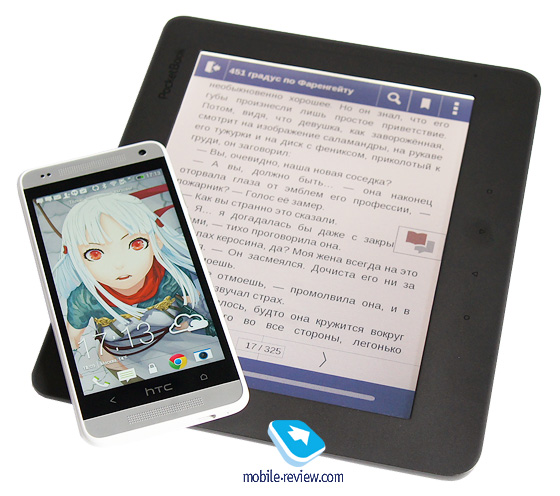 In 2020, eINK Kaleido's screens are slightly brighter, but they can't achieve good resolution when reading text in color. The technology itself is such that gray dots are combined into color, and if eINK has 300 dpi, then only 100 dpi in color. All the advantages on a 6-inch screen fly away to nowhere, fonts become loose, the picture is not very sharp.
This is what the screen looks like in terms of technology. An RGB color filter (CFA – Color Filter Array) is added to a regular eINK panel.
The problem with the eINK corporation is that it is actually a family business and the money that comes from the production and licensing of eINK is enough for the eyes. Therefore, investments in development are, to put it mildly, small. There is no task to promote and develop the technology, as a result, for many years everything is marking time in one place. And Kaleido's example illustrates this perfectly.
The size of Pocketbook 633 Color completely coincides with the 632th reader, you can call them twin brothers. All possibilities are the same, this is a good reader in terms of fullness, which also works for a long time. But the question remains how the screen is perceived. In the review, I will take comparative photos on the same books, and study how fonts are perceived. First impressions are that the color is not really needed here, eINK should be black and white. It is possible that a conservative speaks in me, but if you make a color screen, then it should be at least at the level of current devices in terms of resolution and picture quality. What do you think?
The price of Pocketbook 633 Color is 15 rubles, which does not look prohibitively high cost.
PS Have a good working week so that things get up and running, and despondency does not come to you. There are so many small, large and significant things ahead that you just start to rock. Don't get sick and be cheerful! To follow the preparation of materials that will appear on our pages, you can subscribe to our Telegram channel.
Related Links
Share: 





we are in social networks:
Anything to add ?! Write … eldar@mobile-review.com